Give me this Chicken Quinoa Bowl for lunch any day - EVERY day. It's heavenly!!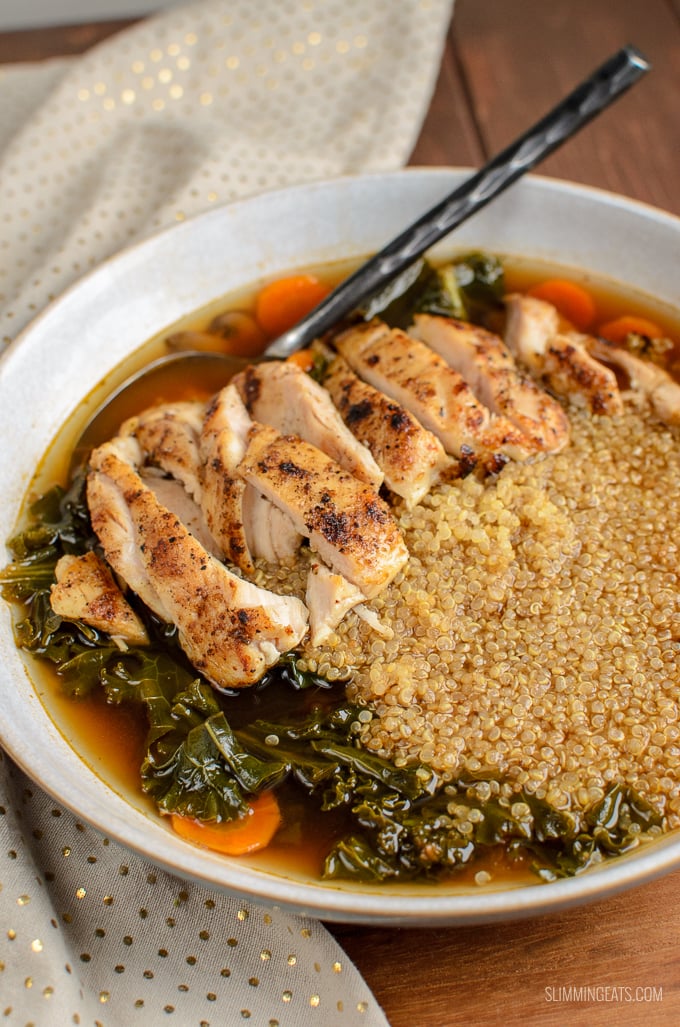 One of my favourite places to go for a quick lunch when out is Panera Bread. They always have something I can choose or adapt that I know won't be too bad. Some even have handy little self-order counters, where you can use a little tablet to select your order to your specification without having to explain to the server what you do or don't want in your salad etc
Usually, I go for one of their salads, the Fuji Apple Chicken Salad is my favourite, but this time I fancied something a little different, and spotted the Chicken Quinoa Bowl and just knew that was what I wanted.
It sounded perfect - Chicken, quinoa, rice and lentil blend with fresh kale and spinach with a lemon wheel in a beautiful umami soy-miso broth.
The umami sold me. I mean I love chicken, quinoa and kale, but when a description mentions umami, I know I am on to a good thing.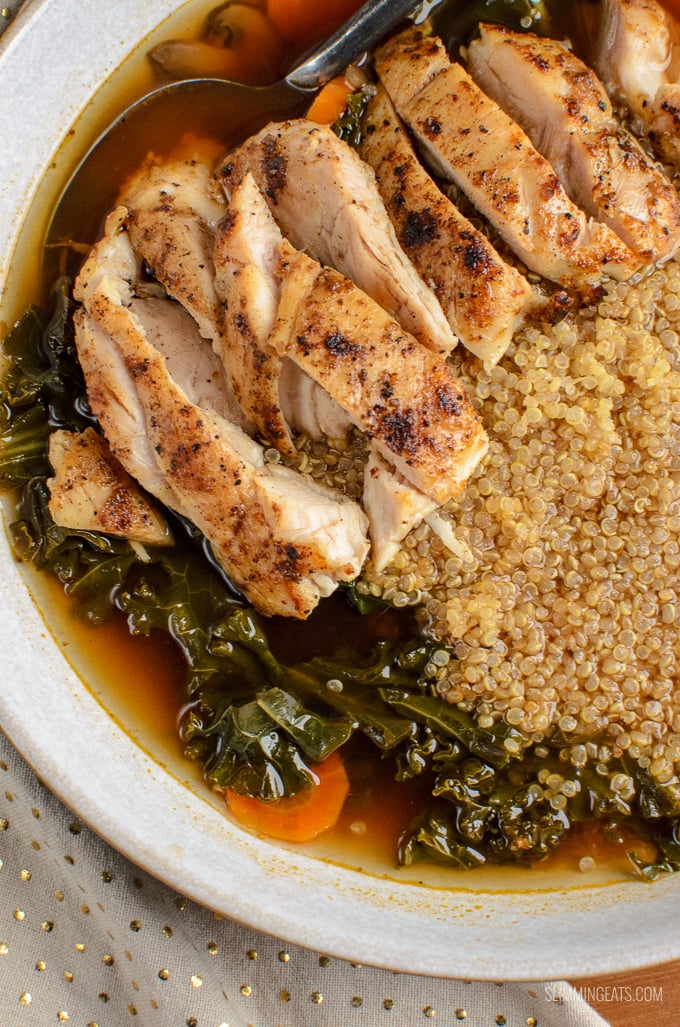 Umami is not a well-known word but is slowly becoming more popular. It basically is known as the fifth taste and is a word used to describe a pleasant savoury taste which is common in Japanese cooking.
The Chicken Quinoa Bowl was delicious - such beautiful flavours and the kind of food I really enjoy. I love fresh ingredients, ones I can identify and as I tasted every spoonful, I found myself trying to decipher all the ingredients, keeping a mental note, so that I could try and recreate it when I got home.
Next day for lunch, it was all I wanted, so I jotted down the ingredients I was going to combine, to get that delicious umami broth.
I didn't have an miso on hand, but I knew with combining a few typical store cupboard ingredients I could get the flavour I wanted.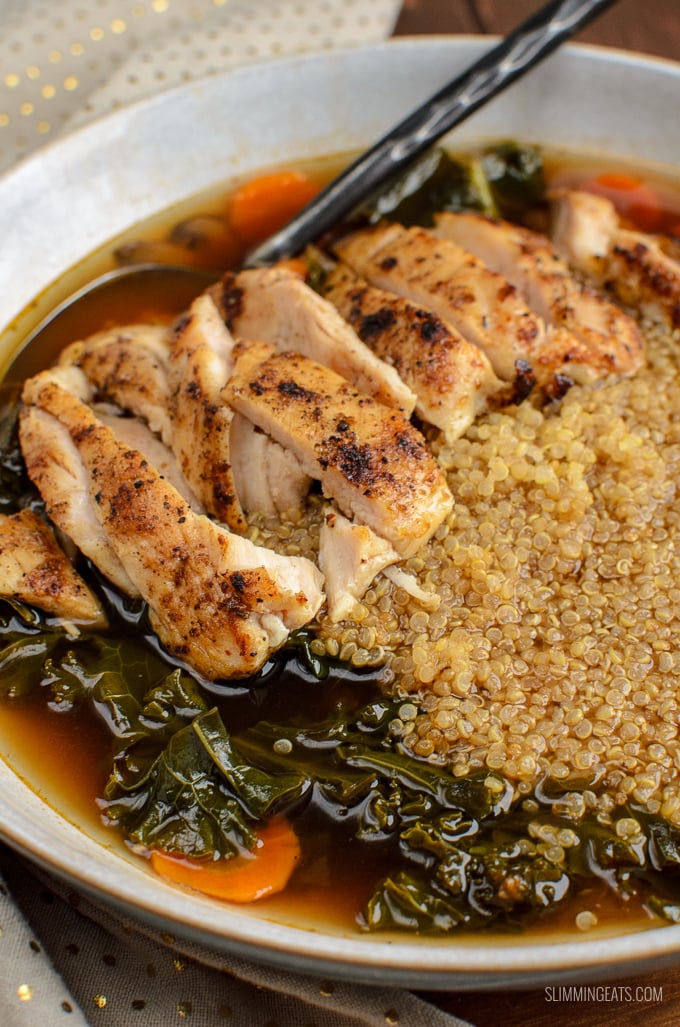 In any type of soup or broth bowl, the first thing you would expect is broth, but surprisingly I don't use any stock in this recipe, the flavour comes purely from the delicious blend of ingredients I use.
Fish Sauce is a perfect ingredient for umami and you do not need a huge amount. Don't worry it isn't going to give an overpowering fishy taste like you might expect, it just gives a lovely savoury salty taste.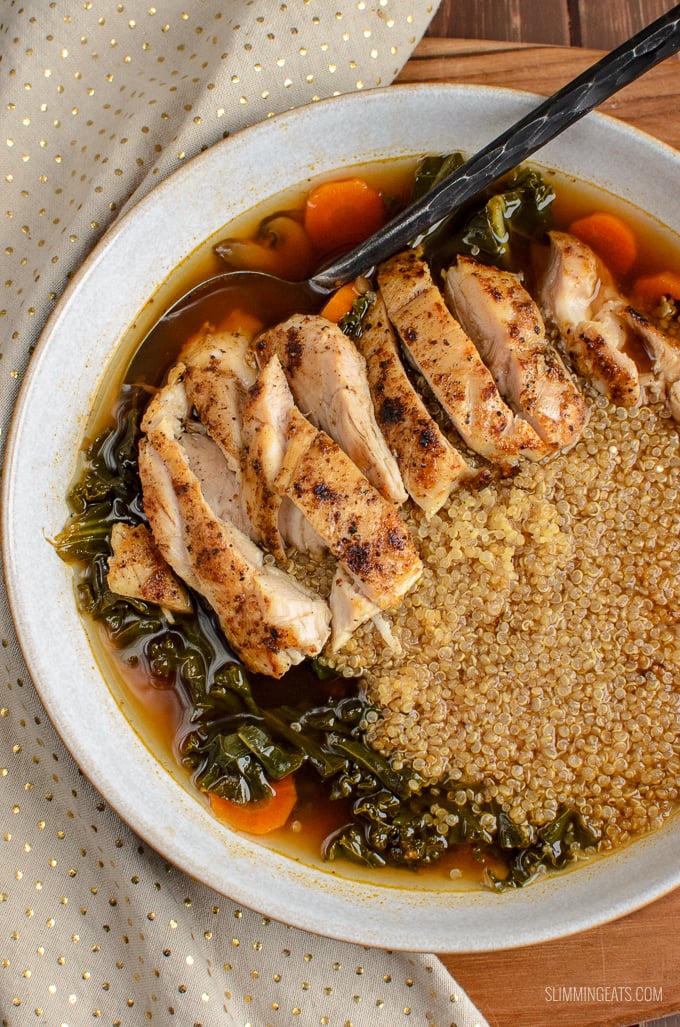 As well as the fish sauce I also use some tomato paste (puree), balsamic vinegar instead of fresh lemons like in the Panera dish to give that slight acidity to the broth and soy sauce.
Then, of course, you need fresh vegetables and additional flavour which comes from the onion, garlic, garlic, ginger and mushrooms which all help to the flavour that homemade broth in this Chicken Quinoa Bowl.
The quinoa and the chicken are cooked separately because this is a Chicken Quinoa Bowl, rather than a soup and you want those layers of different ingredients.
I didn't add rice or lentils to my version. I love quinoa just as it is, for its delicious nutty flavour, and so saving time because I wanted this ready for lunch, felt there wasn't a need to over complicate the dish too much.
Quinoa is a fantastic alternative to rice and pasta, it's high in protein, and is actually a seed rather than a grain.
Want to try some other tasty quinoa recipes? Check out these:
or head on over to my FULL RECIPE INDEX for over 700+ delicious Slimming Eats Recipes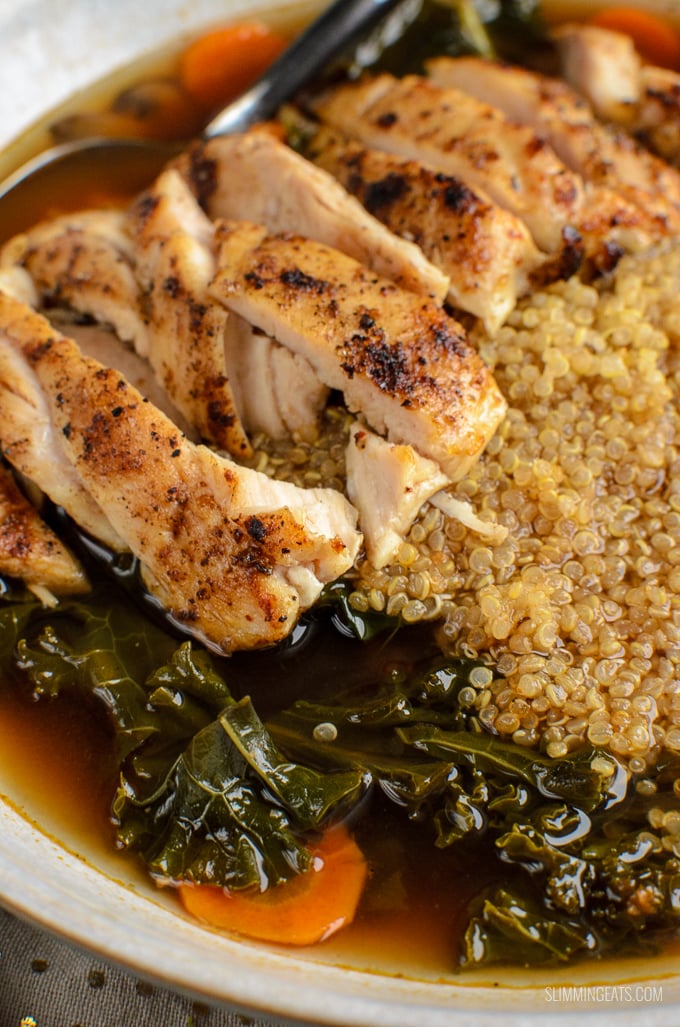 What Kitchen Items do I need to make this Chicken Quinoa Bowl?
---
LET'S CONNECT!
Find me ON FACEBOOK | INSTAGRAM | PINTEREST | TWITTER | and YOUTUBE, come follow me TO MAKE SURE YOU KEEP UP TO DATE ON ALL NEW RECIPES 🙂
You can also subscribe to Slimming Eats to keep up to date on all new recipes.
IF YOU TRY THIS RECIPE, LET US KNOW! LEAVE A COMMENT, RATE IT AND TAG US IN YOUR PHOTOS @SLIMMINGEATS ON INSTAGRAM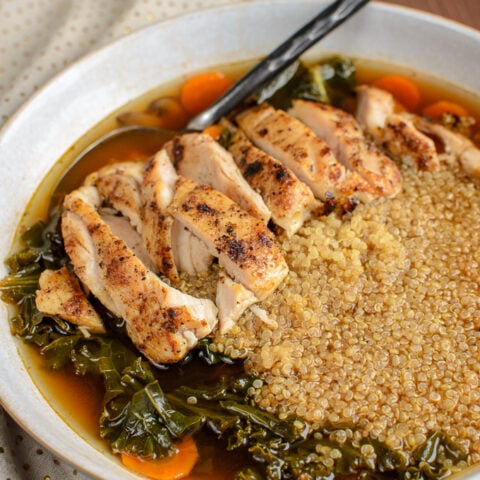 Healthy Chicken Quinoa Bowl | Slimming Eats
This recipe is gluten free, dairy free and Weight Watchers friendly
WW Smart Points - 5
Gluten Free - use a gluten-free soy sauce
*suitable for freezing 
Ingredients
1 large chicken breast, halved
½ cup of quinoa
1 carrot, sliced thinly
1 onion, halved and sliced thinly
2 cloves of garlic, crushed
½ tsp of grated ginger root
4 mushrooms, sliced thinly
2 cups of shredded kale
1 tbs of tomato puree
½ tbs of fish sauce
3 tbs of low sodium soy sauce
½ tbs of balsamic vinegar
salt and black pepper
1 tsp of garlic granules
pinch of dried oregano
pinch of dried thyme
Instructions
Rinse the quinoa thoroughly under cold running water.
Add to a saucepan and cover with 1 cup (240ml) of water, bring to a boil, reduce heat, cover and simmer, covered on a low heat, until all water is absorbed. Turn off heat, but leave to sit covered for about 10 mins, set aside.
Spray a saucepan with some cooking oil spray, add the onion and fry until softened.
Add the garlic and ginger and continue to fry to infuse the flavour.
In a jug combine the tomato paste, fish sauce, balsamic vinegar and soy sauce with 3 cups (720ml) of boiling water.
Pour this into the saucepan and add the carrot, mushrooms and kale.
Bring to a boil and then cover and simmer for approx 12 mins.
While the broth simmers.
Place the halves of the chicken breast on a board, cover over the top with cling film, and flatten with a wooden rolling pin.
Season with the salt and black pepper, garlic powder, oregano and thyme.
Heat a frying pan spray with cooking oil spray over a medium-high heat and fry the chicken breast for 5 mins each side till lightly golden and cooked through.
Remove and set aside.
Ladle the broth and vegetable once ready into two bowls, add the quinoa, and then slice the chicken, and top each bowl with a flattened chicken breast.
Enjoy!!
Notes
Please see below for full nutritional info and additional details about recipe:
Calories - scroll down to nutritional info box
WW Points and other Slimming or Weight Loss programs -   due to plans regularly changing and updating, we recommend calculating with the official tools you get as a member to those plans to ensure accuracy of values. 
If you wish to share this recipe, then please do so by using the share buttons provided at top of this post.
DO NOT COPY AND/OR PASTE FULL RECIPES OR SCREENSHOTS OF ANY CONTENT FROM SLIMMING EATS TO ANY SOCIAL MEDIA OR WEBSITE, IT IS STRICTLY PROHIBITED.
ALL IMAGES AND CONTENT ON SLIMMING EATS ARE COPYRIGHT PROTECTED
Nutritional information etc are an estimate and are to be used for informational purposes only. Ingredients can vary in values from brand to brand and therefore it would be impossible to give accurate information. It is always advised that you calculate values yourself by the ingredients you use and the tools provided to you as a member of the programme you are following.
It is the responsibility of the Reader to assure the products or ingredients they use in any recipes from Slimming Eats are allergen-free (gluten-free, egg-free, soy-free and/or dairy-free, for example). Slimming Eats assumes no liability for inaccuracies or misstatement about products, opinions or comments on this site. 
Check Legal section, for Full Disclaimer, Disclosure and Privacy Policy.
Nutrition Information
Yield

2
Serving Size

1 serving (bowl)
Amount Per Serving
Calories

405
Total Fat

5.5g
Saturated Fat

0.5g
Cholesterol

64mg
Sodium

1447mg
Carbohydrates

48.8g
Fiber

15.9g
Sugar

8.6g
Protein

39.4g
Disclosure: This post may contain affiliate links. As an Amazon Associate and member of other affiliate programs, I earn from qualifying purchases. We are a participant in the Amazon Services LLC Associates Program, an affiliate advertising program designed to provide a means for us to earn fees by linking to Amazon.com and affiliated sites." Check Legal section, for Full Disclaimer, Disclosure and Privacy Policy.