These are by far the best ever low syn chocolate brownies you will make - period!!
We've all been there before, that low syn cake recipe that promises us the best ever taste, only to be totally disappointed and the final result ends up in the bin. Total waste of ingredients that could have been put to far better use, right?
When you want a cake that actually tastes like cake, you have to prepared to use a few more syns.
If you want a cake that advertises itself as virtually no syns and consists of mostly eggs and sweetener, you can pretty much guarantee that the cake is going to taste like - wait for it, eggs and sweetener. Because let's face it, an amazing cake is never going to be made of just eggs and sweetener. Not unless the cakes you like resemble a sweet eggy omelette of course.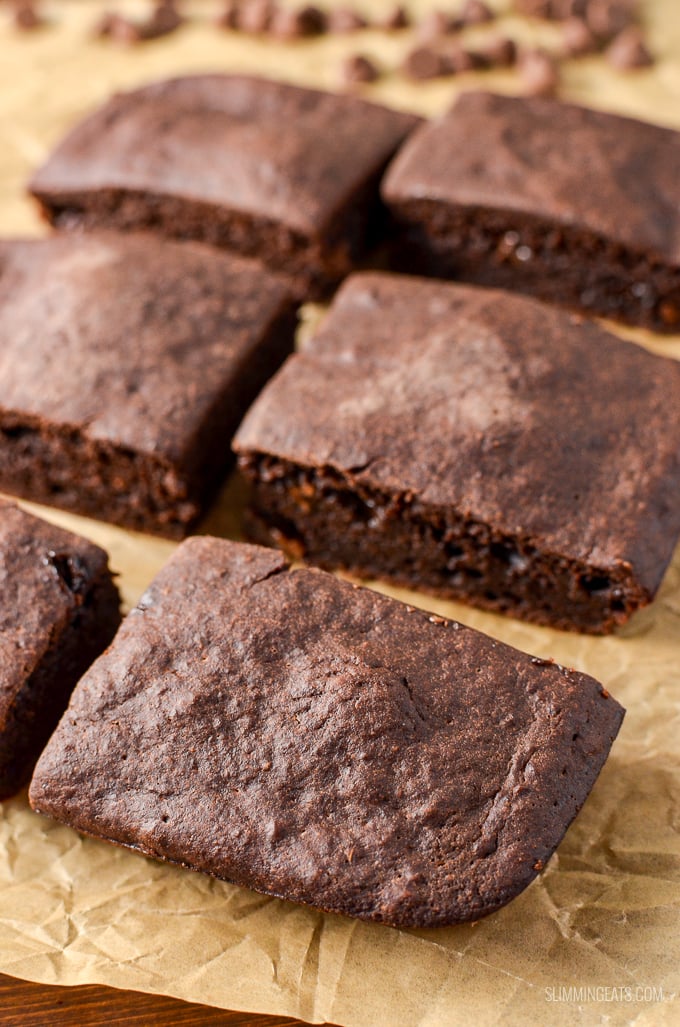 Don't get me wrong I love eggs, but my kind of eggs come fried, scrambled, poached or boiled. Those are the only times I like something to taste like egg.
So I set out on a task this week, to come up with the best ever low syn chocolate brownies and for those, I knew I had to be prepared to sacrifice some syns and use some "real" ingredients.
My family sometimes call me rather fussy, because there are occasionally recipes that  I will create that they love, but I am not 100% happy with and so I work on those recipes a bit more before it is blog worthy for me to share with you.
Back in the day when I first started my blog, I was no expert cook by any means and so there are probably some of my earlier recipes that today I probably wouldn't have shared with you today. I am my own worst critic now as I really want you, my readers, to enjoy all the recipes I give to you.
I know I can't please everyone 100% of the time, because we all have different tastes. There are bound to be recipes that are my favourites but for other's are their least favourite. So I generally use my whole family, neighbours or friends as my taste testers and perfect taste testers they are too.
The brownie recipe went through various different bakes and ingredients before I got the result I was happy with and I am sharing with you today. When I say these are perfect, are a decent size slice (not like a teensy postage stamp square of brownie that if you exhaled to heavy could well blow the thing away right off your plate), use real ingredients and are well within your daily syns, I am pretty confident you will think that two. The best part of all is you can enjoy 1, 2 or even 3 of these and still have some syns left from your daily allowance. Perfect right?
---
If you want some other delicious low syn cakes, then you have definitely come to the right place and below are some of my all-time favourites:
or head on over to my FULL RECIPE INDEX with over 800+ delicious Slimming World Recipes all fully searchable by meal type, ingredients and syn value etc
---
There is only one ingredient in these Best Ever Low Syn Chocolate Brownies that might not be in your usual pantry cupboard or baking shelf and that's Unsweetened Apple Sauce. I always have a jar of this handy in my pantry as it's a perfect low syn ingredient that's great for adding some natural sweetness to cakes or oatmeal etc.
It's readily available here in Canada with the canned fruits and is sold in a big jar.  In the UK you may need to look in the preserves/jam aisle or sauce aisle or check Amazon (just make sure it's unsweetened otherwise you will be adding a lot more syns to this recipe). You can also make some yourself, by just stewing some apple covered with a little water until soft and then drain and mash into a puree.
Why not make up a big batch next time you have a load of apples and freeze some in handy portions, that way you can make these Best Ever Low Syn Chocolate Brownies whenever you want.
You will notice along with the Sukrin and apple sauce, I use sugar. I personally wasn't happy with the bake without it. To get the proper brownie texture, it really does need the sugar. The Sukrin alone, just doesn't work  for brownies in my opinion.
For baking the brownies I used 17cm square ovenproof dish which yields 6 decent sized brownies, but you could even bake these as individual brownies in a muffin tin if you prefer. Just ensure you make 6 brownies to ensure you get the syn value correct.
What Kitchen Items do I need to make these Best Ever Low Syn Chocolate Brownies?
---
LET'S CONNECT!
Find me ON FACEBOOK | INSTAGRAM | PINTEREST | TWITTER | and YOUTUBE, come and follow me TO MAKE SURE YOU KEEP UP TO DATE ON ALL NEW RECIPES 🙂
You can also 

subscribe

 to Slimming Eats to keep up to date with all new recipes. 
IF YOU TRY THIS RECIPE, LET US KNOW! LEAVE A COMMENT, RATE IT AND  TAG US IN YOUR PHOTOS @SLIMMINGEATS ON INSTAGRAM
The Best Ever Low Syn Chocolate Brownies | Slimming World
This recipe is dairy free, vegetarian, Slimming World and Weight Watchers friendlyExtra Easy - 4.5 syns per brownieOriginal/SP - 4.5 syns per brownieGreen/Vegetarian - 4.5 syns per brownieWW Smart Points - 4 per brownieDairy Free - use dairy free chocolate chips*suitable for freezing
Ingredients
⅓ cup (80ml) unsweetened applesauce
18g of cocoa (cacao) powder
3 tbs of sugar
4 tbs of sukrin (or another sweetener of choice)
1 egg
1 tsp of vanilla extract
60g of plain all purpose flour
½ tsp of baking powder
15g of chocolate chips
Instructions
Preheat oven to 180c/350f
Warm the unsweetened applesauce in the microwave
Add in the sugar, sweetener and cocoa powder and whisk to a smooth chocolate paste.
Whisk in the vanilla and egg.
In a separate bowl combine the flour, baking powder and pinch of salt
Add in the chocolate mixture and fold till combined.
Add in the chocolate chips.
Grease an approx 17cm square pan with cooking oil spray
Pour in the batter and bake in the oven for 25-30 mins.
Remove from oven, let cool slightly before slicing.
Enjoy as they are or serve with some fruit, light cream or yoghurt
Notes
Syns may vary in some ingredients, so double check the ingredients you use. 
If you wish to share this recipe, then please do so by using the share buttons provided. Do not screenshot or post recipe or content in full
Nutritional information is an estimate and is to be used for informational purposes only. Ingredients can vary greatly from brand to brand and therefore it would be impossible to give accurate information.
All images and content on Slimming Eats are copyright protected.
Check Legal section, for Full Disclaimer, Disclosure and Privacy Policy. 
Nutrition Information
Yield

6
Serving Size

1 brownie
Amount Per Serving
Calories

103
Total Fat

1.9g
Saturated Fat

0.9g
Cholesterol

31mg
Sodium

99.7mg
Carbohydrates

18.3g
Fiber

1.3g
Sugar

9.6g
Protein

3.1g
Disclosure: This post may contain affiliate links. As an Amazon Associate and member of other affiliate programs, I earn from qualifying purchases. We are a participant in the Amazon Services LLC Associates Program, an affiliate advertising program designed to provide a means for us to earn fees by linking to Amazon.com and affiliated sites." Check Legal section, for Full Disclaimer, Disclosure and Privacy Policy.