The Best Slimming World Microwave Chocolate Mug Cake you will ever make - seriously light, fluffy and delicious!!
Often when you hear the word Slimming World Cake you are anxious about how the recipe will turn out, with many resembling a kind of sweet omelette that isn't very pleasant. It can kind of put you off ever bothering to try any more. Sometimes you just have to use some real ingredients and a few more syns to get a delicious cake you know you will enjoy.
I love cake, what can I say, who doesn't love a piece of cake? and recently I have really cracked it with amazing Slimming World cakes that taste like proper cake. Of course, I might be slightly biased when I say that, but I know that my lovely readers have been enjoying all my recent cake recipes, or so you tell me anyway. Thank you!!
This Microwave Chocolate Mug Cake will not disappoint either. I have been so excited to share it with you, because of how fluffy and light the cake actually turned out and all ready in less than a few minutes in the microwave.
A big lifesaver for me when it has come to making delicious Slimming World cakes is a natural sweetener called Sukrin. You have probably seen it mentioned in all my cake recipes recently and I really can not recommend it enough. You can read all about this sweetener on my Sukrin Review.
I am not keen on the icing sugar version (Melis), but Sukrin: 1 and Sukrin Gold (a brown sugar replacement), I always have in my pantry for when I want to make something sweet and delicious like this Microwave Chocolate Mug Cake. Before I discovered Sukrin, I would only ever use maple syrup or honey, because I just hated how artificial other sweeteners made things taste.
For the chocolate part of this cake, I use Nutella and 100% Pure Cocoa Powder. The combination of both of those ingredients gave enough chocolate taste without making it too bitter tasting from the cocoa powder.
The cakey part of this Microwave Chocolate Mug Cake is my beloved oats. I can't tell you how much I love to use oats in baking recipes. Firstly if you are gluten-free, they are a great option (just check the ones you buy state that they are gluten free verified) and secondly they are an HEb, which can save you a whole heap of syns if you save your healthy extra b choice towards the cake.
---
Is blending oats a tweak? The simple answer is no. Oats are a measure healthy extra, so you can't eat more than your allowance, for that reason oats used in this way or not a tweak. A tweak applies to Free Foods on Slimming World which are used to make synned treats/snacks - like couscous for cakes, smash for scones etc.
---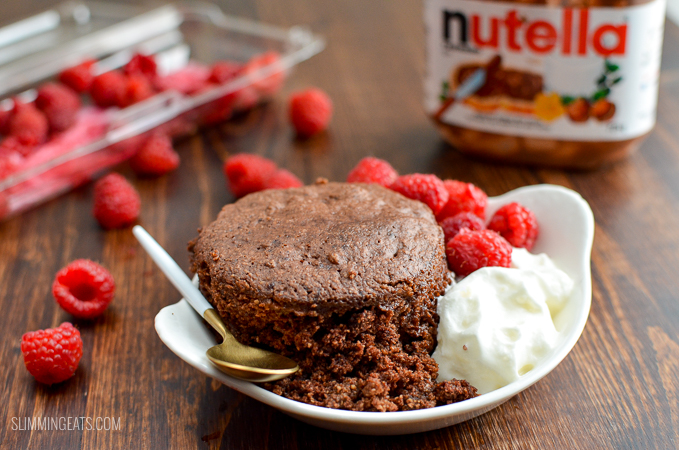 One of the very first recipes I used oats in for a cakey type recipe was my very popular American Style Pancakes which I posted all the way back in 2009, can you believe it? Many variations of the recipe have followed too. Be sure to give those a try if you haven't already.
Head on over to my FULL RECIPE INDEX where you can browse over 700+ Slimming Word Recipe that is fully searchable by meal type, syn value and ingredients etc.
To get that fluffy light texture to the Microwave Chocolate Mug Cake, the magic ingredients are baking powder and baking soda, just tiny teeny amounts that are so negligible in syns I don't bother counting, but the difference they make are amazing and lastly just 1 egg white. That's it.
One thing I will say is to make sure you use a big enough mug for this cake. As it cooks, it will rise quite a bit, and the last thing you want is to not use a big enough mug and it rises and explodes all over your microwave.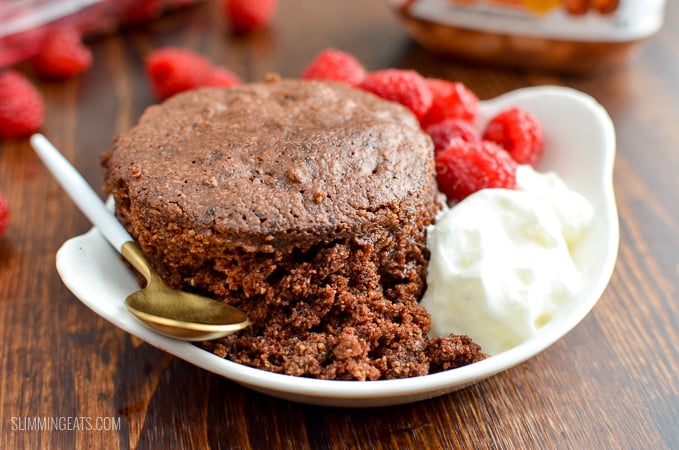 What Kitchen Items Do I need to Make this Microwave Chocolate Mug Cake?
---
LET'S CONNECT!
Find me ON FACEBOOK | INSTAGRAM | PINTEREST | TWITTER | and YOUTUBE, come follow me TO MAKE SURE YOU KEEP UP TO DATE ON ALL NEW RECIPES 🙂
You can also subscribe to Slimming Eats to keep up to date on all new recipes. 
IF YOU TRY THIS RECIPE, LET US KNOW! LEAVE A COMMENT, RATE IT AND  TAG US IN YOUR PHOTOS @SLIMMINGEATS ON INSTAGRAM
Microwave Chocolate Mug Cake | Slimming World
Cook Time:
1 minute
25 seconds
Total Time:
11 minutes
25 seconds
This recipe is gluten free, vegetarian, Slimming World and Weight Watchers friendlyExtra Easy - HEb and 6.5 synsOriginal - HEb and 6.5 synsGreen/Vegetarian - HEb and 6.5 synsWW Smart Points - 10Gluten Free - ensure all ingredients used are gluten free. 
Ingredients
40g of oats - HEb
¼ tsp of baking powder
⅛ tsp of baking soda
1 tbs of chocolate spread (like nutella) - 5 syns
5g of 100% pure cocoa powder - 1 syn
2 tbs of plain fat-free plain Yoghurt
½ tsp of vanilla extract
1.5 tbs of sukrin: gold (or use another sweetener of choice) - 0.5 syns
1 egg white 
Instructions
Add the oats to a blender and blend until fine.
Add the baking powder and soda and mix to combine.
Add the chocolate spread to a large mug (that you are using to cook the cake in)
Microwave for approx 20 secs
Add the cocoa powder, yoghurt, vanilla extract, sukrin and egg white and mix till a smooth paste.
Add the oat mixture and stir until all ingredients are combined
Microwave for 1 minute and 25 secs.
Allow to cool slightly and then carefully use a knife or spatula and run it along the outside if you wish to remove cake from the mug.
Serve with berries and yoghurt or some light cream for some additional syns.
Notes
As we use only a tiny amount of baking powder and baking soda, the syns are negligible hence why they are not synned in this recipe. 
If you wish to share this recipe, then please do so by using the share buttons provided. Do not screenshot or post recipe or content in full 
Nutritional information is an estimate and is to be used for informational purposes only. Ingredients can vary greatly from brand to brand and therefore it would be impossible to give accurate information.
All images and content on Slimming Eats are copyright protected.
Check Legal section, for Full Disclaimer, Disclosure and Privacy Policy. 
Nutrition Information
Yield

1
Serving Size

1 mug cake
Amount Per Serving
Calories

302
Total Fat

9g
Saturated Fat

2.9g
Cholesterol

0.6mg
Sodium

86.9mg
Carbohydrates

45.1g
Fiber

13.5g
Sugar

6g
Protein

12.8g
Disclosure: This post may contain affiliate links. As an Amazon Associate and member of other affiliate programs, I earn from qualifying purchases. We are a participant in the Amazon Services LLC Associates Program, an affiliate advertising program designed to provide a means for us to earn fees by linking to Amazon.com and affiliated sites." Check Legal section, for Full Disclaimer, Disclosure and Privacy Policy.