Delicious moist cinnamon spiced Pumpkin Sultana Muffins that are perfect to enjoy any time of year.
I think I may well have my new favourite cake and the best part of all, you can enjoy 4 of these as your Healthy Extra B choice with an additional 3.5 syns. How amazing is that?
You could serve up 2 with some fruit and yoghurt for breakfast and then enjoy the other two as an afternoon or evening snack with a nice cup of tea (or coffee).
This time of year I have an abundance of pumpkin puree. I buy the little small pumpkins pretty much weekly when in season, so I can puree and freeze to use in all my amazing pumpkin recipes.
Pumpkin is not to everyone's taste, but I personally love it. Waffles, pancakes, granola, soup, crustless pie, you name it, I've made it.
Did you know pumpkin is a speed food? You don't need any other reason to start adding it to your meals, right? I don't just wait till this time of year to enjoy one of my many pumpkin recipes. I make these often because they are just too darn good.
Don't worry if you are stumbling across this Pumpkin Sultana muffins recipe and fresh is not available as you can get some pretty good canned varieties of pumpkin puree from most grocery stores. Just make sure the ingredients are just 100% pumpkin, as there are a few varieties of canned pumpkin pie fillings and those are loaded with sugar.
In case you are thinking, but what am I going to use the rest of the pumpkin puree on, do not fear, check out these other amazing Pumpkin recipes below:
Another great thing about these Pumpkin Sultana muffins is that because they use just oats and a few other ingredients, these can also be gluten-free.
The recipe makes 12 decent size muffins and they truly are delicious. I enjoyed the 4 and frozen the rest for another day. So they will be great for grab and go breakfasts when short on time.
If you have a fresh pumpkin and are wondering how you make pumpkin puree, it is pretty easy.
Just cut in half, remove the seeds, wrap the flesh part in foil and bake until soft, then once cooled you can scoop out the flesh and mash or put through a blender and voila!! you have pumpkin puree which you can freeze in handy portions.
These Pumpkin Sultana muffins actually don't use a huge amount of pumpkin puree, so you should have enough left over to enjoy one or two of my other delicious pumpkin recipes.
Of course, if you are anything like me, you will be coming back to these recipes again and again. As they truly are delicious.
To make the Pumpkin Sultana muffins, you will need a blender or food processor to grind the oats.  I the cups of my Nutri Ninja Blender with Auto IQ. This blender is amazing. The auto IQ technology feature, mean it blends to a set pattern depending on what it is you are making. There is also an optional add-on for a food processor bowl, which is perfect for chopping and grating vegetables. Sauces and soups are literally so smooth, once complete in this amazing kitchen gadget.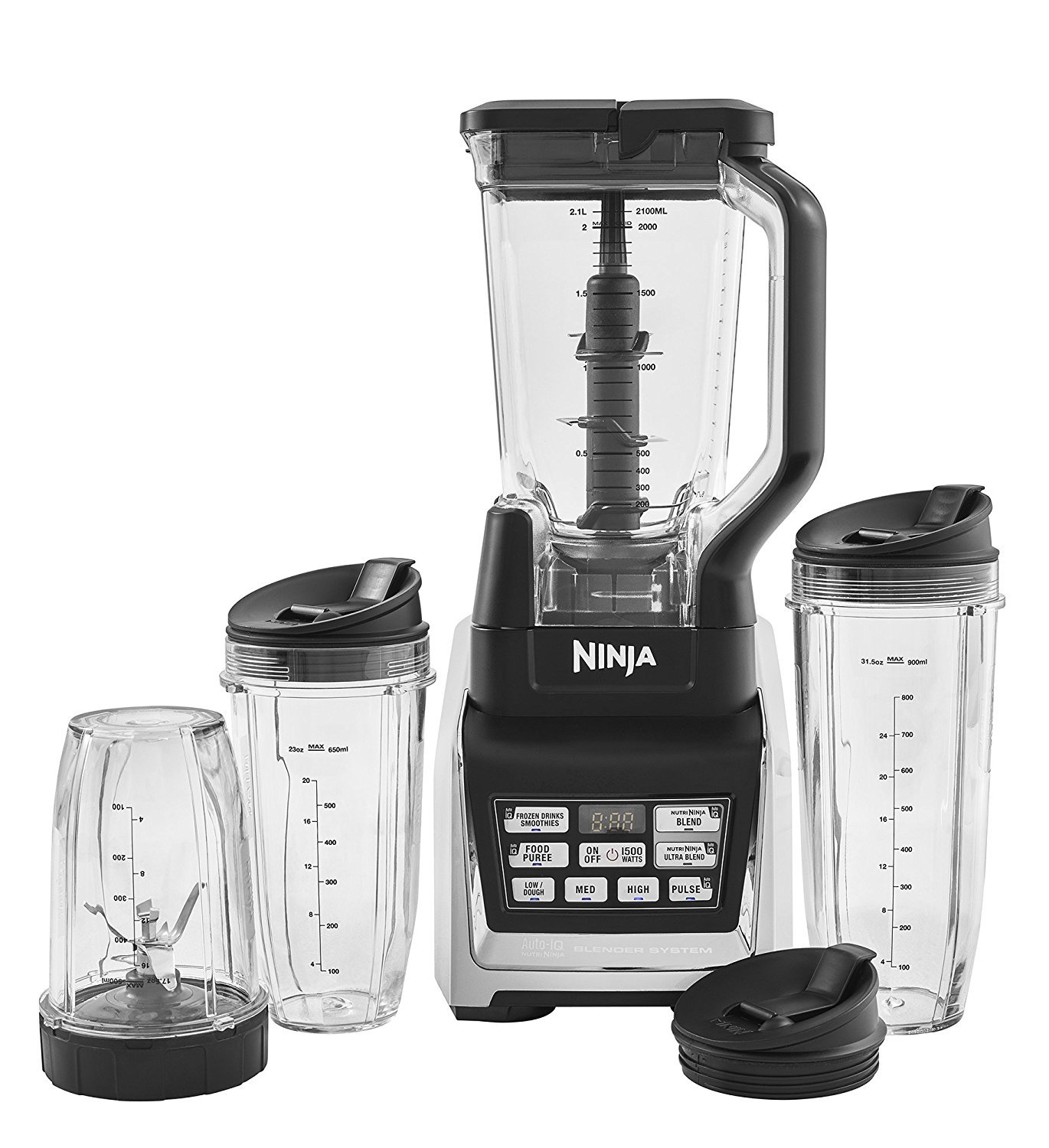 You don't need a blender like mine above, any blender or food processor will work for these Pumpkin Sultana muffins
---
You may be saying - but hey wait a minute, you grinding the oats, isn't that a tweak? You will be pleased to know that as oats are a measured healthy extra, blending, or grinding them etc, is not a tweak because they are not a free food that you can overindulge in. Tweaks apply to free foods, where you are using a free food to replace a food that is synned. 
---
In place of sugar in these yummy Pumpkin Sultana muffins, I use some Sukrin: 1  - this is a natural based sweetener that has no aftertaste and is my preferred choice in baking. It can be found at some health food stores as well as on Amazon. Of course, you can replace with any sweetener of choice, just be aware that the taste may differ.
As well as the sukrin, I also use unsweetened applesauce in this recipe. I really do not recommend omitting it, because it helps the bake of this recipe. Just make sure you are using unsweetened. It should have no sugar in the ingredients list.
Most grocery stores stock this and you will find it as either applesauce or apple puree. Also feel free to make your own by stewing some apples and blending to a puree. For ease of use, however, I just buy a big jar of unsweetened applesauce, as it comes in handy. The kids love it in their oatmeal or on top of some yoghurt (which is a much healthier alternative to the flavoured yoghurts high in sugar).
Lastly, I also added some sultanas, the kids love them and they just compliment the muffin really well with the flavours of cinnamon and allspice.
So now we have all that covered, on to the full recipe.
Also don't forget to check out my FULL RECIPE INDEX which has over 500+ delicious Slimming World to browse through, with new recipes added regularly.
What kitchen items do I need to make these Pumpkin Sultana Muffins?
Pumpkin Sultana Muffins
This recipe is gluten free, dairy free, vegetarian, Slimming World and Weight Watchers friendlyExtra Easy - 1 HEb and 3 syns (per 4 muffins)Original/SP - 1 HEb and 3 syns (per 4 muffins)Green/Vegetarian - 1 HEb and 3 syns (per 4 muffins)WW Smart Points - 2 per muffinGluten Free - ensure all ingredients are gluten freeIf not using healthy extra b choice, the muffins are 3 syns each.  
Ingredients
120g of oats - 3 HEb's
½ cup (120ml) of pumpkin puree
1 tsp of baking powder
½ tsp of baking soda
teeny pinch of salt
1 tsp of vanilla extract
1 tsp of cinnamon
½ tsp of allspice
6 tbs of sukrin:1 (or other sweetener of choice) - 3 syns
½ cup (120ml) of apple sauce (unsweetened) - 2.5 syns
2 large eggs
20g of sultanas - 3 syns
spray oil
Instructions
Preheat oven to 180c/350f (gas mark 4)
Add the oats to a blender or food processor and keep pulsing the blade until they are nice and fine.
Add to a bowl along with the baking powder, baking soda, salt, cinnamon and allspice.
In a separate bowl, add the pumpkin puree, sukrin, apple sauce, vanilla and eggs and whisk to combine.
Add this into the oat mixture, along with the sultanas and fold till all combined.
Line a muffin tray with muffin cases and spray with a little spray oil to grease.
Spoon in the mixture.
Place in the oven and bake for approx 35-40 mins, a skewer entered into the centre should come out clear.
Remove from oven, cover with a clean tea towel and allow to cool (the tea towel trick, helps to keep these nice and moist).
Notes
Nutritional information is an estimate and is to be used for informational purposes only.
Ingredients can vary greatly from brand to brand and therefore it would be impossible to give accurate information. Also, double-check syn values of synned ingredients as different brands can vary. 
All images and content on Slimming Eats are copyright protected.
If you wish to share this recipe, then please do so by using the share buttons provided. Do not screenshot or post recipe or content in full
Check Legal section, for Full Disclaimer, Disclosure and Privacy Policy. 
Nutrition Information
Yield

12
Serving Size

1 muffin
Amount Per Serving
Calories

70
Total Fat

1.7g
Saturated Fat

0.4g
Cholesterol

31mg
Sodium

28.1mg
Carbohydrates

11.2g
Fiber

1.6g
Sugar

4g
Protein

2.3g
Disclosure: This post may contain affiliate links. As an Amazon Associate and member of other affiliate programs, I earn from qualifying purchases. We are a participant in the Amazon Services LLC Associates Program, an affiliate advertising program designed to provide a means for us to earn fees by linking to Amazon.com and affiliated sites." Check Legal section, for Full Disclaimer, Disclosure and Privacy Policy.