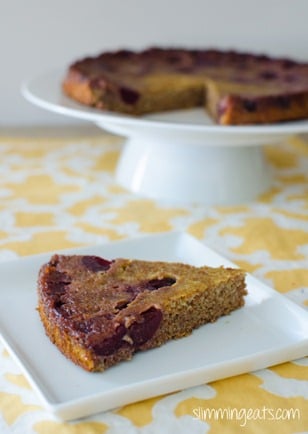 Upside Down Cherry Scan Bran Cake
Slimming Eats Recipe
Serves 6
Green – 6 syns per slice
Extra Easy – 6 syns per slice
Original – 6 syns per slice
Ingredients
8 scan bran (Scandinavian Bran Crispbread) (8 syns)
200g of fresh pitted cherries, cut in halve (6 syns)
3 eggs
2 tablespoons of golden syrup (6 syns)
6 tablespoons of light brown sugar (13.5 syns)
1 teaspoon of vanilla essence
2 tablespoons of fat free greek yoghurt
oil spray
Note: synned ingredients will vary depending on brand used, so be sure to check syns.
Method
Preheat oven to 180c of 350f (gas mark 4)
Grease a round cake dish with some oil spray
Add the golden syrup to the bottom of the cake dish and place in the oven for a minute or so, just so it becomes more liquid like, that way you can easily swirl it around to cover the bottom.
Loosely line the bottom with your cherries, making sure to place them cut side down.
Soak the scan bran in a little hot water and then when softened, mash it all up with a fork. Drain any excess water.
In a separate bowl, whisk together your eggs, sugar and vanilla essence. Then add this into your scan bran and fold all the ingredients together thoroughly.
Mix in the yoghurt.
Then carefully pour mixture into the cake pan evenly.
Place in the oven till firm on top and a skewer entered into the centre comes out clean. Approx 45 mins.
Allow to cool slightly, then gently run a knife all around the sides to loosen, Place a large plate over the top and then holding the plate over the cake pan, turn upside down and your cake will then be nicely laid on your plate with the fruit now at the top.
Serve as is, or top with some cream for a few extra syns or some quark.
Enjoy!!
NOTE: You can try replacing the sugar with a Splenda to reduce the syns down even more, but  I feel it needs the brown sugar to caramelize.
You can also make different variations on this, using plums, pineapple, apple or pears etc
The recipe above has been calculated for Slimming World, however for those of you following the Weight Watchers plan or another calorie controlled type diet. Below is the approx nutritional information:
Approx NUTRITIONAL INFORMATION

1 slice

Calories

146

Fat

2.4g

Saturated Fat

0.7g

Total Carbohydrate

26g

Dietary Fibre

5.2g

Sugars

18.8g

Protein

             5.2g
Disclosure: This post may contain affiliate links. As an Amazon Associate and member of other affiliate programs, I earn from qualifying purchases. We are a participant in the Amazon Services LLC Associates Program, an affiliate advertising program designed to provide a means for us to earn fees by linking to Amazon.com and affiliated sites." Check Legal section, for Full Disclaimer, Disclosure and Privacy Policy.