Tender juicy chicken thighs smothered in a creamy garlic sauce with mushrooms - all finished off with delicious melted cheese.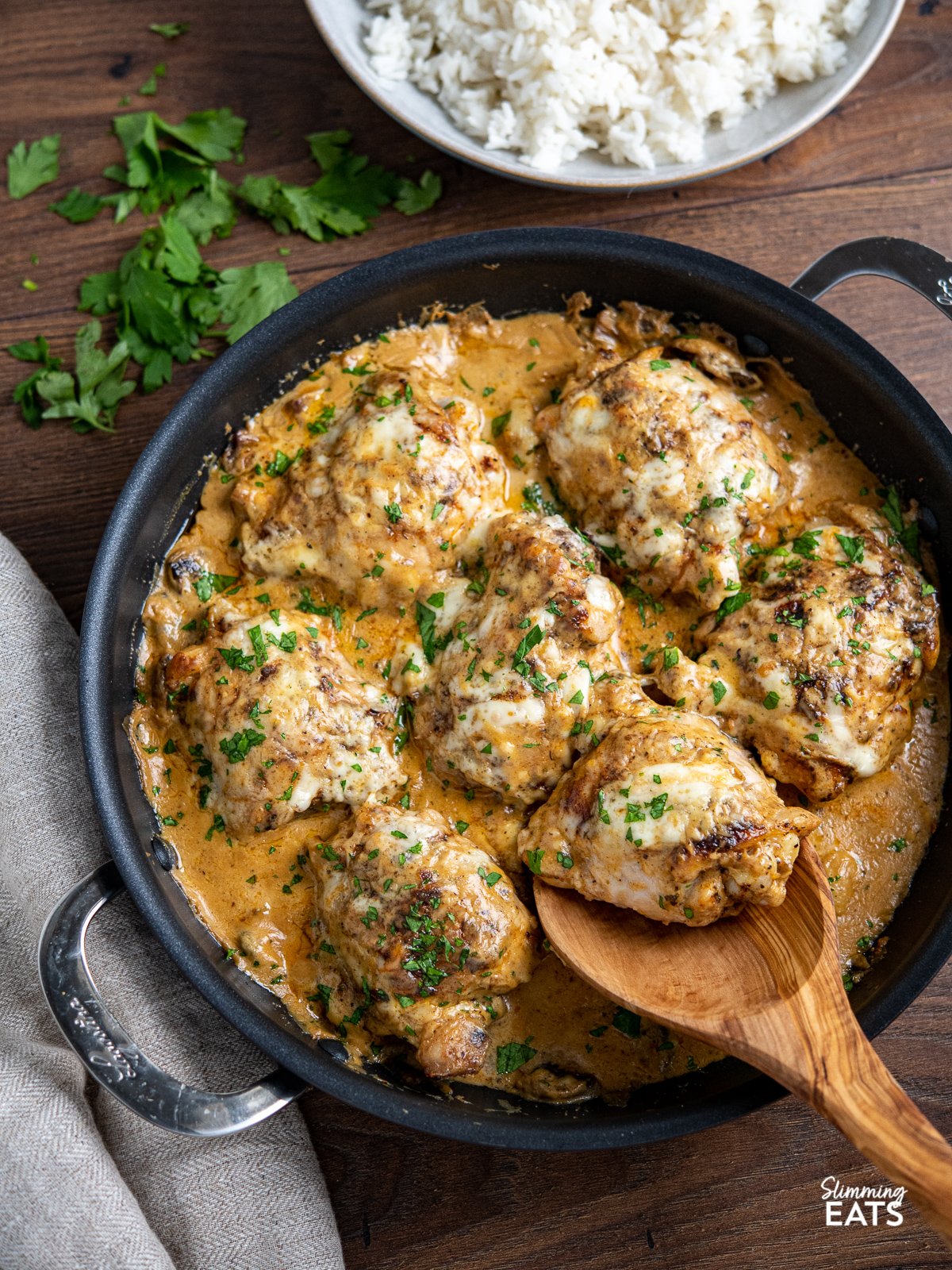 Smothered Cheesy Garlic Chicken
I mean what's not to like, right? All those words and all for one dish? It like heaven on a plate. The seasoning is perfect, the sauce is creamy and delicious and well who can complain about a melted cheesy goodness on the top?
The only difficult part is deciding what to serve with it and I can suggest some of those for you too, making this a easy delicious dinner for any night of the week.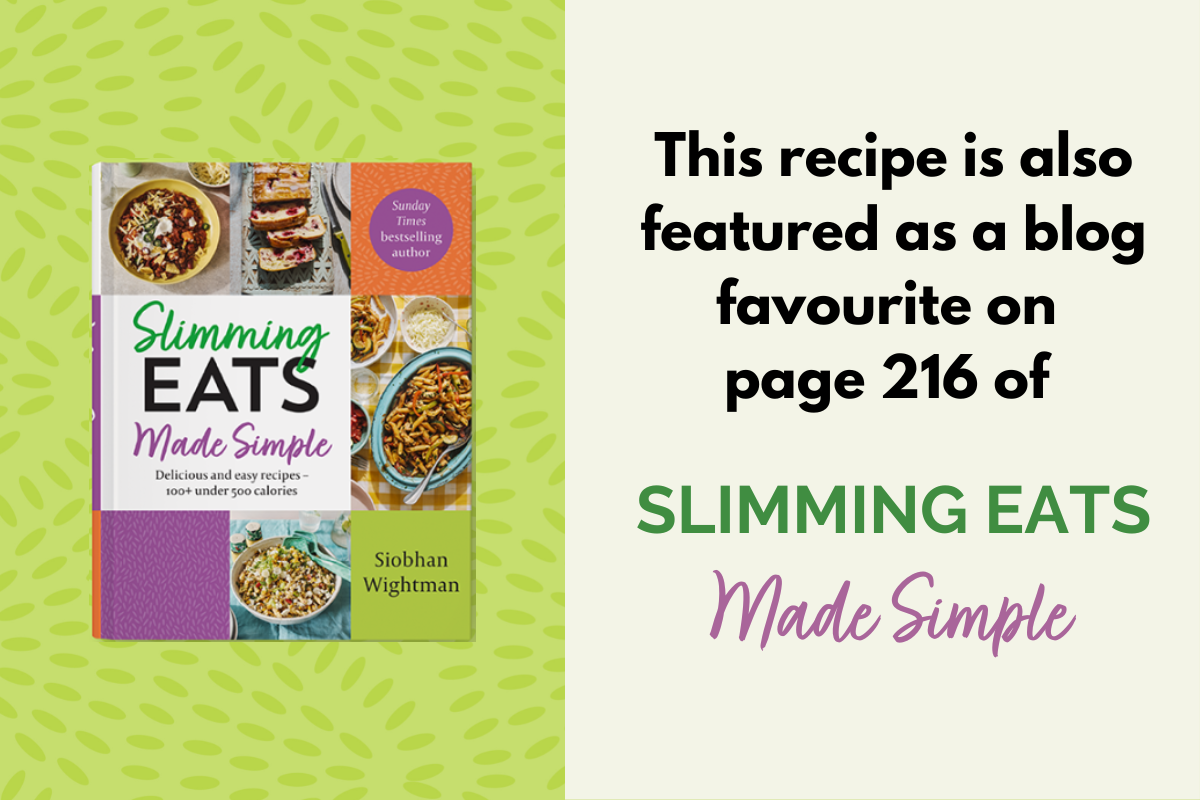 This recipe is also found in the Slimming Eats Made Simple cookbook as one of the 15 bonus blog favourites. You can get it from all Major Retailers including Amazon
(As an Amazon Associate and member of other affiliate programs, I earn from qualifying purchases.)
Cooking with Skinless Bone-in Chicken Thighs
Now I know not everyone likes chicken the bone, but it really does add such depth and flavour to a dish. Think of it a bit like Chicken Broth, which you make from chicken one the bone with veggies, herbs and seasoning for an amazing fresh flavour.
Similar result is achieved here with this recipe, by using skinless bone-in chicken thighs. The plus side too is that it is usually such a budget friendly cut of a chicken. I buy with the skin on, then remove the skin prior to cooking and trim all the visible fat off with my meat scissors, so the cuts of chicken are as lean as possible.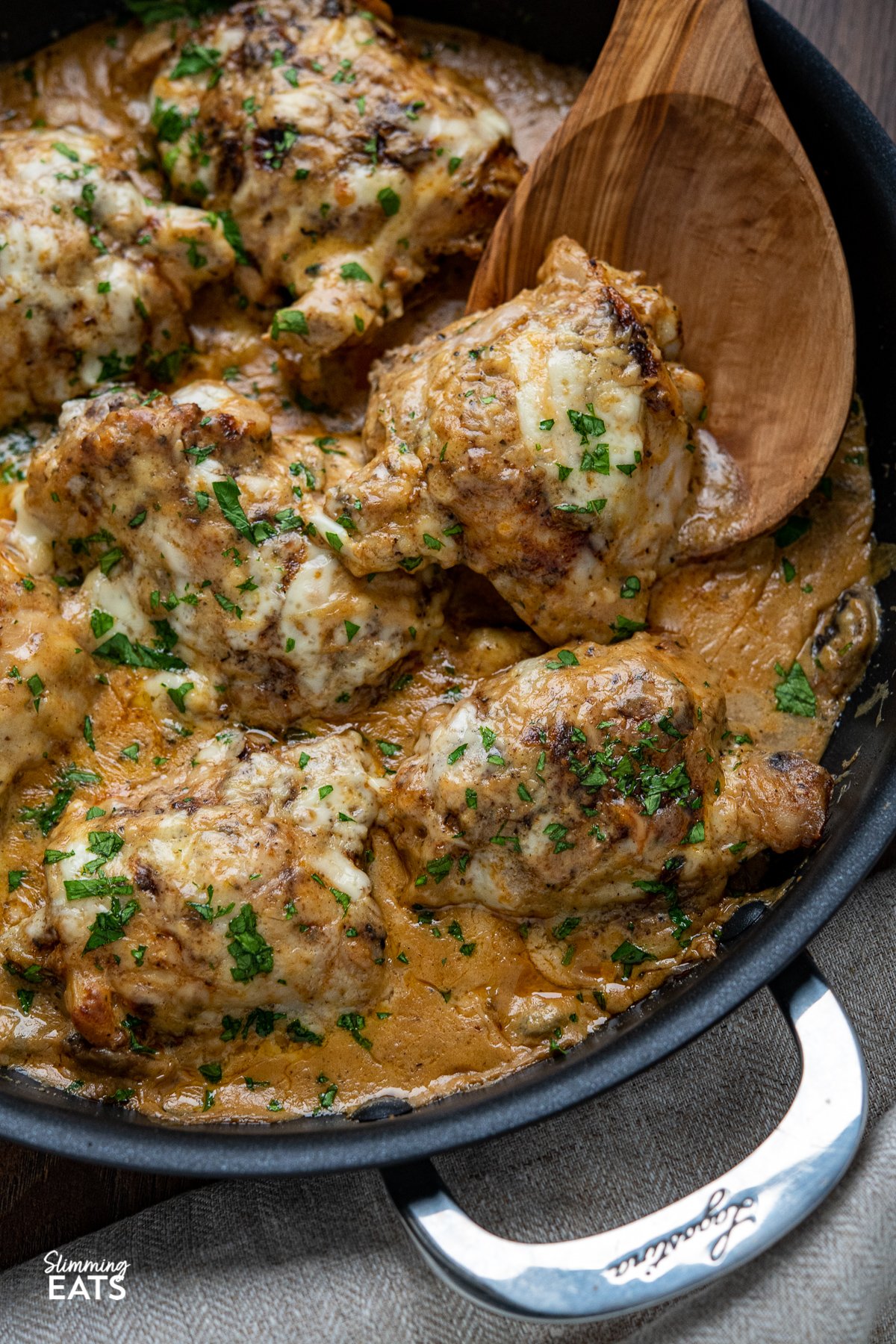 Can I use Boneless Chicken Thighs?
If you really can't face using chicken that is on the bone, then boneless chicken thighs should be okay, just be aware that the depth and flavour of the sauce may not be quite on par. I would also reduce the oven time to 25-30 minutes, otherwise the chicken will be overcooked.
I don't recommend opting for chicken breast for this recipe, you will need to adjust the recipe quite a bit if you do. Plus you just will not get the same flavours.
Sautéing Veg with stock
This is a clever trick I learned many many years ago now and it's amazing for softening browning things like onion, garlic, mushrooms, leeks etc, any vegetables really instead of using lots of oil, which will also add heaps of calories.
Of course some recipes really do need to olive oil or similar and I will never try to substitute for recipes that do, as 1 tablespoon of oil between 4 people isn't a whole load of calories. But as we are already using things like cream cheese, mozzarella and parmesan in this recipe, I didn't feel any added oil was needed.
To soften vegetable with stock, you just add in a little at a time and reduce it down around the vegetables. A similar process to what you do when cooking a risotto. This helps stop the vegetables from burning, gives them a lovely colour and also add flavour too. Any stock is fine, I tend to use chicken or vegetable, depending on what I am cooking.
Substitutes for Mushrooms
Not keen on mushrooms? and wondering what other vegetable you can use instead? Leeks would be a great substitute, some shredded cabbage or maybe even asparagus.
Another option is to omit the vegetable in the dish, but add your own choice of vegetables as a side instead.
Best Cheese for Melting?
I used mozzarella and parmesan in this recipe for the topping on the chicken. The mozzarella i a great melting cheese, but it can be quite mild in flavour, so the parmesan adds that bit of additional flavour.
If you don't like the strong taste of parmesan, you can swap for another cheese like some mature white cheddar instead. Any cheese that melts is fine for the Smothered Chicken.
Sides for Smothered Garlic Chicken
Wondering what to serve this with? There really is not any sides that I can think of that would not pair well with this dish. I opted for some long grain rice and garden peas. But it would be equally delicious with pasta or potatoes and various vegetables.
Here are a few other recipes for some suggested sides to serve with this dish:
or if you would like more recipe ideas - head on over to the FULL RECIPE INDEX where you will find over 900 delicious recipes all with estimated calories and you can search by ingredients, course, diet and more.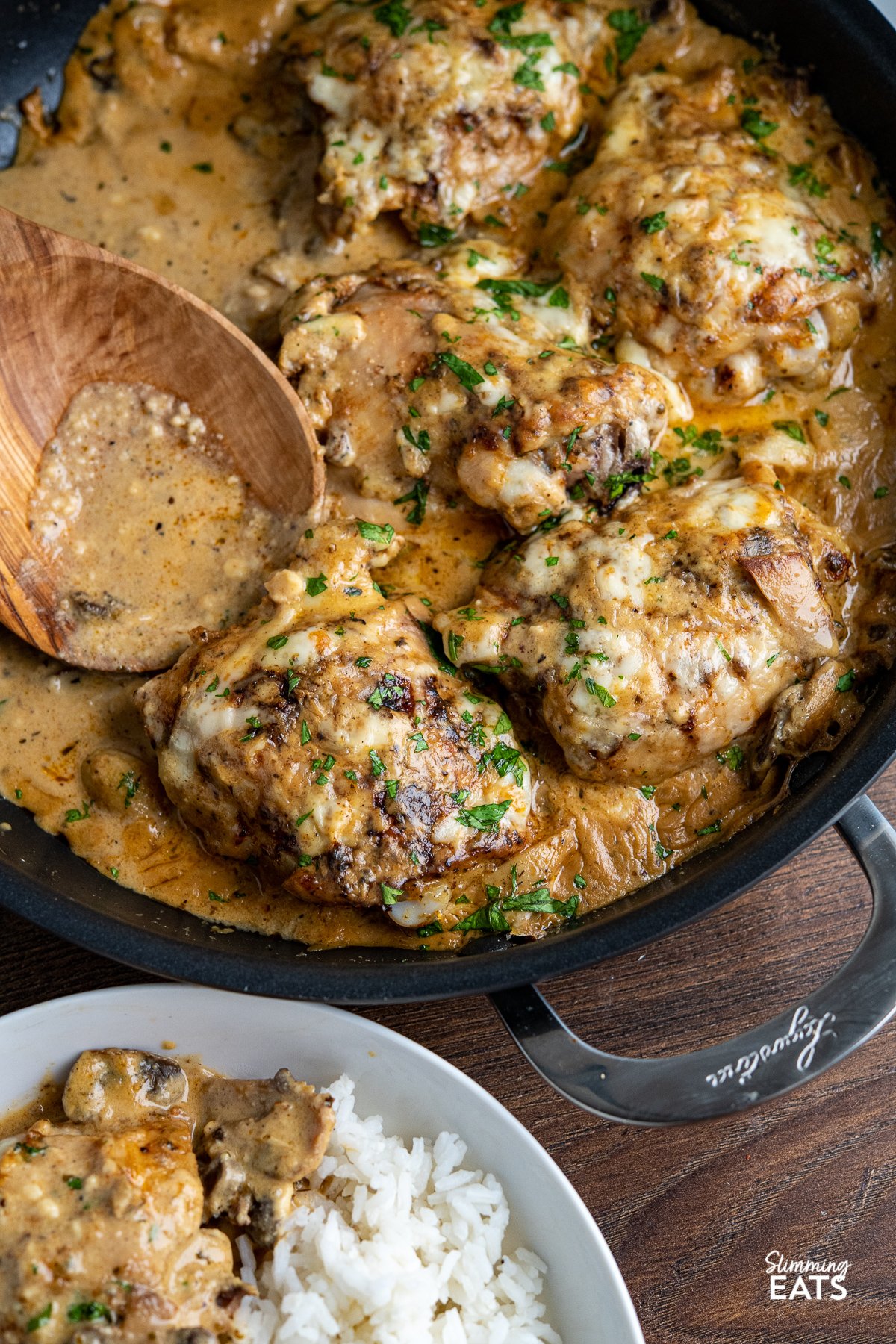 ---
LET'S CONNECT!!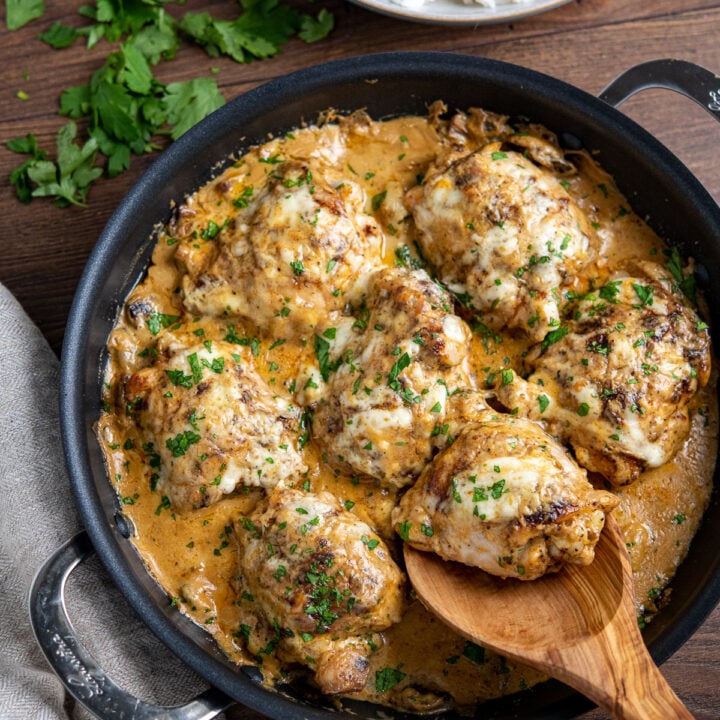 Smothered Garlic Chicken with Mushrooms
Total Time:
1 hour
15 minutes
Tender juicy chicken thighs smothered in a creamy garlic sauce with mushrooms and garlic all finished off with delicious melted cheese.
Ingredients
Seasoning
1 teaspoon of paprika
1 teaspoon of dried mixed herbs
¾ teaspoon of coarse sea salt
½ teaspoon of onion powder
½ teaspoon of black pepper
For the Chicken:
8 Small Skinless Bone-in Chicken Thighs, raw - trim off all visible fat
300g of white mushrooms, sliced thinly
8 cloves of garlic, halved
1.5 cups (360ml) of low sodium chicken stock
120g (4.2oz) of light cream cheese
70g (2.4oz)of light mozzarella, grated or broken into small pieces
30g (1oz) of parmesan, grated
1 tablespoon of chopped fresh Parsley
spray oil
Instructions
Preheat oven to 220c, fan 200c, 425f or gas mark 7
Add the chicken to a bowl with the seasoning and toss to evenly coat.
Heat a large deep frying pan over a medium high heat (I use one that can go in the oven for less clean up). Spray with cooking oil spray.
Add the chicken pieces all in one layer and brown on both sides until nice and golden (approx 4-5 minutes per side), Transfer the chicken to a plate.
Spray with a little more spray oil and add in the mushrooms and fry for a couple of minutes, scraping up all the flavour that is left in the bottom of the pan from the chicken.
Add in the garlic and just give a stir to combine evenly, then gradually add in ½ cup (120ml) of the chicken stock reducing down each little bit around the mushrooms and garlic until the garlic has really softened and has a lovely golden colour. This will make the garlic lovely a sweet. Don't rush this process or you will burn the garlic and cause it to be bitter.
Add in the cream cheese and remaining stock (1 cup) and allow to bubble gently stirring as it does, until the cream cheese is all melted and the sauce is creamy.
Add back in the chicken pieces in a even layer and spoon the sauce all over the top so they are well covered.
Add the mozzarella and parmesan to the top. then add lid and place in the oven and bake for 35-40 minutes, remove lid for the last 10 minutes of cooking time. Cheese should be all melted and lightly golden and chicken cooked through (chicken should have an internal temp of 165f).
Sprinkle with the chopped fresh parsley.
Serve with your choice of sides.
Enjoy!!
Notes
Please see below for full nutritional info and additional details about recipe:
Calories - scroll down to nutritional info box
WW Points and other Slimming or Weight Loss programs -   due to plans regularly changing and updating, we recommend calculating with the official tools you get as a member to those plans to ensure accuracy of values. 
If you wish to share this recipe, then please do so by using the share buttons provided at top of this post.
DO NOT COPY AND/OR PASTE FULL RECIPES OR SCREENSHOTS OF ANY CONTENT FROM SLIMMING EATS TO ANY SOCIAL MEDIA OR WEBSITE, IT IS STRICTLY PROHIBITED.
ALL IMAGES AND CONTENT ON SLIMMING EATS ARE COPYRIGHT PROTECTED
Nutritional information etc are an estimate and are to be used for informational purposes only. Ingredients can vary in values from brand to brand and therefore it would be impossible to give accurate information. It is always advised that you calculate values yourself by the ingredients you use and the tools provided to you as a member of the programme you are following.
It is the responsibility of the Reader to assure the products or ingredients they use in any recipes from Slimming Eats are allergen-free (gluten-free, egg-free, soy-free and/or dairy-free, for example). Slimming Eats assumes no liability for inaccuracies or misstatement about products, opinions or comments on this site. 
Check Legal section, for Full Disclaimer, Disclosure and Privacy Policy.
Recommended Products
As an Amazon Associate and member of other affiliate programs, I earn from qualifying purchases.
Nutrition Information
Yield

4
Serving Size

1 SERVING
Amount Per Serving
Calories

365
Total Fat

17.7g
Saturated Fat

6.8g
Trans Fat

0g
Cholesterol

81mg
Sodium

934mg
Carbohydrates

5.6g
Fiber

1.3g
Sugar

2.4g
Protein

45.2g
Nutritional information, syn values, points etc are an estimate and is to be used for informational purposes only. Ingredients can vary greatly from brand to brand and therefore it would be impossible to give accurate information. It is always advised that you calculate by the ingredients you use.
Disclosure: This post may contain affiliate links. As an Amazon Associate and member of other affiliate programs, I earn from qualifying purchases. We are a participant in the Amazon Services LLC Associates Program, an affiliate advertising program designed to provide a means for us to earn fees by linking to Amazon.com and affiliated sites." Check Legal section, for Full Disclaimer, Disclosure and Privacy Policy.