Dig into a delicious hearty bowl of this Roasted Pumpkin Soup - simple ingredients and easy to make.
I love this time of year for vegetables, as it's winter squash season and there are so many different varieties available to buy, it makes meals so much more interesting.
As well as all the different varieties of squash, there is also the delicious little sugar (or pie pumpkins) in the lead-up to Fall which means Thanksgiving Pumpkin Pie and all the pumpkin delights of Halloween.
Pumpkin is such a versatile ingredients, perfect in so many recipes and best of all it's a speed food.
Some of my favourite things to make with pumpkin are these amazing recipes below:
As soon as they are in season, you can pretty much expect one in my shopping cart weekly, I like to make my own puree to freeze to use in the above recipes, but another of my favourite things to make is this Roasted Pumpkin Soup.
So with that in mind, I grabbed two today, as sugar pumpkins are pretty small and once cut in half and the seeds scooped out, there isn't a whole lot of flesh.
I prefer to roast the pumpkin for this Pumpkin Soup because it just takes on a lovely caramelization and is so much more flavoursome. It means it takes a little bit longer to make, but it's worth it, the rest is pretty easy and the ingredients are super simple.
If you have only ever tried a carving pumpkin and hated it, you have been seriously doing it all wrong. Carving pumpkins are really not the best for eating, They taste pretty awful actually compared to these little small sugar (or Pie) pumpkins, so don't write pumpkin off altogether until you give one of these a try.
To roasted the pumpkin, I just sliced them in half with a sharp knife and then scoop out all the seeds, if you really want to you can save the seeds to roast, they are rather delicious, so bear that in mind, if you do roast some.
Once sliced in half and seeds removed, I then slice it, you can roast the halves as they are, but you will get more caramelization if you slice and it cooks slightly quicker too.
For seasoning, I just go for a little paprika and sea salt, nothing complicated.
While the pumpkin is roasting you can get on with the base to the soup. I like to add leeks into my base, as I find leeks add a lovely flavour to soups, along with the usual onion, celery and garlic.
Hey if you hate chopping veg, check out my Handy Little Soup Freezer Bags, they are perfect for when you have a bit of spare time on your hands, you can chop up a load of the basic mix in advance and freeze in little portions, so convenient for just throwing in the pan for soups, chilli's, bolognese etc.
Once the pumpkin is cooked, just allow it to cool a little and you can peel off the skin and add it into the pan.
To blend the soup nice and smooth, I use my Nutri Ninja Blender with Auto IQ. This blender is amazing. The auto IQ technology feature, mean it blends to a set pattern depending on what it is you are making. There is also an optional add-on for a food processor bowl, which is perfect for chopping and grating vegetables. Sauces and soups are literally so smooth, once complete in this amazing kitchen gadget.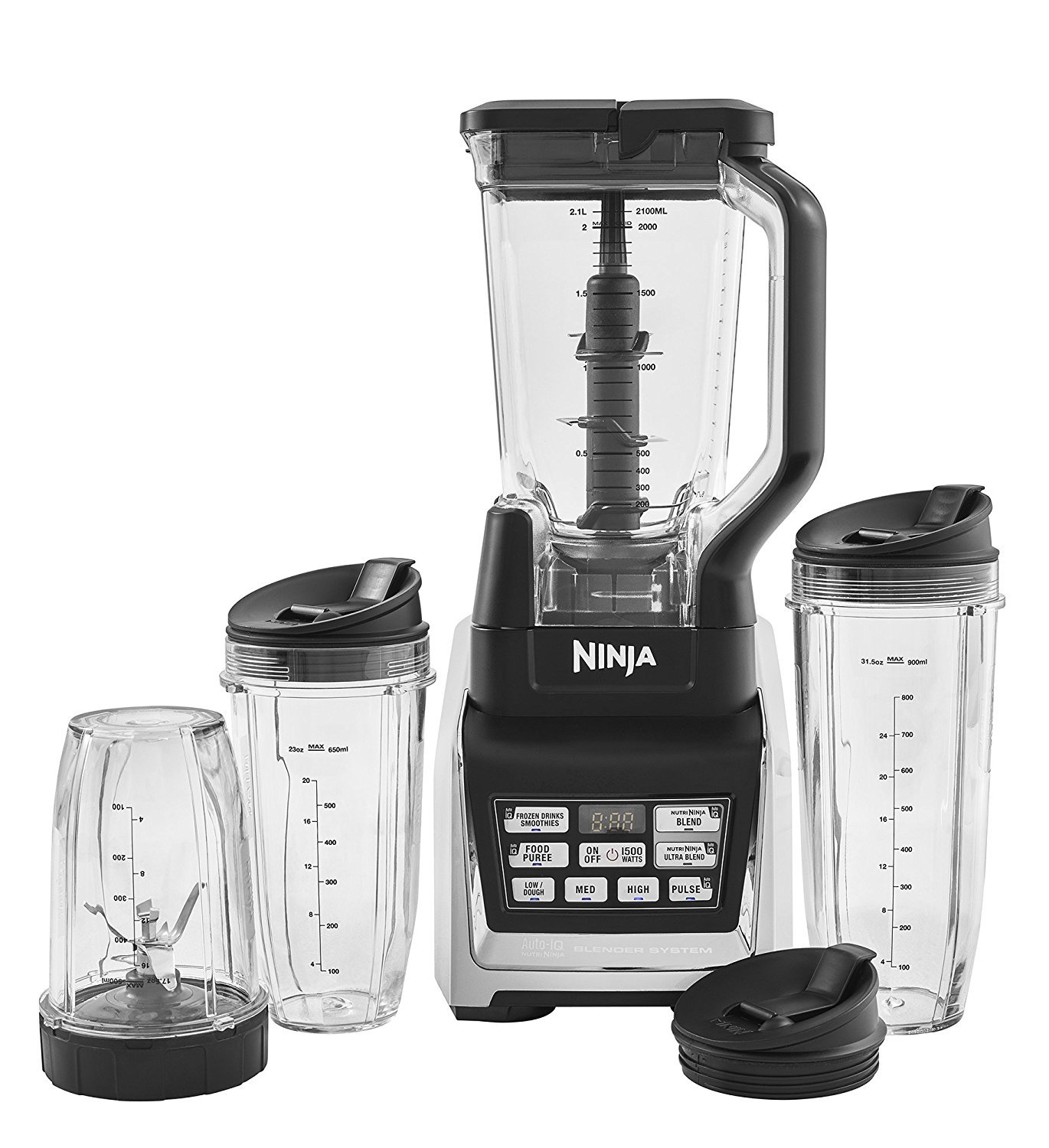 Don't worry though, you don't need a fancy high-tech blender like mine above, a good old immersion stick blender like the Koölle Electric Powerful 3-in-1 800 Watt Hand Stick Blender or a similar make will do the job too.
Once blended, add back to the pan just to simmer and the soup will become lovely and thick and creamy.
Enjoy this Pumpkin Soup just as it is, or drizzle with some fat-free plain yoghurt (or light coconut milk if you are dairy free), some pumpkin seeds add in some great texture too. 1 level tablespoon of hulled salted pumpkin seeds
This pumpkin soup is also perfect for freezing, so why not tub some up and freeze it for another day - yum!!!
Roasted Pumpkin Soup
This recipe is dairy free, gluten free, vegan, Weight Watchers friendly
Ingredients
2kg of sugar (pie pumpkins)
1-2 tsps of paprika
salt and black pepper
1 leek, sliced
2 stalks of celery
1 onion, chopped
2 cloves of garlic, crushed
1 tsp of fresh grated ginger
4 cups of vegetable stock
spray oil
Instructions
Preheat oven to 200c/400g
Cut pumpkins in half, remove seeds, then slice pumpkin, season with paprika, salt and pepper, place on a baking tray lined with parchment paper and spray with spray oil
Roast in the oven for 30 mins
While the pumpkin is roasting, spray a deep saucepan with some spray oil, add the onion, garlic, ginger, celery and leeks and fry to soften
Pour in the stock, bring to a boil and simmer until pumpkin is cooked.
Allow pumpkin to cool slightly and then peel off skins.
Add to a blender along with the soup base, and blend till smooth.
Add back to the pan and simmer just until thickened and creamy.
Season as need with salt and black pepper.
Notes
Optional: Top with a drizzle of fat-free yoghurt or light coconut milk if dairy free/vegan) and sprinkle with some hulled pumpkin seeds. 
Please see below for full nutritional info and additional details about recipe:
Calories - scroll down to nutritional info box
WW Points and other Slimming or Weight Loss programs -   due to plans regularly changing and updating, we recommend calculating with the official tools you get as a member to those plans to ensure accuracy of values. 
If you wish to share this recipe, then please do so by using the share buttons provided at top of this post.
DO NOT COPY AND/OR PASTE FULL RECIPES OR SCREENSHOTS OF ANY CONTENT FROM SLIMMING EATS TO ANY SOCIAL MEDIA OR WEBSITE, IT IS STRICTLY PROHIBITED.
ALL IMAGES AND CONTENT ON SLIMMING EATS ARE COPYRIGHT PROTECTED
Nutritional information etc are an estimate and are to be used for informational purposes only. Ingredients can vary in values from brand to brand and therefore it would be impossible to give accurate information. It is always advised that you calculate values yourself by the ingredients you use and the tools provided to you as a member of the programme you are following.
It is the responsibility of the Reader to assure the products or ingredients they use in any recipes from Slimming Eats are allergen-free (gluten-free, egg-free, soy-free and/or dairy-free, for example). Slimming Eats assumes no liability for inaccuracies or misstatement about products, opinions or comments on this site. 
Check Legal section, for Full Disclaimer, Disclosure and Privacy Policy.
Nutrition Information
Yield

4
Serving Size

1 serving
Amount Per Serving
Calories

196
Total Fat

0.2g
Sodium

198mg
Carbohydrates

10.2g
Fiber

2.5g
Sugar

4.5g
Protein

1g
Disclosure: This post may contain affiliate links. As an Amazon Associate and member of other affiliate programs, I earn from qualifying purchases. We are a participant in the Amazon Services LLC Associates Program, an affiliate advertising program designed to provide a means for us to earn fees by linking to Amazon.com and affiliated sites." Check Legal section, for Full Disclaimer, Disclosure and Privacy Policy.