Delicious and Dairy Free Crustless Pumpkin Pie, that you can dig in and enjoy without the guilt.
I have to confess to not even tasting pumpkin pie before I moved to Canada, it's hugely popular this time of year, first, making an appearance at the dining table for Canadian Thanksgiving and then making another appearance at Halloween, using up the last of that pumpkin puree you may have leftover.
There are already some delicious pumpkin recipes for you to utilize any pumpkin you have, such as:
As soon as pumpkins become available this time of year, I buy some to get some puree made up and frozen, so I have some on hand all year round for making my recipes that call for pumpkin. One of my favourites breakfast is the Pumpkin Pancakes, which are fluffy and delicious.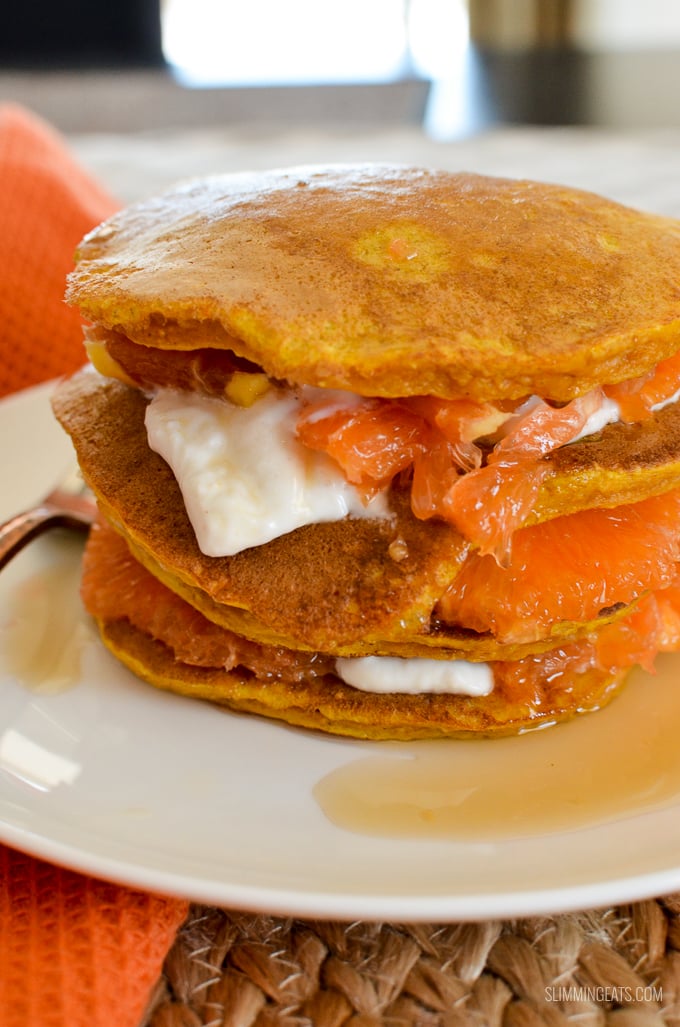 But even if pumpkin is not available, there is pumpkin puree available in cans that can be used. Just make sure that whatever one you buy, is 100% pumpkin, as there are some pumpkin pie varieties that are loaded with sugar.
Unbeknown to most, the large pumpkins that we all buy at Halloween for carving are not the best for cooking, so if those are the only ones you have tried and hated it, don't be put off, instead look for the smaller ones, which are usually named pie pumpkins or sugar pumpkins, their flesh is a much brighter orange colour and they have much more flavour.
Its so easy to make some puree too, just cut in half, remove the seeds, wrap the flesh part in foil and bake until soft, then once cooled you can scoop out the flesh and mash or put through a blender and voila!! you have pumpkin puree which you can freeze in hand portions.
Although this delicious dairy-free crustless pumpkin pie has no pastry crust, it is still delicious and packed with flavour, suitable for those who are gluten-free and vegetarian.
I choose to use demerara sugar in this recipe, yes you could use sweetener, but demerara sugar has a lovely flavour that really makes this recipe, and not using it, will really compromise the taste.
You can enjoy this just as it is, or serve with some fruit of choice. If you are not dairy free, you could even add a little bit of cream or some greek yoghurt and a drizzle of honey. Perfect!!!
What Kitchen Items do I need to make this Dairy Free Crustless Pumpkin Pie?
Slimming Eats Recipes
Extra Easy – 5 syns per serving
Green - 5 syns per serving
Original - 5 syns per serving
WW Smart Points - 7
Paleo Friendly, Gluten Free and Dairy Free
Dairy Free Crustless Pumpkin Pie
Ingredients
500g/17.5oz of pureed pumpkin (fresh or canned)
¼ teaspoon of allspice
½ teaspoon of cinnamon
400ml/1.6 cups of light coconut milk (12 syns)
½ cup (8 level tbs) of demerara sugar (18 syns)
4 eggs
spray oil
Method
Preheat oven to 200c of 400f (gas mark 6)
Place the pumpkin, allspice, cinnamon, sugar and coconut milk in a blender and blend until smooth.
Add the mixture to a large bowl, and whisk the eggs in one by one.
Once eggs are all added into the mixture.
Grease a pie dish with some coconut oil spray.
Pour in your mixture.
And bake for 45 mins. Edges will be slightly caramelised.
Slice, serve and enjoy!!
Nutrition Information
Serving size:
1
Calories:
165
Fat:
7.3
Saturated fat:
4.3
Carbohydrates:
21.2
Sugar:
17.9
Sodium:
273
Fibre:
0.9
Protein:
5.6
Cholesterol:
124
Disclosure: This post may contain affiliate links. As an Amazon Associate and member of other affiliate programs, I earn from qualifying purchases. We are a participant in the Amazon Services LLC Associates Program, an affiliate advertising program designed to provide a means for us to earn fees by linking to Amazon.com and affiliated sites." Check Legal section, for Full Disclaimer, Disclosure and Privacy Policy.