This is the Ultimate Syn Free Nando's Peri Peri Chicken Fakeaway - a truly mouthwatering delicious meal you can create at home.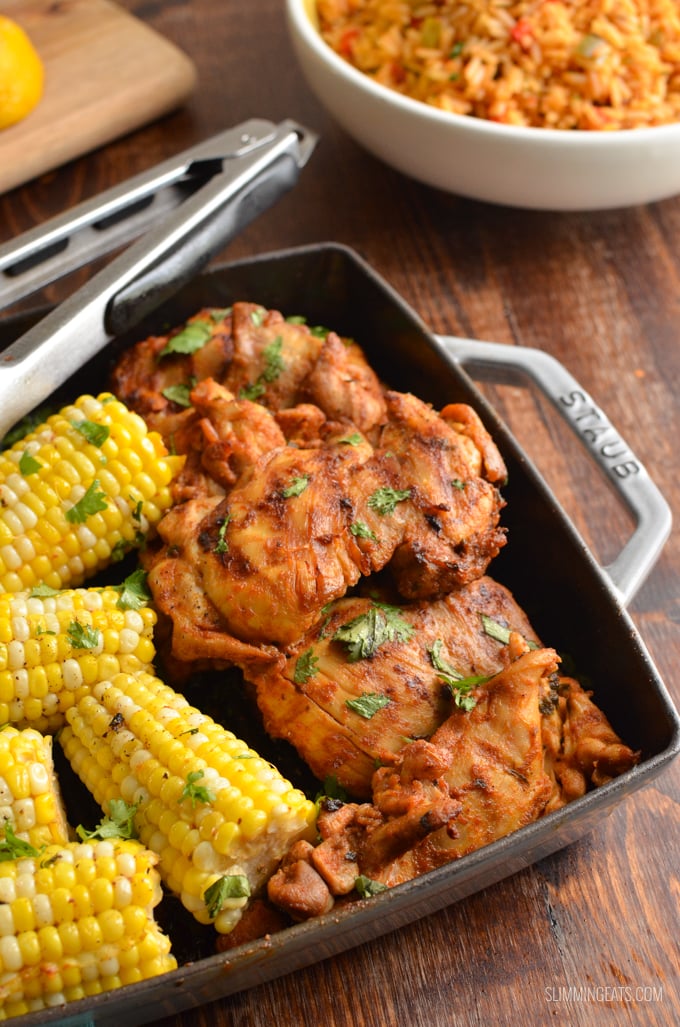 We all love Nando's right? That flame grilled Nando's Peri Peri chicken with all those amazing sides to choose from. What are your favourites?
Luckily enough we do have Nando's here in Canada and it's one of my favourite places to eat out if we go somewhere where they have one.
But the nearest one to me is over two hours away and so no matter how big my cravings for that yummy Nando's Peri Peri Chicken might be, it doesn't always warrant that long drive, unless I am planning a day shopping trip with my good friend and neighbour of course.
So I figured it was about time I made my own Syn Free Nando's Peri Peri Chicken Fakeaway, that I could make at home and save on some money and syns and this is truly amazing.
The first part of this delicious Nando's Peri Peri Chicken is the flavour and for that, I make my own paste, which is fresh and just perfect. Fresh chilli, garlic, herbs, along with a blend of spices such as paprika, cumin and of course lastly that fresh citrus flavour of lemon juice and zest.
To make the paste for this Syn Free Nando's Peri Peri Chicken you will need either a:
I have a granite one like this Andrew James Traditional Mortar and Pestle. I love it for making marinades for meats, or pastes for curries etc, as you start grinding all those spices, herbs etc, the aroma that comes out is enough to leave you salivating for dinner, before you even get starting cooking. There is something rather therapeutic about grinding all the spices too. Great for relieving some stress.
To get that lovely flame grilled effect to the chicken, I used my Staub Cast Iron Grill Pan. Which is just perfect for dishes like this Nando's Peri Peri Chicken. I recommend marinating the chicken in the paste for a few hours though first, just so that it fully takes on those flavours.
If you have a barbecue planned one sunny hot weekend, then this would also be perfectly cooked on the barbecue, but for cooking indoors, cast iron cookware is the best, as it will give a lovely colour to the meat.
Nando's Peri Peri Chicken wouldn't be complete without some roasted corn on the cob and this pan is perfect for both. I just cook the corn in water, then season and spray with cooking oil spray before putting on the cast iron pan with the chicken to finish off. So yummy!!
What can I add to this Nando's Peri Peri Chicken to complete my Fakeaway Night?
For some speed foods, it got to be a fresh mixed house salad, or tomatoes, greens, cucumber and onion. For a few syns you could also make up some of this delicious Low Syn Creamy Coleslaw.
Of course, it won't be complete without some Syn Free Nando's Peri Peri Rice, and if you want to go that little bit further with your Nando's Peri Peri Chicken Fakeaway you could also add in some Syn Free Chips.
Lastly, if you have a HEa spare, you definitely want some grilled Halloumi Cheese. Because why not??
TO MAKE THIS DELICIOUS SYN FREE NANDO'S PERI PERI CHICKEN FAKEAWAY YOU WILL NEED THE FOLLOWING KITCHEN ITEMS:
---
LET'S CONNECT!
Find me ON FACEBOOK | INSTAGRAM | PINTEREST | TWITTER | and YOUTUBE, come follow me TO MAKE SURE YOU KEEP UP TO DATE ON ALL NEW RECIPES 🙂
You can also 

subscribe

 to Slimming Eats to keep up to date with all new recipes. 
IF YOU TRY THIS RECIPE, LET US KNOW! LEAVE A COMMENT, RATE IT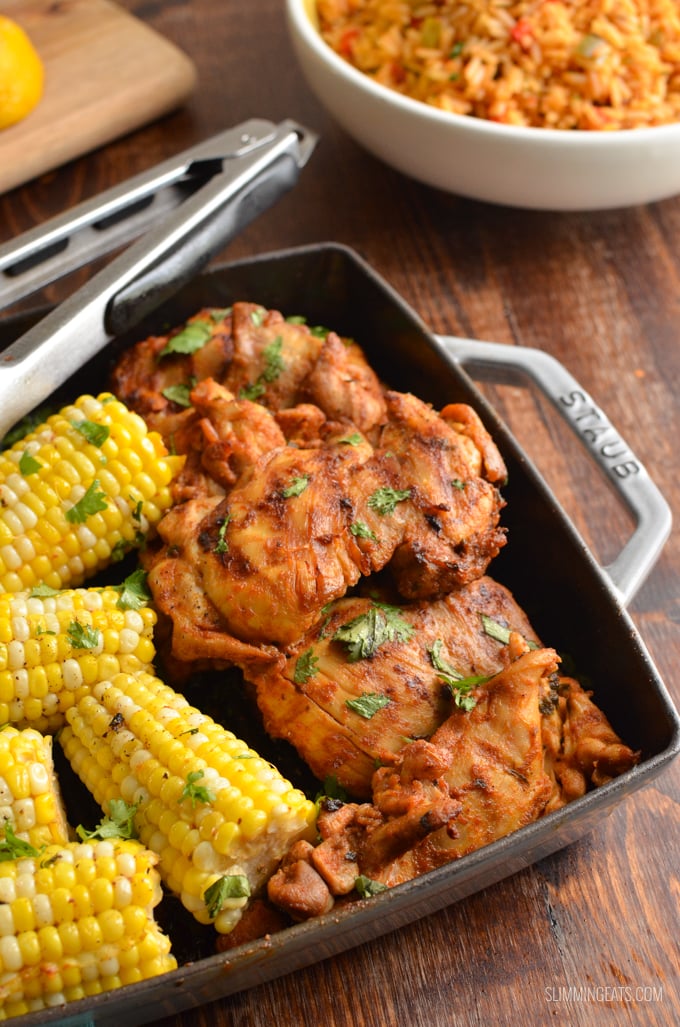 Print
Syn Free Nando's Peri Peri Chicken Fakeaway | Slimming World
Yield 3 servings
This recipe is gluten free, dairy free, Slimming World and Weight Watchers friendly
Extra Easy - syn free per serving
WW Smart Points - 3 per serving
Ingredients
6 raw boneless skinless chicken thighs (500g/17.5oz)
3 corn of the cobs, husk removed, sliced in half 
cooking oil spray
sea salt
fresh coriander
For the paste:
3-4 small red chilli's, deseeded (amount depending on your spice level)
2 tsp of sweet paprika
½ tsp of cumin
½ tsp of dried oregano
2 cloves of garlic, crushed
juice and zest of half a lemon
handful of fresh parsley
handful of fresh coriander
cooking oil spray
sea salt and black pepper
Instructions
Add the ingredients for the paste to a mini food processor or mortar and pestle, give a couple of sprays of cooking oil spray and pulse or grind to a paste.
Add the chicken to a bowl, add the paste and mix to coat. Refrigerate for a few hours to marinade.
Bring a large saucepan of salted water to a boil, add the corn, cover and return to a boil, then turn off heat and leave for 10 minutes. Remove and set aside.
When the chicken has marinated for a few hours, preheat oven to 200c/400f (gas mark 6)
Grease a grill pan over a medium-high heat with cooking oil spray.
Add the chicken thighs, and brown on one side, so they have a grilled golden colour. Turn over and move to one side of the grill pan.
Add the corn on the cob to a bowl spray with cooking oil spray and season with sea salt and toss to coat. Add this to the other side of the grill pan.
Place in the oven to finish off, approx 10 mins. Chicken should have a lovely colour and be cooked through.
Sprinkle with freshly chopped coriander and serve with your choice of sides.
Notes
If you wish to share this recipe, then please do so by using the share buttons provided. Do not screenshot or post recipe or content in full
Nutritional information is an estimate and is to be used for informational purposes only. Ingredients can vary greatly from brand to brand and therefore it would be impossible to give accurate information.
All images and content on Slimming Eats are copyright protected.
Check Legal section, for Full Disclaimer, Disclosure and Privacy Policy. 
Nutrition Facts
Serving Size 1 serving
Amount Per Serving

Calories 286

% Daily Value

Total Fat 7.4 g

11%

Saturated Fat 1.5 g

8%

Cholesterol 124 mg

41%

Sodium 754 mg

31%

Total Carbohydrates 27.9 g

9%

Dietary Fiber 0.2 g

1%

Sugars 0.1 g

Protein 29.4 g

59%
* Percent Daily Values are based on a 2,000 calorie diet. Your daily values may be higher or lower depending on your calorie needs.
Disclosure: This post may contain affiliate links. As an Amazon Associate and member of other affiliate programs, I earn from qualifying purchases. We are a participant in the Amazon Services LLC Associates Program, an affiliate advertising program designed to provide a means for us to earn fees by linking to Amazon.com and affiliated sites." Check Legal section, for Full Disclaimer, Disclosure and Privacy Policy.