This yummy Mexican Lentil Bake is a great dish for making up for packed lunches etc, as it is perfect served hot or cold. You can also add some shredded chicken or cooked ground beef to this dish for some additional protein or add some cheddar or other cheese of your choice if you have a healthy extra spare.
This recipe is gluten free, dairy free, vegetarian, Slimming Eats and Weight Watchers friendly
Slimming Eats Recipe
Serves 4
NOTE: If you prefer use replace olive oil with spray oil.
Ingredients
1 cup (240ml) of red lentils (uncooked), rinsed
1 small red onion finely chopped *
2 cloves of garlic, crushed
2 teaspoon of olive oil
1 small red pepper, finely chopped *
1 small yellow pepper, finely chopped *
1 cup (240ml) of black beans (tinned)
1 cup (240ml) of frozen sweet corn
1 potato, peeled and chopped
3 tablespoons of tomato paste
1 teaspoon of chilli powder
1 teaspoon of ground cumin
1 teaspoon of ground coriander
1 teaspoon of paprika
freshly chopped coriander
3 eggs
salt and pepper to season
Spray oil
* I finely chop my vegetables in a mini food processor
Method
Add the lentils to a saucepan of boiling hot water (480ml) and simmer until softened, drain and set aside.
Preheat oven to 180c or 350f (gas mark 4)
Add the olive oil to a frying pan over a medium high heat and fry the onion and garlic until softened.
Add the peppers and fry for a further 5 mins
Stir in the tomato paste and spices (except the paprika) to evenly coat
Add to a large bowl, along with the lentils, black beans and sweetcorn and mix well.
Add the potato cubes to the frying pan along with the paprika and fry until slightly softened.
Add the potatoes into the lentil mix and allow to cool
Once cooled add the eggs and fresh chopped coriander and mix well. Season with some salt and pepper.
Pour into an oven proof tray sprayed with some oil to prevent sticking.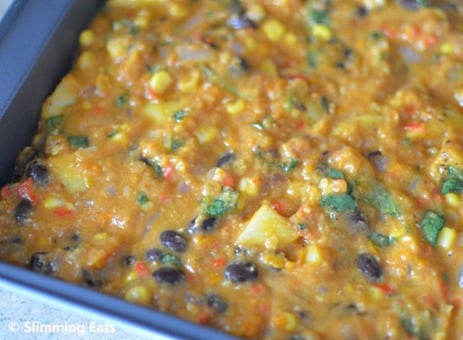 Bake in the oven for approx 30 mins, Mixture should be set and golden.
Allow to cool slightly, then slice and serve with your choice of sides.
The recipe above has been calculated for Slimming Eats, however for those of you following the Weight Watchers plan or another calorie controlled type diet. Below is the approx. nutritional information:
Approx. NUTRITIONAL INFORMATION

per serving

Calories

415

Fat

7.7g

Saturated Fat

1.5g

Total Carbohydrate

64.8g

Dietary Fibre

23.6g

Sugars

6.6g

Protein

24.9g
Disclosure: This post may contain affiliate links. As an Amazon Associate and member of other affiliate programs, I earn from qualifying purchases. We are a participant in the Amazon Services LLC Associates Program, an affiliate advertising program designed to provide a means for us to earn fees by linking to Amazon.com and affiliated sites." Check Legal section, for Full Disclaimer, Disclosure and Privacy Policy.