Look at these bad boys - Oreo Chocolate Doughnuts and only 4 syns per doughnut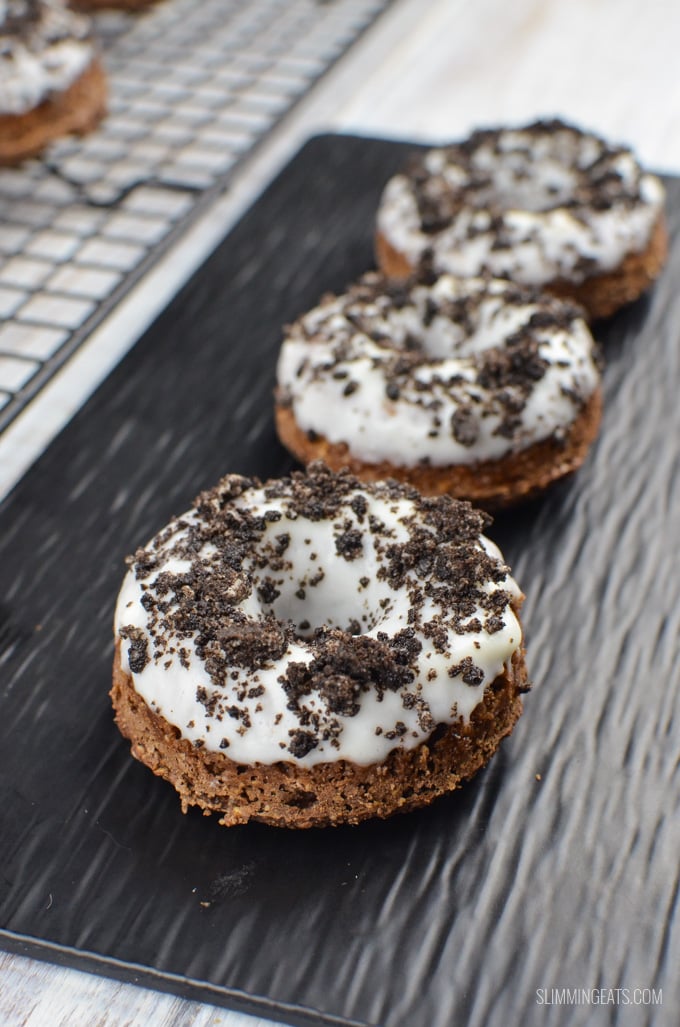 Since I got my hands of my doughnut baking tray I had been after I have been loving creating all kinds of different doughnut recipes.
So far I have given you White Chocolate Glazed Doughnuts, Chocolate Doughnuts, Banana Doughnuts and Pumpkin Doughnuts, so you have plenty to choose from already, but I just had to add some Oreo Chocolate Doughnuts to the list, as living on this side of the Atlantic is Canada - Oreo's are everywhere.
But we don't have just the plain ole Oreo, there are double stuff, peanut butter, birthday cake, red velvet, pumpkin spice, candy cane, you name it, you can bet there is an Oreo version of it. Well maybe not a cheese and onion Oreo because will that would just be rank.
These Oreo Chocolate Doughnuts work perfectly. Delicious chocolatey cakey baked doughnuts, topped with a vanilla icing and sprinkling of crumbled Oreo, what more could one ask for.
Just like the other doughnut recipes, for these I use a wolfgang puck 12 count mini doughnut tray, similar to this one here:
Städter 489141 Baking Tray with Donut Moulds
You will need one that has doughnuts moulds 7cm in diameter 2cms high, for the same quantity of doughnuts. The really mini ones will work, it is just the equation of doughnuts will differ.
You can enjoy 1 or maybe even two of these delicious Oreo Chocolate Doughnuts with a nice cuppa and still be within your daily syns allowance.
To sweeten I have used Sukrin : 1 (watch this space for my review of some sukrin products coming very soon). It is a natural sweetener and it has none of that horrible aftertaste you sometimes get with sweeteners. I have tried many different types in the past trying to find one that is natural and tastes natural and I think this is it. I usually just use some syns on honey or maple syrup, but it's nice to know I can now use this and reduce the syns even further. Instead of sukrin you can use any sweetener of choice of course. But I recommend sukrin if you can get some.
Sukrin can be ordered on amazon.
Click here if you live in the UK: Sukrin UK
Click here if you live in the USA: Sukrin USA
for those in Canada, I am told Sukrin will be readily available to us in the Fall.
Also don't forget that Slimming World have recently made some changes to sweeteners and any time you use a tablespoon or more, you must syn it at 0.5 syns per tablespoon, this is to protect your weight loss.
Although the doughnut part is gluten free, unfortunately the Oreo topping means they are not, but if you have to avoid gluten, on this side of the Atlantic, you can actually buy a gluten free Oreo, so feel free to use those instead or if you can't get your hands on any of those, all my other Doughnut recipes I linked to above can be made Gluten free.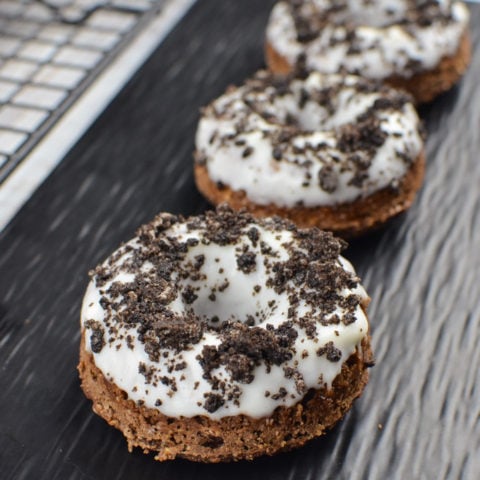 Low Syn Oreo Chocolate Doughnuts
Ingredients
120g (4.25oz) of oats
¾ tsp of baking powder
⅛ tsp of baking soda
⅛ tsp of salt
½ cup/120ml fat free plain yoghurt
1.5 level tbs (7.5g) of unsweetened cocoa powder
1 egg
1 tsp of vanilla extract
5 tbs of sukrin:1 (or any erythritol based sweetener)
For the topping
3 tbs of low-fat cream cheese
4 tbs of fat free plain yogurt
¼ tsp of vanilla extract
1 tbs of sweetener (I use an erythritol based one)
2 tablespoons of sukrin melis (icing) - optional - makes topping set on doughnuts, like a proper icing - 1 syn - (if not using this, you may need to add more sweetener to the topping to taste)
2 Oreo's
Instructions
Preheat oven to 180c/350f (gas mark 4)
Add oats to a mini blender or food processor and pulse until fine.
Add to bowl with the cocoa powder, baking powder, soda and salt and mix well to combine.
Add the egg, yogurt, sweetener and vanilla extract to a separate bowl and whisk till smooth.
Add to the oat mixture and mix till combine.
Spoon the mixture into 9 holes of the doughnut tray (the one I used is non stick, so I added no spray oil, however if yours is not non stick you will need to grease with spray oil)
Place in the oven and bake for 14 mins. A skewer carefully entered into the center should come out clear.
Allow to cool slightly and then carefully remove from the tray using a silicone spatula.
For the topping
In a bowl mix together the low-fat cream cheese and fat free yogurt, sukrin:melis (icing) if using and sweetener to taste
Spread it over the top of each doughnut using a silicone spatula
Add the Oreo's to a ziplock bag and bash with a rolling pin until crumbled.
Sprinkle on top of all the doughnuts.
Enjoy
Notes
This recipe is vegetarian, Slimming World and Weight Watchers friendly
Slimming World - 4 syns per doughnut
WW Smart Points - 5 for two doughnuts
Gluten-Free - use gluten-free oats
If you prefer, you can enjoy 3 of these doughnuts for 1 HEb and 4.5 syns

Syn value of cocoa powder can vary from brand to brand. The three brands I use are 100% cocoa powder (not Dutch Processed) and are 1 tbs for 20 calories (1 syn).

You should always double-check the syn values of items which are synned, as brands can differ. 

All images and content on Slimming Eats are copyright protected.

If you wish to share this recipe, then please do so by using the share buttons provided. Do not screenshot or post recipe or content in full.
Nutrition Information
Serving Size

1 DOUGHNUT
Amount Per Serving
Calories

85
Total Fat

2.3g
Saturated Fat

0.7g
Cholesterol

22.9mg
Sodium

132.4mg
Carbohydrates

12.8g
Fiber

1.7g
Sugar

2.3g
Protein

3.8g
Disclosure: This post may contain affiliate links. As an Amazon Associate and member of other affiliate programs, I earn from qualifying purchases. We are a participant in the Amazon Services LLC Associates Program, an affiliate advertising program designed to provide a means for us to earn fees by linking to Amazon.com and affiliated sites." Check Legal section, for Full Disclaimer, Disclosure and Privacy Policy.