Tuck into a delicious bowl of this Syn Free Curried Cauliflower Soup - perfect just as it is or topped with some yummy chickpeas and a drizzle of coconut milk or yoghurt.
Have I mentioned how much I LOVE soup. I always find a bowl of soup regardless of what the weather is like outside, super comforting and filling.
Soup is also a perfect way to get loads of veggies into your meal, especially if you are fussy with what sort of vegetables you will eat.
Luckily I love vegetables, but that wasn't always the case. I remember quite vividly hating many as a child, but as I got older and started cooking for myself and trying out new things, vegetables because more and more frequent on my plate, and now I love them all.
I can't think of any particular vegetable that I do not like, even Brussel Sprouts which I detested with a passion, mainly because the only way I had ever tried them, was boiled until they were so horrid and bitter, that there was no pleasing anyone's palate with those things.
Cooking them now, however, where I can cook them to how I like - raw in salads, sautéed or roasted, they are yummy. I just never EVER boil them. That horrid bitter taste will haunt me forever I think.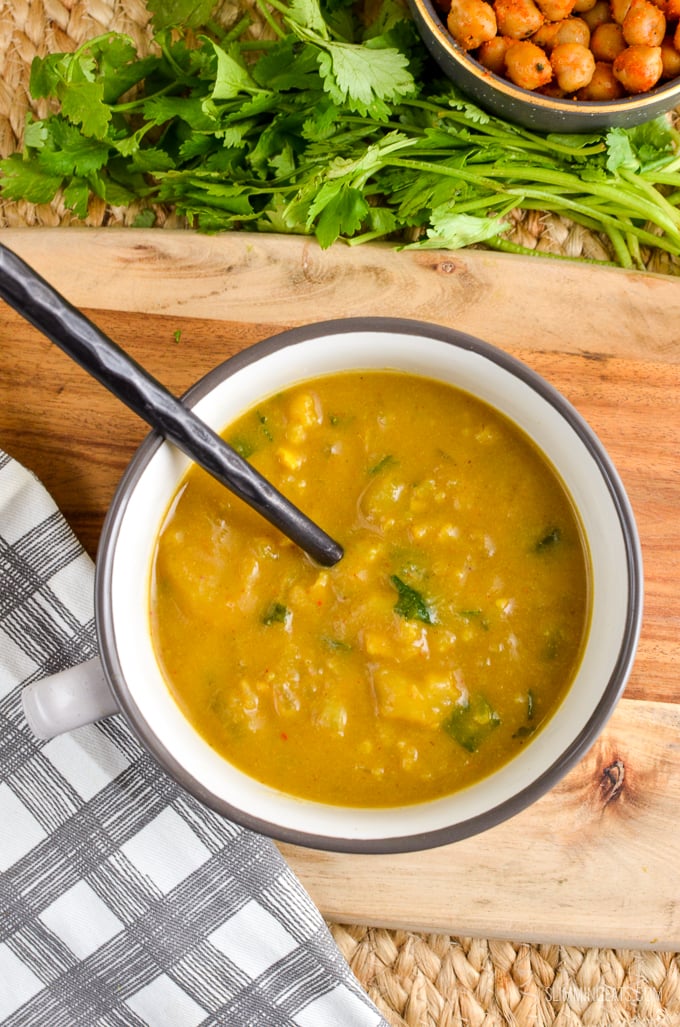 My kids are quite fussy when it comes to vegetables, I think most kids are right? But one way I know they will eat a decent amount of vegetables without a single complaint is in a bowl of soup, stew or casserole. Like this amazing Curried Cauliflower Soup - go figure!!
Today I had a lovely cauliflower I wanted to use, normally I just steam it, if serving with something like a roast dinner, or occasionally I will roast it in the oven with some seasoning and cumin seeds as a delicious side to a curry.
Cauliflower is one vegetable that goes perfectly with a curry, especially this Chicken and Cauliflower Curry, or if I am on a SP day or just keeping the carbs low, I love this Roasted Cauliflower Rice - perfect for mopping up all that lovely curry sauce.
I even love to make it the main of the dish, in this Roasted Cauliflower Lasagne.
But today I fancied those curry flavours, and instead of serving it alongside a curry dish, I decided to make this Syn Free Curried Cauliflower Soup. Because today is all about the soups.
What can I say - It's super delicious. Trust me!!!
Once cooked I blend half and leave the other half as is, that way you still get some bites of potato and cauliflower, but if you are serving for a really fussy individual in your household, you might want to blend it all into a smooth Syn Free Curried Cauliflower Soup
To blend the soup once cooked I use my Nutri Ninja Blender with Auto IQ (click to see me on Amazon). This blender is amazing. The auto IQ technology feature, mean it blends to a set pattern, depending on what you are making. So my soups are lovely and smooth and perfect.
This Curried Cauliflower Soup is delicious served just as it as a side or starter to another dish or make it a complete meal by topping with seasoned chickpeas a drizzle of light coconut milk ( or yoghurt for a syn free option) and chopped fresh coriander.
Why not take it to work for lunch in a Thermos food flask? Add the toppings to a little container and you can top when reading to enjoy.
Syn Free Curried Cauliflower Soup
This recipe is gluten free, dairy free, vegan, Slimming Eats and Weight Watchers friendlyExtra Easy - syn free per serving (1 syn with toppings)Green/Vegetarian - syn free per serving (1 syn with toppings)Original/SP - swap potato for butternut squash - syn free per serving (1 syn with toppings) WW Smart Points - 2 (4 with toppings)Vegan - if adding toppings, use coconut milk
Ingredients
400g (14oz) of potato, peeled and diced (or sub with butternut squash)
4oog (14oz) of raw cauliflower florets
1 large onion, chopped
3 cloves of garlic, crushed
2 teaspoons of grated fresh ginger
2 sticks of celery, finely chopped
1 tablespoon of ground cumin
1 tablespoon of ground coriander
1-2 tsp of chilli powder
1 fresh deseeded red chilli, finely chopped (optional)
1 teaspoon of turmeric
1 litre of chicken or vegetable broth (stock)
Spray oil
Freshly chopped coriander to serve
Optional Topping:
1 cup (240ml) of chickpeas, drained
1 tsp of paprika
¼ tsp of chilli powder
salt and black pepper
spray oil
freshly chopped coriander
½ cup of light coconut milk - (4 syns) (or use fat-free plain yoghurt)
Instructions
Spray a large saucepan over a medium-high heat with spray oil
Add the onion, garlic, celery, and ginger and cook until softened.
Add the spices (and chilli if using) and fry for a further couple of minutes.
Add the potato (or butternut squash) and cauliflower
Mix thoroughly to coat.
Pour in the vegetable stock
Bring to a boil
Reduce heat, cover and simmer for 30 mins
Add half the soup to a blender and blend until smooth, return it to the pan. (I blend half because I prefer some chunks of vegetables to remain, but it you prefer a smooth soup, you can blend it all) and simmer for a further couple of minutes, just till creamy and silky in appearance.
Stir through some chopped fresh coriander (optional)
Serve in bowls and enjoy.
Instant Pot:
Set Instant Pot to saute mode
Spray with spray oil
Once hot, add the onion, garlic, celery, and ginger and cook until softened.
Add the spices and fry for a couple of minutes.
Add the potato and cauliflower and mix to coat.
Pour in the broth, add lid, close valve and set to 10 mins manual high pressure.
Once ready, do a quick pressure release.
Add half the soup to a blender and blend until smooth, add back to the remaining soup, set to saute mode and stir for a couple of minutes till lovely and creamy in appearance.
Stir in some fresh chopped coriander/cilantro (optional)
Optional Topping:
Spray a frying pan over a medium heat with some spray oil
Add the chickpeas, paprika, chilli powder and some salt and black pepper
fry for a few minutes just to coat in all the seasoning.
Remove and add to the top of the soup with some fresh coriander and a drizzle of light coconut milk (or fat-free yoghurt).
Notes
Nutritional information is an estimate and is to be used for informational purposes only.
Ingredients can vary greatly from brand to brand and therefore it would be impossible to give accurate information. Also, double-check syn values of synned ingredients as different brands can vary. 
All images and content on Slimming Eats are copyright protected.
If you wish to share this recipe, then please do so by using the share buttons provided. Do not screenshot or post recipe or content in full
Check Legal section, for Full Disclaimer, Disclosure and Privacy Policy. 
Nutrition Information
Yield

4
Serving Size

1 serving (with toppings)
Amount Per Serving
Calories

230
Total Fat

4.3g
Saturated Fat

1.7g
Sodium

371mg
Carbohydrates

38.3g
Fiber

9.5g
Sugar

1.3g
Protein

12.1g
Disclosure: This post may contain affiliate links. As an Amazon Associate and member of other affiliate programs, I earn from qualifying purchases. We are a participant in the Amazon Services LLC Associates Program, an affiliate advertising program designed to provide a means for us to earn fees by linking to Amazon.com and affiliated sites." Check Legal section, for Full Disclaimer, Disclosure and Privacy Policy.