The Ultimate Sharing Tray of Layered Chilli Cheese Fries for a perfect family meal!!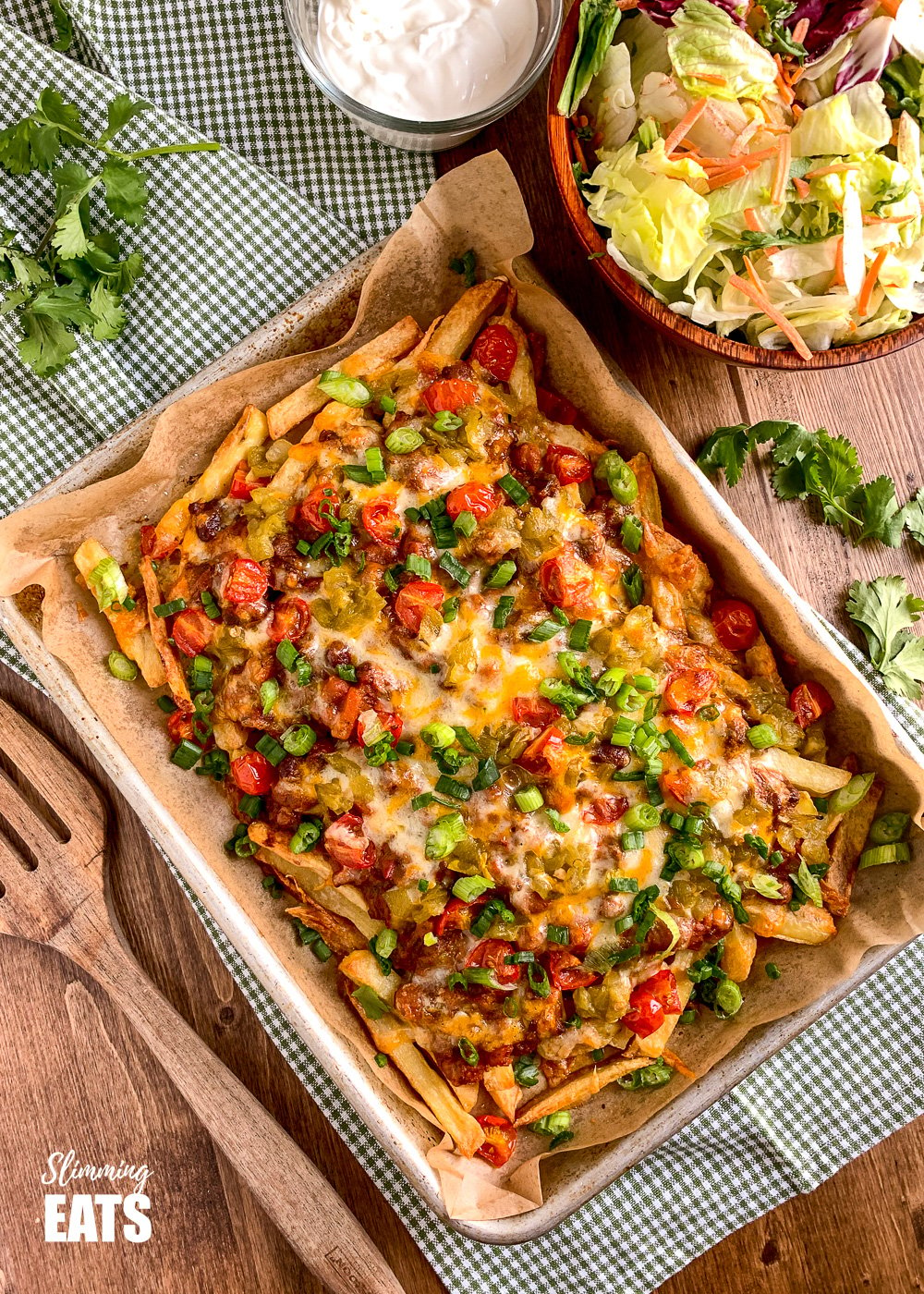 I love chilli cheese fries - Perfect Crispy Syn Free Chips, topped with chilli, cheese, chopped fresh tomatoes, fire-roasted chillies and spring onion. Served alongside crisp lettuce and some yummy soured cream - what more could one ask for?
Better yet!! I have several delicious Chilli Recipes to choose from, so if you make one of these recipes and have plenty of chilli left over, these Chilli Cheese Fries are a must.
Choose from one of these Chilli Recipes:
I must mention that my kids favourite chilli recipe from the ones about is the Beef and Six Bean Chilli - they just love it and no matter how large a batch of it I make, I rarely get leftovers to freeze. I think it it's the combination of the sweet potato and the mixed beans that they just love.
Chilli Cheese Fries is a great dish for sharing, but if you are not a sharer, then you can enjoy this all by yourself too by making up a single portion, just don't eat it in front of anyone, or else they'll be digging in too and that would just be mean and rude. (of them!!).
Layered dishes like this Chilli Cheese Fries, where you get a different taste with every mouthful are delicious, especially if you can get a little bit of everything on the fork at once.
Now there is a challenge for you!!!
Speaking of challenges - I once set a challenge with a friend at the cinema on how many starbursts (opal fruits at the time) we could fit in our mouth at once (we was bored waiting for the movie to start), I won't tell you who lost, that's a whole other story. But I love a challenge.
Totally unrelated to Chilli Cheese Fries of course, but sometimes the most random of things can pop into your head when you are thinking about something else and well I just love the share.
>
Now onto the soured cream, if you are willing to spend some syns on it, I recommend you do, as it just has a taste that can't be recreated with yoghurt and lemon juice, the yoghurt is an okay replacement but it's not soured cream and layered chilli fries need sour cream, right?
I do like to add some Trader Joes Fire Roasted Chopped Green Chillis to mine also, they taste amazing and really do finish off the taste. Look for a similar store brand or if you like plenty of heat, you could go for some chopped Jalapenos.
Other than that your good to go. Enjoy!!
How can I add a ⅓ speed foods to these Chilli Cheese Fries?
There is plenty of vegetables in the actual chilli recipe, as well as the toppings such as tomatoes, spring onion, chilli's etc, but the perfect way to up those speed foods is to just add a simple shredded green crispy lettuce or mixed salad to the side of your serving.
Kitchen Items Used for this Chilli Cheese Fries:
---
LET'S CONNECT!
Find me ON FACEBOOK | INSTAGRAM | PINTEREST | TWITTER | and YOUTUBE, come and follow me TO MAKE SURE YOU KEEP UP TO DATE ON ALL NEW RECIPES.
You can also subscribe to Slimming Eats so that you never miss any new updates.
IF YOU TRY THIS RECIPE, LET US KNOW! LEAVE A COMMENT, RATE IT AND TAG US IN YOUR PHOTOS @SLIMMINGEATS ON INSTAGRAM
See the handy Pinterest image below if you wish to pin this for later 🙂
The Ultimate Layered Chilli Cheese Fries
Yield: 4

Prep Time: 15 minutes

Cook Time: 1 hour

Total Time: 1 hour 15 minutes

The Ultimate Sharing Tray of Layered Chilli Cheese Fries for a perfect family meal!!
Ingredients
800g of russet potatoes (or similar) - cook using my Perfect Syn Free Chips Recipe
12 cherry or grape tomatoes, chopped
canned fire roasted green chiles - or sub with sliced jalapenos (optional)
3 spring onions, sliced
90g (1oz) of cheddar - 3 HEa's
50g of mozzarella - 1 HEa
cooking oil spray
sea salt
2 cups of leftover chilli from one of the below:
to serve
Romaine Lettuce or Iceburg, shredded
8 tbs of reduced fat soured cream - 6 Syns
Instructions
Cook the chips as per the perfect syn free chips recipe above and ensure you season well with sea salt.
Spread out the cooked chips well on a baking tray line with parchment paper.
Warm up the leftover chilli (using one of the recipes as linked above)
Spoon the chilli, scattered in even dollops on top of the cooked perfect Syn Free chips
Scatter the chopped tomatoes and green chiles or jalapeños
Top with the cheese and sprinkle with the chopped spring onion.
Place back in the oven and bake until cheese is melted and golden (approx 10 minutes), if you prefer you can place under the grill to melt the cheese and give it a really brown golden colour.
Serve with shredded crisp lettuce (or salad) and soured cream.
Enjoy!!
Notes
The recipe is gluten free, vegetarian, Slimming World and Weight Watchers friendly
Extra Easy - 1 HEa and 1.5 syns per serving
Green/Vegetarian - 1 HEa and 1.5 syns per serving (use the sweet potato and lentil chilli)
WW Smart Points- 11 per serving (use the turkey chilli)
NOTE: this recipe is Syn Free, if you swap out the soured cream for fat free plain yoghurt and lemon juice.

If you wish to share this recipe, then please do so by using the share buttons provided.

Do not screenshot or post recipe or content in full.

Nutritional information is an estimate and is to be used for informational purposes only. Ingredients can vary greatly from brand to brand and therefore it would be impossible to give accurate information.

All images and content on Slimming Eats are copyright protected.

Check Legal section, for Full Disclaimer, Disclosure and Privacy Policy.
Recommended Products
As an Amazon Associate and member of other affiliate programs, I earn from qualifying purchases.
Nutrition Information
Yield 4 Serving Size 1 (using the Beef and Six Bean Chilli)
Amount Per Serving Calories 524Total Fat 15.4gSaturated Fat 8.8gCholesterol 86mgSodium 941mgCarbohydrates 64gFiber 10.7gSugar 14gProtein 35.3g

Nutritional information is an estimate and is to be used for informational purposes only. Ingredients can vary greatly from brand to brand and therefore it would be impossible to give accurate information.
It is the responsibility of the Reader to assure the products or ingredients they use in any recipes from Slimming Eats are allergen-free (gluten-free, egg-free and/or dairy-free, for example) or Vegetarian friendly. Slimming Eats assumes no liability for inaccuracies or misstatement about products, opinions or comments on this site.
Nutritional information is an estimate and is to be used for informational purposes only
Looking for some additional support on your weight loss journey? Did you know Slimming Eats has a friendly Slimming World Facebook Support Group where you can get daily meal ideas and recipe ideas? Come and check us out, we'd love to have you join.
Looking for some other recipes? Head on over to my RECIPE INDEX for over 900 Slimming World & Weight Watchers recipes for you to browse through, all fully searchable by meal type, Ingredients, syn value and WW Smart Points etc
All images and content on Slimming Eats are copyright protected.
If you wish to share this recipe, then please do so by using the share buttons provided. Do not screenshot or post recipe or content in full.
* Disclosure: This post may contain affiliate links. As an Amazon Associate and member of other affiliate programs, I earn from qualifying purchases. We are a participant in the Amazon Services LLC Associates Program, an affiliate advertising program designed to provide a means for us to earn fees by linking to Amazon.com and affiliated sites." Check Legal section, for Full Disclaimer, Disclosure and Privacy Policy.