Spicy Delicious Butternut Squash Chickpea Curry - a perfect vegan-friendly meal. That even the none vegans will love. 
If you are vegan and following Slimming World chances are you are very limited in the recipes that are available, most vegetarian recipes, usually contain cheese or some kind of dairy so are not suitable for those that are following a strict vegan diet.
I've had many requests for some vegan-friendly recipes, and I always listen to you my readers, so here is my first installment of vegan recipes for you all, with lots more planned.
There are actually some recipes on here that are already suitable and you can find those under my Vegan Recipe section. It's brand new, so bear with me while I get recipes attached to it. If you have any requests then please do let me know, by contacting me through the contact section of my site.
So my first installment to some Slimming World vegan recipes just had to be a curry, so many out there contain yoghurt/dairy or meat and are just not suitable, well look no more with this yummy Butternut Squash Chickpea Curry.
To get the sauce part spot on, the first part is the curry paste. For that sweet and spicy kick I have used the traditional base of onions, garlic, ginger, and spices, but as an additional ingredient, some butternut squash, it works really well, as it helps thicken the sauce as it reduces down and adds a natural sweetness without any need to add anything else.
The great thing about the paste is you can double or triple it up and add some to the freezer so you have it on hand whenever you want to make a curry.
To blend all the ingredients for the paste, I use one of the cup blenders of my Nutri Ninja Blender with Auto IQ. This blender is amazing. The auto IQ technology feature, mean it blends to a set pattern depending on what it is you are making. There is also an optional add-on for a food processor bowl, which is perfect for chopping and grating vegetables. Sauces and soups are literally so smooth, once complete in this amazing kitchen gadget.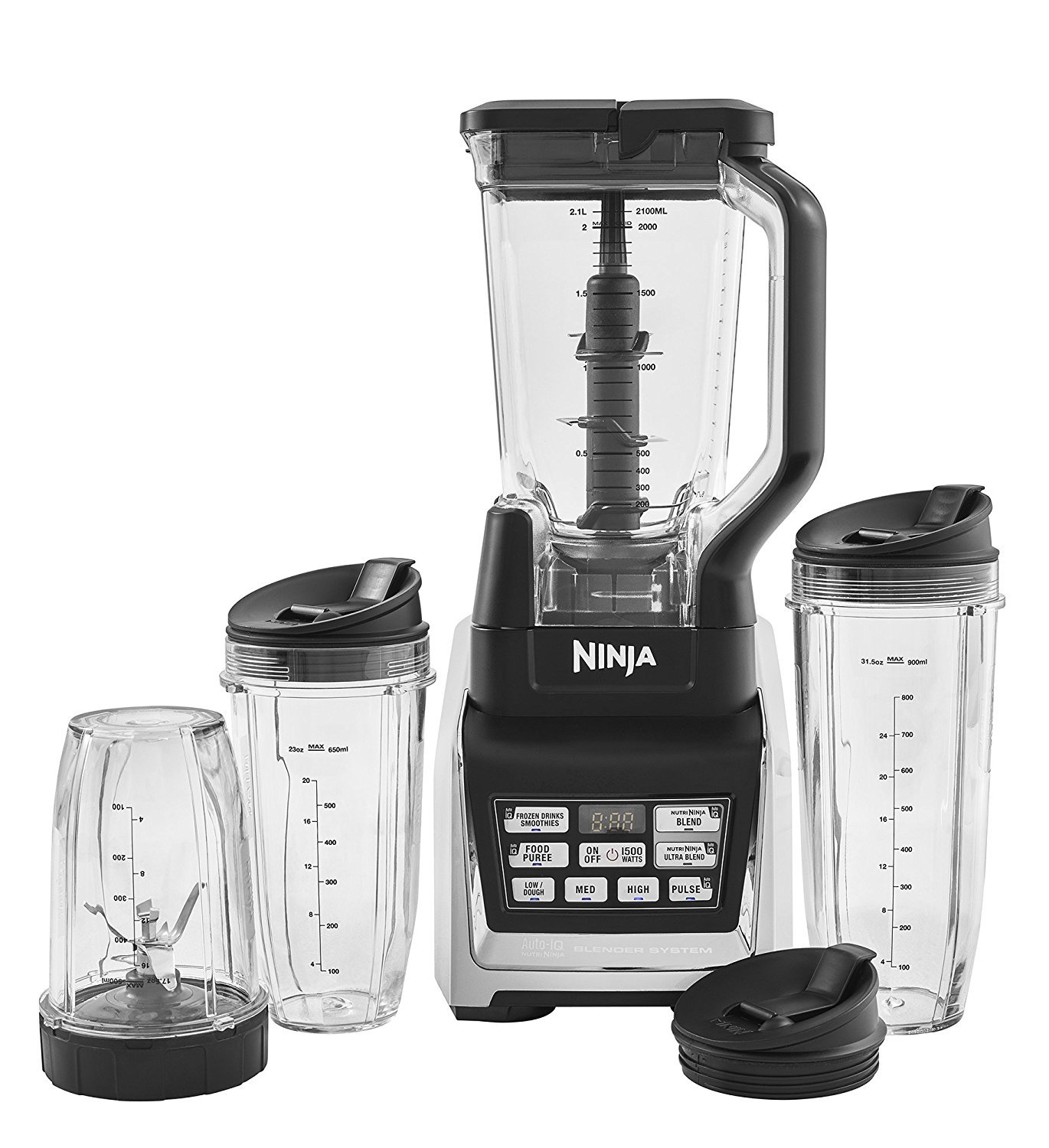 Don't worry though, you don't need a fancy high-tech blender like mine above, a good old immersion stick blender like the Koölle Electric Powerful 3-in-1 800 Watt Hand Stick Blender or a similar make will do the job too.
As well as butternut squash in the paste, I also added some butternut squash along with the chickpeas for texture in the curry.
Chickpeas I chose to use dried, mainly because they are super budget-friendly in this way and taste so much better than canned (trust me).
I just soak overnight and then they are ready to be cooked in the curry the next day. They do take a little while to cook, but again you could easily make these in advance if you want to. Chickpeas are a great source of fibre and protein, I love to saute some with spray oil, a little sea salt, and paprika and sprinkle in salads or soups. So yummy!!
One thing to note when cooking any kind of beans, don't add salt until they are cooked, as it will stop the cooking process. Also for chickpeas, if you want them to have more of a bite, place the lid fully on, or leave the lid slightly ajar while cooking for a creamier softer chickpea. I prefer the later so that is how I choose to cook them for this Butternut Squash Chickpea Curry.
Of course for saving time and if you really want to, you can definitely use canned Chickpeas. But if you are on a budget and you want it to taste even better, trust me on the dried variety.
For creaminess that you would normally get from adding yoghurt, I opt for coconut milk. I actually prefer to use coconut milk in curries anyway, it's one of my favourite ingredients in dishes like this Butternut Squash Chickpea Curry.
Regular coconut milk can be quite high in syns, so I use the light version which will reduce the syns quite a bit, and is not too bad once divided into portions. Don't be afraid to use synned ingredients, while syn free recipes are great, syns are there to be used and they have a place in certain meals and this Butternut Squash Chickpea Curry is definitely one where it is worth it.
Don't forget to tag me if you make this @slimmingeats on Instagram, so I can see your pictures.
What Kitchen Items do I need to make this Butternut Squash Chickpea Curry?
Butternut Squash Chickpea Curry
Cook Time:
2 hours
10 minutes
Total Time:
2 hours
25 minutes
This recipe is dairy free, gluten free, vegan, Slimming World and Weight Watchers friendlyExtra Easy - 2.5 synsSP - 2.5 synsGreen/Vegan - 2.5 synsWW Smart Points - 6
Ingredients
For the curry paste:
½ onion, chopped
280g of butternut squash, chopped
3 cloves of garlic, crushed
1 tbs of grated fresh ginger
2 tbs of tomato paste
1 tbs of cumin
1 tbs of coriander
1 dried red chilli, sliced in half lengthways (add more if you like really spicy)
1 tsp of turmeric
300ml of water
spray oil
For the curry:
1 cup (200g) of dried chickpeas
600g of butternut squash, cubed
1 onion, chopped
1 tsp of cumin seeds
5 cardamom pods
4 cloves
2 cups (480ml) of vegetable stock
1 can (400ml) of light coconut milk - 12.5 syns
salt and black pepper to season
spray oil
Instructions
Add the chickpeas to a bowl, cover fully with water and allow to soak overnight.
Drain and rinse chickpeas and add to a saucepan, cover with water, bring to a boil, add the lid (slightly ajar)and then simmer for 1 hr and 30 mins, until chickpeas are cooked and creamy in texture.
While chickpeas are cooking you can make curry paste. (you can also make this curry paste the night before to save some time if you prefer)
Spray a deep pot over a medium high heat with some spray oil, add the onion, garlic and ginger and fry for a couple of minutes to soften.
Add the butternut squash, dried chilli and spices and mix to coat.
Add a little bit of the water and keep stirring and reducing down, before adding more water, do this until the butternut squash is super soft. Stir in the tomato paste for the last bit of water.
Add the butternut squash mix to a blender or mini food processor and blend until smooth. Set aside.
Clean pot, add to a medium-high heat and then spray with some more spray oil.
Add the onion and cumin seeds and fry until onions are softened. Drain the chickpeas and add to the pot with the cardamom pods, cloves, butternut squash curry paste, butternut squash cubes, stock and coconut milk.
Bring to a boil, reduce heat and simmer for 30 mins.
Season as needed with salt and black pepper
Serve with rice or your choice of sides for a delicious curry.
Notes
Nutritional information is an estimate and is to be used for informational purposes only.
Ingredients can vary greatly from brand to brand and therefore it would be impossible to give accurate information. Also, double-check syn values of synned ingredients as different brands can vary. 
All images and content on Slimming Eats are copyright protected.
If you wish to share this recipe, then please do so by using the share buttons provided. Do not screenshot or post recipe or content in full
Check Legal section, for Full Disclaimer, Disclosure and Privacy Policy. 
Nutrition Information
Yield

6
Serving Size

1 serving
Amount Per Serving
Calories

248
Total Fat

6.7g
Saturated Fat

3.5g
Sodium

522mg
Carbohydrates

42.1g
Fiber

11.6g
Sugar

8.8g
Protein

9.5g
Disclosure: This post may contain affiliate links. As an Amazon Associate and member of other affiliate programs, I earn from qualifying purchases. We are a participant in the Amazon Services LLC Associates Program, an affiliate advertising program designed to provide a means for us to earn fees by linking to Amazon.com and affiliated sites." Check Legal section, for Full Disclaimer, Disclosure and Privacy Policy.