Big Mac and Fries Fakeaway - A healthier take on a everyone's favourite fast food burger meal.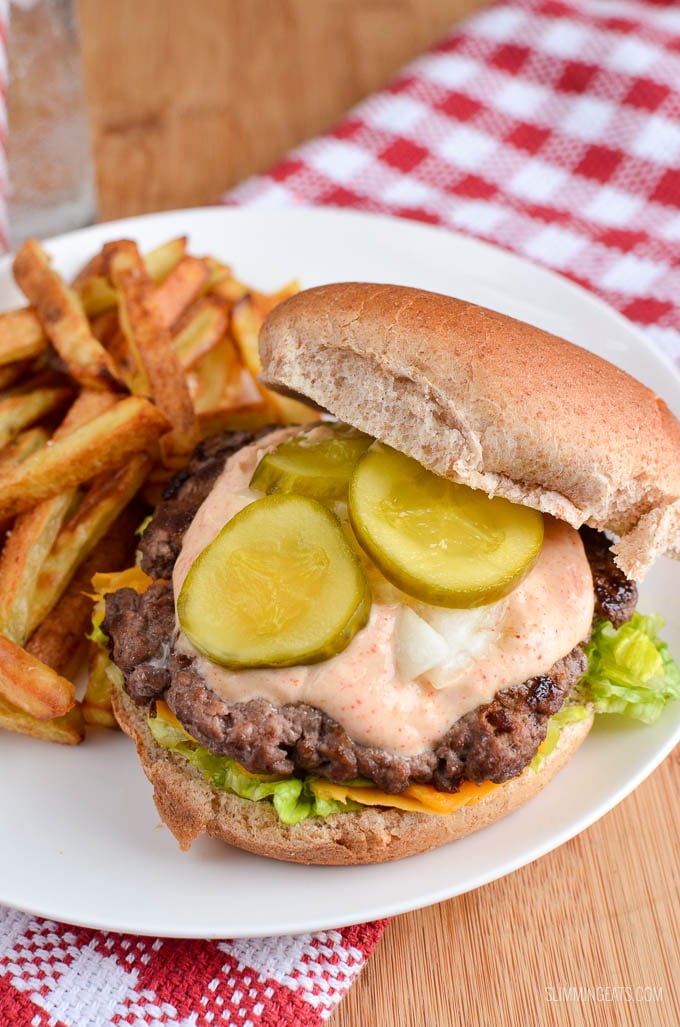 McDonalds Big Mac Burger
The Big Mac was created in 1967 and quickly grew to be the most famous and iconic burger worldwide. It's the ultimate comfort food, very hard to resist, even when you're trying to stick to plan. A Big Mac meal with medium fries and no drink is a WHOPPING 870 calories and 45g of fat. So I thought, why can't I come up with my own lighter Slimming Eats Big Mac and Fries friendly version? and this one ticks all the boxes.
How to Make and Cook a Healthier Cheeseburger
If you are fed up of dried out tasteless burgers, you are doing them all wrong. A good burger doesn't need to be complicated. Do you know what ingredients you need for a good burger? Ground Beef (Mince) and Sea Salt, that's it. Don't go overboard on seasoning, you don't need an egg or any other fancy ingredients, a beef burger should taste like a beef burger.
and the biggest tip is not to over mix the ground meat and only season the outside of the patty. Why? Well usually burgers are made from high fat ground meat. Extra Lean Mince is very low fat, so if you add salt into the mince and mix it all up, all that does it draws out all the juices and makes your extra lean pattie really dry.
When I am cooking burgers in the summer on my barbecue, I just form the mince, and add them to the grill just seasoning the outside with fine sea salt, so simple and the best ever. Flavourings should be added by toppings, not be added so many different other ingredients to the mince that you can't even taste the burger.
One thing I do sometimes add though, is some finely chopped up lean smoky bacon. Game changer!! It's add a delicious smoky taste to the meat.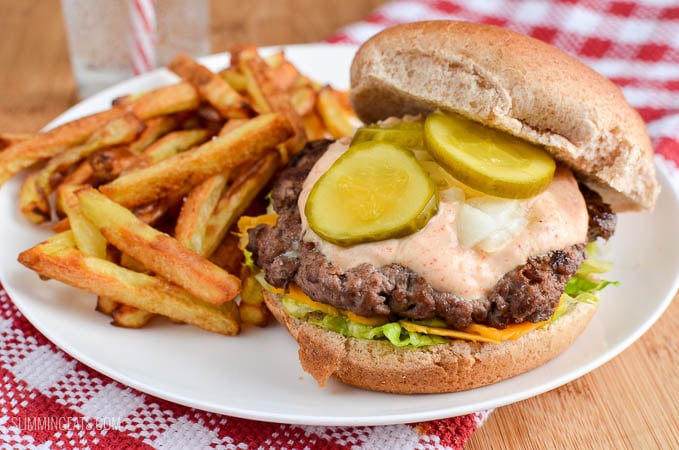 How to form a Burger Patty.
To form the burgers you can simple just use your hands, the more rustic the better I say as you really don't want to over mix the ground meat.
You can get this handy burger press on Amazon but they are not a necessity.
(As an Amazon Associate and member of other affiliate programs, I earn from qualifying purchases.)
I recommend lining a plate or tray with parchment paper and placing your formed patties onto the parchment, this will stop them sticking to the plate etc and make them easier to remove. You can cover over once form and place in the refrigerator until you are really to cook them.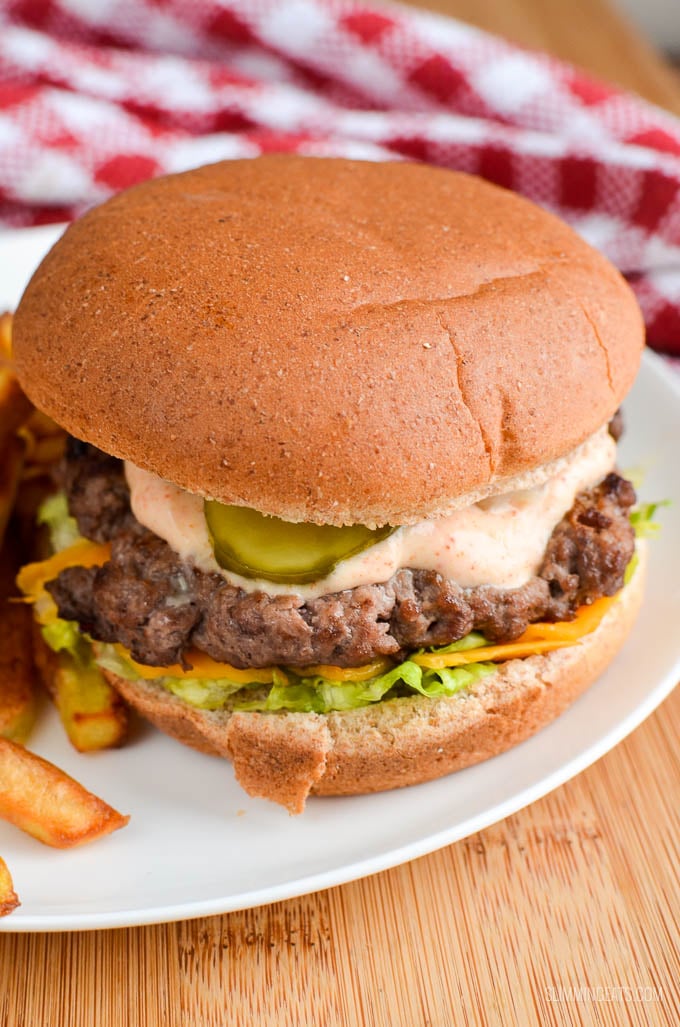 Triple Burger Bun
Traditionally a Big Mac is two patties, a triple layer bread roll, that secret sauce, crisp lettuce, pickles, onion and American cheese slice. I just use a 60g/2oz whole wheat roll (cob, batch, whatever else you might call one 😂). If you really want the triple layers, buy an unsliced 60g/2oz whole wheat roll and you can carefully slice it so you get that middle bread layer, but really you are not going to know the difference. So why complicate things?
Lighter Burger Sauce
The burger sauce I think I have got pretty spot on. It tastes sooo good that I make up a double batch sometimes and keep some to refrigerate. The sauce is good on various things, from grilled meats to salad etc.
I have two version, my light version and my version. Obviously the light version is the best. The sweetener is option, but big mac sauce does have a slight sweetness to it, so you may want to add it, there is slightly more used in the sauce because we are using yoghurt which is a bit sour tasting. Taste without the sweetener first and if you are fine without then of course you don't need to add it.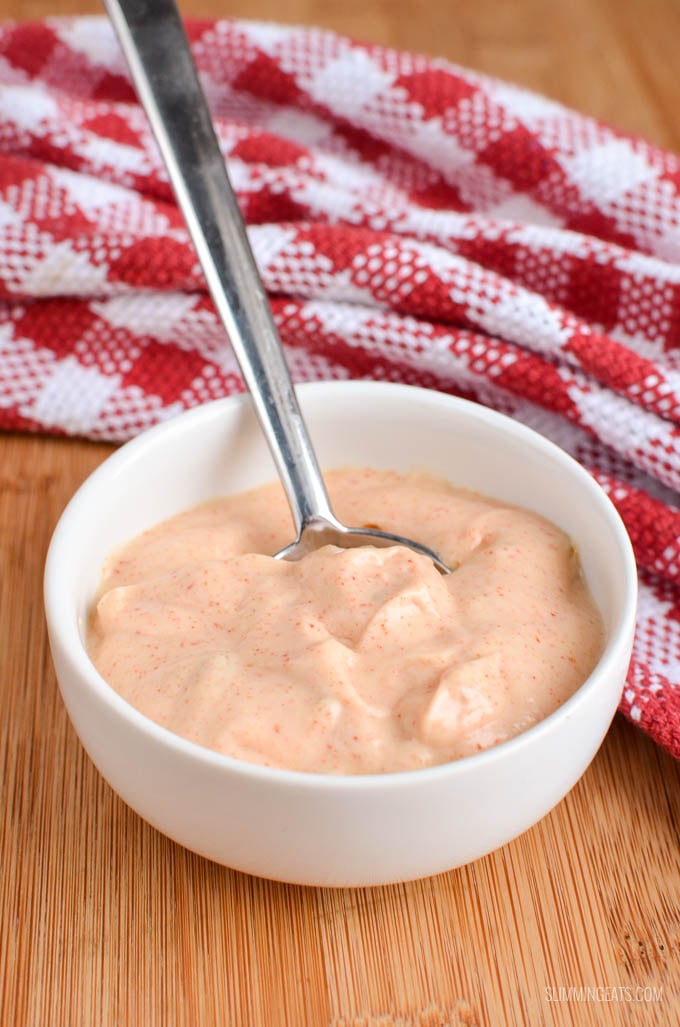 Why is your cheddar orange?
In a traditional Big Mac it's processed American cheese slices, but I am really not a lover of American cheese slices they taste too artificial to me, so instead instead I use real good quality Canadian Cheddar - it tastes so much better too. Baldersons is my favourite.
You will notice however that our cheddar is more orangey in colour compared to cheddar in the UK, this is because they add annatto to the cheddar. We can get white cheddar too, but the colour definitely looks more appealing in recipes with this colour and of course it looks more like a Big Mac too.
If you want that vibrant colour then I recommend using Red Leicester instead.
How to make Perfect Oven Baked Fries
Wondering how to create perfect fries? Check out to my Perfect Oven Baked Fries recipe
I've tried various different ways of making homemade oven baked drips, from soaking the potatoes, to microwaving and to just putting them straight in the oven, but trust me when I saw if you want crispy golden chips, this is the best method.
My biggest tip though too is making sure you pick a good quality floury potato. I use Russets here in Canada. They make the best chips or roast potatoes.
As for whether you peel them, it is totally up to you. I often don't think of that fibre.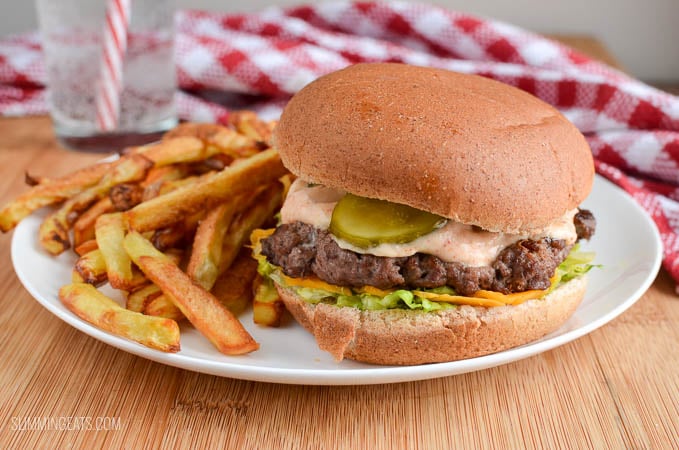 The Ultimate Burger Fakeaway
All those combined together make the Perfect Big Mac and Fries Fakeaway, but in a much healthier way. You can serve with a big mixed salad if you want to add some additional healthy speed foods to your plate. Always offering healthy speed foods of some kind with your meals, is great way to encourage a healthy diet on our young ones too. They won't always take some, especially if fussy. But just it being there on the table and seeing it, sets a good habit.
So next time you fancy a burger night - how about making this Big Mac and Fries Fakeaway for the whole family to enjoy.
More Fakeaway Recipes
Love a American fakeaway? Check out some of my other recipes: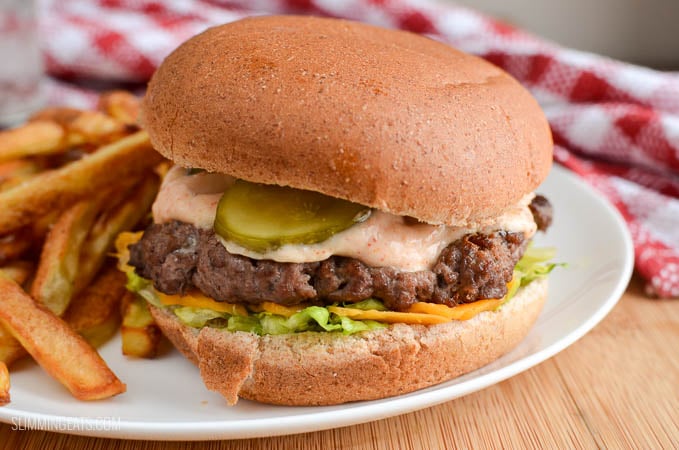 ---
LET'S CONNECT!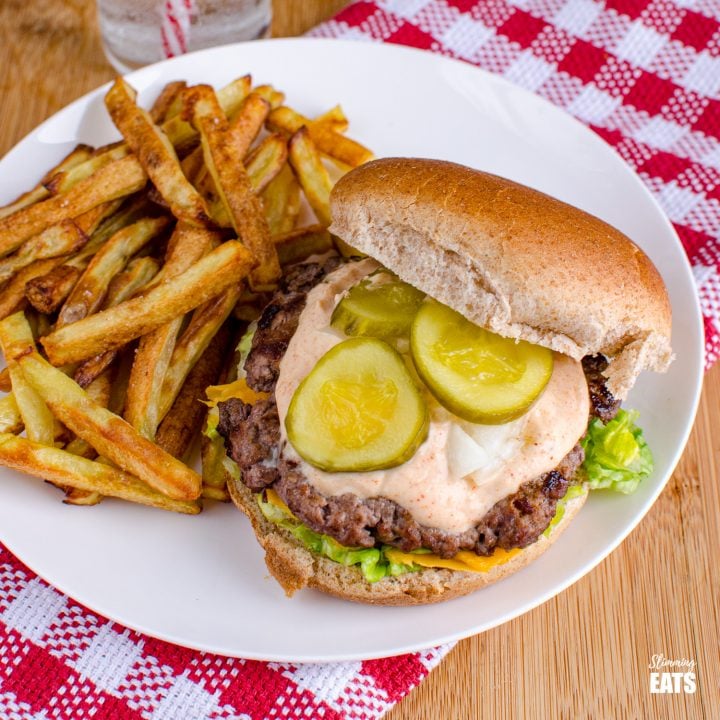 Big Mac and Fries Fakeaway (A healthier version)
Total Time:
1 hour
10 minutes
Big Mac and Fries Fakeaway - A healthier take on a everyone's favourite fast food burger meal.
Ingredients
For the burgers:
450g (1lb) of extra lean ground beef
1 teaspoon of fine sea salt
cooking oil spray (I use avocado)
For the toppings:
1 cup (approx 50g) of shredded iceburg or romaine lettuce
1 small white onion, finely diced
4x30g (1oz) of cheddar, sliced
slices of pickles (gherkins) (I add 3 or 4 slices per burger)
For the fries:
500g (17.5oz) of potatoes, sliced into fries
sea salt
4x60g (2oz) whole wheat rolls
For low syn burger sauce:
3 tablespoons of light mayonnaise
1 tablespoon of fat free Greek Yoghurt
1 teaspoon of tomato paste (puree)
1 teaspoon of American yellow mustard
¼ teaspoon of paprika
¼ teaspoon of garlic powder
¼ teaspoon of onion powder
Pinch of black pepper
1 teaspoon of granulated sweetener (optional)
couple of slices of pickle (gherkins), finely diced
Burger Sauce
4 tablespoons of fat free Greek yoghurt
1 teaspoon of tomato pasta (puree)
½ teaspoon of mustard powder
¼ teaspoon of paprika
¼ teaspoon of garlic powder
¼ teaspoon of onion powder
Pinch of black pepper
2 teaspoons of granulated sweetener (optional)
couple of slices of pickle (gherkins), finely diced
Instructions
For the burgers:
Line a plate with parchment paper (this will stop you burgers from sticking to the plate
Form the ground beef (mince) into four equal sized patties (don't over mix the meat too much)
Season the outside only with the sea salt on both sides (this ensures the extra lean mince doesn't end up too dry when cooked)
Spray a frying pan with cooking oil spray over a medium high heat and cook burgers until nice and golden on each side (approx 5 mins per side)
For the sauce:
Mix all ingredients in a bowl and set aside (I have a low syn version and a syn free version for this.
For the fries:
Cook as per this recipe How to Make Perfect Syn Free Chips
To build the burger:
Place the bottom half of the roll on a plate
Add some lettuce
Top with cheddar
Top with burger
Top with burger sauce, chopped onions and pickles
Add the roll top
Serve with fries
Add a side salad to balance out your plate
Enjoy!!!
Notes
This recipe is Slimming World and Weight Watchers friendly
Slimming World - 1 HEa, 1 HEb and 2 syns (or syn free if you use the syn free sauce)
WW Green Smart Points - 16 per serving (15 with lighter sauce)
WW Blue Smart Points - 16 per serving (15 with lighter sauce)
WW Purple Smart Points - 13 per serving (12 with lighter sauce)

If you wish to share this recipe, then please do so by using the share buttons provided on my website so that it links to Slimming Eats to obtain my recipes.
DO NOT COPY AND/OR PASTE FULL RECIPES OR SCREENSHOTS OF ANY CONTENT FROM SLIMMING EATS TO ANY SOCIAL MEDIA OR WEBSITE ETC IT IS STRICTLY PROHIBITED.
ALL IMAGES AND CONTENT ON SLIMMING EATS ARE COPYRIGHT PROTECTED.
Nutritional information, syn values, points etc are an estimate and is to be used for informational purposes only. Ingredients can vary greatly from brand to brand and therefore it would be impossible to give accurate information. It is always advised that you calculate by the ingredients you use.
It is the responsibility of the Reader to assure the products or ingredients they use in any recipes from Slimming Eats are allergen-free (gluten-free, egg-free, soy-free and/or dairy-free, for example). Slimming Eats assumes no liability for inaccuracies or misstatement about products, opinions or comments on this site.
Check Legal section, for Full Disclaimer, Disclosure and Privacy Policy.
Recommended Products
As an Amazon Associate and member of other affiliate programs, I earn from qualifying purchases.
Nutrition Information
Yield

4
Serving Size

1 SERVING (BURGER, FRIES AND SAUCE)
Amount Per Serving
Calories

529
Total Fat

20.6g
Saturated Fat

8.8g
Carbohydrates

50.9g
Fiber

6.6g
Sugar

3.5g
Protein

39.8g
Disclosure: This post may contain affiliate links. As an Amazon Associate and member of other affiliate programs, I earn from qualifying purchases. We are a participant in the Amazon Services LLC Associates Program, an affiliate advertising program designed to provide a means for us to earn fees by linking to Amazon.com and affiliated sites." Check Legal section, for Full Disclaimer, Disclosure and Privacy Policy.