A delicious green pesto made from arugula, basil and spinach that is slightly lower on the calories, meaning you can pile this on a bowl of pasta by the spoonful and dig in and enjoy.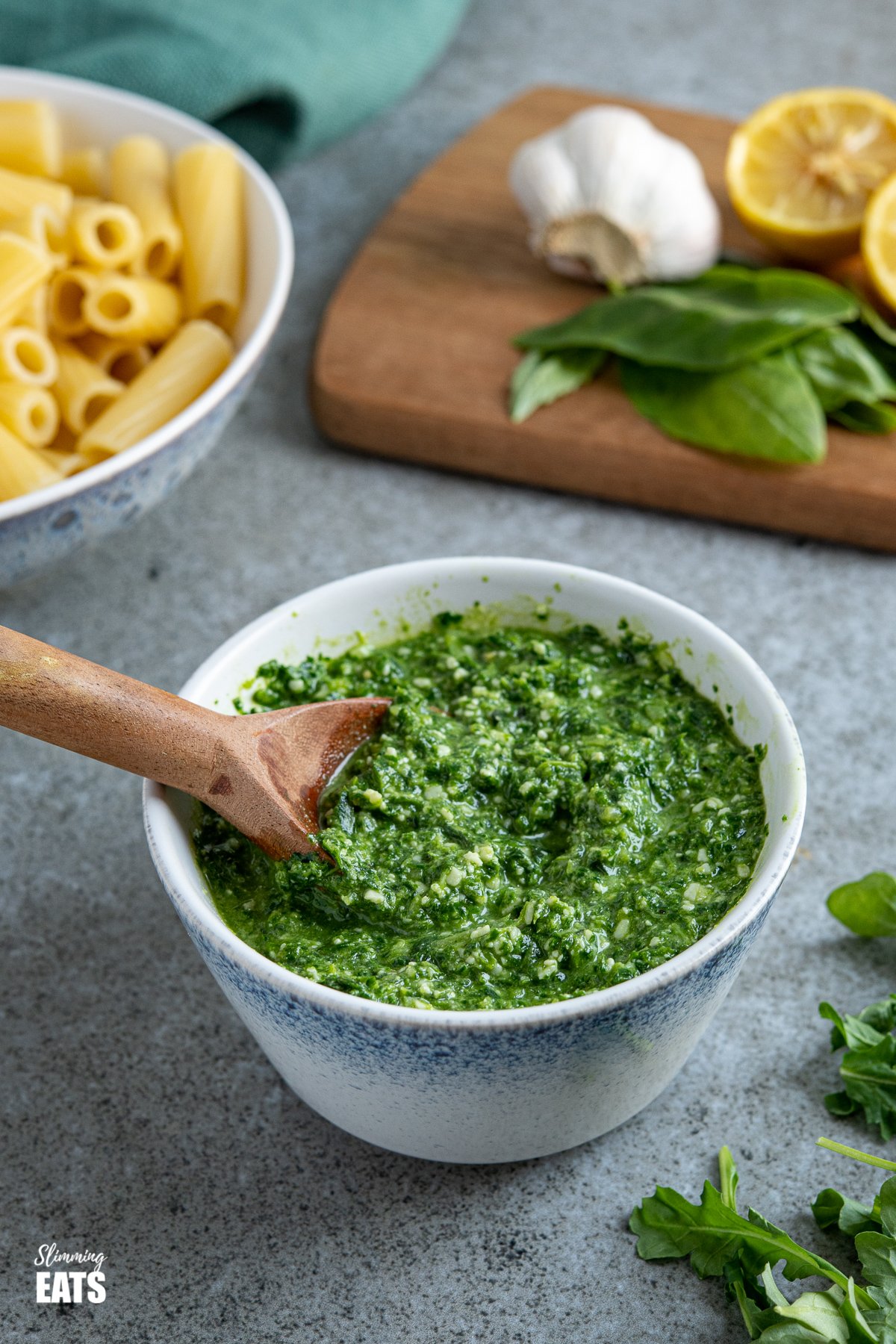 Skinny Green Pesto
I love green pesto – but it can pack quite a few calories and that's just for a tablespoon and well sometimes a tablespoon just isn't enough, right? If you are anything like me, when it comes to a bowl of pesto pasta I like quite a few spoonfuls stirred in.
This delicious Skinny Green Pesto recipe gives you a lot more pesto for less calories. It is a bit of a cheats pesto, as it contains no pine nuts, but it still works and tastes yummy. Stir it through pasta, serve as a filling for chicken or fish. The possibilities are endless.
Ingredients in Pesto
Traditionally Pesto, contains garlic, basil, pinenuts, lots of olive oil, salt, and a hard cheese such as Parmigiano-Reggiano, you can get different variations that may use some additional greens.
In this recipe I skip the pinenuts, and instead of just basil, use some arugula (rocket) and spinach. Along with the usual bit of olive oil and some parmesan (but far less than usual).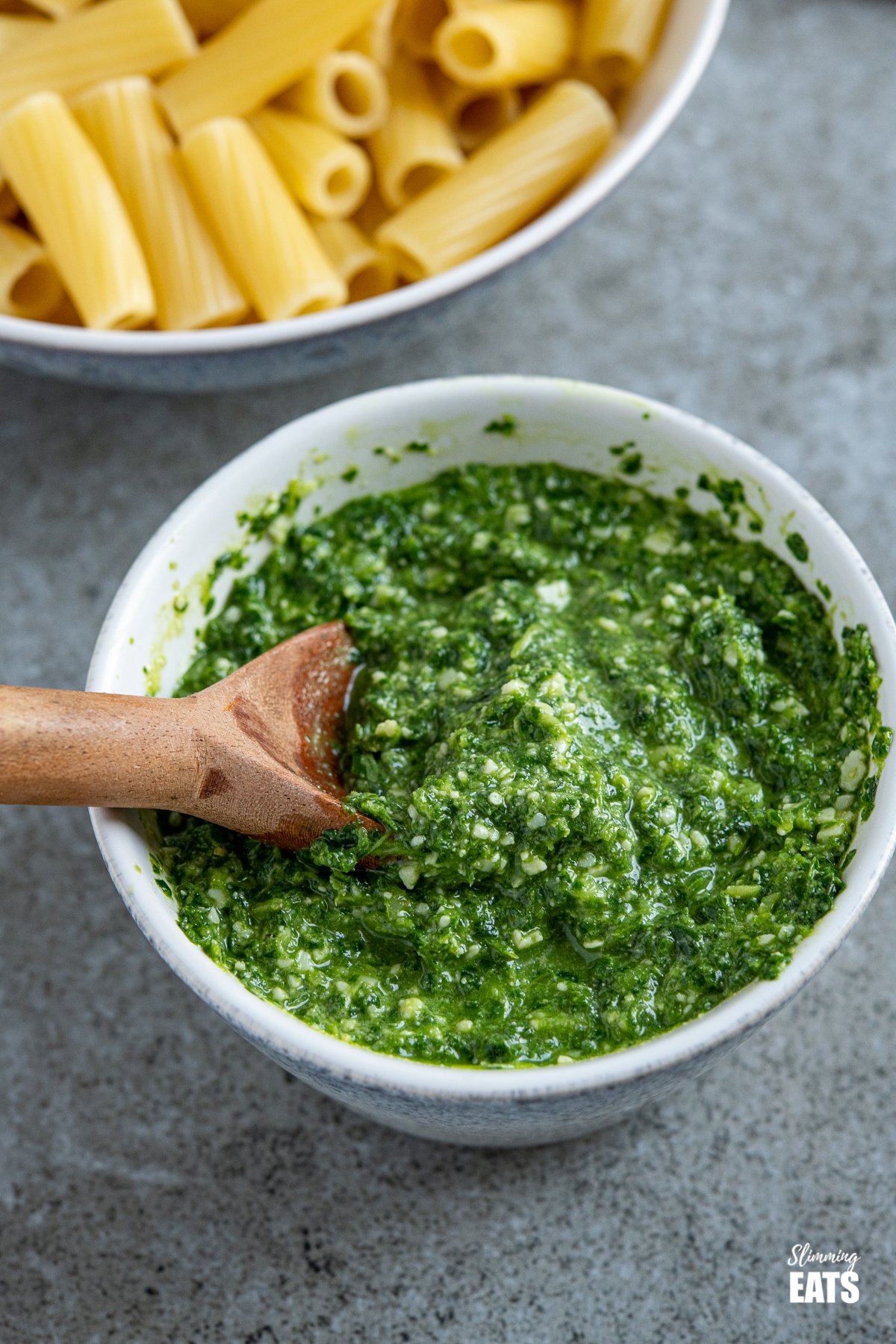 Can I skip the Olive Oil?
You may be tempted to try and skip the olive oil to save some calories, but my advice. Just don't do it. Pesto needs that extra virgin olive oil for flavour and it also helps to make sure that yummy pesto coats every piece of pasta perfectly.
If you try and skip the olive oil in this particular recipe you will just end up feeling disappointed as it just won't be like pesto.
What greens can I use to make Pesto?
While I haven't really tried anything other than the usual basil or the combination in this recipe. I don't see any other reason why other green vegetables would not work.
Some other popular choices are:
Kale or Swiss Chard
Different herbs - like coriander (cilantro)
Scallions (Green Onions)
Beet Greens
Carrot Tops
Dandelion Greens (yes I have even seen some pesto using these).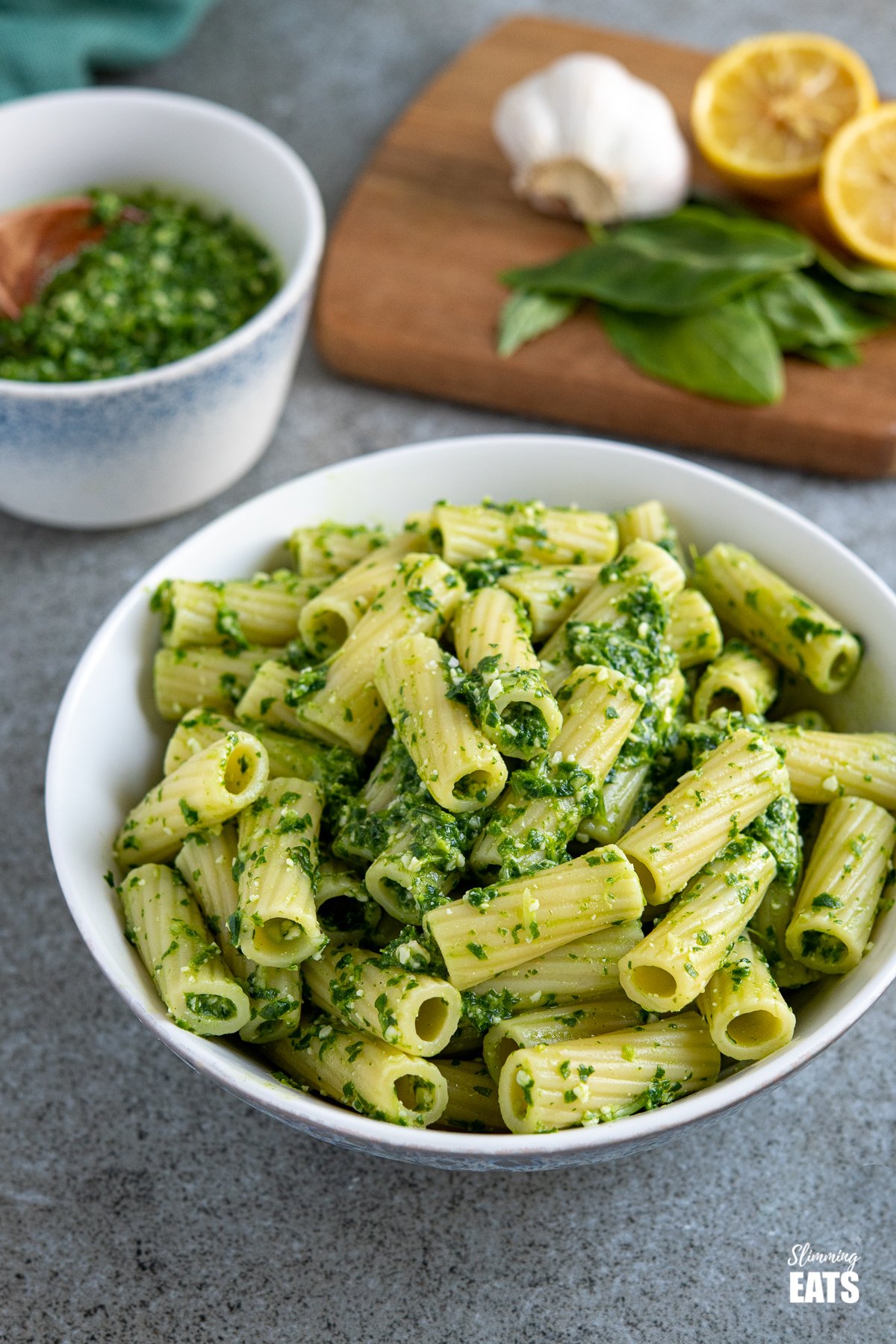 What can I make with Pesto?
An easier question would be what can I not make with pesto. Green pesto is so good on a variety of different things. Here are some of my favs.
On a seasoned grilled chicken breast with some mozzarella - yum!!
In grilled cheese sandwiches with chicken or avocado with slices of ripe tomatoes
Pasta Bakes or Pasta
In burgers
With eggs
Pizza
What are some of your favourite ways to use pesto?
Recipes with Pesto
Here are some recipes from Slimming Eats which use different types of pesto:
and then if you like Tomato Based Pesto we have this recipe:
or if you would like some more recipes to choose from - check out the Slimming Eats FULL RECIPE INDEX where you will find over 900 delicious recipes and can search by ingredients, course, diet and more.
All with estimated calories and Slimming World and Weight Watcher Smart Points values.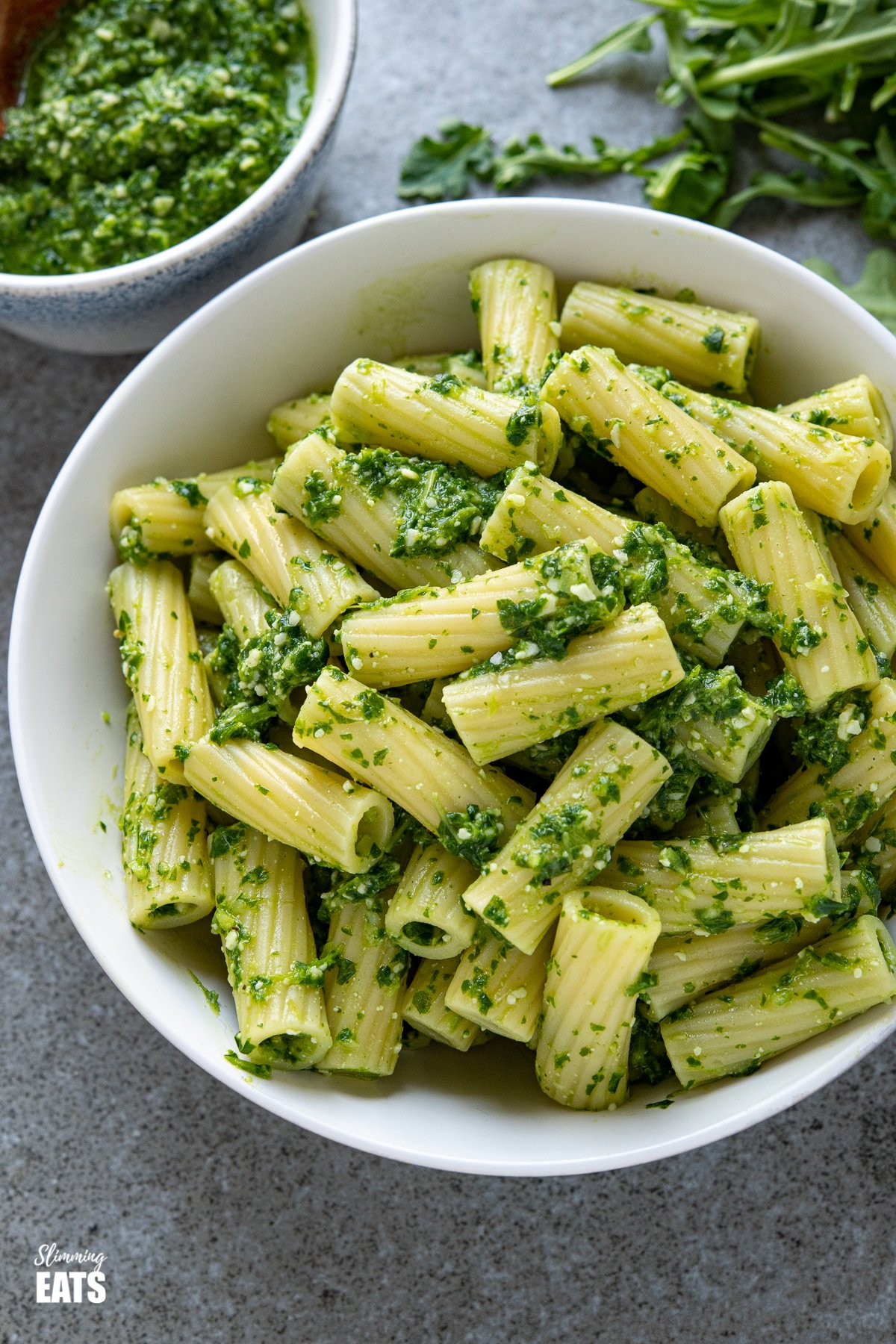 ---
LET'S CONNECT!!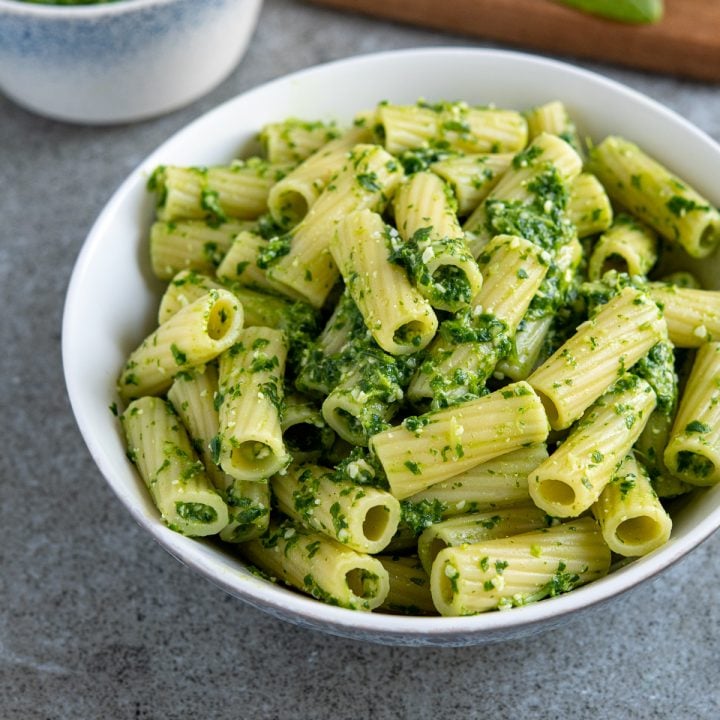 Arugula, Basil and Spinach Pesto
Yield:
Approx 15 tablespoons
A delicious green pesto made from arugula, basil and spinach that is slightly lower on the calories, meaning you can pile this on a bowl of pasta by the spoonful and dig in a enjoy.
Ingredients
40g arugula, chopped
40g of spinach, chopped
40g of basil, chopped
2 tablespoon of extra virgin olive oil
2 tablespoons of lemon juice
60g of parmesan, grated
2 crushed garlic cloves
sea salt
Instructions
Add the basil, arugula, spinach, lemon juice, garlic, parmesan to a mini food processor and pulse a few times until everything is really finely chopped up, then add in the olive oil and keep adding in a little water at a time as needed to help it process. (I recommend only adding about 1 tablespoon of water at a time, this ensures you don't add too much and it becomes too liquidy). You may need to scrape down the sides a couple of times with a spatula. The final result should be paste like.
Season to taste with a pinch of sea salt
Enjoy stirred into pasta, as a marinade topping for all kinds of protein, in grilled cheese sandwiches or even some homemade pitta pizza. So many options.
Store in a sealed container in the fridge for about 3 days or freeze.
Notes
This recipe is gluten free, Slimming World and Weight Watchers friendly
Slimming World - 2 syns per tablespoon (or can enjoy half of the whole batch for 6 syns using a HEa)
WW Green Smart Points - 1 per tablespoon
WW Blue Smart Points - 1 per tablespoon
WW Purple Smart Points - 1 per tablespoon
Vegetarian - use a vegetarian friendly Italian style hard cheese
Recommended Products
As an Amazon Associate and member of other affiliate programs, I earn from qualifying purchases.
Nutrition Information
Yield

15
Serving Size

1 tablespoon
Amount Per Serving
Calories

36
Total Fat

3g
Saturated Fat

1g
Trans Fat

0g
Unsaturated Fat

2g
Cholesterol

3mg
Sodium

114mg
Carbohydrates

1g
Fiber

0g
Sugar

0g
Protein

1g
Nutritional information, syn values, points etc are an estimate and is to be used for informational purposes only. Ingredients can vary greatly from brand to brand and therefore it would be impossible to give accurate information. It is always advised that you calculate by the ingredients you use.
Disclosure: This post may contain affiliate links. As an Amazon Associate and member of other affiliate programs, I earn from qualifying purchases. We are a participant in the Amazon Services LLC Associates Program, an affiliate advertising program designed to provide a means for us to earn fees by linking to Amazon.com and affiliated sites." Check Legal section, for Full Disclaimer, Disclosure and Privacy Policy.