Delicious Cheesy Air Fryer Pizza Sweet Potato Slices - because all the pizza lovers out there should turn everything into Pizza.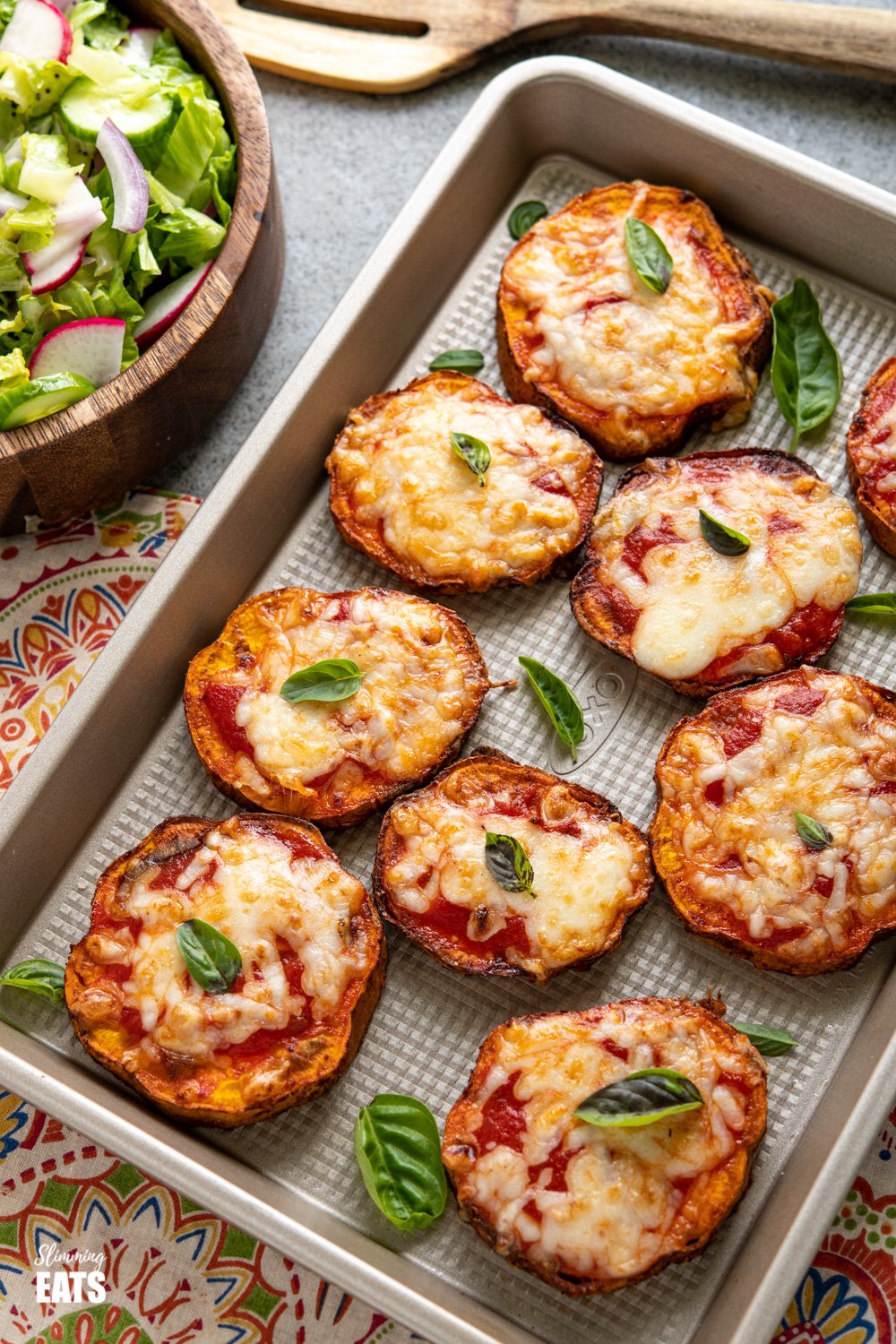 Jump to:
Calories in Air Fryer Sweet Potato Pizza Slices
Enjoy these delicious sweet potato pizza slices which serves two people and has 379 calories per serving.
If you're looking for more recipes within the same calorie range, you'll find an abundance of options in my dedicated collection of 300+ calorie recipes.
If you're following a calorie-controlled diet or a healthy eating plan, it's important to calculate your daily calorie intake using a reliable calorie calculator. Please note that the calorie counts provided are estimates and can vary based on specific ingredients and serving sizes. Personalizing your calculations is essential to meet your individual needs. By using a calorie calculator, you can make informed choices and stay on track with your dietary goals.
Pizza Everything!!
Some of my best creations come out of those moments where you are stood in your kitchen looking for inspiration for something for lunch or dinner, spot an ingredient to use and viola away you go.
With my air fryer already on the counter and a sweet potato in my pantry I was really craving something delicious with melted cheese.
Everyone is crazy over sweet potato toast right now, and rightly so, they are a great alternative to a base for bread for all your usual toppings. So why not use them for the base of a pizza?
and there we have it, Air Fryer Pizza Sweet Potato Slices was decided.
Air Fryer Sweet Potato
Cooking sweet potato in the air fryer is so simple and quick, you really only need some seasoning of choice and it's ready in minutes.
Hey I don't even bother removing the peel, it's all good fibre.
My favourite seasoning for sweet potato is always just paprika and sea salt, might sound pretty basic, but it's really the best combo. Occasionally if I want a bit of spice I might add a pinch of chilli powder or cayenne, but if they kids are eating it too, then I leave it out.
Once you have seasoned, sprayed with some cooking oil spray (Avocado is my regular choice at the moment), the Sweet Potato Slices takes about 10 minutes, which is a whole lot quicker than doing them in the oven. Gotta love an Air Fryer.
All that's left to decide is the toppings which I kept to a simple margherita style pizza.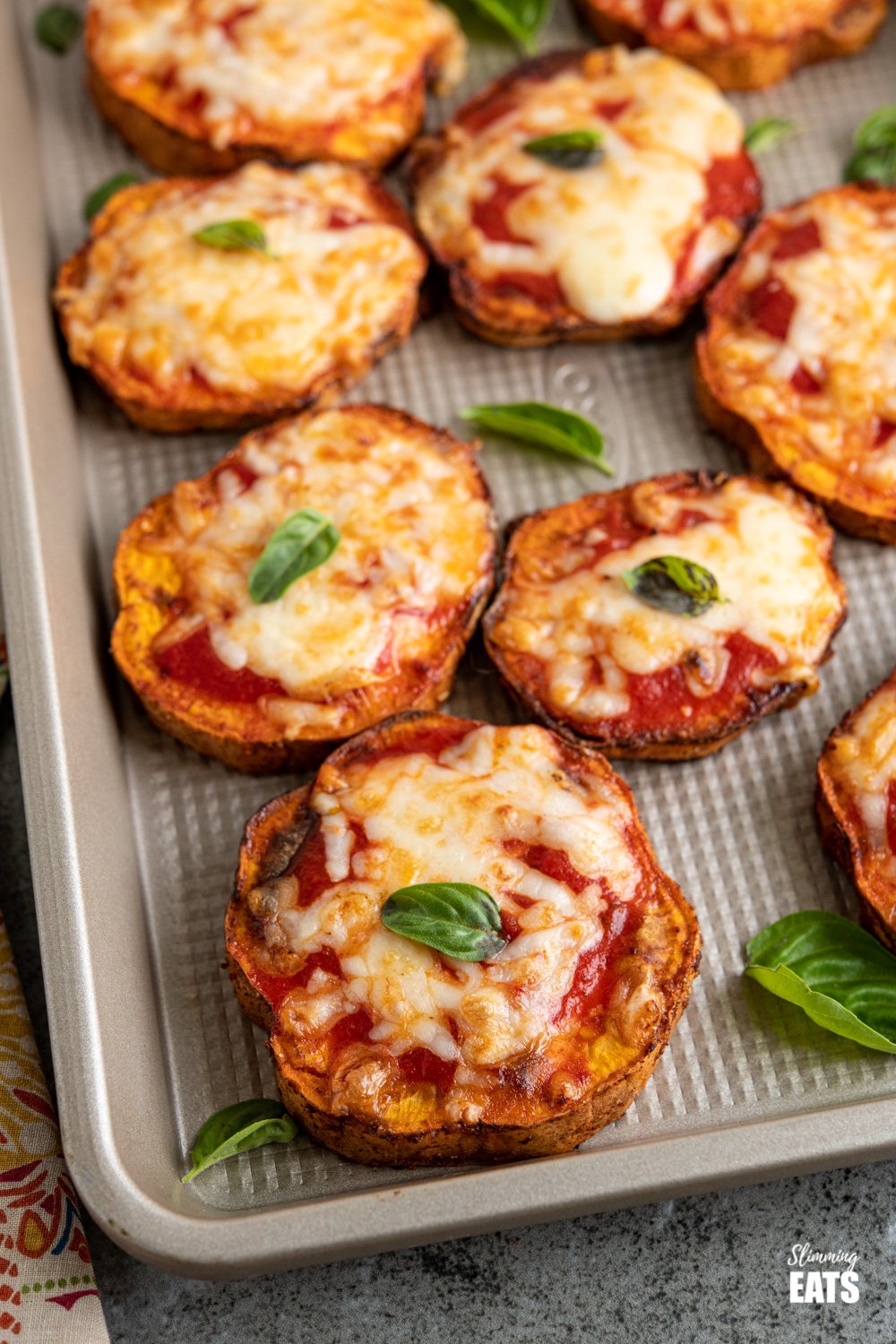 Easy Quick Homemade Pizza Sauce
I love making up a batch of this yummy Pizza Sauce, but sometimes I just don't have the time or don't have a batch on hand in the freezer and on those days I make up this very quick and simple pizza sauce.
It uses really basic and on hand pantry cupboard ingredients, and is perfect for the sauce for these yummy Air Fryer Sweet Potato Slices.
If you have fresh herbs on hand, those are going to make the sauce taste so much better, but dried is perfectly fine too. Basil and oregano are my favourite to add to pizza sauce, I just love the flavours, but if you only have mixed herbs, use those, they will be fine and the biggest thing her is keeping this recipe as simple as possible.
Gluten Free Sweet Potato Pizza
The great thing about these Air Fryer Sweet Pizza Slices is that no wheat (gluten is used for the base), meaning they are a great gluten free pizza option for those Pizza Night Cravings.
It's just simple slices of sweet potato - genius!!
Sweet Potato really works so well for any pizza style recipes, like with these Pizza Topped Sweet Potatoes and Sweet Potato Pizza Crust.
More Pizza Recipes
Fancy some other pizza recipes? Check out all these:
or if you would like more recipe ideas or sides to make with this recipe - head on over to the FULL RECIPE INDEX where you will find over 900 delicious recipes with calories and you can search by meal type, ingredients, course, diet and more.

Sides for Air Fryer Sweet Potato Pizza Slices
These are perfectly delicious just as they are straight from the tray. That is exactly how the kids enjoy them.
But for when you want to add some healthy vegetables to your plate, a simple salad is the perfect option. I went for crisp romaine lettuce, baby cucumbers, radishes and red onion.
Leftovers are great warmed up for breakfast too with some baby spinach and a fried egg - just saying!!
---
LET'S CONNECT!
Slimming Eats Made in the Air Fryer Cookbook
Looking for some more air fryer recipes? My new cookbook with 80+ Brand New and Delicious Recipes is out now and can be purchased from all UK major retailers including Amazon (will be released January 2024 in North America including Canada and Australia).
This is the ONLY air fryer cookbook you need in your life. Let me show you all the Amazing meals you can make in your air fryer.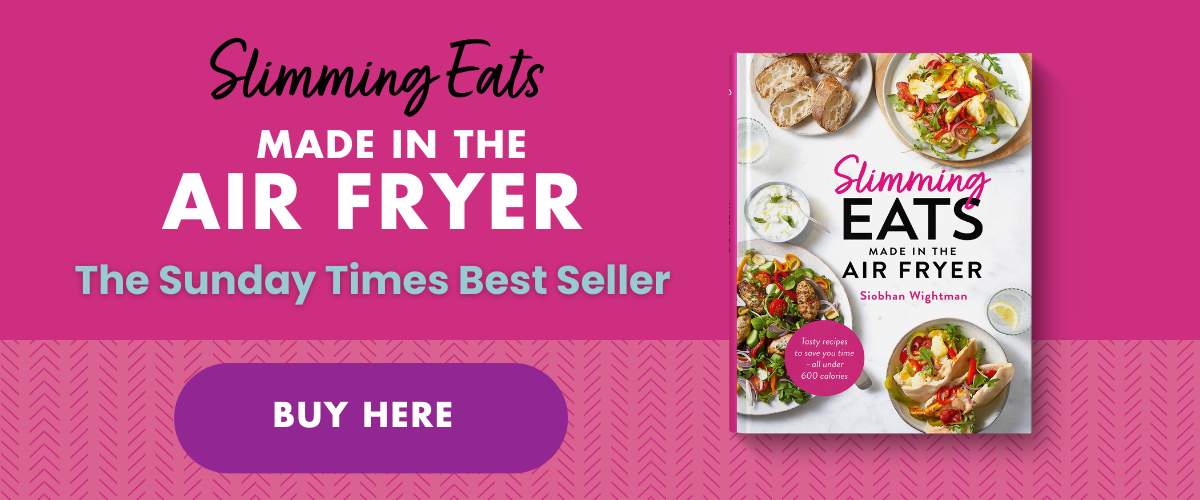 Air Fryer Pizza Sweet Potato Slices
Delicious Cheesy Air Fryer Pizza Sweet Potato Slices - because all the pizza lovers out there should turn everything into Pizza. 
Ingredients
1 large sweet potato, 500g
80g of mozzarella, grated
⅓ tsp of salt
1 tsp of paprika
fresh basil leaves
cooking oil spray (I used avocado)
for the pizza sauce
½ cup (120ml) of crushed tomatoes (passata)
1 tbs of tomato paste
1 clove of garlic
1 tsp of dried basil
½ tsp of oregano
¼ tsp of onion powder
Instructions
Slice the sweet potato into rounds, leave skin on (approx 1.5cm thick), which should give you about 8 rounds (4 per person)
Add the sweet potato rounds to a bowl and season with the paprika, salt and give a few sprays of the cooking oil spray and toss to coat.
Preheat air fryer to 190c/375f for a couple of minutes
Add half the slices to the air fryer and air fry for approx 10 minutes, should be lightly golden and slightly softened. Start checking from 8 minutes.
Repeat with the other half of slices.
While the final rounds are finishing, mix together the ingredients for the pizza sauce.
Spoon sauce onto the rounds and top with the mozzarella.
Place the rounds back into the air fryer (4 at a time) and air fry for 1-2 minutes until mozzerella is melted and golden.
Sprinkle with fresh basil leaves.
Serve with choice of sides
Enjoy!!
Notes
Please see below for details about recipe:
Calories - scroll down to nutritional info box
Slimming, Diet or Weight Loss programs::  due to plans regularly changing and updating, we recommend calculating with the official tools you get as a member to those plans to ensure accuracy of values
Gluten Free Friendly 
Dairy Free Friendly
Vegetarian Friendly
Side suggestions: mixed salad
Variation 1 - try adding different toppings of choice
Variation 2 - for a healthier alternative this will also work with Butternut Squash rounds (use the nose part).
Suitable for Freezing ❄️
No Air Fryer? Bake the rounds in the oven instead, will take approx 20 minutes, then add toppings and bake until cheese is melted and golden.
If you wish to share this recipe, then please do so by using the share buttons provided at top of this post.
DO NOT COPY AND/OR PASTE FULL RECIPES OR SCREENSHOTS OF ANY CONTENT FROM SLIMMING EATS TO ANY SOCIAL MEDIA OR WEBSITE, IT IS STRICTLY PROHIBITED.
ALL IMAGES AND CONTENT ON SLIMMING EATS ARE COPYRIGHT PROTECTED
Nutritional information etc are an estimate and are to be used for informational purposes only. Ingredients can vary in values from brand to brand and therefore it would be impossible to give accurate information. It is always advised that you calculate values yourself by the ingredients you use and the tools provided to you as a member of the programme you are following.
It is the responsibility of the Reader to assure the products or ingredients they use in any recipes from Slimming Eats are allergen-free (gluten-free, egg-free, soy-free and/or dairy-free, for example). Slimming Eats assumes no liability for inaccuracies or misstatement about products, opinions or comments on this site. 
Check Legal section, for Full Disclaimer, Disclosure and Privacy Policy.
Recommended Products
As an Amazon Associate and member of other affiliate programs, I earn from qualifying purchases.
Nutrition Information
Yield

2
Serving Size

1 Serving
Amount Per Serving
Calories

379
Total Fat

9.6g
Saturated Fat

5.3g
Cholesterol

31mg
Sodium

606mg
Carbohydrates

59.5g
Fiber

10.5g
Sugar

14.3g
Protein

15g
Disclosure: This post may contain affiliate links. As an Amazon Associate and member of other affiliate programs, I earn from qualifying purchases. We are a participant in the Amazon Services LLC Associates Program, an affiliate advertising program designed to provide a means for us to earn fees by linking to Amazon.com and affiliated sites." Check Legal section, for Full Disclaimer, Disclosure and Privacy Policy.