Enjoy two delicious courses courtesy of Tefal Actifry – Spiced Thai Chicken Curry and Roast Pineapple and Mango, delish!!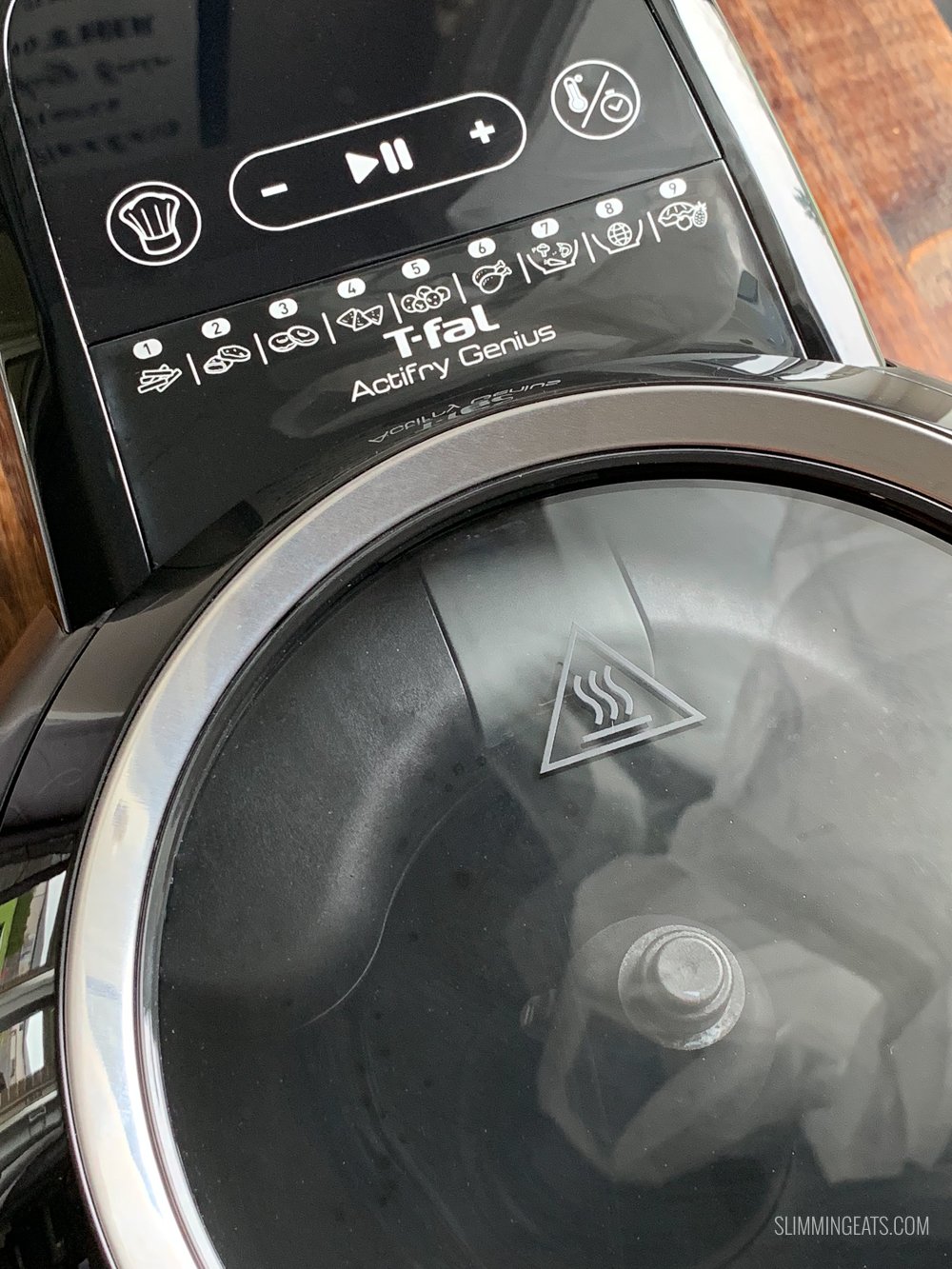 SPONSORED POST: This post is Sponsored by Tefal Actifry (see legal section to find out what that means)
Slimming Eats have teamed up with Tefal Actifry for their 360° Challenge and to participate I was sent an amazing package including the new Actifry Genius, chopping board and snazzy new apron and was asked to cook a main course and dessert from the Tefal ActiFry app, using the 360° menu board.
To promote 360˚ Cooking, Tefal is hosting a big event at Exmouth beachfront. The event involves treating the public to a free dinner (and dessert) courtesy of the ActiFry. The twist? They will be serving it to them sky high on the world's first Ferris wheel restaurant.
What is different about the new Tefal Actifry Genius?
It's no secret that I've long been a fan of the Actifry, originally starting with the first version and then later upgrading to a newer Family model (Check out my other Actifry Recipes.)
I cook a lot of things using my Tefal Actifry, such as chips, roast potatoes, sausages, breakfast hash etc – (Check out my other Actifry Recipes.)
So when Tefal asked if I would participate in this challenge and try out the new Genius model, naturally I was delighted to accept.
What's different about the Genius? Previous Actifry models really only had a simple timer mode. Now Tefal has taken this to the next level by adding modes to the Genius. There are 9 modes each designed for a specific food type and also a manual mode.
The modes available are:-
Chips (fries)
Breaded snacks
Battered snacks
Rolls
Meat & Vegetable balls
Chicken
Wok
World cuisine
Desserts
Each mode is tailored for the type of food that is cooking and the Actifry adjusts the temperature, stirring and time accordingly.
On previous Actifry models, the paddle would turn all the time (unless you removed it), now with the Genius, the paddle turns according to the food that's cooking and on some modes doesn't turn at all! This is great for foods that have a coating as the Actifry applies the heat to set the coating before starting to stir – genius indeed!
The Genius is available in a standard edition which holds 1.2 Kgs and for larger families an XL edition that holds 1.7 Kgs.
If you've been looking for an excuse to upgrade your ageing Actifry, that excuse has just arrived in the Genius model!
As part of my involvement in the challenge, the two courses I was asked to cook in the new Tefal Actifry Genius were Spiced Thai Chicken Curry and Roast Pineapple and Mango and I couldn't wait to get started.
Tefal Actifry Genius – Spiced Thai Chicken Curry
The Spiced Thai Chicken Curry was my first course, using tender chicken pieces, the lovely fragrance of Thai Spices, red and yellow peppers, courgette (zucchini) along with delicious creamy coconut milk.
Along with the handy Tefal ActiFry app which is downloadable on iOS and Android devices, you just select your recipe and you can follow it step by step from chopping the vegetables to adding to the actifry with the final result being this delicious and flavoursome dish.
The finished dish in the Tefal Actifry – yummy!!
I was really impressed with this recipe, the chicken pieces were super tender and the vegetables not overcooked. Paired up with some of my Roasted Cauliflower Rice, it made a delicious and yummy meal.
Tefal Actifry Genius – Roast Pineapple and Mango
Next up was the Roast Pineapple and Mango and therefore it was back to the Tefal Actifry App for the handy step by step recipe.
This dessert was super easy to prepare and used just a handful of ingredients, you will notice I made a slight adaption by reducing the amount of honey and swapping it for some sweetener, just to reduce the syns down a little bit further.
Once in the Tefal Actifry Genius, it cooked effortlessly and the result tasted amazing with such simple ingredients while still remaining a delicious and healthy dessert.
I paired this up with some Greek Yoghurt, but it would also go well with some ice cream, or you could even add some leftovers to your oatmeal in the morning, in fact, next time I cook up this dish I am definitely making extra.
How yummy does the Roast Pineapple and Mango look spooned over some Greek Yoghurt?
I'm handing the Tefal Actifry 360° menu board over to Mrs Mummy Wright – I can't wait to see what she makes.
---
LET'S CONNECT!
Find me ON FACEBOOK | INSTAGRAM | PINTEREST | TWITTER | and YOUTUBE, come and follow me TO MAKE SURE YOU KEEP UP TO DATE ON ALL NEW RECIPES.
You can also subscribe to Slimming Eats to keep up to date on all new recipes.
IF YOU TRY THIS RECIPE, LET US KNOW! LEAVE A COMMENT, RATE IT AND TAG US IN YOUR PHOTOS @SLIMMINGEATS ON INSTAGRAM
Yield: 4
Spiced Thai Chicken Curry
Delicious tender pieces of chicken in a spicy fragrant Thai Curry Sauce - perfectly cooked in the Tefal Actifry

Prep Time 20 minutes

Cook Time 25 minutes

Total Time 45 minutes
Ingredients
500g/17.5oz of chicken breast
1 red pepper
1 green pepper
1 courgette
1 clove of garlic
1 red chilli
100ml (4 fl oz) of coconut milk
100ml 4 fl oz)of water
1 Actifry spoon of oil of choice
1/2 Actifry spoon of fresh ginger
1 Actifry spoon of cornflour
1/2 Actifry spoon of green curry paste
1/2 Actifry spoon of fish sauce (optional)
1 Actifry spoon of coriander
Salt and pepper
Instructions
Dice chicken in 3-4cm cubes
Cut the pepper into narrow strips and thin halve, cut the courgettes into thin slices
Chop the garlic, chilli, coriander and ginger
Combine the coconut milk, water, curry paste and cornflour (cornstarch) in a bowl
Place the garlic, chilli, ginger and coriander at the bottom of the pan. Pour the sauce into the pan, add the chicken to the pan at the handle side, add the courgettes to the opposite side of the pan and then layer the peppers over the courgette. Drizzle the vegetables with the oil and close the lid.
Cook for 25 mins on Mode 8 (World Food)
Serve with your choice of sides and enjoy!!
Notes
Spiced Thai Chicken Curry recipe from the Tefal Actifry App

This recipe is gluten free, dairy free, Slimming World and Weight Watchers friendly
Extra Easy - 4 Syns per serving
WW Smart Points - 4 per serving
*suitable for freezing

If you wish to share this recipe, then please do so by using the share buttons provided. Do not screenshot or post recipe or content in full.

Nutritional information is an estimate and is to be used for informational purposes only. Ingredients can vary greatly from brand to brand and therefore it would be impossible to give accurate information.

All images and content on Slimming Eats are copyright protected.

Check Legal section, for Full Disclaimer, Disclosure and Privacy Policy.
Nutrition Information
Yield
4
Serving Size
1
Amount Per ServingCalories 253 Total Fat 8.3g Saturated Fat 4.9g Cholesterol 71mg Sodium 333mg Carbohydrates 14.6g Fiber 3.1g Sugar 6.4g Protein 30.5g

Yield: 4
Roasted Pineapple and Mango
Prep Time 15 minutes

Cook Time 12 minutes

Total Time 27 minutes
Ingredients
2/3 of a pineapple
1.5 peeled mangos
juice of 1 lemon
1.5 Actifry spoons of honey
1.5 Actifry spoons of sweetener
1 pinch of cinnamon
Instructions
Cut off the crown and base of the pineapple, remove skin and core and then cut in 1cm cubes
Cut the mangoes to the same size as the pineapple
Place the pineapple into the Actifry and pour in the honey, close the lid
Cook on manual mode (220c) for 8 mins
Add in the mango, lemon juice, sweetener and cinnamon, close the lid
Cook on manual mode (220c) for 4 mins
Enjoy (perfect over Greek yoghurt)
Notes
Recipe is slightly adapted from the Roast Pineapple and Mango recipe on the Tefal Actifry App

This recipe is gluten free, dairy free, Vegetarian, Slimming World and Weight Watchers friendly
Extra Easy - 4 Syns per serving
WW Smart Points - 2 per serving
Fruit when cooked on Slimming World should be synned as per the food optimizing guidelines, so the syn value reflect this.

If you wish to share this recipe, then please do so by using the share buttons provided. Do not screenshot or post recipe or content in full.

Nutritional information is an estimate and is to be used for informational purposes only. Ingredients can vary greatly from brand to brand and therefore it would be impossible to give accurate information.

All images and content on Slimming Eats are copyright protected.

Check Legal section, for Full Disclaimer, Disclosure and Privacy Policy.
Nutrition Information
Yield
4
Serving Size
1
Amount Per ServingCalories 81 Total Fat 0.5g Saturated Fat 0.0g Sodium 2.1mg Carbohydrates 24.3g Fiber 1.8g Sugar 20.7g Protein 0.6g
It is the responsibility of the Reader to assure the products or ingredients they use in any recipes from Slimming Eats are allergen-free (gluten-free, egg-free and/or dairy-free, for example) or Vegetarian friendly. Slimming Eats assumes no liability for inaccuracies or misstatement about products, opinions or comments on this site.
Nutritional information is an estimate and is to be used for informational purposes only
Looking for some additional support on your weight loss journey? Did you know Slimming Eats has a friendly Slimming World Facebook Support Group where you can get daily meal ideas and recipe ideas? Come and check us out, we'd love to have you join.
Looking for some other recipes? Head on over to my RECIPE INDEX for over 850 Slimming World & Weight Watchers recipes for you to browse through, all fully searchable by meal type, Ingredients, syn value and WW Smart Points etc
DID YOU

 

make

THIS

 

RECIPE

? I'D

 

LOVE

 TO SEE IT!
Snap a photo and hashtag #slimmingeats or tag me @slimmingeats on INSTAGRAM
Are you on facebook? Then be sure to come and like me on FACEBOOK
All images and content on Slimming Eats are copyright protected.
If you wish to share this recipe, then please do so by using the share buttons provided. Do not screenshot or post recipe or content in full.
* Disclosure: This post may contain affiliate links. We are a participant in the Amazon Services LLC Associates Program, an affiliate advertising program designed to provide a means for us to earn fees by linking to Amazon.com and affiliated sites." Check Legal section, for Full Disclaimer, Disclosure and Privacy Policy.