Low Syn S'mores Frappuccino - enjoy this delicious iced coffee drink without the guilt.
In the summertime, I have to admit to a weakness, it's those darn frappucinos. Delicious creamy iced coffee with whipped cream and other delights.
One of my favourites is the S'mores Frappuccino, it's delicious and addictive. So I was determined to come up with a low syn version I could make at home and enjoy without feeling guilty of blowing my daily syn allowance.
I must mention, that before I moved to Canada I had never tried iced coffee or a frappuccino. Cold coffee just never really appealed to me. In fact, I was actually more of a tea drinker than coffee.
But then with the move to Canada, I got introduced to Tim Horton's and if you have ever been to Canada, you will know that like in the UK, where on every corner there is a pub, in Canada's it's Tim Horton's. Canadians just love their coffee and the kids love Timbits.
Wondering what a Timbit is? Imagine a doughnut, with a hole, now imagine that hole was actually originally part of the doughnut. Put them in a box, in many different varieties and you have Timbits. So you can see why kids love them. I say kids, but the adults too. They are rather moreish, but at around 3.5 syns for 1 Timbit. I try to avoid them as much as I can.
Living in Canada, I quickly adjusted to drinking coffee more regularly than tea and then in the hot summer months, really not fancying a hot drink, I got introduced to a frappucino and that was it. I was hooked.
Most coffee places will do a Frappuccino of some sort. But the most addictive of course are usually from Starbucks, with their delicious seasonal favourites, like S'mores Frappuccino.
The 3 main components to a frappuccino are usually coffee (espresso shots), ice and milk and then of course comes the flavouring and lastly whipped cream. Although many do order without.
and it's not hard to see why S'mores are my favourite - chocolate, gooey marshmallow and biscuit crumb. It's so good.
If you frequent my blog, you will know how much I love S'mores, with a couple of different recipes already to choose from, such as:
All equally delicious and perfect when you fancy something sweet.
I use my Espresso Coffee Maker Machine to make the espresso shots, espresso is better for the flavour, but you can use regular coffee if you prefer.
Then, of course, you need to crush the ice really fine. I use the blender cup of my  Nutri Ninja Blender with Auto IQ  to crush the ice. This blender is amazing. The auto IQ technology feature, mean it blends to a set pattern depending on what it is you are making. There is also an optional add-on for a food processor bowl, which is perfect for chopping and grating vegetables. Sauces and soups are literally so smooth, once complete in this amazing kitchen gadget.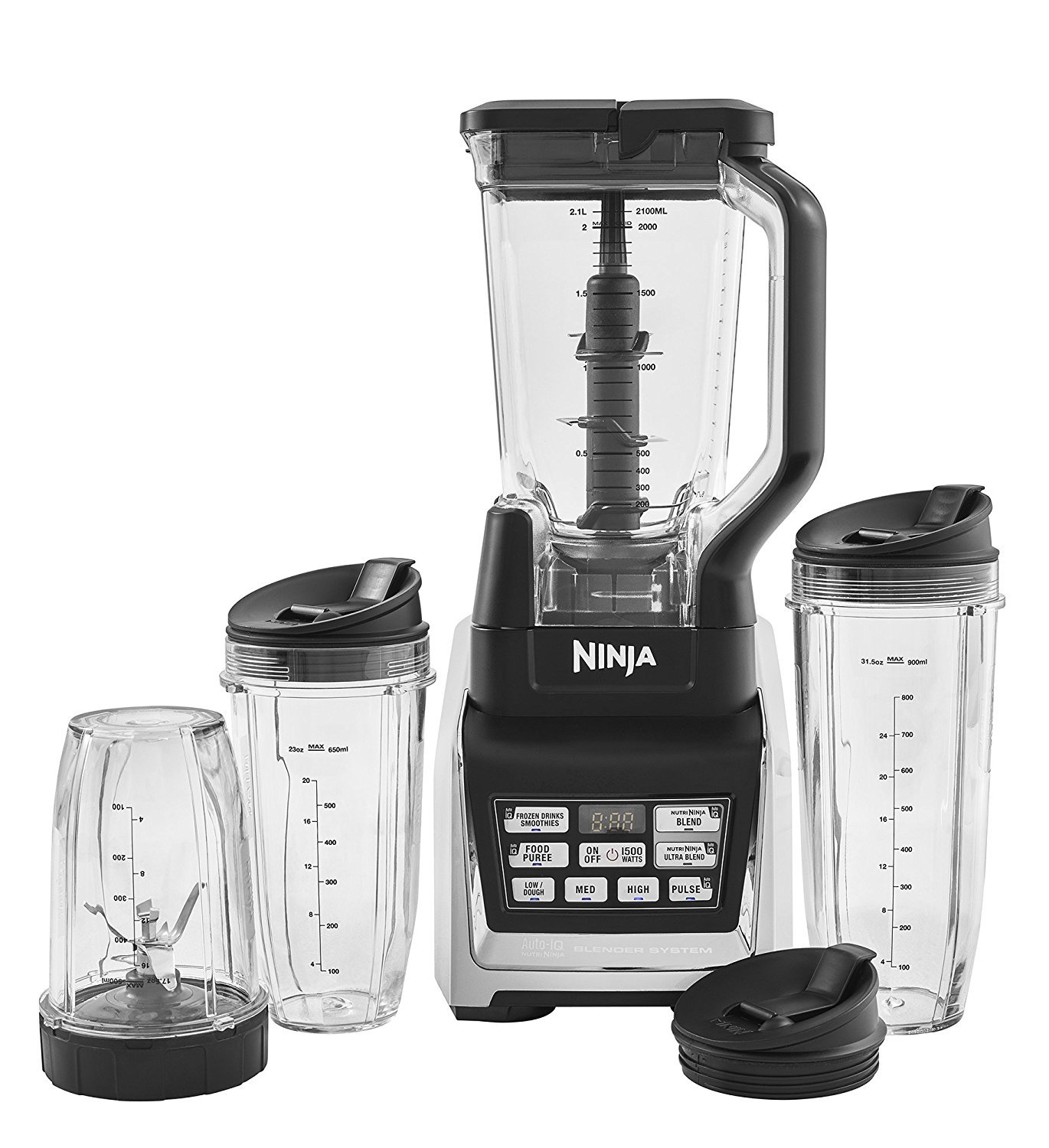 Click here to view the Nutri Ninja Blender with Auto IQ Technology on Amazon
For the chocolate sauce part, I use Sweet Freedom Choc Shot, it gives a perfect chocolately flavour without the guilt and is made from all natural ingredients.
To sweeten this S'mores Frappuccino to the desired sweetness, you can use a sweetener of your choice. I prefer Sukrin:1 ( a natural sweetener with no aftertaste and my preferred choice when making baked goods or wanting to sweeten things). Up until my discovery of this, I would just use honey or maple syrup and syn it, as I hate that aftertaste that certain sweeteners can have, but this tastes good.
You also, of course, need marshmallows, you can use whichever ones you prefer. I used a large marshmallow (16g) for 2.5 syns. You need to just melt it slightly in the microwave so that it goes all gooey in the drink (perfect).
Lastly, it's just the squirty cream on top and 0.5 syns of crumbled cookie (a mini one), I use a mini graham cracker cookie, which is like a cross between a digestive and rich tea, so use a similar amount of cookie of choice. You don't need much, it's just a little sprinkle on top for that S'mores goodness.
Then all that is left to do, is add in a straw and enjoy this S'mores Frappuccino. So good when you fancy coffee on a hot day.
Low Syn S'mores Frappucino
This recipe is Slimming World and Weight Watchers friendlyExtra Easy - 1 HEa and 5.5 synsGreen - 1 HEa and 5.5 synsOriginal/SP - 1 HEa and 5.5 synsWW Smart Points - 8
Ingredients
1 cup of skimmed milk (use as part of your HEa)
1 cup of ice
2 shots of espresso
2 tsp of Sweet Freedom Choc Shot - 1 syn
16g of marshmallow - 2.5 syns
Sweetener of choice (I use Sukrin: 1)
4 tbs of light aerosol cream - 1.5 syns
1 mini graham cracker (crushed) - 0.5 syns
Instructions
Brew espresso shots, and sweeten with sukrin:1 (or sweetener of choice to desired sweetness and set aside to cool slightly. If you can make in advance, and store in the fridge, even better, as it will be super ice cold then.
Add milk and ice to a blender, and blend until you have a milky slush.
Stir in the espresso, so it is all combined.
Add 1 tsp of Sweet Freedom Choc Shot to the bottom of the class.
Place marshmallows in a bowl and microwave at 10 sec intervals until just melted.
Add in 1 tbs of the cream and whisk till all combined
Add this into the glass on top of the Choc Shot, Pour in the coffee, ice, milk slush.
Top with the rest of the cream, drizzle with the other tsp of Choc Shot and sprinkle with the crushed graham cracker.
Enjoy!!
Notes
Syns may need to be adjusted for any difference in ingredients, so check the syn value of the items you use. 
Nutritional information is an estimate and is to be used for informational purposes only.
Ingredients can vary greatly from brand to brand and therefore it would be impossible to give accurate information.
All images and content on Slimming Eats are copyright protected.
If you wish to share this recipe, then please do so by using the share buttons provided. Do not screenshot or post recipe or content in full
Check Legal section, for Full Disclaimer, Disclosure and Privacy Policy. 
Nutrition Information
Yield

1
Serving Size

1
Amount Per Serving
Calories

194
Total Fat

2.5g
Saturated Fat

1.2g
Cholesterol

5mg
Sodium

192.3mg
Carbohydrates

35.6g
Fiber

0.1g
Sugar

24.5g
Protein

9g
Disclosure: This post may contain affiliate links. As an Amazon Associate and member of other affiliate programs, I earn from qualifying purchases. We are a participant in the Amazon Services LLC Associates Program, an affiliate advertising program designed to provide a means for us to earn fees by linking to Amazon.com and affiliated sites." Check Legal section, for Full Disclaimer, Disclosure and Privacy Policy.