Delicious all in one dinner - this Lemon Garlic Chicken Rice Traybake is tasty, fuss-free and really easy to make.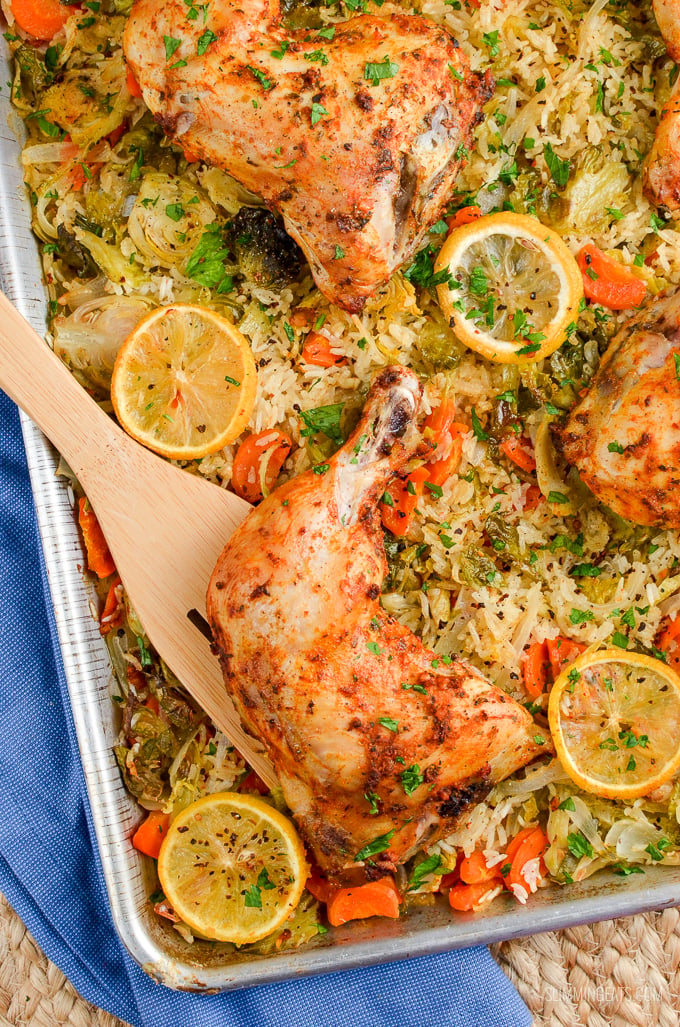 I love traybakes this time of year with the nights getting dark early and the days starting to get bitter cold. All I want to do is get dinner done with minimal clear up afterwards so that I can get to bed early snuggled under my warm duvet. I often make a traybake early in the day so that all I have to do is put it in the oven when dinner time comes.
They are so easy to make, great for those days when you want to get something done really quick but still stay on plan.
When making a traybake it is best to choose ingredients that will compliment each other and cook at similar timings. You can, of course, add other certain ingredients towards the end. If it is something that might cook quicker.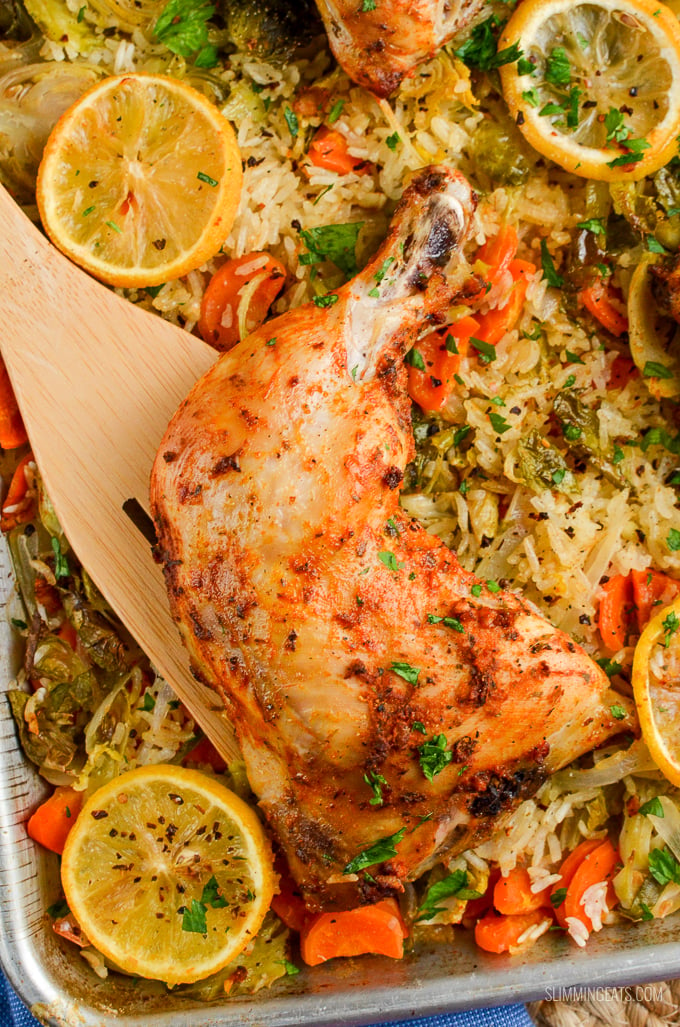 I have actually been grocery shopping choose ingredients that will work well for a traybake because of how easy they are.
This week I grabbed some bone-in chicken pieces. These kind of cuts are perfect for a traybake as the chicken stays nice and moist and really takes on the flavours of whatever you season it with.
I remove the skin first to keep it all free as it cooks. A really neat trick for removing the skin from chicken is to use a bit of kitchen paper. Grip the chicken skin on the kitchen paper, and then you can remove it really easily. I then use some kitchen scissors or a knife to trim off any visible fat, before seasoning.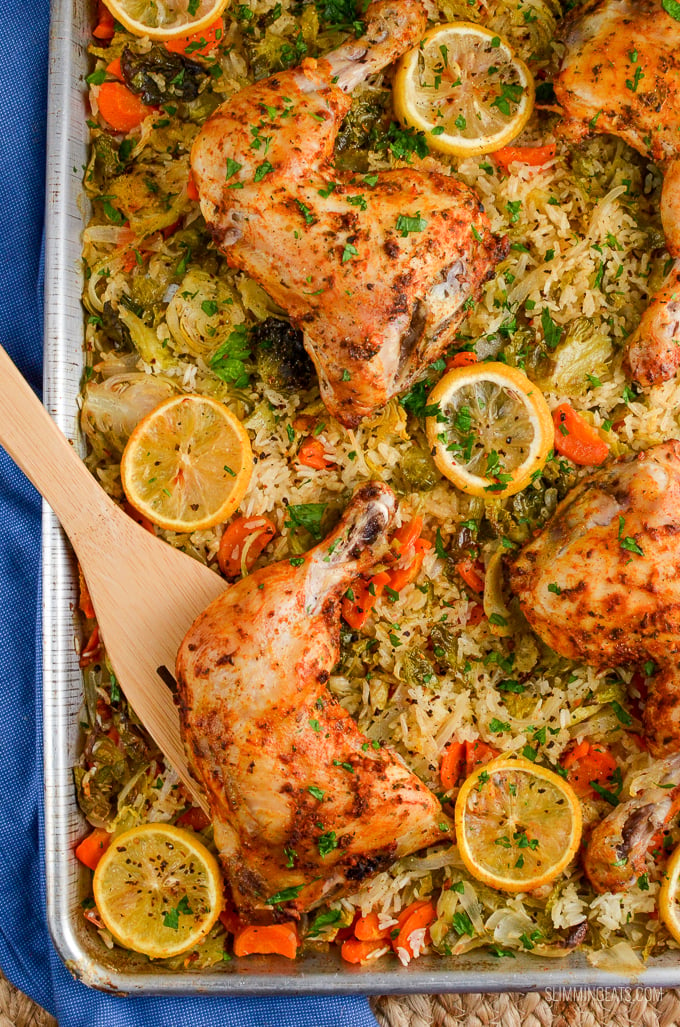 To go with the chicken this week, I grabbed a bag of Brussel sprouts, because as much as I hated those things as a child, I love them now, especially when sauteed or roasted in the oven.
The last part was choosing what seasonings and flavours to go with it. Garlic is perfect with Brussel sprouts, I mean have you tried these Sauteed Shredded Garlic Brussel Sprouts? Those are pretty darn delicious for a speed side dish and I figured the lovely fresh flavour of lemon would really compliment this dish and boy was I right.
I used a handy lemon zester tool, to add some lemon zest into the seasoning for the chicken, and then also scattered with slices of lemon on for the actual tray bake.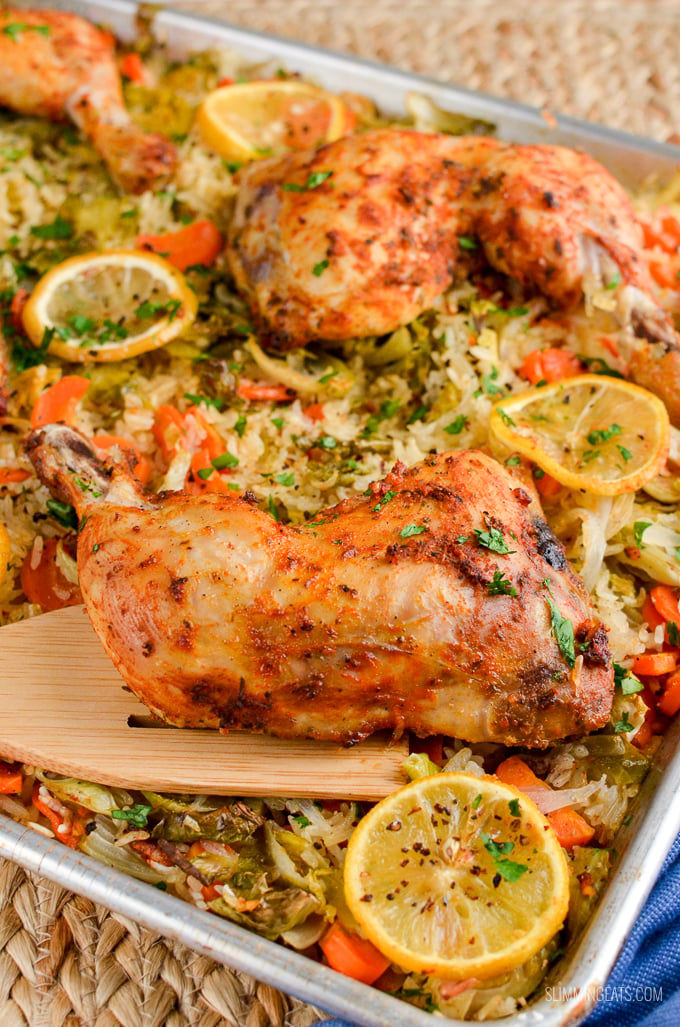 The Chicken, Potato and Vegetable Tray Bake I made last week was amazing, but because I added potatoes to that dish, I really fancied something different this week, so picked some basmati rice instead and for a contrast in colour, because I like to make dishes look pretty, I also added a couple of sliced carrots.
When cooking rice, you need liquid, so I also added in a little bit of stock and then covered in Aluminium foil for part of the baking process and removed it for the last part of cooking just to give it a lovely golden colour.
Seriously this Lemon Garlic Chicken Rice Traybake was drool-worthy, the aroma that filled my kitchen was just fantastic and I really didn't want the meal to be over, fantastic flavours and freshness and super healthy too.
I just served the Lemon Garlic Chicken Rice Traybake as it was, as there was plenty of vegetables in the recipe, but if you want to increase your vegetables, feel free to add some other vegetables of choice to the side.
---
Why not have a look through these side dishes for inspiration.
Looking for more recipe ideas? Head on over to my FULL RECIPE INDEX where you will find over 500+ delicious Slimming Eats recipes to choose from and all are searchable by meal type, ingredients etc.
---
If you want the chicken to remain lovely and moist, I do recommend bone-in chicken, as you will not get the same result with chicken breast, or boneless thighs, but if you do decide to use either of those, you will need to reduce the cooking time a little. Maybe just uncovering for the last 10 mins or so.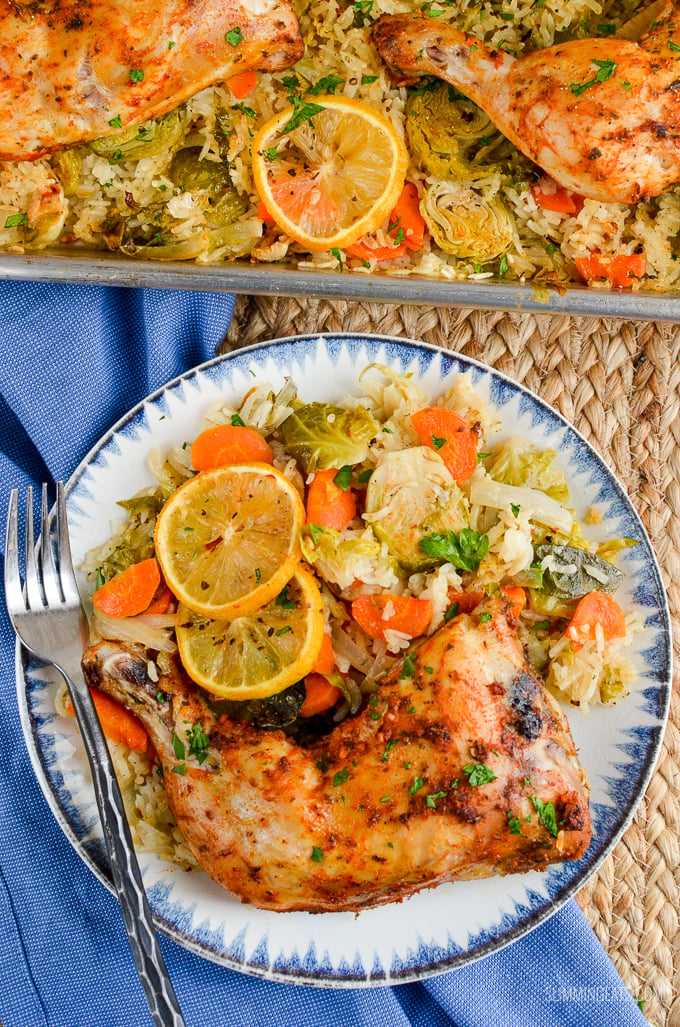 Wondering what kind of baking tray I use for the Lemon Garlic Chicken Rice Tray Bake? I use one of these large Nordicware Baking Sheets. I love the nordicware cookware, it is heavy duty and really good quality. Cleans up super easy too.
I actually have these in 3 different sizes - small, medium and large as well as muffin trays and baking dishes. I love them.
Originally I only bought one tray, but have been gradually replacing all my baking trays to Nordicware.
Give this Lemon Garlic Chicken Rice Traybake a try for dinner one night this week, it is perfect for a fuss free Sunday dinner, if yo you want minimal clean up afterwards. While Sunday roasts are delicious, the clean up afterwards can sometimes be a chore. This will mean you can enjoy dinner and still have plenty of time to put your feet up with a cuppa.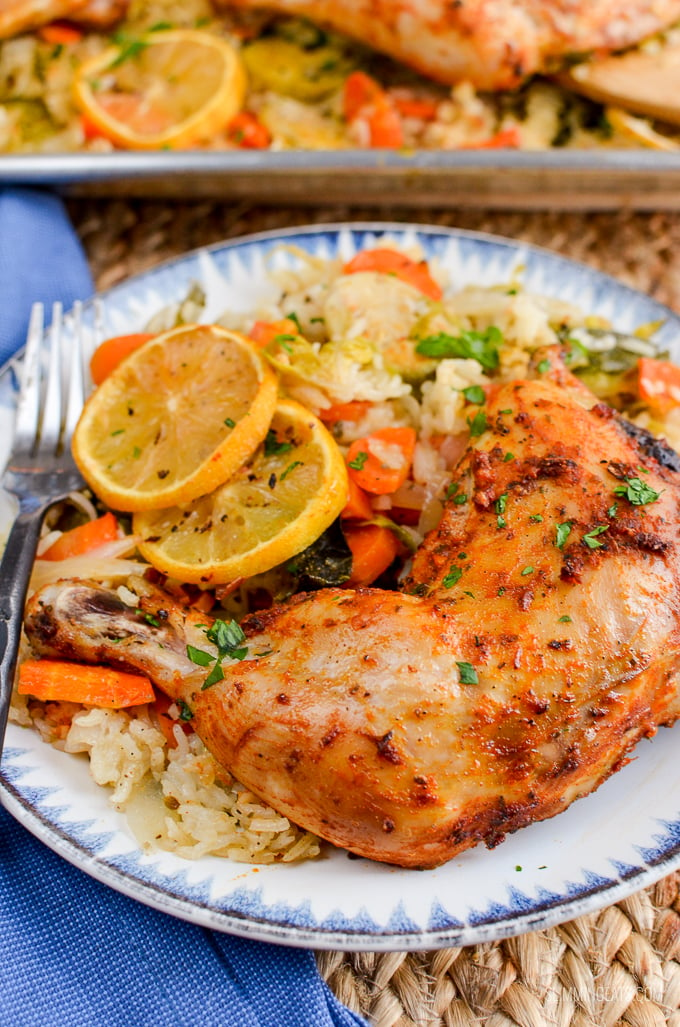 What Kitchen Items do I need to make this Lemon Garlic Chicken Rice Traybake?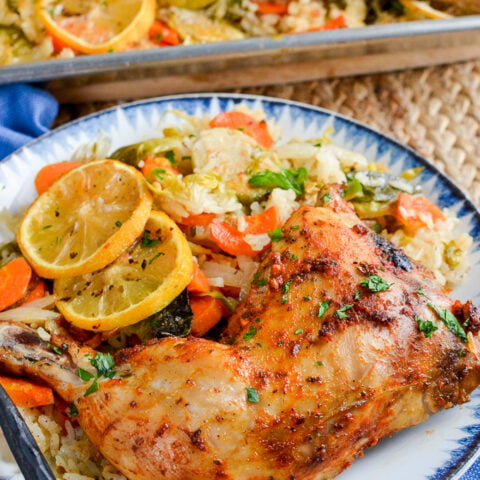 Lemon Garlic Chicken Rice Traybake
Total Time:
1 hour
20 minutes
This recipe is gluten free, dairy free, Slimming Eats and Weight Watchers friendly
WW Smart Points - 9
Ingredients
4 bone-in Chicken Legs Quarters - skin and visible fat removed 
3 cloves of garlic, crushed
zest of a lemon
1 tbs of paprika
pinch of salt and black pepper
1 tsp each of dried basil, oregano, and parsley
1.3 cups/250g of basmati rice
300g of sliced brussel sprouts
1 onion, sliced
2 carrots, sliced
1 large lemon, sliced
1.75 cups/420ml of chicken stock
spray oil
fresh chopped Italian parsley
Instructions
Preheat oven to 230c/425f (gas mark 7)
Add the chicken quarters (with skin and fat removed) to a large bowl
Add the paprika, garlic, zest, dried herbs, salt and black pepper and a little spray oil to the bowl and mix to coat
Add the rice, Brussel sprouts, onion, and carrot on a large baking tray and spread out in an even layer.
Top with the chicken quarters and lemon slices.
Pour in the stock evenly.
Cover with aluminium foil and bake for 45 mins
Uncover, carefully remove the chicken quarters and lemon slices and mix the rice, Brussels, carrots and onion, spreading back out in an even layer.
Add back the chicken quarters and lemon slices and season with a little salt and black pepper and place back in the oven uncovered for the remaining 15 mins.
Scatter with fresh chopped Italian parsley.
Serve and enjoy!!
Notes
Please see below for full nutritional info and additional details about recipe:
Calories - scroll down to nutritional info box
WW Points and other Slimming or Weight Loss programs -   due to plans regularly changing and updating, we recommend calculating with the official tools you get as a member to those plans to ensure accuracy of values. 
If you wish to share this recipe, then please do so by using the share buttons provided at top of this post.
DO NOT COPY AND/OR PASTE FULL RECIPES OR SCREENSHOTS OF ANY CONTENT FROM SLIMMING EATS TO ANY SOCIAL MEDIA OR WEBSITE, IT IS STRICTLY PROHIBITED.
ALL IMAGES AND CONTENT ON SLIMMING EATS ARE COPYRIGHT PROTECTED
Nutritional information etc are an estimate and are to be used for informational purposes only. Ingredients can vary in values from brand to brand and therefore it would be impossible to give accurate information. It is always advised that you calculate values yourself by the ingredients you use and the tools provided to you as a member of the programme you are following.
It is the responsibility of the Reader to assure the products or ingredients they use in any recipes from Slimming Eats are allergen-free (gluten-free, egg-free, soy-free and/or dairy-free, for example). Slimming Eats assumes no liability for inaccuracies or misstatement about products, opinions or comments on this site. 
Check Legal section, for Full Disclaimer, Disclosure and Privacy Policy.
Nutrition Information
Yield

4
Serving Size

1 serving
Amount Per Serving
Calories

481
Total Fat

6.9g
Saturated Fat

1.7g
Sodium

114mg
Carbohydrates

65.7g
Fiber

5.3g
Sugar

4.7g
Protein

40.2g
Disclosure: This post may contain affiliate links. As an Amazon Associate and member of other affiliate programs, I earn from qualifying purchases. We are a participant in the Amazon Services LLC Associates Program, an affiliate advertising program designed to provide a means for us to earn fees by linking to Amazon.com and affiliated sites." Check Legal section, for Full Disclaimer, Disclosure and Privacy Policy.