Kidney Bean Curry (Rajma) - a delicious vegetarian curry made with Red Kidney Beans, onions, tomato (passata) and a blend of spices.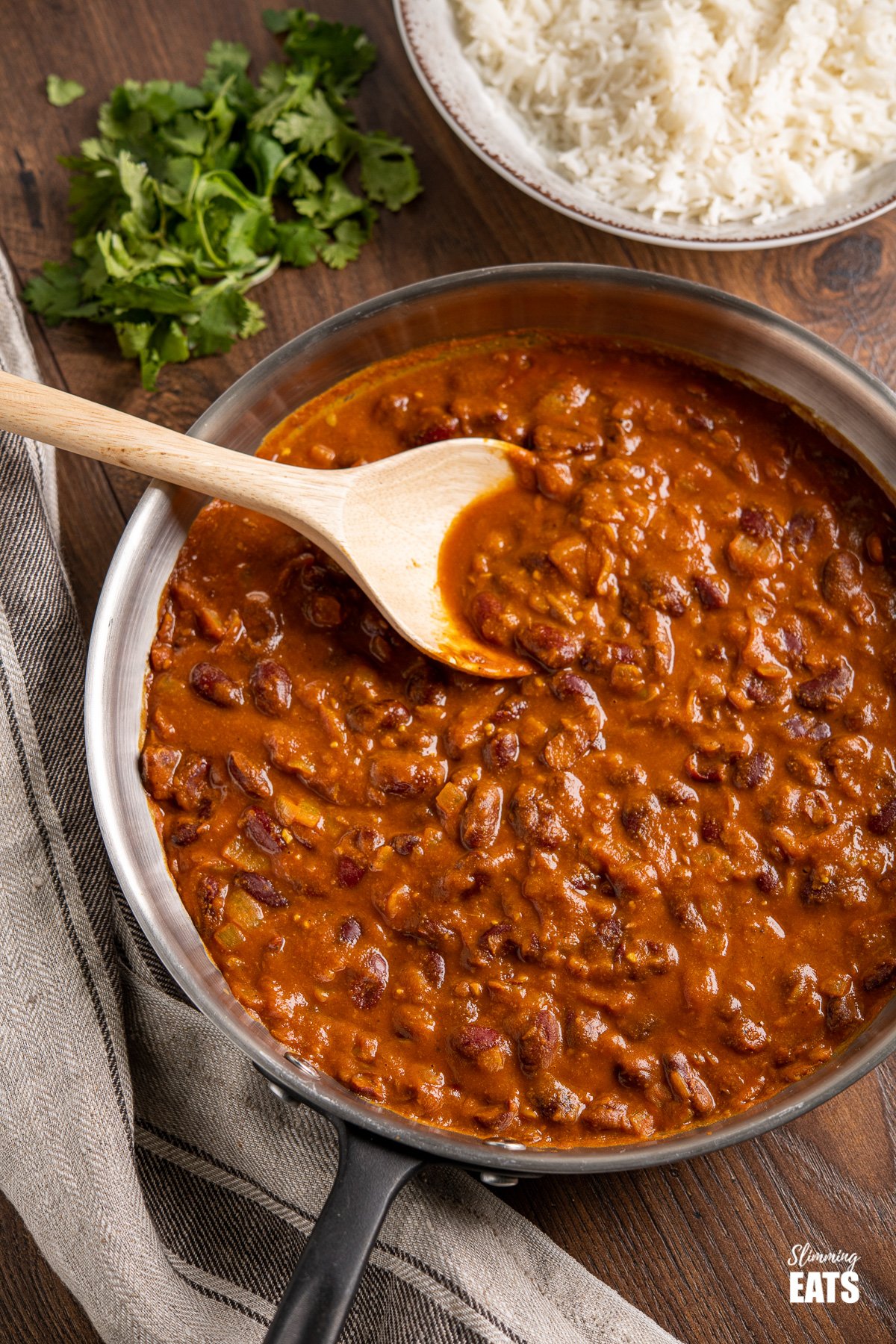 Rajma
Rajma or Red Kidney Bean curry was one of the first Indian dishes I watched a good friend of mine (whose family are from North India), cook. I love the simplicity of the dish and the fact it doesn't compromise on flavour, plus it's high in protein and fibre and a completely meat-free dish which is perfect for those who are vegetarian or fancy a meat-free dish.
Kidney Bean Curry
The main tip my friend gave me for making this curry is to always use dried kidney beans as they are much nicer than canned. Much cheaper too if you buy in bulk and can easily be prepped the night before, by just placing in a bowl and fully immersing in cold water to soak overnight.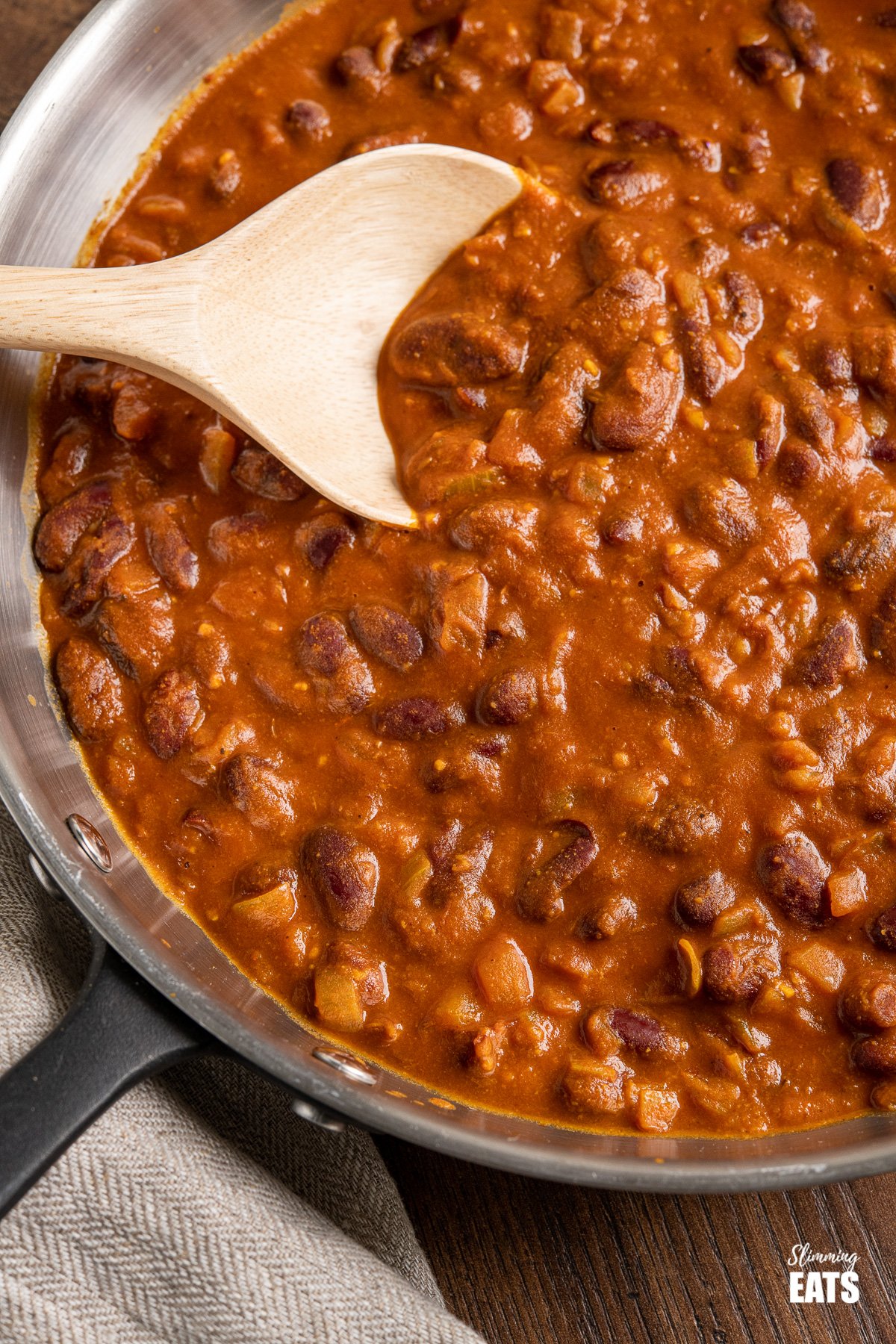 Can I use canned Kidney Beans?
I know it is a question that will be asked and if you don't have dried kidney beans on hand and want to try this recipe, then, by all means, use canned kidney beans if that is all you have. Two 400g cans should be enough in ratio to the dried. You won't need to soak overnight or do the precook of the kidney beans.
Can I use spray oil?
The flavour is better if you cook the onion base and spices in ghee or oil and so it's worth it to use that instead of spray oil. However, if you really want to use a spray oil, then just ensure you don't burn the spices otherwsie the taste will be bitter. You may need to add a little bit of water to prevent this.
Best Chilli Powder for Curry?
There are various types of Chili or Chilli powder available. In North America, most are a Mexican Style Chili Powder and have paprika and a blend of other spices in there, so are usually milder in comparison to Indian Chilli Powders.
For Indian dishes, I like to use a Deggi Mirch that is made from Kashmiri Red Chillies, it adds good flavour and a decent amount of heat. You will find it at most Indian grocers as well as online.
Medium or hot chilli powder is fine too depending on your preferred spice level.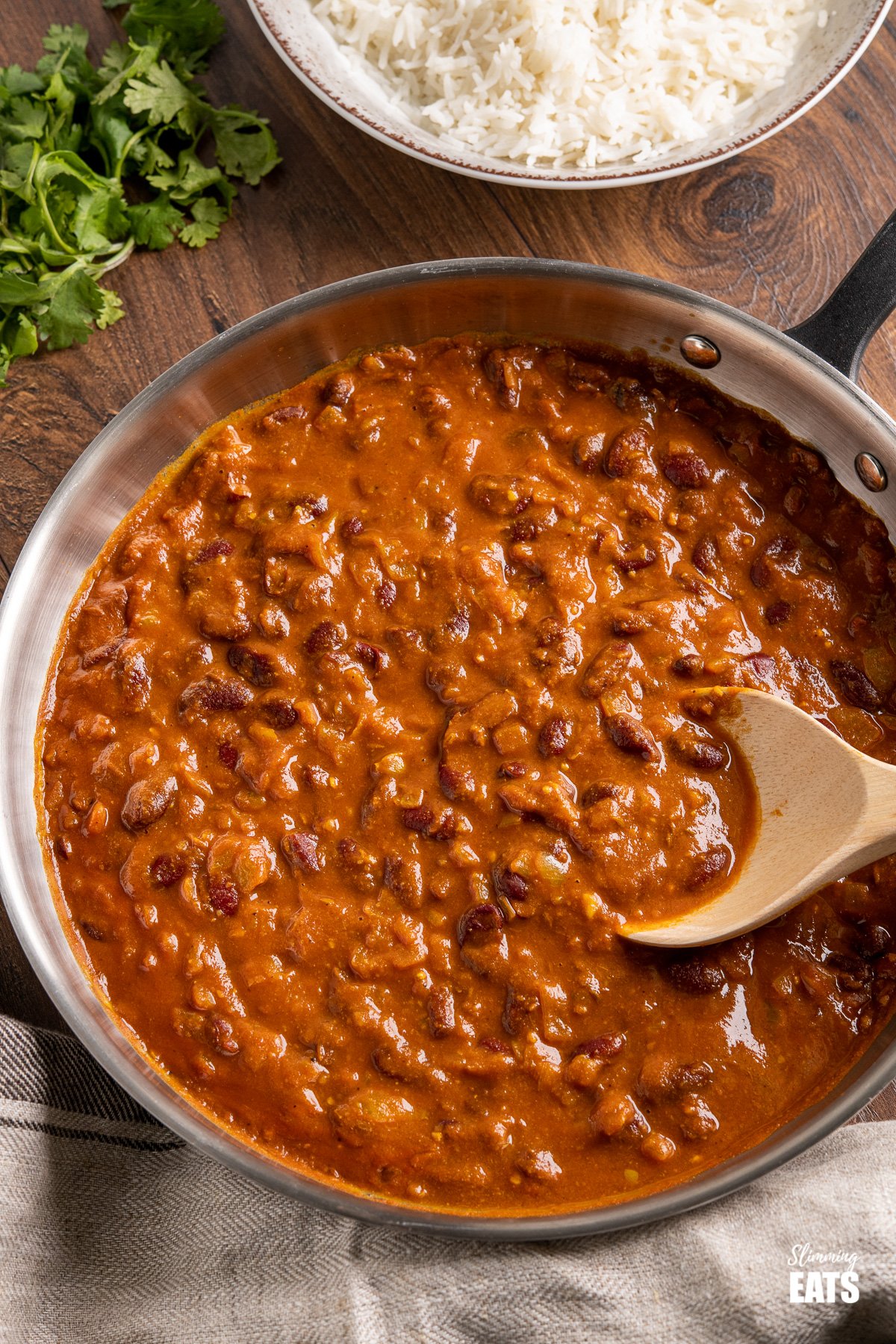 Sides for Rajma Curry
I simply like to serve this over some plain basmati rice with a little cilantro (corinader). But if you prefer a Pilau rice, check out these recipes.
or if you are trying to be healthy, these low carb cauliflower rice recipe are delicious.
and if you want to great and Indian Feast with items like Onion Bhaji, Pakora etc then check out this Indian Fakeaway Section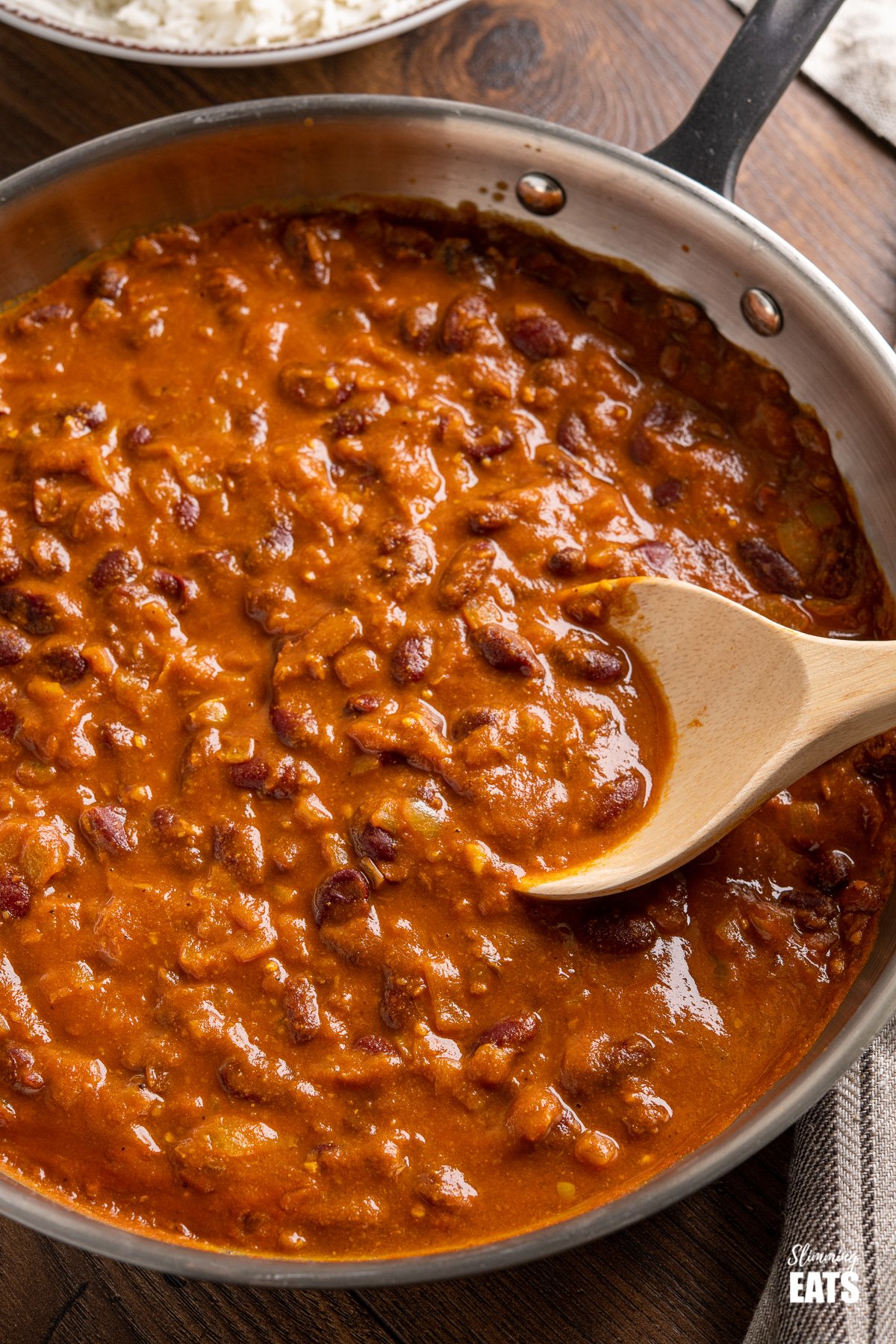 More Vegetarian Curry Recipes
Fancy some other delicious vegetarian curry recipes? Check out these:
or head on over to my Full Recipe Index with over 900 delicious Slimming World and Weight Watchers friendly recipes all fully searchable by meal type, ingredients, syn value and smart points etc
Kidney Bean Curry (Rajma)
Cook Time:
1 hour
25 minutes
Additional Time:
10 hours
Total Time:
11 hours
40 minutes
Kidney Bean Curry (Rajma) - a delicious vegetarian curry made with Red Kidney Beans, onions, tomato (passata) and a blend of spices. 
Ingredients
350g (12.5oz) of dried kidney beans
1 tablespoon of ghee (or use another oil of your choice)
2 medium onions, diced
4 cloves of garlic, minced
2 tablespoons of grated ginger root
2 teaspoons of cumin seeds
1 teaspoon of ground cumin
2 teaspoons of ground coriander
1 teaspoon of deggi mirch (or another hot chilli powder) can use more if you prefer it spicier)
5 cardamom pods
1.5 teaspoons of turmeric
1 teaspoon of garam masala
1 cup (240ml) of passata
2 cups (480ml) of water
1 /2 teaspoon of salt
chopped cilantro (coriander) - optional
additional salt to season.
Instructions
Place the kidney beans in a large bowl and fully immersed in cold water, leave to soak overnight (for at least 10 hours).
Once kidney beans have soaked overnight, rinse thoroughly.
Add to a large saucepan cover completely with cold water. Bring to a boil and then simmer for abot 45 minutes to 1 hour (beans should be soft but not mushy).
Drain.
Heat the ghee (or other cooking oil of choice) in a large deep frying pan over a medium high heat.
Add the onion and cumin seeds and fry until the onion is lightly golden and softened.
Add in the ginger, garlic, ground cumin, ground coriander, turmeric, garam masala, deggi mirch and ½ teaspoon of salt and continue to cook for an additional minute or so, until the base is paste like.
Add in the passata, cardamom pods, cooked kidney beans and 2 cups of water, bring to a boil and then reduce heat, cover and simmer for 30 minutes.
If you prefer a thicker gravy, mash a few of the kidney beans in the sauce, if you prefer it more saucy, add in a little more water.
Taste and season as needed with more salt.
Serve and Enjoy
I like to sprinkle with chopped coriander (cilantro) but this is optional.
Notes
This recipe is gluten free, dairy free, vegetarian (vegan), Slimming World and Weight Watchers friendly.
Slimming World - 1 syn per serving
Green WW Smart Points - 5 per serving
Blue WW Smart Points - 1 per serving
Purple WW Smart Points - 1 per serving
Vegan/Dairy Free - replace the ghee with another oil of choice.
SUITABLE FOR FREEZING
If you wish to share this recipe, then please do so by using the share buttons provided.

DO NOT COPY AND/OR PASTE FULL RECIPES OR SCREENSHOTS OF ANY CONTENT FROM SLIMMING EATS TO ANY SOCIAL MEDIA, IT IS STRICTLY PROHIBITED.

ALL IMAGES AND CONTENT ON SLIMMING EATS ARE COPYRIGHT PROTECTED.

Nutritional information, syn values, points etc are an estimate and is to be used for informational purposes only. Ingredients can vary greatly from brand to brand and therefore it would be impossible to give accurate information. It is always advised that you calculate by the ingredients you use.

It is the responsibility of the Reader to assure the products or ingredients they use in any recipes from Slimming Eats are allergen-free (gluten-free, egg-free, soy-free and/or dairy-free, for example). Slimming Eats assumes no liability for inaccuracies or misstatement about products, opinions or comments on this site.

Check Legal section, for Full Disclaimer, Disclosure, and Privacy Policy.
Nutrition Information
Serving Size

1 SERVING
Amount Per Serving
Calories

169
Total Fat

2.1g
Saturated Fat

1.2g
Cholesterol

3.1mg
Sodium

200mg
Carbohydrates

31.9g
Fiber

7.3g
Sugar

3.7g
Protein

11g
It is the responsibility of the Reader to assure the products or ingredients they use in any recipes from Slimming Eats are allergen-free (gluten-free, egg-free and/or dairy-free, for example) or Vegetarian friendly. Slimming Eats assumes no liability for inaccuracies or misstatement about products, opinions or comments on this site.
Nutritional information is an estimate and is to be used for informational purposes only
Looking for some additional support on your weight loss journey? Did you know Slimming Eats has a friendly Slimming World Facebook Support Group where you can get daily meal ideas and recipe ideas? Come and check us out, we'd love to have you join.
Looking for some other recipes? Head on over to my RECIPE INDEX for over 900 Slimming World & Weight Watchers recipes for you to browse through, all fully searchable by meal type, Ingredients, syn value and WW Smart Points etc
All images and content on Slimming Eats are copyright protected.
If you wish to share this recipe, then please do so by using the share buttons provided. Do not screenshot or post recipe or content in full.
* Disclosure: This post may contain affiliate links. As an Amazon Associate and member of other affiliate programs, I earn from qualifying purchases. We are a participant in the Amazon Services LLC Associates Program, an affiliate advertising program designed to provide a means for us to earn fees by linking to Amazon.com and affiliated sites." Check Legal section, for Full Disclaimer, Disclosure and Privacy Policy.