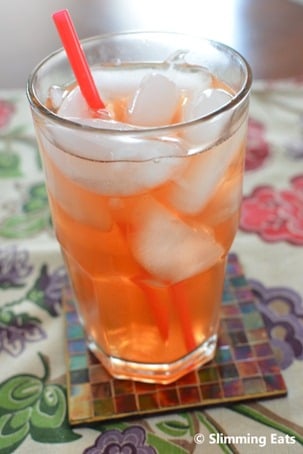 I LOVE tea.
Which up until a few months back was just your usual cup of black tea with milk. But recently a good friend of mine over at Erin's Tea introduced me to other types of tea and so I started to venture out, trying flavoured black teas, rooibos, green tea and herbals etc. Also with my move to Canada back in 2008, I have become accustomed to the very popular iced tea and it is a big favourite of mine now in the summer. However the stuff you buy is usually full of sugar which is not ideal on our healthy eating plan.
So I recently bought one of these: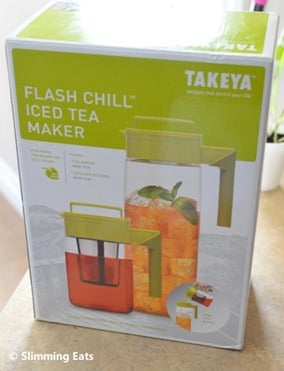 For those of you in the UK, the nearest I could find to one of these was this one:
So now onto how to make the iced tea. Of course the instructions below will be for the Takeya Flash Chill Tea maker, but using a similar pitcher won't differ too much.
Firstly it recommends 8 tablespoons of loose tea leaf (or you can use tea bags), but I prefer the loose tea. I found 8 tablespoons to be a bit too bitter though when using green tea, so used just 6.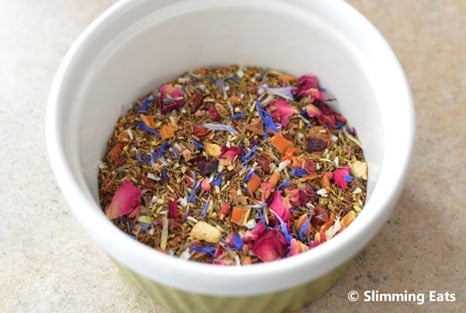 For this I used a fruity kids tea (which is sugar and caffeine free) from Teaopia (but a flavoured green tea would work really well). Check out tea stores near you for some loose tea. My favourite stores here in Canada are of course Teaopia and DavidsTea.
Add the tea to the filter of your tea maker.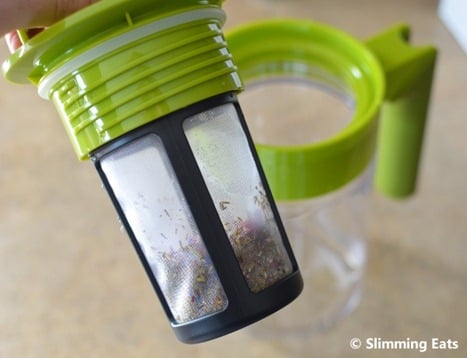 and then fill with boiling water. (NOTE: Watch your water temperature for certain teas, as some teas need to be brewed at lower temperatures to what you are used to – my friend over at Erin's Tea has a nifty little guide – Water Temps). Swirl it around a little so that the tea leaves move around in the filter to infuse.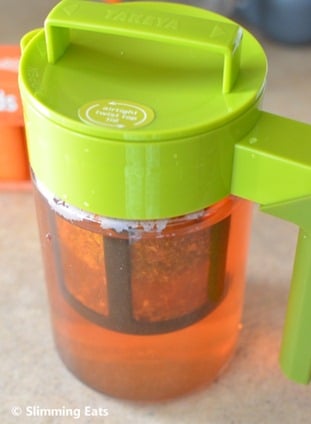 I let this tea steep for about 8 minutes.
While the tea is steeping your can fill your iced tea pitcher ¾ full with ice.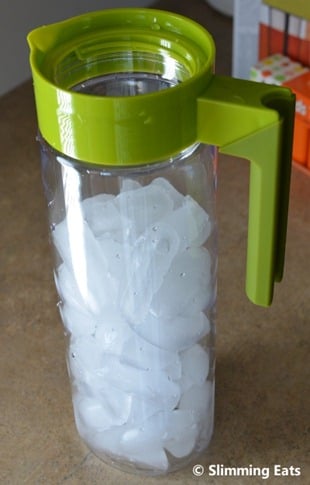 Once your tea has brewed for the required time, you will want to sweeten it (with sweetener, sugar or honey – bear in mind the latter will be synned) according to your taste before adding it to the ice, remember it will dilute more with the ice.
Pour the tea over the ice in the pitcher (what this does is flash chills your tea, so you can enjoy it straight away)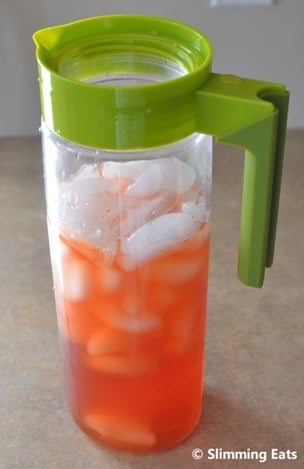 Pour into a glass of ice and Enjoy!
It is great served with some slices of lemon or other fruit thrown in.
Disclosure: This post may contain affiliate links. As an Amazon Associate and member of other affiliate programs, I earn from qualifying purchases. We are a participant in the Amazon Services LLC Associates Program, an affiliate advertising program designed to provide a means for us to earn fees by linking to Amazon.com and affiliated sites." Check Legal section, for Full Disclaimer, Disclosure and Privacy Policy.