The Perfect Healthy Tuna Melt, satisfy those cravings with this delicious cheesy topped lunchtime favourite.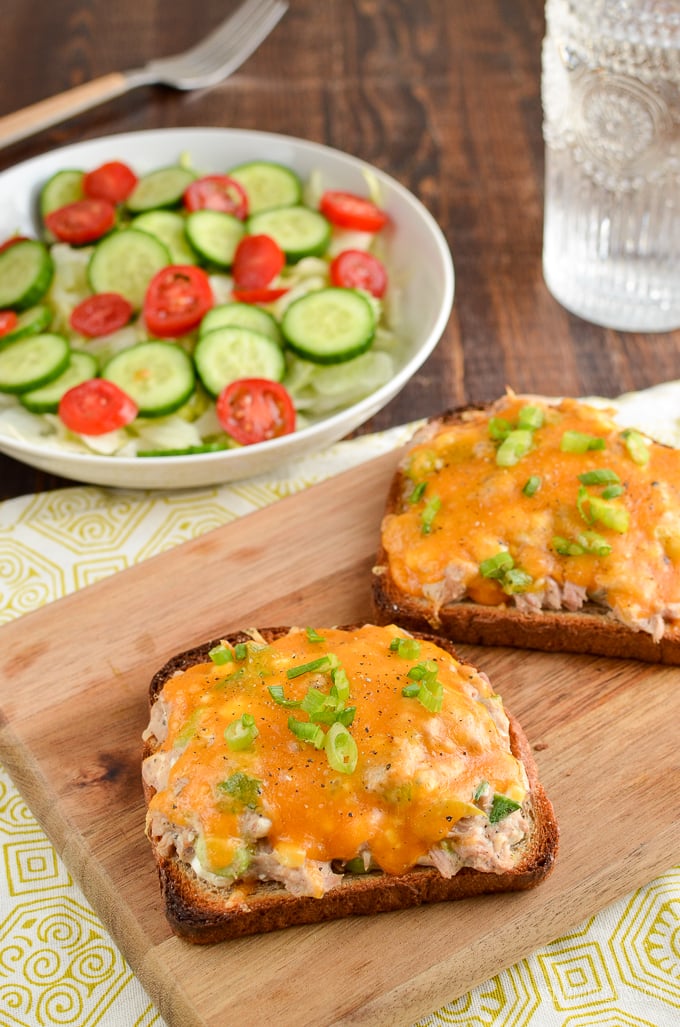 Tuna Melt Sandwich
If you have ever been to Ireland or visited an Irish themed pub where you live, one item you are very likely to see on the menu is a Tuna Melt Sandwich. Usually this is served on delicious Irish Soda Bread with Irish mature cheddar - yum!!
Recently I had to make a trip to Ireland and when I returned I had serious cravings for this popular sandwich. It's funny how a trip somewhere can spark cravings for certain foods, right? It's a sandwich that is a real comfort food for me.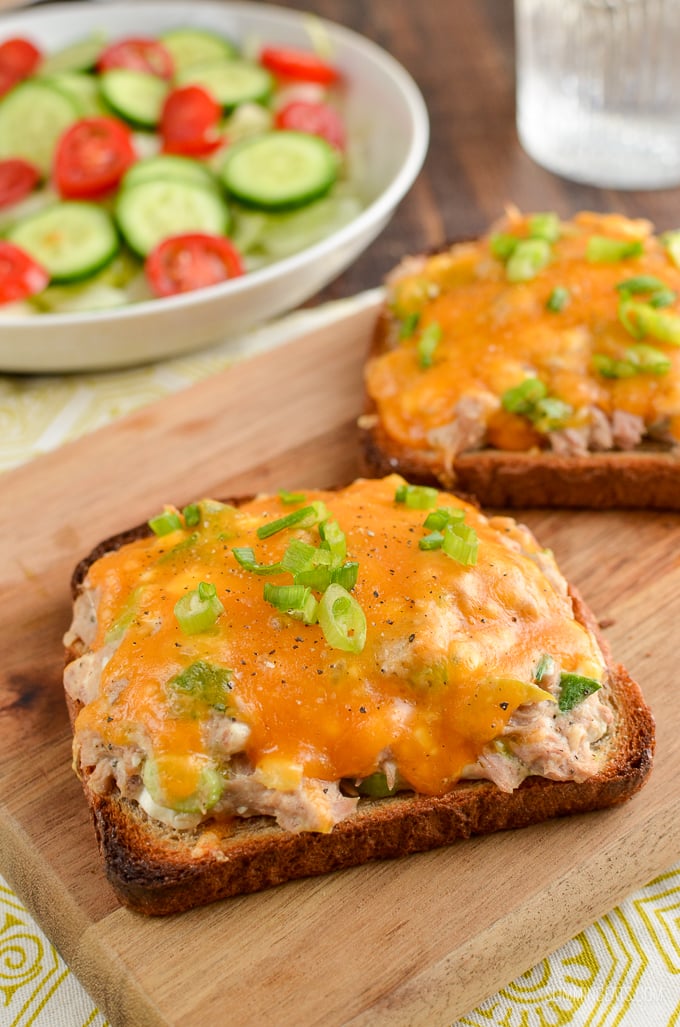 Classic Traditional Tuna Melt
If you are going the traditional route, this would usually be served on high synned soda bread with lashings of butter and regular mayonnaise.
Keeping this on plan, I chose my healthy extra B allowance of 100% Whole Wheat Bread instead and skipped the butter altogether, opting for a low-fat mayonnaise and wait for it, a little cottage cheese.
Do I have to use the Cottage Cheese?
Okay, I know you are saying right now - cottage cheese? No thank you. But trust me, it's a teeny amount and works much better than yoghurt or quark as it doesn't have that sour taste you tend to get. When combined with the little bit of mayo, it works perfectly. I am not a fan of cottage cheese as it is, but this is really delicious.
If you want to use quark instead, then by all means do, or you can just use all mayonnaise and up the syns to account for it.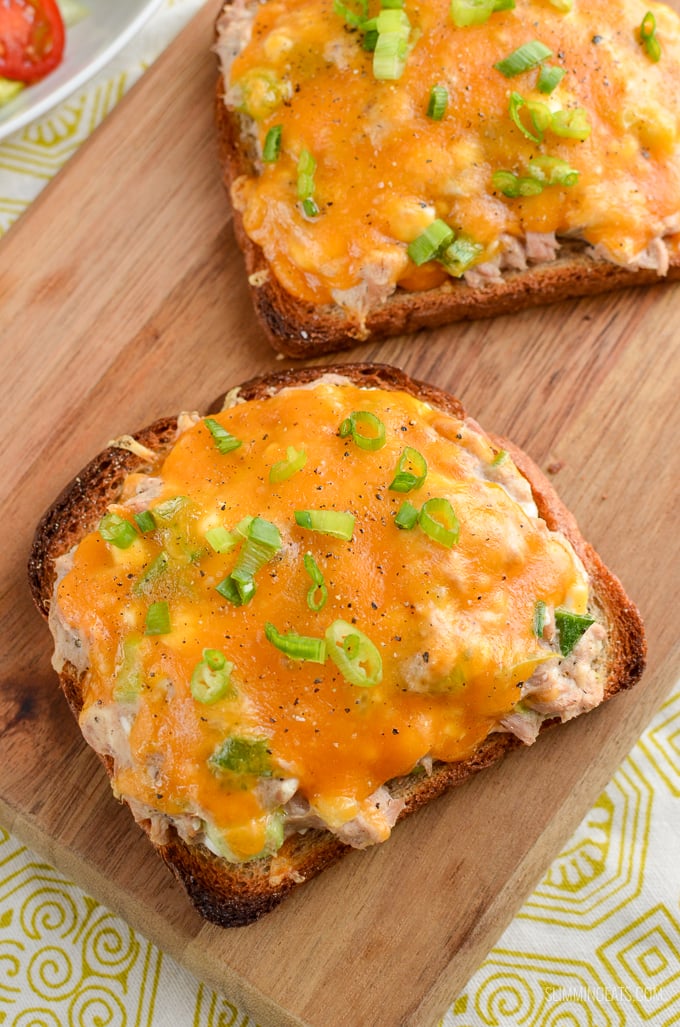 Pickles in a Tuna Melt
I also add one other ingredient that you don't tend to see in a traditional Tuna Melt and that is pickles, or gherkins, whatever you want to call them. They really take this tuna melt to a whole other level, by all means, omit if you hate them, but I love them on my tuna melt.
Open Sandwiches
Whenever I make a sandwich or melt, I tend to make it as open sandwich, that way it feels a bit more filling and you can add as much of that topping as you want.
Because we are not using butter, I like to crisp up the bread by baking it in the oven until golden and crisp.
If you have a bit more time to make this sandwich, you could even make this yummy Soda Bread Recipe which is syn free when using your HEb.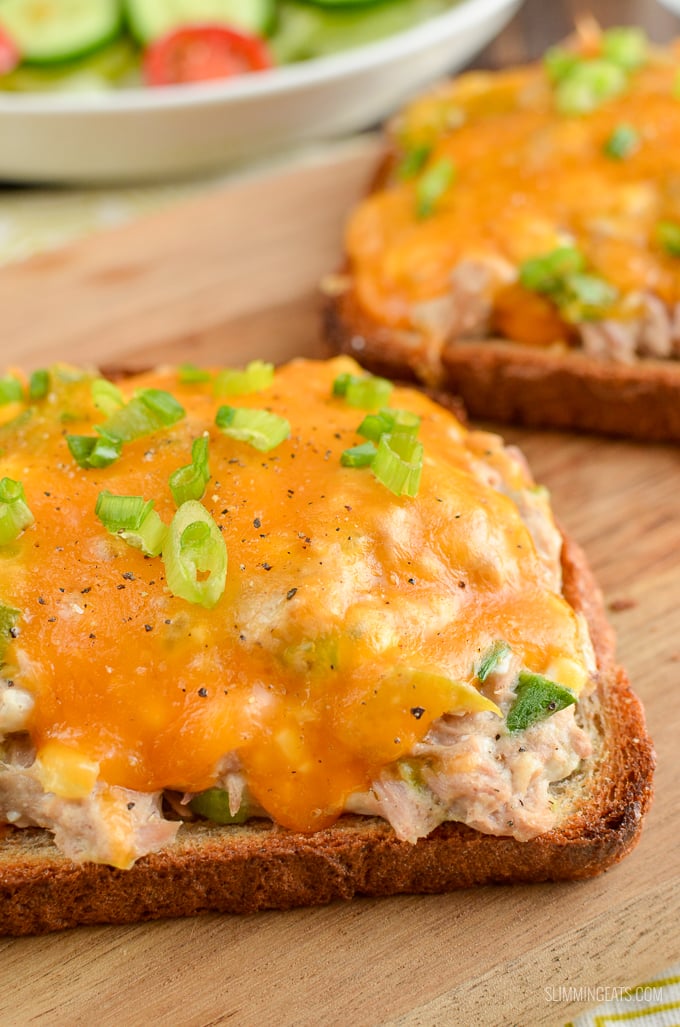 Sides for Healthy Tuna Melt
This delicious healthy low syn Tuna Melt would be perfect served with a mixed salad or speed packed bowl of soup. Below are some of my favourites:
or head on over to the FULL RECIPE INDEX where you will find over 900 delicious Slimming World and Weight Watchers friendly recipes all fully searchable by meal type, ingredients, syn value and smart points etc
---
LET'S CONNECT!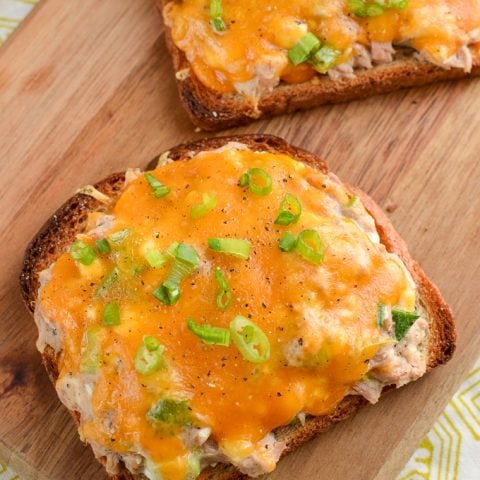 Healthy Tuna Melt
The Perfect Healthy Tuna Melt, satisfy those cravings with this delicious cheesy topped lunchtime favourite.
Ingredients
140g (5oz) of tuna in water, drained
1 spring onion, sliced
2 slices of pickle (gherkins), finely diced
1 tablespoons of low fat mayonnaise - 1.5 syns
2 tablespoons of fat free cottage cheese
salt and black pepper to season
2 slices (60g/2.2oz) of 100% Whole Wheat bread  - 1 HEb
30g (1oz) of mature cheddar or Red Leicester, grated - 1 HEa
Instructions
Preheat oven to 200c/fan 180c or 400f (gas mark 6)
Add the tuna, mayonnaise, cottage cheese, spring onion, pickle and some salt and black pepper to a bowl and mix to combine, set aside.
Line a baking tray with foil, Spray with some cooking oil spray and add the bread to the tray, spray over the top with more cooking oil spray.
Place in the oven and bake until lightly golden (approx 5-8 mins)
Remove from the oven and top each slice with the tuna mixture.
Top with the grated cheddar.
Place bake in the oven and bake until the cheese is melted.
Serve and enjoy!!
Notes
This recipe is Slimming World and Weight Watchers friendly
Slimming World - 1 HEa, 1 HEb and 1.5 syns per serving
WW Green Smart Points - 12 per serving
WW Blue Smart Points - 9 per serving
WW Purple Smart Points - 9 per serving
Gluten Free - use gluten free bread of choice
NOTE: Low-Fat mayonnaise can vary by brand, so double check the syn value of the one you use. 
If you wish to share this recipe, then please do so by using the share buttons provided only.
DO NOT COPY AND/OR PASTE FULL RECIPES OR SCREENSHOTS OF ANY CONTENT FROM SLIMMING EATS TO ANY SOCIAL MEDIA, IT IS STRICTLY PROHIBITED.
ALL IMAGES AND CONTENT ON SLIMMING EATS ARE COPYRIGHT PROTECTED.
Nutritional information, syn values, points etc are an estimate and is to be used for informational purposes only. Ingredients can vary greatly from brand to brand and therefore it would be impossible to give accurate information. It is always advised that you calculate by the ingredients you use.
It is the responsibility of the Reader to assure the products or ingredients they use in any recipes from Slimming Eats are allergen-free (gluten-free, egg-free, soy-free and/or dairy-free, for example). Slimming Eats assumes no liability for inaccuracies or misstatement about products, opinions or comments on this site.
Check Legal section, for Full Disclaimer, Disclosure and Privacy Policy.
Recommended Products
As an Amazon Associate and member of other affiliate programs, I earn from qualifying purchases.
Disclosure: This post may contain affiliate links. As an Amazon Associate and member of other affiliate programs, I earn from qualifying purchases. We are a participant in the Amazon Services LLC Associates Program, an affiliate advertising program designed to provide a means for us to earn fees by linking to Amazon.com and affiliated sites." Check Legal section, for Full Disclaimer, Disclosure and Privacy Policy.