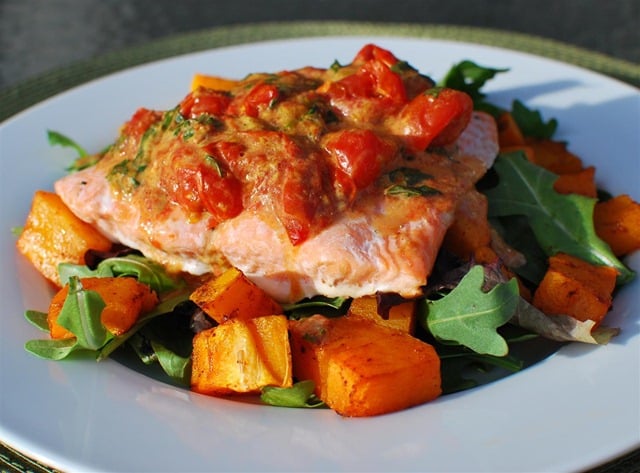 Serves 2
Extra Easy - 1 syn per serving
Original - 1 syn per serving
Ingredients
2 x 200g Salmon Fillets
15 cherry tomatoes
250g of butternut squash, peeled and chopped
1 tablespoon of Worcestershire sauce
1 tablespoon of Dijon mustard (1 syn)
2 tablespoons of extra light mayonnaise (1 syn)
a couple of fresh basil leaves, chopped
salt and black pepper
mixed baby salad leaves
Paprika
Frylight/Pam Spray
Method
Preheat oven to 200c or 400f
Place butternut squash in an ovenproof dish, sprinkle with some paprika, salt and a little bit of Frylight/Pam spray, bake in the oven until caramelised and softened.
Lightly coat an ovenproof dish with non stick spray. Rinse fish and pat dry.
Place salmon fillets into dish and add the tomatoes, spray over the top with some spray oil, the Worcestershire sauce and a salt and pepper to season. Add to the oven when the butternut squash is almost ready.
The salmon takes approx 16 minutes to bake (uncovered)
Serve some mixed baby salad leaves between two plates and add some of the roasted butternut squash.
Transfer the fish to the butternut squash and salad already served on dinner plates. Stir the mustard, mayo and fresh basil into  the tomatoes and mix together to make a sauce. Serve over the top of the Salmon fillets.
Enjoy!!
Approx NUTRITIONAL INFORMATION

Per Serving

Calories

467.8

Fat

21.3g

Saturated Fat

0.1g

Polyunsaturated Fat

0.1g

Monounsaturated Fat

0.0g

Cholesterol

0.0mg

Sodium

299.0mg

Total Carbohydrate

20.8g

Dietary Fibre

6.3g

Sugars

6.2g

Protein

50.5g
Disclosure: This post may contain affiliate links. As an Amazon Associate and member of other affiliate programs, I earn from qualifying purchases. We are a participant in the Amazon Services LLC Associates Program, an affiliate advertising program designed to provide a means for us to earn fees by linking to Amazon.com and affiliated sites." Check Legal section, for Full Disclaimer, Disclosure and Privacy Policy.