Dig into a refreshing bowl of this Low Syn White Chocolate Frozen Yoghurt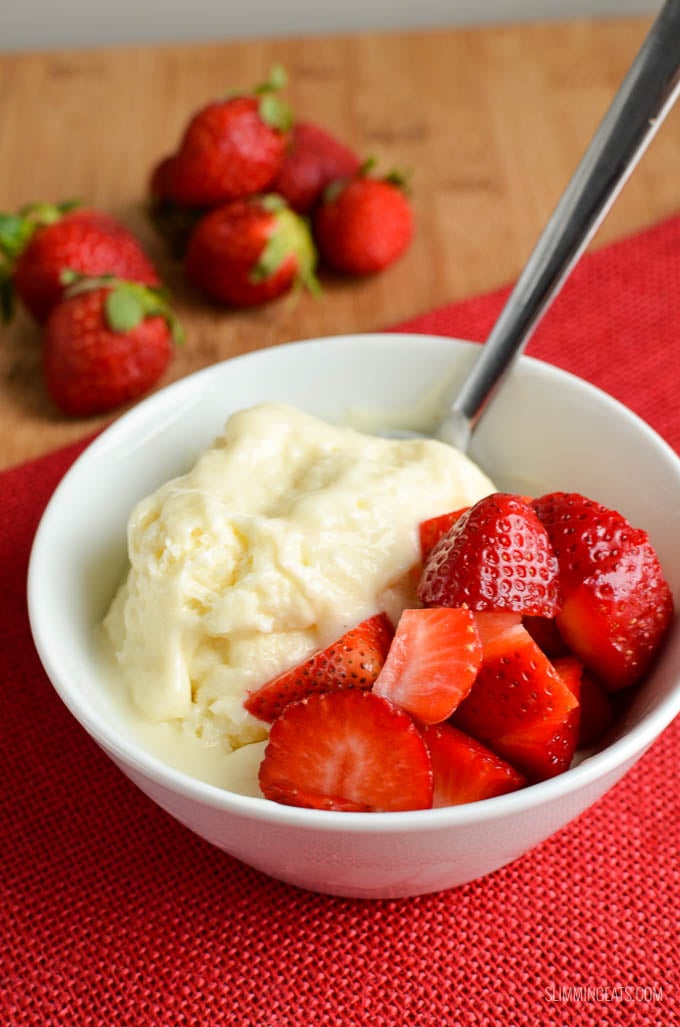 One thing I really missed when I started Slimming World was ice-cream. There is nothing more comforting that digging into a massive bowl of ice-cream, but unfortunately most are pretty high in syns and just do not have that same satisfying result.
Another thing I really love is White Chocolate. Brings back memories of a child and white chocolate buttons, why is it you can't get those here in Canada. Actually now I think of it, decent white chocolate is hard to find, prob because white chocolate isn't really chocolate. Mostly consisting of sugar it's not a surprise it's addictive. Although some do hate it with a passion. I am sadly not one of those people.
I love CHOCOLATE, any kind of chocolate, white, milk and recently dark. It's odd, I used to hate dark chocolate and found it super bitter, but as I have gotten older, my dislike for its as turned into a like, so yeah there you have it, as I said, I do really like my chocolate and I do really love my ice cream.
So it was a must to come up with a decent serving of a chocolate icecream dish I could enjoy, and why not a White Chocolate one, which goes perfectly with some fresh chopped strawberries.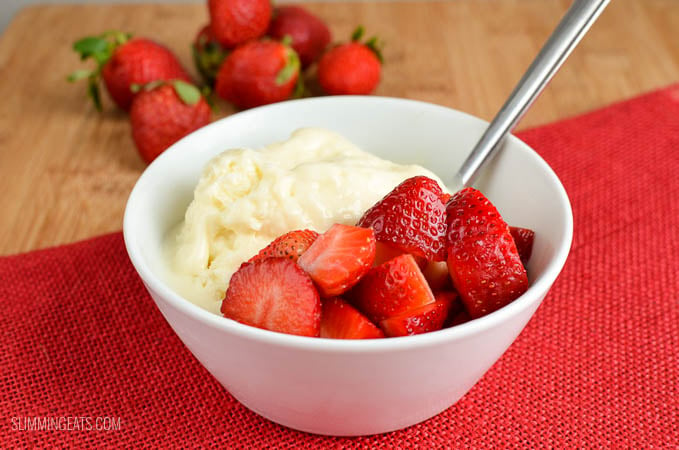 This ice-cream is actually White Chocolate Frozen Yoghurt, but it tastes yummy and creamy.
Freezing just a plain ole tub of yoghurt, does nothing for me I am afraid, zero, nada. But adding these little bit of extra ingredients, turns a boring ole tub of frozen yoghurt into this delightful dessert that you will want to make again and again.
Don't just stop at berries or fruit either, if you have some additional syns, you could add all kinds of mix in's to this. Chocolate chips, crumbled cookie - whatever takes your fancy.
This easy peasy White Chocolate Frozen yoghurt, also doesn't require an ice cream maker, you can just mix the ingredients, add to a tub and stir every hour until a kind of soft serve consistency, don't forget about it and leave it for hours, otherwise the whole mix will be rock hard and then you will have to take out and let it melt a little before you can even dig a spoon in.
So how do you get the white chocolate flavour without adding a whole heap of syns. I use Options White Chocolate Powder and it works perfectly. You can get it from most grocery stores in the UK or order from Amazon.
Then the other ingredient I use is Sukrin: 1 - a natural sweetener with no aftertaste. Feel free to use another sweetener of choice, but the taste might not quite be the same.
Next time you have a movie night planned, make up a tub of this  White Chocolate Frozen Yoghurt to enjoy with your choice of mix ins.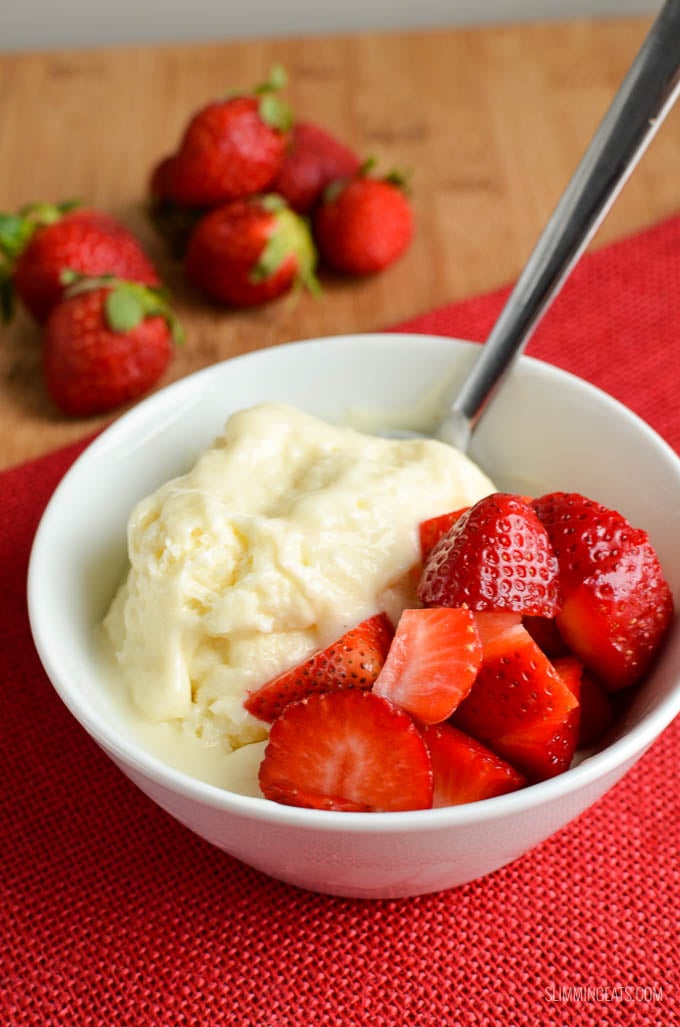 Low Syn White Chocolate Frozen Yoghurt
This recipe is gluten free, vegetarian, Slimming World and Weight Watchers friendlyExtra Easy - 2.5 syns per servingOriginal - 2.5 syns per servingWW Smart Points - 3
Ingredients
1.25 cups (300ml) of fat free vanilla yoghurt
½ teaspoon of vanilla extract
¾ tablespoon of sukrin: 1
Instructions
Add all ingredients to a bowl
Combine with a whisk
Place in the freezer and remove every hour and stir to break up any ice crystals that form until at it's desired consistency (I find like soft serve is best)
Great served with fresh strawberries or your own choice of mix ins.
Notes
Variation: Want a Chocolate Frozen Yoghurt? Use a different flavour of Options Chocolate Powder
Nutritional information is an estimate and is to be used for informational purposes only. Ingredients can vary greatly from brand to brand and therefore it would be impossible to give accurate information.
All images and content on Slimming Eats are copyright protected.
If you wish to share this recipe, then please do so by using the share buttons provided. Do not screenshot or post recipe or content in full
Nutrition Information
Yield

2
Serving Size

1 serving
Amount Per Serving
Calories

91
Total Fat

1.2g
Saturated Fat

0.8g
Sodium

212mg
Carbohydrates

13.9g
Fiber

0.1g
Sugar

10.6g
Protein

6.1g
Disclosure: This post may contain affiliate links. As an Amazon Associate and member of other affiliate programs, I earn from qualifying purchases. We are a participant in the Amazon Services LLC Associates Program, an affiliate advertising program designed to provide a means for us to earn fees by linking to Amazon.com and affiliated sites." Check Legal section, for Full Disclaimer, Disclosure and Privacy Policy.