The Benefit of Speed Foods - a informative post to help others understand the benefits of speed foods on Slimming World
Do I have to add a ⅓ speed foods?
That is a question asked by many, and some of those who are used to the old Original and Green plans they used to have on Slimming World often find it hard to understand how Extra Easy/Food optimising works when you are mixing the two food groups together unlimited.
I am therefore, hoping this post will help those who are new and old, to understand why Slimming World recommend a ⅓ speed foods at every meal time.
Look at this plate for instance, a bowl of ground beef tomato pasta. All free foods on Slimming World, so I can eat all this right? Well, yes you could, but if you started eating lots of meals like this at every meal time, with no speed foods, you might find your losses are slow or that you are not losing weight at all. So what can I do to improve?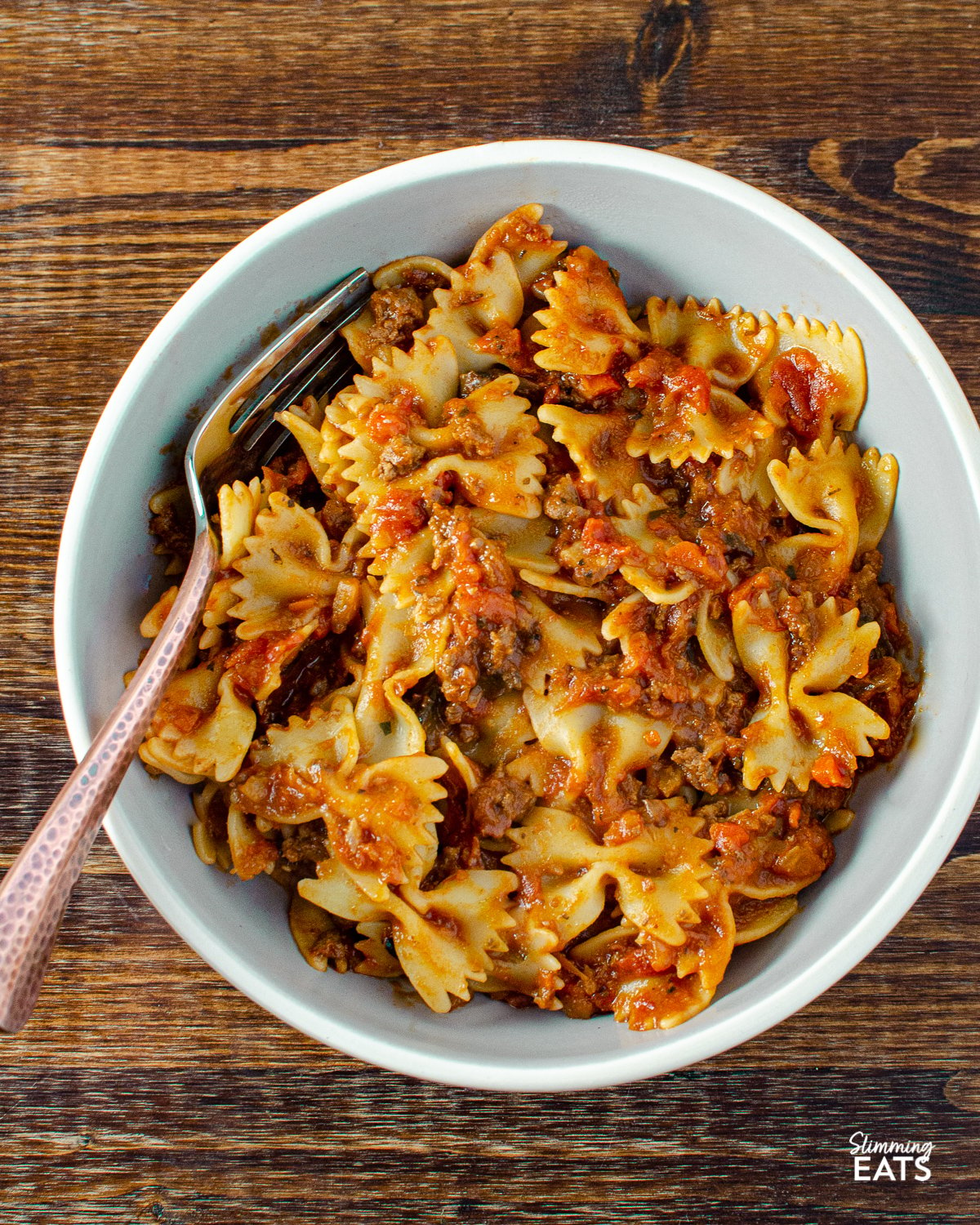 Well firstly you do have some speed foods added in the homemade tomato sauce (such as onions, garlic and tomatoes), but it is nowhere near enough, so let's remove some of the pasta from the bowl and instead add a ⅓ speed foods with a salad. Obviously it doesn't have to be a salad, it can be any kind of speed foods of your choosing.
Balanced Plate Equals Healthy Portions
Now doesn't that look better? I nice healthy balanced plate.
This is why a ⅓ speed foods is such a clever concept, you have naturally reduced the portion of your free foods, by adding these foods without the need to weigh foods or count calories in any of your meals. So naturally you will be eating better, your portion controls are managed and therefore you will naturally lose weight. This is much more maintainable long term.
The reasons diets don't work is because they are too restrictive and we get far to bored and fed up of constantly working out the calories in meals or weighing everything. So long as you stick to the template of a ⅓ speed foods at least where possible, you will find yourself fuller for long because you are eating more high satiety nutrient dense foods.
Here is a handy visual image for giving you any idea of how much of your plate should be speeds foods. Remember though it is advised not compulsory, there will be the odd time when you just don't fancy speed foods or the meal doesn't really fit them, that is perfectly okay, just try and balance out the rest of your meals in the day.
Of course you don't have to add speed foods exactly as shown in the diagram below, but you want to aim for them to be at least a ⅓ of your plate. For things like stir fries for example everything will be mixed up. 
I don't like most of the speed foods, so what can I do?
That is a response I see very often, and it is fact that there are many people who do not like vegetables, who struggle to add the speed foods to their plate. So how can you get these foods into your meal and naturally limit your portion of the free foods? Well if you do really struggle to add it to your plate. Serve yourself a homemade soup made with lots of speed foods first, or perhaps a small fruit salad and then serve your main meal on a smaller plate than what you would normally, so you are not piling it high with the other free foods.
One comment I also see all too often, is to have a bowl of fruit, after your meal. However this defeats the object of the speed foods advice, because chances are, once you have eaten that big plate piled high with free foods which are the higher in calories froods (and no or little speed foods), you will either be too full to eat the fruit or will be eating extra food just for the sake of it and of course that is not the intention of the recommended ⅓ speed foods.
Get into the habit of trying vegetables in different and new ways too, this will make them more interesting and you may surprise yourself by discovering vegetables you though you disliked before. For example I hate brussel sprouts when I was younger, that horrid bitter taste stayed with me for years, but that is because I was only ever served them over boiled. Now I absolutely loved them raw and shredded in a salad or sauteed or roasted. Yum!!
How can I add speed foods to my meals?
There are many ways you can add them to your meals. As I mentioned before, if you struggle adding it to your plate, you can always start your meal with a bowl of soup made with lots of healthy vegetables, which will fill you up a little before eating your meal. Otherwise add speed foods to your plate with things like side salads or roasted veggies or when cooking things like spaghetti bolognese, chilli, shepherds pie etc, use less meat and bulk it all out with lots of speed foods. Also with all the vegetable spiralizers that are now available you can literally spiral any vegetable and turn it into something delicious. Cauliflower rice is another good one .
But remember - it is only unstarchy vegetables that count as speed foods. Speed foods do not include sweetcorn, peas, beans, parsnips etc are a speed food. They are free foods, but do not count as speed foods.
Below I will do some examples at each meals times of how you can add speed foods to your meals.
Breakfasts
add fruit to your cereals
cooked breakfast can have things like tomatoes, mushrooms, onions, zucchini, spinach etc added to them
bacon sandwiches are great filled with some grilled tomatoes and baby spinach
or start the day with a small bowl of fruit salad/melon before your poached egg on toast etc
Lunch/Dinner
add a mixed salad to your plate (things like lettuce, onion, beetroot, tomatoes, cucumber and apple are all great in salads),
add some roasted veggies to your plate (courgettes, aubergine, onion, peppers, carrots, tomatoes, beetroot are all delicious roasted)
vegetables like cauliflower, broccoli and carrots, with a little stock added, some black pepper and a bit of a HEa serving of cheese and then baked in the oven is a great way to add some superfree to your plate.
replace mash/chips with things like roasted butternut squash or mashed swede/carrots or celeriac chips
make a ratatouille which is great served alongside meats/carbs
spiral some veg and have that in place of pasta/noodles
replace rice with cauliflower rice
when cooking things like spaghetti bolognese, chilli, stir fries or shepherds pie etc, use less meat and bulk out with lots of vegetables (onion, courgette, carrots, celery, peppers, tomatoes, bean sprouts etc)
or start the meal with a bowl of superfree soup and then have a smaller plate of your main course.
or another great option is to make a yummy vegetable packed soup and top it with some filling protein like sausage, cooked meat like steak, or chicken, grains or legumes
So yes we can eat free foods unlimited, but within reason, because at the end of the day if you eat more than your body physically needs regardless of what healthy eating regime you are on, you will not lose weight. To lose weight we need to be in a calorie deficit even though we are not counting calories. However we are restricting calories by following all the useful tools Slimming World gives us on their plan (like adding a ⅓ speed foods).
We should all be trying to recognize when we are satisfied and not get to the point where you feel stuffed. Something that is very hard to do, but is easier to obtain when sticking to the ⅓ speed foods advice.
A good tip I also do when preparing my meals, is to think speed foods first and free foods after. So for instance put at least ⅓ of speed foods on your plate first and then add the other free foods.
Also if you can add more than a ⅓ speed food to your plate, then even better. The more speed foods you eat, the more you will boost your weight loss. I sometimes have a least a half superfree on my plate, especially if it is things like roasted veggies (my favourite). You don't have to do an SP day to bulk up with the speed foods.
Something I also tend to do (not always, but most of the time) is serve my meals on a smaller plate or bowl, visually we are more satisfied if we see a full plate, it tricks the mind to thick we are eating a big satisfying meal, if you have a huge plate with a small teeny portion on it, you will feel unsatisfied.
Here are some of my SP friendly sides to give you inspiration for some dishes to up your speed foods:
How to Join Slimming World
Below is my review of the Slimming World programme and the Benefits of going to a Slimming World group.
Check out this Handy Image you can pin to remind of the benefit of speed foods:
Disclosure: This post may contain affiliate links. As an Amazon Associate and member of other affiliate programs, I earn from qualifying purchases. We are a participant in the Amazon Services LLC Associates Program, an affiliate advertising program designed to provide a means for us to earn fees by linking to Amazon.com and affiliated sites." Check Legal section, for Full Disclaimer, Disclosure and Privacy Policy.