The ultimate summer refresher in these Raspberry Jelly and Blueberry Popsicles.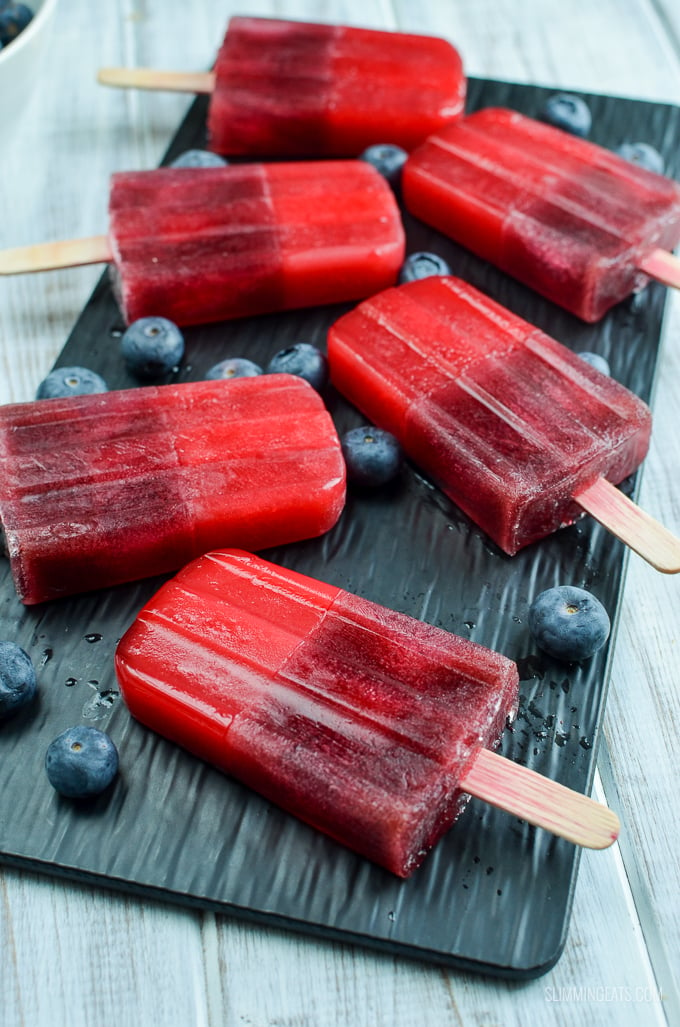 These ice lollies have been going fast, so much so I am creating a new batch nearly every day. The kids and adults love them.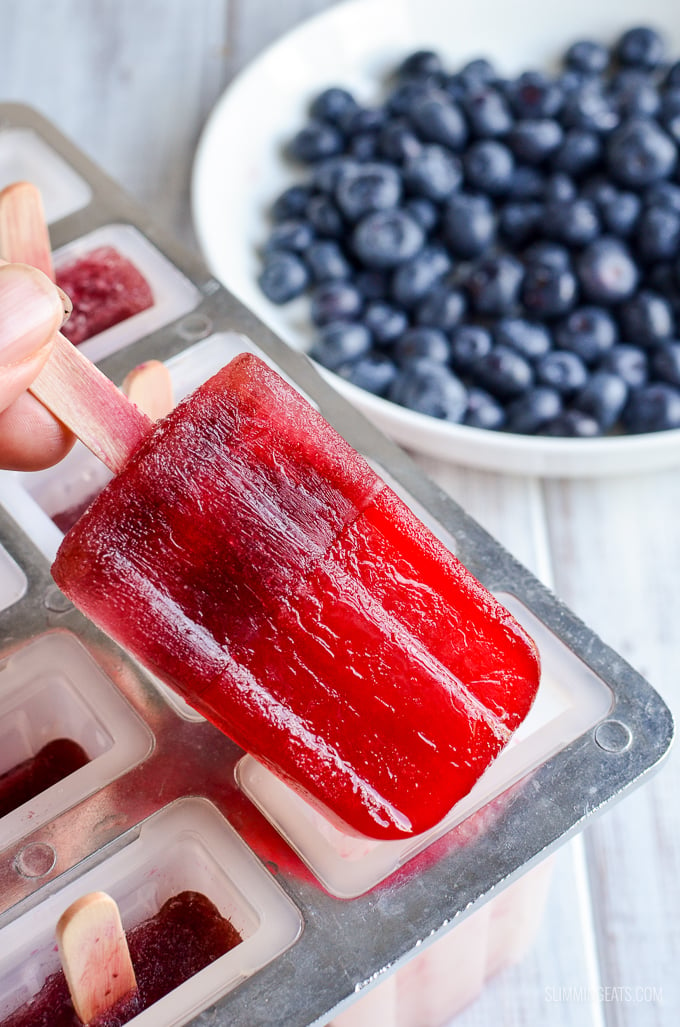 So far there has been Watermelon Ice Pops, Raspberry Lemonade Popsicles and 2 Ingredient Fudgsicles. Now we have these delicious and refreshing Raspberry Jelly and Blueberry Popsicles.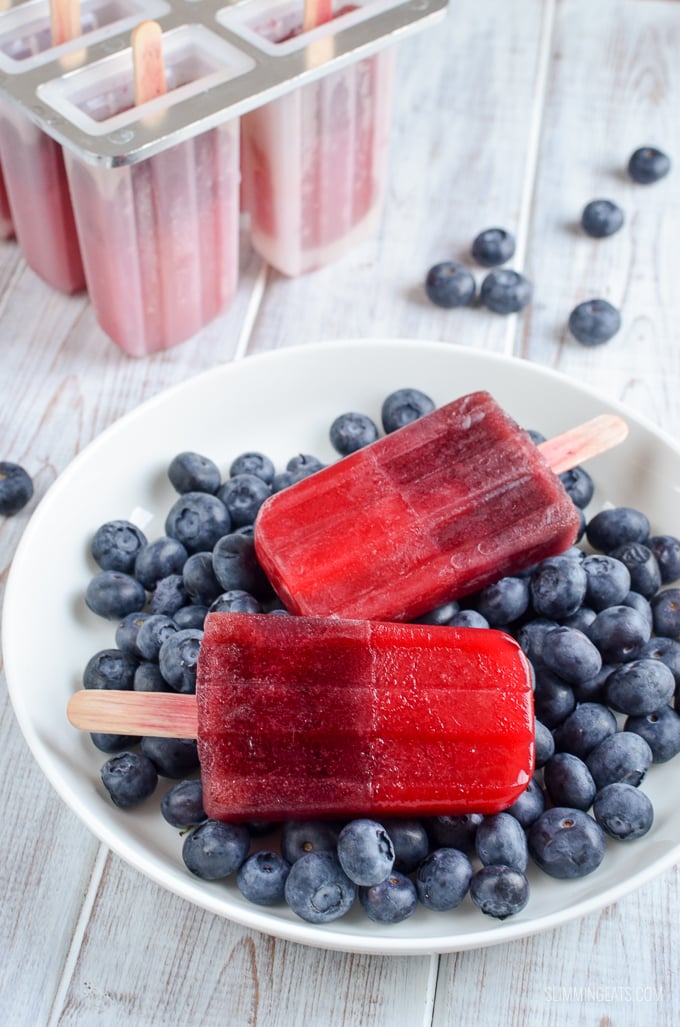 Now you may be thinking Jelly in a popsicle - what the hell? But before you knock it, you have to trust me that it is amazing. I was first introduced to such a lolly growing up in Ireland. Well I say growing up, but I was actually born in London and didn't move to Ireland until I was aged 10 and then returned to the UK when I was 16. My mum's family is from there and she wanted to return to her home town.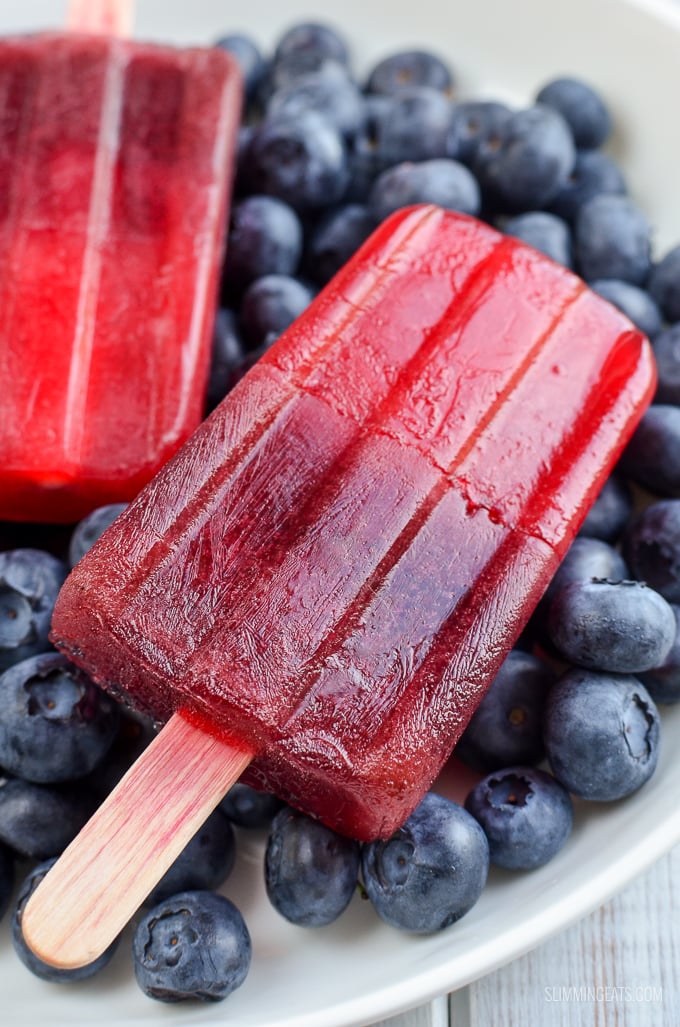 It was while living there that I first tasted the ice lolly that is called a Wibbly Wobbly Wonder. It is seriously one of the best Ice Pops ever and all my Irish readers will relate to what I am talking about.
A Wibbly Wobbly Wonder is strawberry and banana ice-cream base, a lemon jelly top and then the jelly is covered in delicious milk chocolate. Sounds amazing, doesn't it? That's because it is.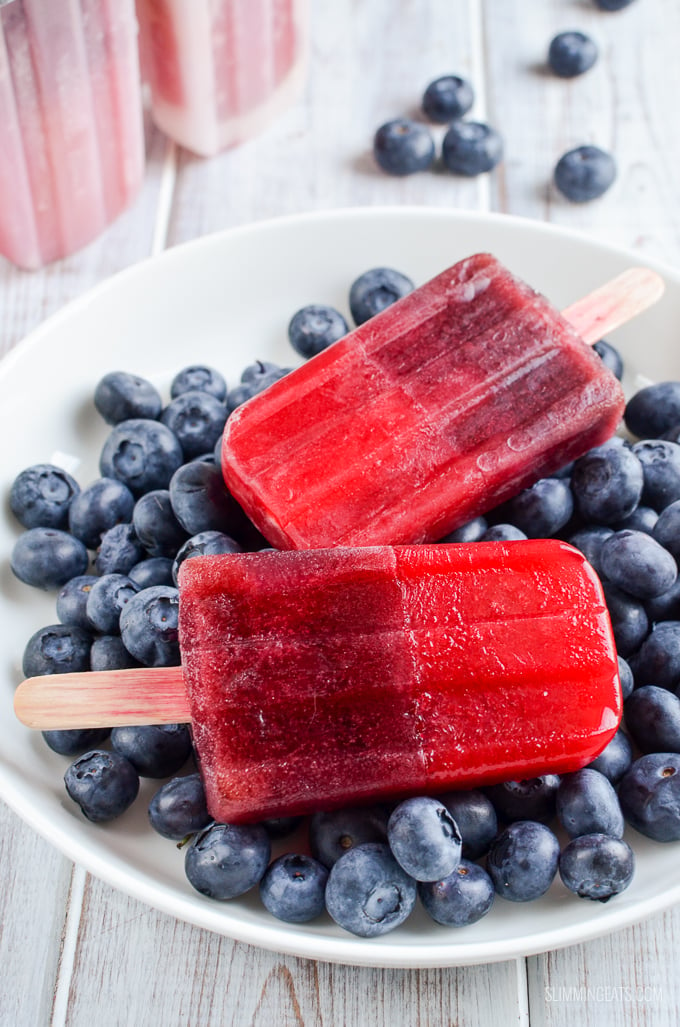 I am totally going to be coming up with a low syn version of one of those, so watch this space.
But for now the kids wanted fruity and so for these Popsicles, I wanted to use fruity ingredients.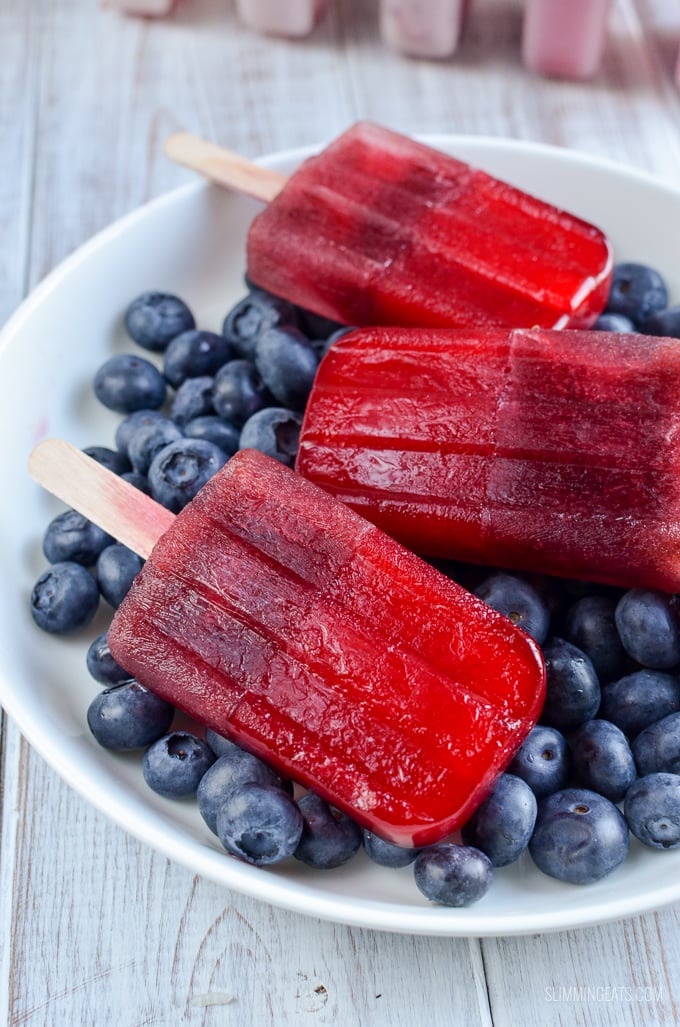 To make the Raspberry Jelly and Blueberry Popsicles – I use this Norpro Frozen Ice Pop Maker on Amazon with some wooden ice pop sticks.
I love how it makes traditional looking ice pops and can make 10 at once, which is perfect.
For the top of the popsicles, I used a no added sugar raspberry jelly and then the base is fresh blueberries blended with some no added sugar fruit squash.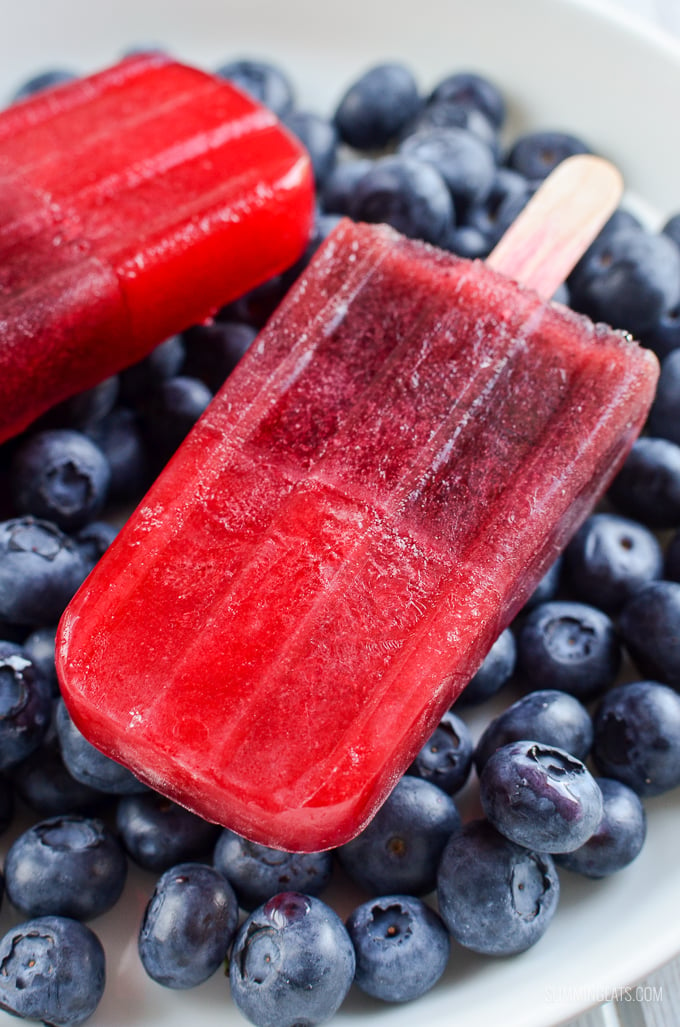 You of course have to freeze the jelly half first, and then make the blueberry squash mixture for the base, add that into the molds and then freeze again until the whole popsicle is frozen.
I blend the blueberries using my Nutri Ninja Blender with Auto IQ (click to see me on amazon). This blender is amazing. The auto iq technology feature, mean it blends to a set pattern depending on what it is your are making.
Once frozen and fully set, you can remove from the mold and place in a freezer ziplock bag, that  way it frees up the ice pop mold to make some different ones of your choosing.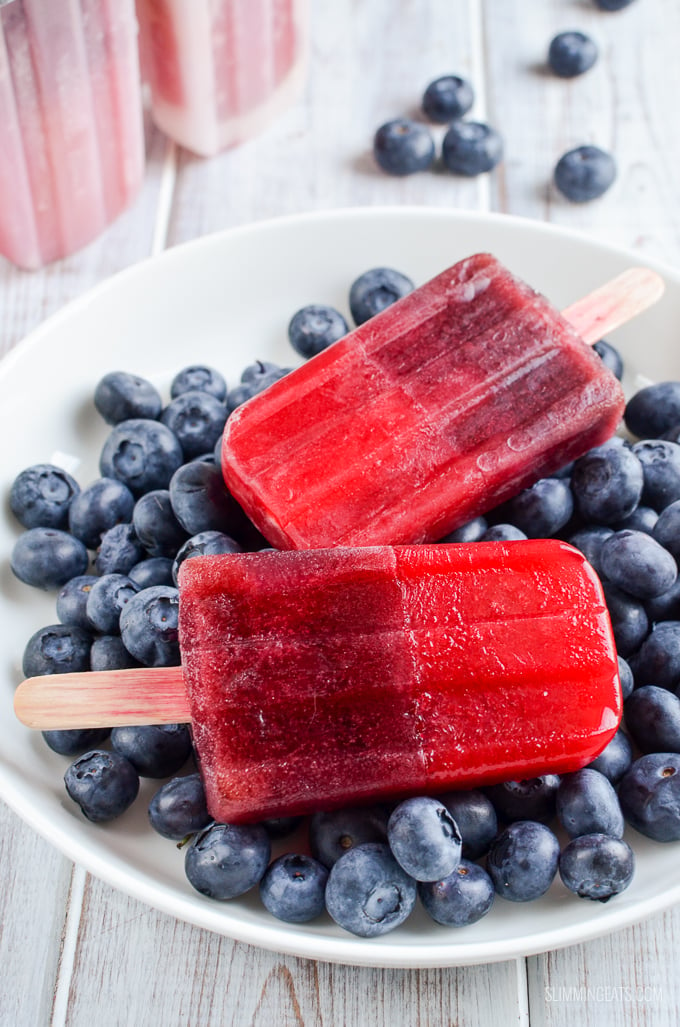 Want to know the best thing about frozen jelly? If it is a really hot day, it doesn't melt as fast a a traditional ice pop, so perfect for cooling down.
You've gotta give these a try!! and watch out for my low syn version Wibbly Wobbly Wonder, I hope to master.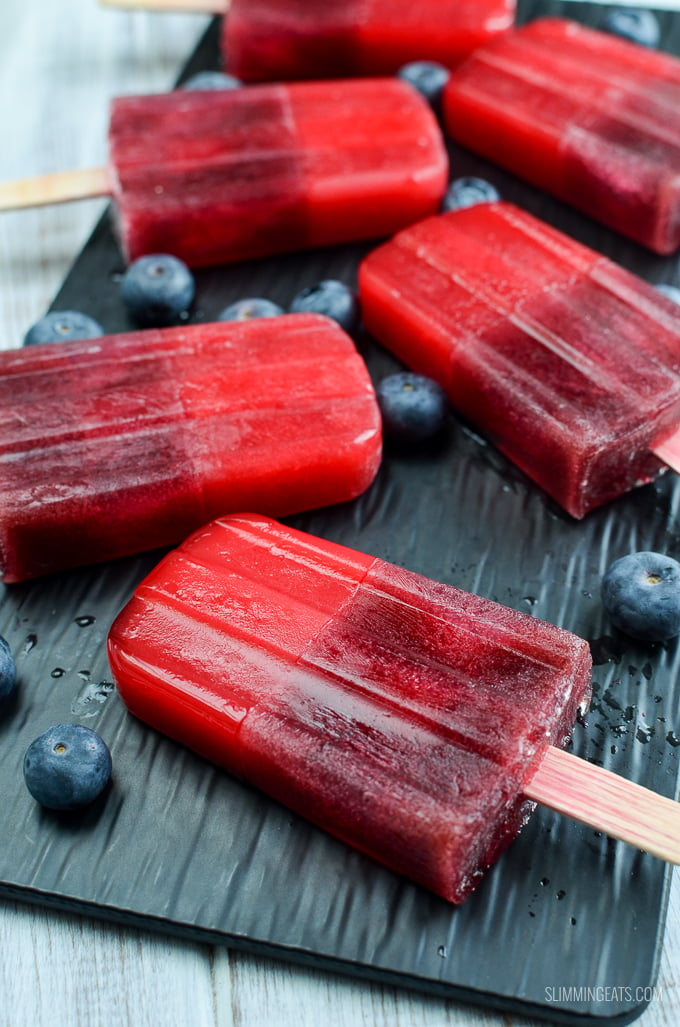 Raspberry Jelly and Blueberry Popsicles
This recipe is gluten free, dairy free, Slimming World and Weight Watchers friendlyExtra Easy - 0.5 syns per popsicleGreen -  0.5 syns per popsicleOriginal -  0.5 syns per popsicleWW Smart Points - 0 per popsicleSP - use a speed fruit instead of blueberries
Ingredients
1 box of no added sugar Raspberry Jelly (Jell-o)
1 cup (240ml) of blueberries or other berries of choice
juice of small lime
1 cup (240ml) of diluted no added sugar berry squash (or crystal light) of choice
Instructions
Add the jelly to a bowl and add the hot water as required on package.
Whisk to dissolve
Add only half the cold water as required on the package.
Pour the jelly into the 10 spaces on the ice pop mold, so it fills them half way only.
Add the lid and wooden ice pop sticks and place in the freezer until frozen.
Once the jelly part is frozen, add the blueberries and squash to a blender and blend till smooth.
Pour the blended fruit and squash through a fine sieve, to separate any pulp/seeds.
Add the lemon juice to the blueberries and squash mix and stir to combine.
Pour into the molds and then place back in the freezer until fully frozen.
Then you can remove and transfer to a ziplock freezer bag.
Notes
Nutritional information is an estimate and is to be used for informational purposes only.
Ingredients can vary greatly from brand to brand and therefore it would be impossible to give accurate information.
All images and content on Slimming Eats are copyright protected.
If you wish to share this recipe, then please do so by using the share buttons provided. Do not screenshot or post recipe or content in full
Nutrition Information
Yield

10
Serving Size

1 popsicle
Amount Per Serving
Calories

10
Sodium

18.4mg
Fiber

0.3g
Sugar

1.2g
Protein

0.4g
Disclosure: This post may contain affiliate links. As an Amazon Associate and member of other affiliate programs, I earn from qualifying purchases. We are a participant in the Amazon Services LLC Associates Program, an affiliate advertising program designed to provide a means for us to earn fees by linking to Amazon.com and affiliated sites." Check Legal section, for Full Disclaimer, Disclosure and Privacy Policy.