Delicious Creamy Cajun Chicken Meatball Pasta - tender tasty chicken meatballs with pasta in an amazing dairy free creamy cajun tomato sauce. The whole family will go crazy for this dish.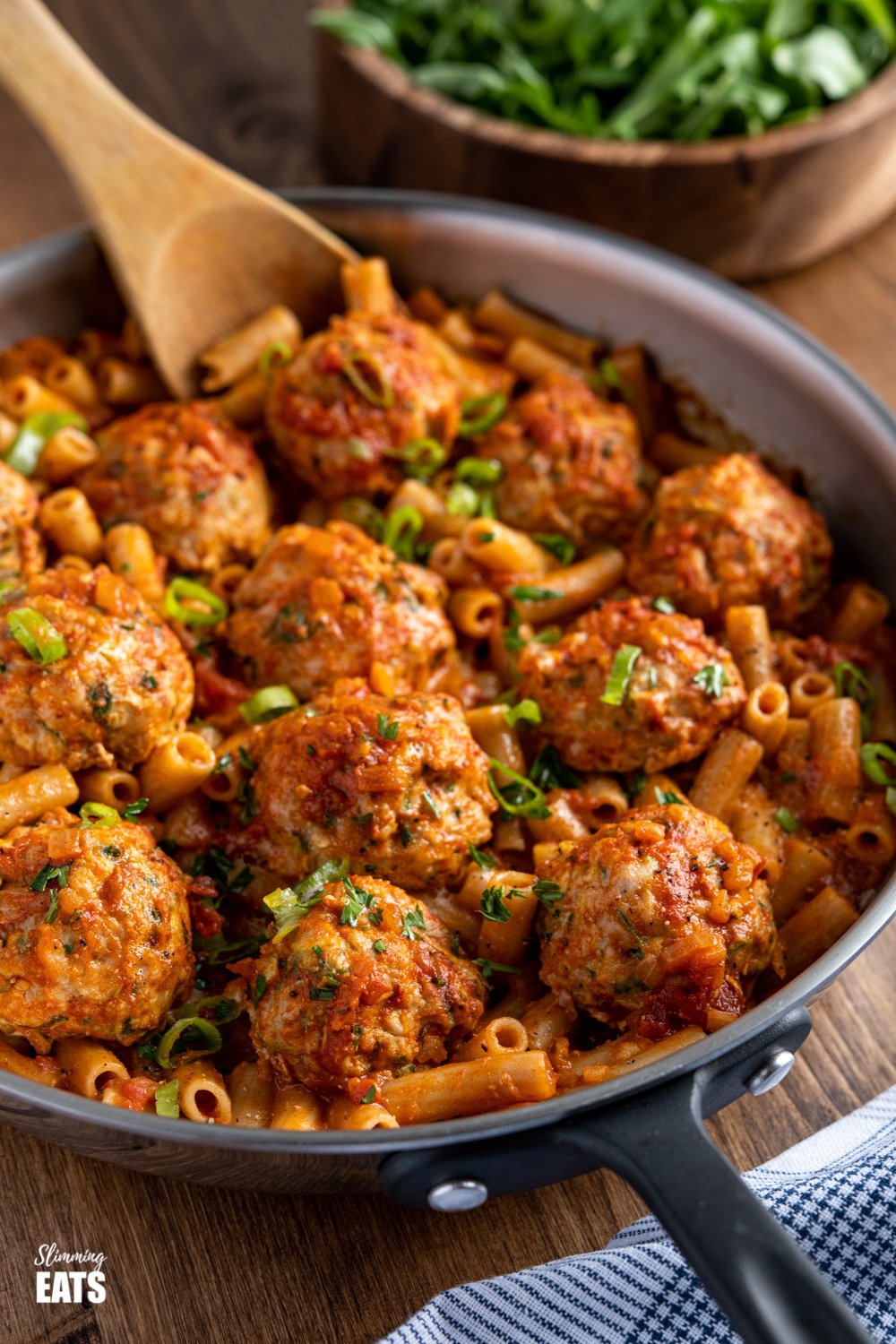 There is nothing quite like digging into a bowl of meatballs and pasta and I don't just mean any ole bowl of meatballs and pasta. This right here is the most amazing tender juicy chicken meatballs in a decadent creamy cajun tomato sauce.
It's packed with flavour and really satisfying and filling. The disappointing part is when your bowl is empty - seriously!!
The Best Gluten Free Chicken Meatballs
Good chicken meatballs can be hard to make, especially if you are not adding some breadcrumbs and other ingredients that might add a few syns or make these not gluten free.
When coming up with recipes, I really do try to accommodate everyone, especially those who might have intolerances and allergies. So if I can make some delicious without using two of the main allergens - dairy and gluten, then I definitely will.
I know there are gluten-free breadcrumbs out there, but those are going to add syns/points, so instead, I wanted to use healthy free ingredients while keeping these as tasty as possible.
The key to juicy tender meatballs is adding an ingredient that is going to keep them from drying out, especially as extra lean chicken mince (ground chicken) is very low in fat. So the perfect ingredient to add is some grated courgette (zucchini) and I just so happened to have plenty on hand.
A little bit of grated zucchini in meatballs, burgers or even meatloaf really works. Just make sure you squeeze out excess moisture first, as otherwise, it will make your mixture far too wet. A great way to add some sneaky vegetables into kids meals too. Although if they have an eye for anything green, they might not be persuaded to try these.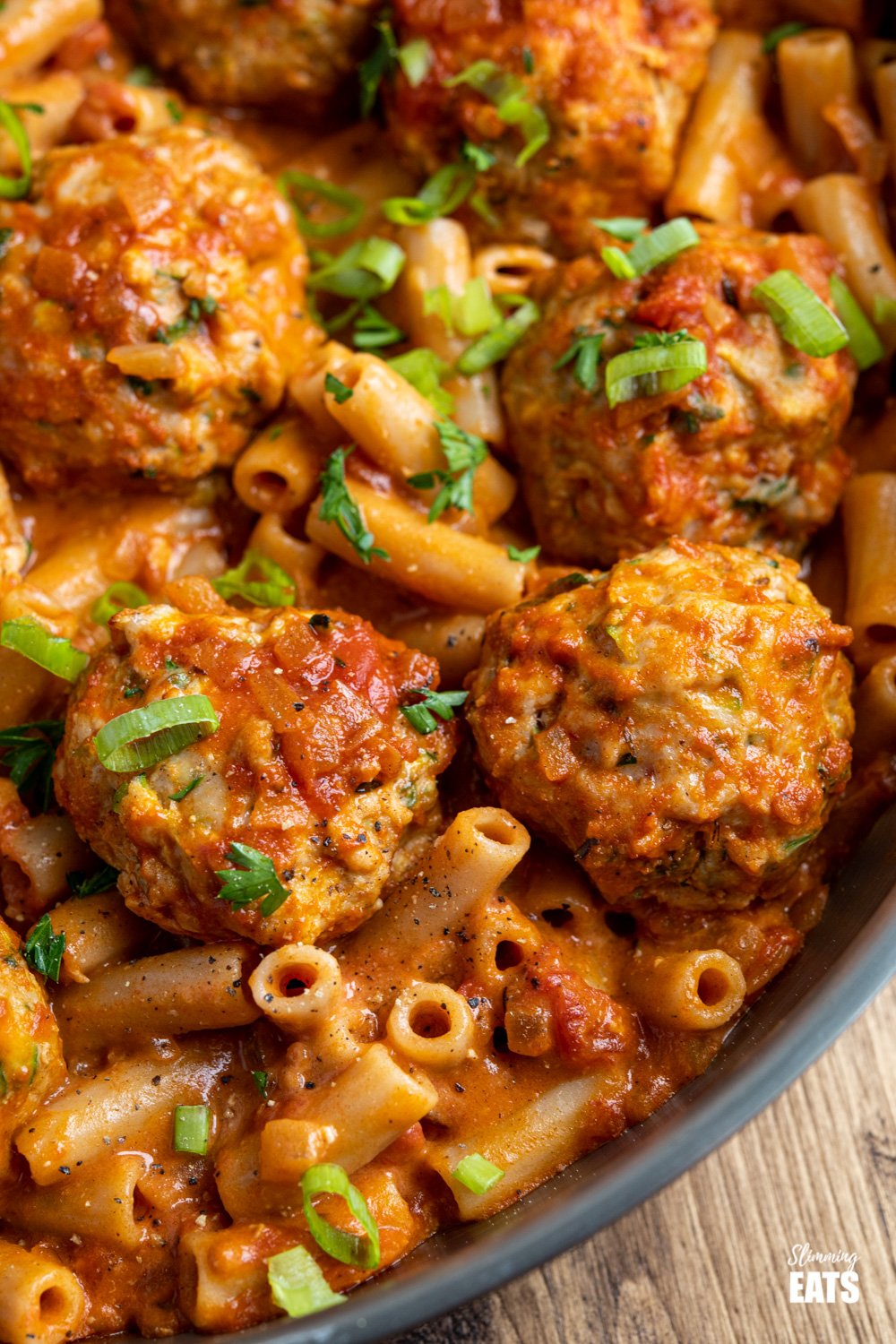 Oven-Baked Chicken Meatballs
Why do you part cook the meatballs in the oven? That's a pretty valid question. You might think it will be far easier just to brown in the pan and save on washing up.
However, there is a really good reason I part cook these in the oven. Firstly we are not using anything other than spray oil and we want an even brownness, we also want them to remain meatballs and not break up in the pan.
Cooking them in the oven for that 10 minutes, seals the outside, so that when we drop them into that amazing sauce, they retain their shape and are perfect tender Chicken Meatballs.
Dairy Free Creamy Cajun Tomato Sauce
A dairy-free creamy cajun tomato sauce? How is that even possible. Surely anything creamy involves dairy and well yes most things do, but it's perfectly easy to create a creamy kind of sauce without using anything dairy.
How? My favourite ingredient is coconut milk. When I say coconut milk, I don't mean the drinking stuff that comes in a carton, this is the thick full fat creamy stuff that comes in a tin.
Hey? that's a hell of a load of syns and points? Well yes the full tin is a lot, but we are only using a small amount and split between 4 people, which this recipe serves, it's really not anything to worry about and if you have anyone in your household with a dairy allergy, this recipe is perfect for everyone.
Do I have to use Coconut Milk?
If you don't have a dairy allergy and are fine with dairy, then no you don't need to use the coconut milk, but it does taste darn good, it's not overly coconutty in flavour as we only use a small amount.
Great swap for the coconut milk, if you are not dairy free, is some low-fat cream cheese. Prob about 1 to 1.5 tablespoons per person will be enough in this, so adjust the syns if you make the swap.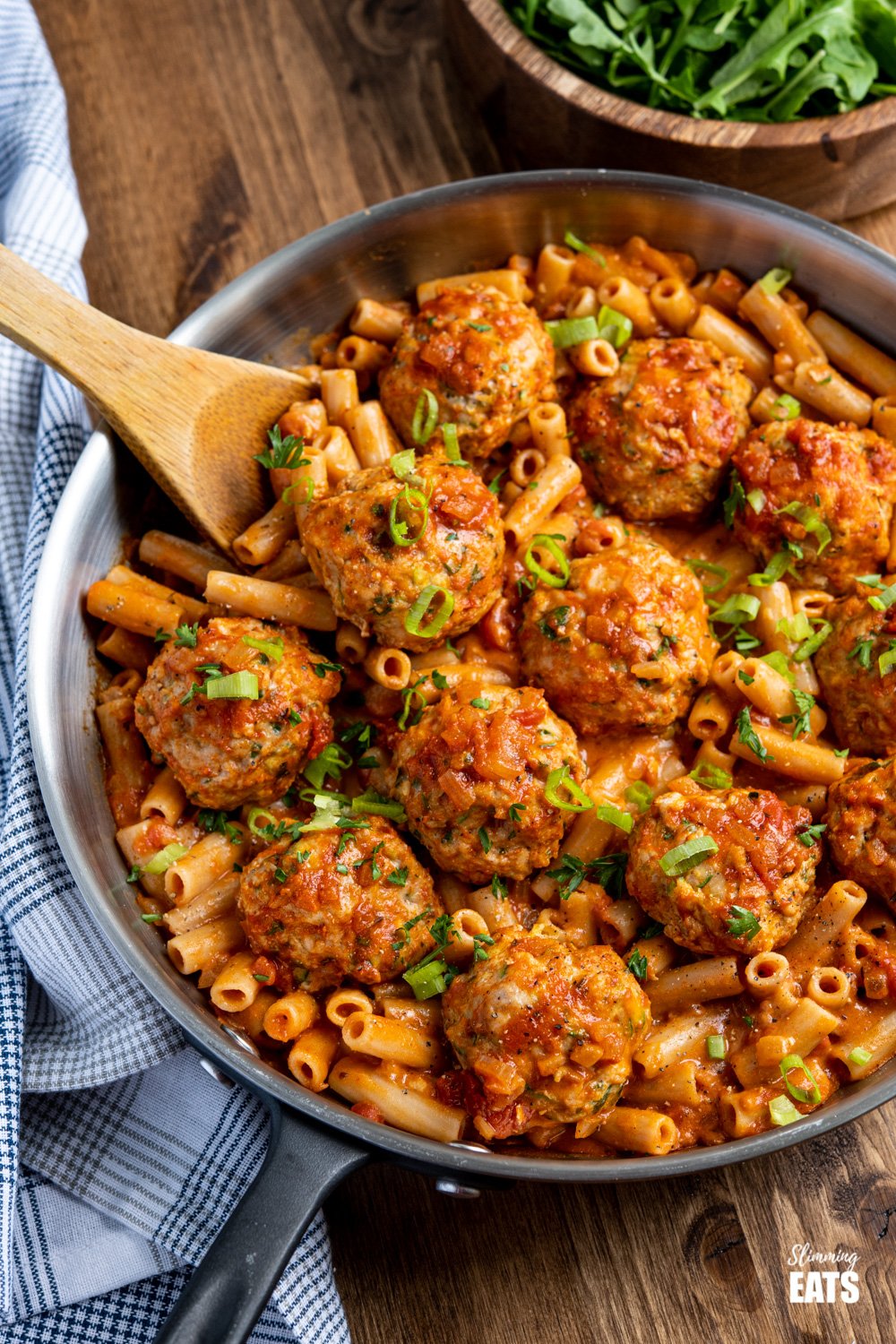 Gluten Free Pasta
Which is best? That really depends, there are various different sorts out there from pasta made with beans, lentils, rice, quinoa etc and most of the dried varieties I have checked are syn free, so a great option if you are gluten-free and still fancy digging into a bowl of pasta.
I like to use brown rice or quinoa pasta and it was brown rice pasta I used in this recipe. The key is to not overcook or it becomes mushy. Bring my water to a boil, add in the pasta and cook for about 6 mins before adding into the sauce, remember it will still cook a little bit more when adding into the sauce, but check the packaging of whatever you use, various pasta have different cooking times.
Again if you are not gluten free, feel free to use any pasta of your choice and cook following the package instructions.
How to serve this Creamy Cajun Chicken Meatball Pasta
I enjoyed this with some fresh arugula (rocket) and sliced baby cucumber, a great way to add some vegetables to your plate. Any salad items of your choice will go well on the side.
If you don't fancy salad go for some steamed greens like broccoli or asparagus. You could even add some additional vegetables into the sauce, like peppers for example. Don't forget we also have some hidden veg in the meatballs.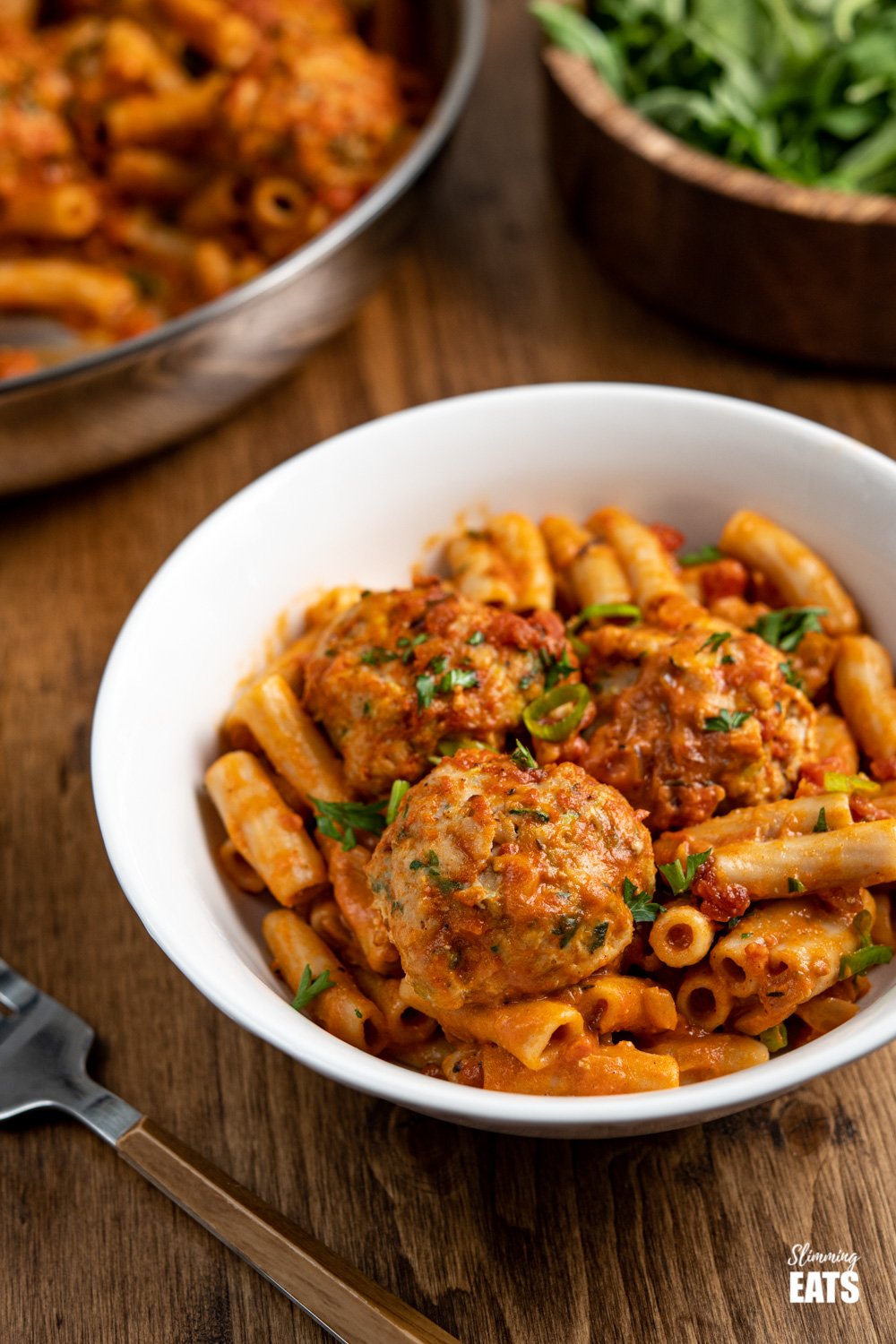 More Delicious Meatballs Recipes
Love meatballs recipes? Check out these:
or head on over to my Full Recipe Index with over 850 delicious Slimming World and Weight Watchers recipes all fully searchable by meal type, ingredients, syn value and smart points etc.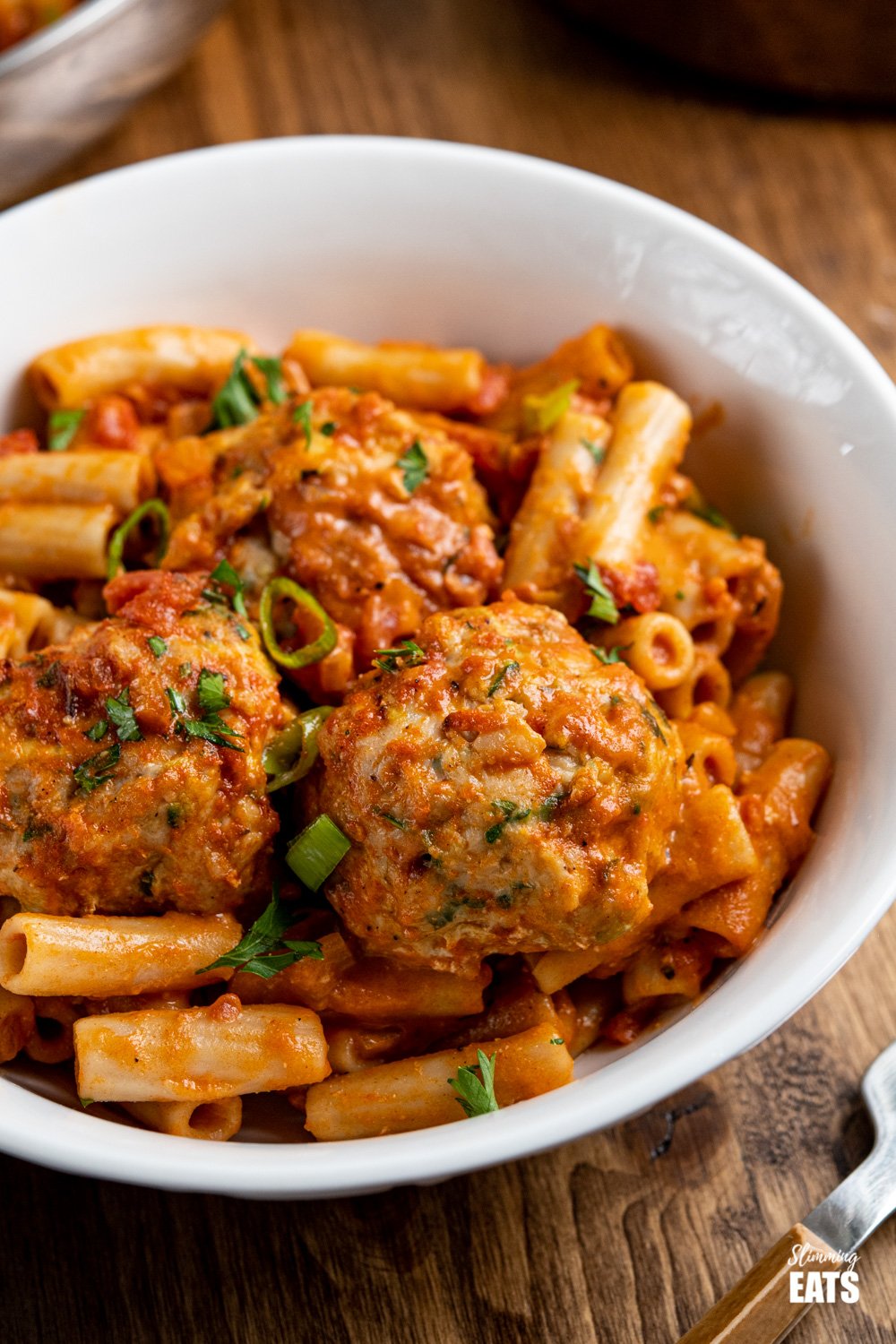 ---
LET'S CONNECT!
Find me ON FACEBOOK | INSTAGRAM | PINTEREST | TWITTER | and YOUTUBE, come and follow me TO MAKE SURE YOU KEEP UP TO DATE ON ALL NEW RECIPES.
You can also subscribe to Slimming Eats so that you never miss any new updates.
IF YOU TRY THIS RECIPE, LET US KNOW! LEAVE A COMMENT, RATE IT AND TAG US IN YOUR PHOTOS @SLIMMINGEATS ON INSTAGRAM
See the handy Pinterest image below if you wish to pin this for later 🙂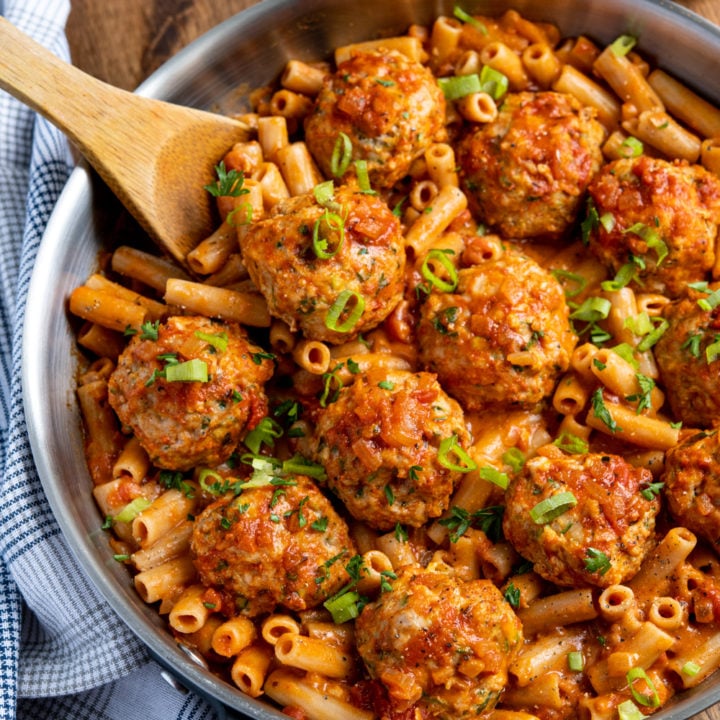 Creamy Cajun Chicken Meatball Pasta (Gluten Free and Dairy Free)
Creamy Cajun Chicken Meatball Pasta - tender tasty chicken meatballs with pasta in an amazing dairy free creamy cajun tomato sauce. The whole family will go crazy for this dish.
Ingredients
for the meatballs
455g (1lb) of extra lean chicken mince (ground chicken) - can use turkey
100g (3.5oz) of zucchini, grated
1 egg, beaten
1 tsp of paprika
½ tsp of salt
½ tsp of onion powder
⅛ tsp of cayenne (optional for extra heat, omit if you don't like too spicy)
1 tbs of fresh chopped parsley
for the ​cajun spice
1.5 tbs of paprika
1 tsp of garlic powder
1 tsp of onion powder
½ tsp of oregano
½ tsp of thyme
½ tsp of cayenne pepper
pinch of salt and black pepper
for the sauce
1 onion, diced
2 cloves of garlic
1 cup (200g) of diced tomatoes, canned
1 tbs of tomato paste (puree)
1 cup (240ml) of chicken stock (or broth)
⅓ cup (80ml) of coconut milk
225g (8oz) of brown rice pasta (or use any pasta of choice)
1 spring onion, chopped
fresh parsley, chopped
cooking oil spray (I used olive oil)
salt and black pepper
Instructions
Preheat oven to 220c/200c fan/425f or gas mark 7
Add the chicken mince, paprika, salt, onion powder, cayenne (if using) and fresh parsley to a bowl.
Squeeze excess liquid from the zucchini (courgette) and add this to a bowl. Mix to combine.
Add a little bit of the beaten egg at a time, until the mixture all comes together, you prob will not use the whole egg (I only used half), as otherwise the mixture will be too wet, you just want enough to bind.
Roll into approx 12 meatballs and place on a baking tray lined with parchmemnt paper.
Spray over the top with cooking oil spray and place in the oven and bake for 10 mins, just to firm slightly. Remove and set aside.
Spray a frying pan over a medium high heat with cooking oil spray, add the onion and fry for a couple of minutes, adding in a little stock if needed to prevent sticking.
Add the garlic and fry for a further 30 secs.
Add in the cajun seasoning, diced tomatoes and tomate paste and mix till all combined.
Pour in the stock and stir to a sauce, then carefully place in the meatballs, spooning some of the sauce over the top, reduce heat to medium and simmer for 10 mins until meatballs are cooked through and sauce has reduced slightly and thickened.
While the meatballs are cooking, cook pasta according to package directions. Reserve ⅓ cup (80ml) of pasta water and then drain.
Carefully remove the meatballs and stir in the coconut milk, until the sauce becomes silky and creamy.
Then add in the pasta and stir to coat, using some of that reserved pasta water to loosen up the sauce as needed.
Add back in the meatballs and carefully toss into all the pasta and sauce, then season as needed with salt and black pepper.
Sprinkle with the chopped spring onion and parsley.
Enjoy!!
Notes
This recipe is gluten free, dairy free, Slimming World and Weight Watchers friendly
Slimming World - 1.5 syns per serving
WW Flex/Freestyle Smart Points - 7 per serving
Gluten Free - ensure pasta and stock is gluten free
TIP: I always like to slightly undercook brown rice pasta, as it will continue cooking once you add to a sauce, and can quickly become stodgy if overcooked.
*Suitable for freezing - however I recommend freezing just the meatballs and sauce
Nutritional information is an estimate and is to be used for informational purposes only. Ingredients can vary greatly from brand to brand and therefore it would be impossible to give accurate information.

All images and content on Slimming Eats are copyright protected.

Check Legal section, for Full Disclaimer, Disclosure and Privacy Policy.
Recommended Products
As an Amazon Associate and member of other affiliate programs, I earn from qualifying purchases.
Nutrition Information
Serving Size

1 SERVING
Amount Per Serving
Calories

405
Total Fat

10.7g
Saturated Fat

4.2g
Cholesterol

91.5mg
Sodium

730mg
Carbohydrates

50.4g
Fiber

3.7g
Sugar

3.8g
Protein

28.1g
Nutritional information is an estimate and is to be used for informational purposes only. Ingredients can vary greatly from brand to brand and therefore it would be impossible to give accurate information.
Disclosure: This post may contain affiliate links. As an Amazon Associate and member of other affiliate programs, I earn from qualifying purchases. We are a participant in the Amazon Services LLC Associates Program, an affiliate advertising program designed to provide a means for us to earn fees by linking to Amazon.com and affiliated sites." Check Legal section, for Full Disclaimer, Disclosure and Privacy Policy.