These are delicious, kind of a cross between and eccles cake and a cinnamon roll. A lovely indulgence with a cup of tea.
This recipe is gluten free, dairy free, whole30, paleo, vegetarian, Slimming World(SP) and Weight Watchers friendly
Slimming Eats Recipe
Extra Easy – 1 HEb and 4.5 syns
Green – 1 HEb and 4.5 syns
Original/SP – 1 HEb and 4.5 syns
NOTE: syns may vary in certain products, so be sure to check the values of the ones you use.
Cinnamon Roll Slice
Serves 2
Ingredients
2 healthy extra b pitta's, wraps or sandwich thins (2xHEb)
20g (¾oz) of raisins (3 syns)
¼ cup of apple sauce (1.5 syns)
¼ cup of water
½ tsp of cinnamon
juice of half a lemon
1 tsp of brown sugar (1.5 syn)
2 tbs of low fat cream cheese (2 syns)
1 tbs of icing sugar (1.5 syns)
spray oil
Method
Add the raisins, apple sauce, water, juice of lemon and cinnamon to a sauce and bring to a boil.
Add to a mini food processor or blender and blend till smooth.
Add back to the saucepan with brown sugar and heat until it thickens.
Preheat oven to 180c or 350f (gas mark 4)
Layer the raisin mix on one wrap or two sandwich thin halves and sandwich together with the other halves.
Spray both sides with spray oil and place on a baking tray.
Bake in the oven until it goes lightly golden (this part doesn't take very long)
Remove from oven and allow to cool slightly.
Add the cream cheese, icing sugar to a bowl and adding a little bit of lemon juice at a time, whisk until you have a smooth icing.
Drizzle this across the top of the bread.
Delicious!!!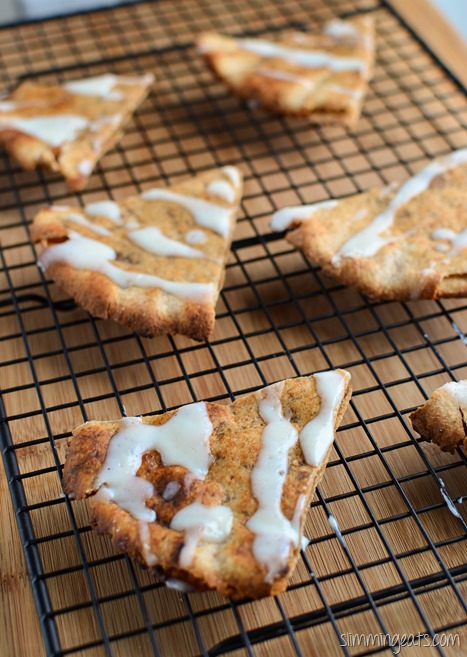 Disclosure: This post may contain affiliate links. As an Amazon Associate and member of other affiliate programs, I earn from qualifying purchases. We are a participant in the Amazon Services LLC Associates Program, an affiliate advertising program designed to provide a means for us to earn fees by linking to Amazon.com and affiliated sites." Check Legal section, for Full Disclaimer, Disclosure and Privacy Policy.