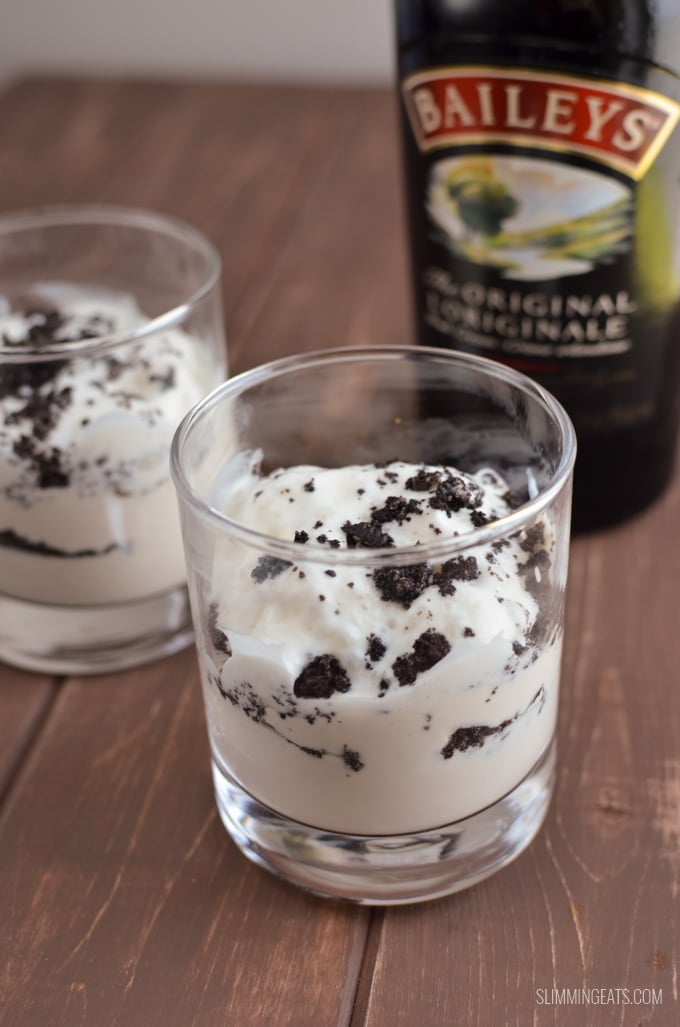 As much as I would love to be the genius behind the combination that is Baileys and Oreo Cookies, I have to give credit to Homemade Hooplah who gave me this fantastic idea after seeing her delicious Baileys Cookies and Cream Parfaits on Pinterest.
Nabisco should take note, a Baileys Oreo cookie would be divine!!
Over the weekend I was looking for a dessert to make for me and hubby, So I took to pinterest.
I trailed through lots of pics and nothing was really inspiring me, as being on Slimming Eats, most cakes work out pretty high in calories.
Then all of a sudden it caught my eye, the words Baileys and Cookies and Cream in one sentence. I was drooling on my ipad screen.
I really wanted these like right now, but the ingredients heavy whipping cream and chocolate, soon turned the delight into disappoint, as I saw those calories going up and up.
But that bottle of baileys leftover from Christmas in the fridge was calling me. It really was, honest!!
So I had a little think and thought perhaps I can make a Slimming Eats friendly version.
Jotting down a few ideas of what might work, I figured yogurt would be the best substitute in place of the cream, it's calorie free after all and then the chocolate from the oreos would just have to be enough to satisfy my chocolate cravings and so I could skip the chocolate used in the original recipe.
I think hubby thought I was going slightly mad when he saw me grabbing the bottle of baileys from the fridge. Concerned I was starting some early afternoon drinking session, as if.
The yogurt alone might be a bit tart, so to make it a little more creamy, I decided to whisk in a little bit of low fat cream cheese before adding the gold silk that is Baileys Irish Cream. I didn't swig any from the bottle, I promise.
You can omit the cream cheese if you want, it just won't be quite as creamy.
Combine the rest of the ingredients and viola - Baileys Cookies and Cream Yogurt Parfait. I have to say these were heaven!!
I now have to buy another bottle of Baileys, just so I can make these again.
Oh and I am definitely making the real thing for Christmas dessert. Whoops, sorry, did I just mention Christmas! Well it is only 13 weeks away.


Baileys Cookies and Cream Yogurt Parfait
This recipe is Weight Watchers friendly
WW Smart Points - 8
Ingredients
1 cup (285g) of fat free Greek Yoghurt
2 tablespoon of low fat cream cheese
2 tablespoon (30ml) of Baileys Irish Cream
2 Oreo cookies
granulated sweetener of choice (I used erythritol)
30g of light aerosol cream
Instructions
Add the yoghurt and cream cheese to a bowl.
Whisk till smooth.
Whisk in the baileys.
Sweeten to taste.
Add the oreos to a ziplock back, crush with a rolling pin.
Add a ½ of the baileys mixture to two small glasses.
Sprinkle with approx half of the crushed oreo.
Add the other ½ of the baileys mixture to the glasses.
Sprinkle with the other half of crushed oreo (reserving a teeny bit for the top).
Top each glass with 15g of light cream.
Sprinkle with the reserved oreo.
Enjoy immediatiely
Notes
Please see below for full nutritional info and additional details about recipe:
Calories - scroll down to nutritional info box
WW Points and other Slimming or Weight Loss programs -   due to plans regularly changing and updating, we recommend calculating with the official tools you get as a member to those plans to ensure accuracy of values. 
If you wish to share this recipe, then please do so by using the share buttons provided at top of this post.
DO NOT COPY AND/OR PASTE FULL RECIPES OR SCREENSHOTS OF ANY CONTENT FROM SLIMMING EATS TO ANY SOCIAL MEDIA OR WEBSITE, IT IS STRICTLY PROHIBITED.
ALL IMAGES AND CONTENT ON SLIMMING EATS ARE COPYRIGHT PROTECTED
Nutritional information etc are an estimate and are to be used for informational purposes only. Ingredients can vary in values from brand to brand and therefore it would be impossible to give accurate information. It is always advised that you calculate values yourself by the ingredients you use and the tools provided to you as a member of the programme you are following.
It is the responsibility of the Reader to assure the products or ingredients they use in any recipes from Slimming Eats are allergen-free (gluten-free, egg-free, soy-free and/or dairy-free, for example). Slimming Eats assumes no liability for inaccuracies or misstatement about products, opinions or comments on this site. 
Check Legal section, for Full Disclaimer, Disclosure and Privacy Policy.
Nutrition Information
Yield

2
Serving Size

1 SERVING
Amount Per Serving
Calories

221
Total Fat

8.2g
Saturated Fat

3.1g
Cholesterol

5.0mg
Sodium

205.3mg
Carbohydrates

20g
Fiber

0.3g
Sugar

12.1g
Protein

14.5g
Disclosure: This post may contain affiliate links. As an Amazon Associate and member of other affiliate programs, I earn from qualifying purchases. We are a participant in the Amazon Services LLC Associates Program, an affiliate advertising program designed to provide a means for us to earn fees by linking to Amazon.com and affiliated sites." Check Legal section, for Full Disclaimer, Disclosure and Privacy Policy.