Roasted Butternut Squash Rice - great way to add some speed foods.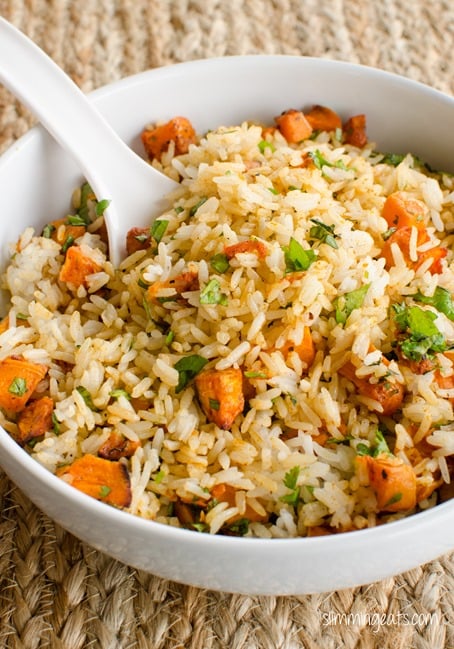 This compliments any main meal really well. The roasted squash adds a lovely flavour to the rice.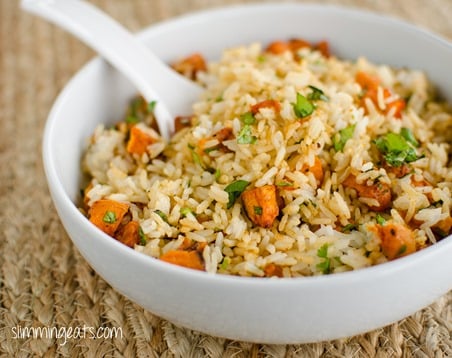 This recipe is gluten free, dairy free, vegetarian, Slimming World and Weight Watchers friendly
Slimming Eats Recipe
Extra Easy – syn free per serving
Green – syn free per serving
Roasted Butternut Squash Rice
Ingredients
1 cup of rice, uncooked (or you can use quinoa or brown rice, but you may need to adjust water ratio)
400g of butternut squash, cubed
tablespoon of paprika
salt and black pepper
olive oil spray spray
fresh chopped coriander
Method
Preheat oven to 200c or 400f (gas mark 6)
Place butternut squash in an oven proof dish, add the paprika and a little salt and black pepper and mix to coat.
Spray with a olive oil spray and place in the oven and roast until tender (approx 30 mins)
In the meantime add the rice to 2 cups of boiling hot water in a saucepan. Bring to a boil, reduce heat and simmer, covered with a lid until water has been absorbed. Turn off heat, but keep lid on to allow the steam to continue to cook rice (approx 5-10mins).
Mix in some finely chopped fresh coriander into the butternut squash and then add this to the rice and stir to combine.
This is a great side to a variety of dishes.
The recipe above has been calculated for Slimming World, however for those of you following the Weight Watchers plan or another calorie controlled type diet. Below is the approx. nutritional information:
Approx. NUTRITIONAL INFORMATION

per serving

Calories

219

Fat

0.6g

Saturated Fat

 

Total Carbohydrate

49.6g

Dietary Fibre

3.3g

Sugars

2.4g

Protein

             4.6g
Disclosure: This post may contain affiliate links. As an Amazon Associate and member of other affiliate programs, I earn from qualifying purchases. We are a participant in the Amazon Services LLC Associates Program, an affiliate advertising program designed to provide a means for us to earn fees by linking to Amazon.com and affiliated sites." Check Legal section, for Full Disclaimer, Disclosure and Privacy Policy.