This recipe is gluten free, dairy free, paleo, Whole30, Slimming and Weight Watchers friendly
Slimming Eats Recipe
Ingredients
15 large prawns (raw)
1.5 teaspoons of olive oil
1 red chilli (seeds removed, or if you like it really hot, you can leave them in)
2 cloves of garlic
1 teaspoon of paprika
juice and zest of half a lemon
small handful of parsley
small handful of coriander
salt and black pepper
Olive oil spray
3 wooden skewers, soaked in water
Method
If your prawns have the shell on, peel the prawns and set aside.
Add the olive oil, chilli, garlic, paprika, juice and zest of half a lemon, parsley, coriander and a little salt and black pepper to a mini blender
and blitz until finely chopped.
I then added this to a mortar and pestle, just to grind down a bit more until I had a paste.
Add the paste to the prawns and mix to evenly coat.
Place the prawns onto the wooden skewers. Preheat a grill pan over a medium high heat and add some olive oil spray.
Then add the skewers to the pan and cook on both sides for a couple of minutes until prawns are cooked through.
These can also be cooked on a barbecue if you prefer.
Serve with your choice of sides. Great with rice, healthy fries, salad or in a healthy tortilla or pitta bread etc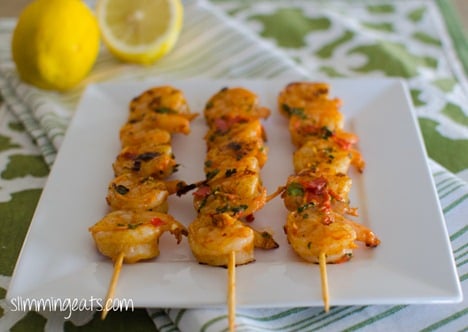 For those of you following the Weight Watchers plan or another calorie controlled type diet. Below is the approx nutritional information:
Approx NUTRITIONAL INFORMATION

1 skewer

Calories

96

Fat

3.8g

Saturated Fat

0.9g

Total Carbohydrate

3.5g

Dietary Fibre

1.2g

Sugars

0g

Protein

12.3g
Disclosure: This post may contain affiliate links. As an Amazon Associate and member of other affiliate programs, I earn from qualifying purchases. We are a participant in the Amazon Services LLC Associates Program, an affiliate advertising program designed to provide a means for us to earn fees by linking to Amazon.com and affiliated sites." Check Legal section, for Full Disclaimer, Disclosure and Privacy Policy.