Mayan Heirloom Squash with Tomatoes and Basil
Slimming Eats Recipe
Green – 2 syns for entire recipe
Original – 2 syns for entire recipe
Extra Easy – 2 syns for entire recipe
When I was grocery shopping at Costco here in Canada last week, I came across these bags of Mayan Heirloom Squash and thought they looked rather interesting, so picked up a bag to try. There was a sample stand being done with them, think she was Sautéing them in butter.
For those of you who have no idea what  Mayan Heirloom Squash is, then this is what they look like:
They taste delicious. They are pretty similar to a Courgette/Zucchini in taste, but are much sweeter.
Below is the recipe I made:
Ingredients
5 Mayan Heirloom Squash, halved and sliced (or use 2 courgette/zucchini)
1 small onion, halved and finely sliced
2 cloves of garlic, crushed
2 tomatoes, finely chopped
few fresh leaves of basil, finely chopped
Garlic Pepper (this grinder mix, has sea salt, black pepper and garlic granules in it)
Pam/Frylight spray
splash of balsamic vinegar
1 teaspoon olive oil (2 syns, you can use just Frylight/Pam spray, but for a little syns, it is worth the oil)
Method
Place a frying pan over a medium, add the olive oil.
Fry onion and garlic until softened.
Add the Mayan Heirloom Squash and a few grinds of garlic pepper and fry for a further 5 mins (you may need to add a bit of Frylight/Pam spray at this stage)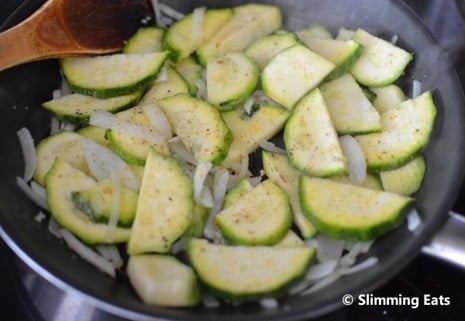 Add the tomatoes, fresh basil and a splash of balsamic vinegar and continue to cook until all veg is soften.
I served mine with a baked sweet potato and a few shavings of fresh parmesan (syns), but it would be great as a side to any meat dish or on top of some pasta/rice.
Disclosure: This post may contain affiliate links. As an Amazon Associate and member of other affiliate programs, I earn from qualifying purchases. We are a participant in the Amazon Services LLC Associates Program, an affiliate advertising program designed to provide a means for us to earn fees by linking to Amazon.com and affiliated sites." Check Legal section, for Full Disclaimer, Disclosure and Privacy Policy.