Hunters Chicken - tender chicken breasts in a delicious homemade barbecue sauce with slices of smoky bacon, all topped with cheese and baked until melted and golden.
Hunter's chicken with bacon, cheese and BBQ sauce recipe
If there is one thing my family love, it's this. Bacon, cheese and barbecue sauce are always a thumbs up with them, and add some chicken to the mix and well what's not to love?
This is not to be mistaken with the French version of Hunter's Chicken which is in a chasseur sauce prepared using tomatoes, mushrooms, onions, white wine, brandy and tarragon. If you have even had what's commonly called Chicken New Yorker, then this is the version for you.
Hunter's Chicken versus Chicken New Yorker
Both are pretty similar (so long as you are not talking about the French version - see above) - chicken breasts, barbecue sauce, bacon and cheese. Hunter's chicken however tends to have more sauce, but sometimes even Chicken New Yorker can come with lots of sauce. Occasionally the chicken is breaded too - yum!!
Homemade Barbecue Sauce
You may be thinking why can't I just use a bottled barbecue sauce, it's much quicker and easier. True, but if you are anything like me, I like a lot of sauce and that is a whole lot of calories if you use the bottled kind.
This homemade version uses much cleaner ingredients and much less sugar, in fact there is no sugar in this recipe, it's sweetened using Maple Syrup, a staple here in Canada and my favourite choice when any dish needs a little bit of sweetness.
Replace with sweetener if you prefer, but the sauce just personally doesn't get the same glossy result with sweetener, you need the sugar in the maple syrup.
For this homemade barbecue sauce I also like to add in some slices of onion and fresh garlic, it just makes a much tastier sauce, it still has some onion and garlic powder in the recipe, but using fresh onion and garlic too, enhances the flavour.
We also use two kinds of paprika and those are must, sweet paprika and then smoked paprika. The smoked paprika is what will give it that smoky bbq flavour, so you definitely want to add that. Just watch you don't choose the hot smoked paprika, unless you like a spicy barbecue sauce.
Liquid Smoke is totally optional, the homemade barbecue sauce is perfectly fine without, but that liquid smoke just really ups that smokey flavour, so if you prefer a barbecue sauce with a much stronger smokey flavour, it's a definite ingredient to source.
Best Bacon to use for Hunter's Chicken (Chicken New Yorker).
A traditional with use streaky bacon (the type that is typical this side of the Atlantic in the US and Canada), but it is also higher in fat/calories, so not a great option if you want to reduce the calories in your meal, though it's certainly not off bounds either if thats what you want to use. Streaky bacon is much better for wrapping around chicken, as it comes in thin long strips.
However for this recipe with use lean back bacon, that is typical in the UK, just ensure you trim off the fat.
I don't wrap my chicken in the bacon, I just prefer to layer the ingredients so it makes a delicious bake, it works perfectly, and is much easier to assemble.
If you can't get back bacon where you live, a thin lean slice ham will work perfectly too, I've actually done this in the past when I can't get my hands on back bacon.
Cheese for Hunter's Chicken (Chicken New Yorker)
Traditionally Chicken New Yorker uses Monterey Jack cheese. It's a perfect melting cheese for any recipe that require baking. For this recipe however I use a mixture of Mozzarella and Medium flavoured Cheddar. The mozzarella just has perfect stretch when melted and the cheddar gives flavour.
You will notice my cheddar is a more yellow/orangey colour a bit like Red Leicester in the UK. That's because the cheddar here is coloured with Annatto. Baldersons Canadian Cheddar is my favourite brand here in Canada.
If you want that colour from the cheese, then you might want to use some red leicester instead of cheddar.
Sides for Hunter's Chicken
Wondering what to pair this alongside? It really depends on your appetite. As a family with love a side serving of these Perfect Homemade Oven Fries. I make them as per the recipe (leaving the skins of - think of all that fibre) and add a sprinkling of sweet paprika along with the salt. Yummy!!
If you hate peeling and chopping potatoes to make chips (fries). I highly recommend one of these Potato and Vegetable Chippers, it saves so much time and chops your potatoes nice and evenly.
As well as the chip (fries) I also make up a bowl of mix salad to help ourselves to, add whatever you like. I keep it simple with romaine lettuce, cucumber, tomatoes and shredded carrots and then make up some of this yummy Ranch Dressing to serve with it. It pairs perfectly with the chicken.
If you struggle with portion control, a great tip is to serve your meals on a side plate instead of a regular dinner plate. A full plate of food is much more appealing and satisfying.
(As an Amazon Associate and member of other affiliate programs, I earn from qualifying purchases.)
More Chicken Breast Recipes
Wondering what else you can make with chicken breasts? Check out these recipes:
or head on over to my Full Recipe Index with over 900 delicious Slimming Eats and Weight Watchers friendly recipes all fully searchable by meal type, ingredients, smart points etc
---
LET'S CONNECT!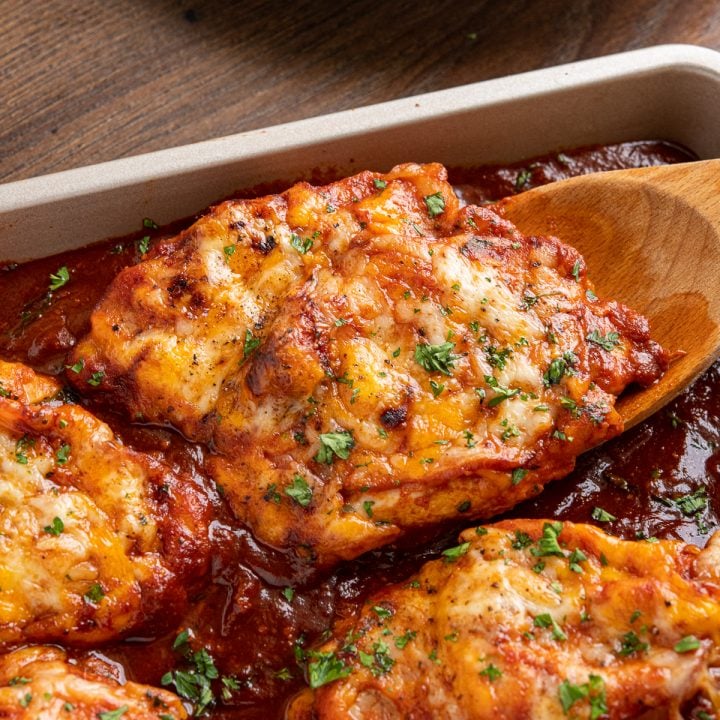 Hunters Chicken (Chicken New Yorker)
Hunters Chicken - tender chicken breasts in a delicious homemade barbecue sauce with slices of smoky bacon, all topped with cheese and baked until melted and golden. 
Ingredients
2 large uncooked boneless skinless chicken breasts (approx 250g/9oz each)
8 slices of uncooked back bacon (trimmed of visible fat)
100g (7oz) of mozzarella
60g (2.1oz) of cheddar
pinch of black pepper
For the sauce:
1 400ml can of crushed tomatoes (or use passata)
1 cup (240ml) of water
1 small onion, halved and sliced thinly
2 cloves of garlic, minced
3 tablespoon of 100% pure maple syrup (do not use sugar free)
2 teaspoons of paprika
2 teaspoons of smoked paprika (not the hot variety)
1 tablespoon of balsamic vinegar
½ tablespoon of apple cider vinegar
1 tablespoon of light soy sauce
1 tablespoon of dark soy sauce (ensure it says dark on the bottle)
1 teaspoon of yellow mustard
1 teaspoon onion powder
½ teaspoon garlic powder
2 tablespoon tomato paste (puree) - add four if using passata
optional: liquid smoke (I add ½ teaspoon)
low calorie spray
Instructions
Carefully Slice the two chicken breast into 4 cutlets, by using a sharp knife to cut the chicken breasts in half crosswise. Place the cutlet in a ziplock bag one at a time and use a meat tenderiser or rolling plan to flatten. Set aside.
Spray a deep frying pan over a medium high heat with cooking oil spray.
Add the onion and garlic and fry until softened.
Add in all other ingredients for the sauce, bring to a boil, reduce heat slightly, cover and and let the sauce bubble to reduce down and really thicken (approx 10 minutes, don't put the heat too low), ensure you let the sauce reduce down and thicken before proceeding to the next steps, or your sauce will be too runny.
Preheat oven to 200c, 180c fan, 400f, gas mark 6
Once the sauce has thickened, add the sauce in a even layer to baking tray or oven proof dish.
Place the flattened chicken breasts into the sauce. Brush over the top with the barbecue sauce to ensure they are all fully coated.
Place 2 slices of bacon on top of each chicken breast, and again brust over the top with the barbecue sauce, so that the bacon pieces are also fully covered.
Top with the cheese and pinch of black pepper and bake in the oven for approx 20 minutes until chicken is cooked through and cheese is melted.
You can then place under a medium heat on the grill (broil) until the top is golden.
Serve with your choice of sides and enjoy!!
Notes
This recipe is gluten free, Slimming World and Weight Watchers friendly
Slimming World - 1 HEa and 2 syns per serving
WW Green Smart Points - 8 per serving
WW Blue Smart Points - 6 per serving
WW Purple Smart Points - 6 per serving

SUITABLE FOR FREEZING
If you wish to share this recipe, then please do so by using the share buttons provided.
DO NOT COPY AND/OR PASTE FULL RECIPES OR SCREENSHOTS OF ANY CONTENT FROM SLIMMING EATS TO ANY SOCIAL MEDIA, IT IS STRICTLY PROHIBITED.
ALL IMAGES AND CONTENT ON SLIMMING EATS ARE COPYRIGHT PROTECTED.
It is the responsibility of the Reader to assure the products or ingredients they use in any recipes from Slimming Eats are allergen-free (gluten-free, egg-free, soy-free and/or dairy-free, for example). Slimming Eats assumes no liability for inaccuracies or misstatement about products, opinions or comments on this site.
Check Legal section, for Full Disclaimer, Disclosure and Privacy Policy.
Nutrition Information
Serving Size

1 SERVING
Amount Per Serving
Calories

436
Total Fat

14.6g
Saturated Fat

8.2g
Cholesterol

45.6mg
Carbohydrates

25.2g
Fiber

4g
Sugar

15.8g
Protein

49.1g
Nutritional information, etc are an estimate and is to be used for informational purposes only. Ingredients can vary greatly from brand to brand and therefore it would be impossible to give accurate information. It is always advised that you calculate by the ingredients you use.
Disclosure: This post may contain affiliate links. As an Amazon Associate and member of other affiliate programs, I earn from qualifying purchases. We are a participant in the Amazon Services LLC Associates Program, an affiliate advertising program designed to provide a means for us to earn fees by linking to Amazon.com and affiliated sites." Check Legal section, for Full Disclaimer, Disclosure and Privacy Policy.