Fillet Steak with Creamy Garlic Mushrooms and Courgette Wild Rice Pilaf
Slimming Eats Recipe
Serves 2
Extra Easy – approx 2 syns per serving
Ingredients
2 x 8oz (2x227g) Fillet Steaks
1 large onion, halved and sliced
2 cloves of garlic, crushed
1 small onion, finely chopped
1 large courgette, chopped
approx 14 button mushrooms, sliced
80g  of wild basmati rice mix
360ml of chicken stock
200ml of chicken stock
1 tsp of  mustard (1 syns)
45g  of Philadelphia Extra Light (2.5 syns)
Salt and Black Pepper
Frylight/Pam Spray
Freshly chopped Italian Parsley
Method
Spray a saucepan with some Frylight and Pam spray. Add the onion and 1 clove of garlic and cook for approx 5 mins until softened.
Add the  courgette and cook for a further 2-3 mins.
Add wild rice mix and stir. Pour in 360ml of chicken stock
Bring to the boil and then cover and simmer on a low heat until all stock has been absorbed. Remove from heat and set aside still covered while you cook the mushrooms and steak.
Season both fillet steaks well with salt and pepper and cook to your preference on a grill pan or George Foreman grill.
For the garlic mushroom sauce: Spray a frying pan with some Frylight/Pam spray, add garlic
Add  the mushrooms and small onion.
Add a little bit of the 200ml of stock at a time (save about 50ml of the stock to make the sauce) and cook the mushrooms/onion until golden.
To the 50ml of stock, add the extra light Philadelphia and mustard and whisk until smooth.
Pour over the mushrooms and simmer on a low heat until sauce thickens, top with some freshly chopped Italian parsley.
Serve your steaks with the Courgette Wild Rice Pilaf and Creamy Garlic Mushrooms.
Enjoy!!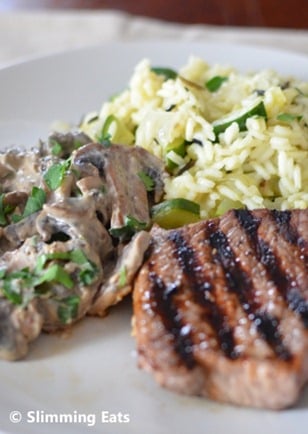 It is the responsibility of the Reader to assure the products or ingredients they use in any recipes from Slimming Eats are allergen-free (gluten-free, egg-free and/or dairy-free, for example) or Vegetarian friendly. Slimming Eats assumes no liability for inaccuracies or misstatement about products, opinions or comments on this site.
Nutritional information is an estimate and is to be used for informational purposes only
Looking for some additional support on your weight loss journey? Did you know Slimming Eats has a friendly Slimming World Facebook Support Group where you can get daily meal ideas and recipe ideas? Come and check us out, we'd love to have you join.
Looking for some other recipes? Head on over to my RECIPE INDEX for over 900 Slimming World & Weight Watchers recipes for you to browse through, all fully searchable by meal type, Ingredients, syn value and WW Smart Points etc
All images and content on Slimming Eats are copyright protected.
If you wish to share this recipe, then please do so by using the share buttons provided. Do not screenshot or post recipe or content in full.
* Disclosure: This post may contain affiliate links. As an Amazon Associate and member of other affiliate programs, I earn from qualifying purchases. We are a participant in the Amazon Services LLC Associates Program, an affiliate advertising program designed to provide a means for us to earn fees by linking to Amazon.com and affiliated sites." Check Legal section, for Full Disclaimer, Disclosure and Privacy Policy.