I am a Brit living overseas in Canada with my husband and two children. I have tried many diets in the past and while I was successful at losing weight. I  found it was a hard diet to maintain in the long run and have gone from losing weight to gaining weight, to losing weight to gaining weight again.  Also, having a baby (my son) in between, which I might add is also not great for your waistline, well it wasn't in my case anyway.
It was seeing a picture of myself holding my son that me decide enough was enough and I was going to lose this extra baggage once and for all. But I knew I had to find a better diet plan that was suited to me.
That was the start of my discovery of the Slimming World diet. Not that I like to refer to it as such, and anyone following Slimming World will agree with me. It really does not feel like you are on a diet.
However, I encountered a bit of a problem when I decided to join, being a mostly UK based company, there was no meetings here in Canada, so my only option was to join online. However to keep me accountable I knew I needed a bit more motivation than that, if I wasn't  getting the face to face weigh in's each week of a group meeting.
That there was motivation to start my blog in 2009 and what soon became:
I thought it would be good to have somewhere I could record my thoughts, general ramblings and recipes and with that I  found I had a real passion for cooking (which is probably one of the reasons I became overweight in the first place).I  love the challenge of trying to convert my all time favorite meals into much more healthier versions, as well as creating brand new recipes. But the best thing  all has been sharing them with other people, so they get to enjoy them as much as I do. The support I have received back has been amazing.
Slimming Eats is exactly that. Healthy, delicious and filling meals that make you slim.
Any weight loss journey needs to be a life time change, you can treat it as a short term fix, because as soon as you start eating how you used to, I can assure you all that weight and more will go back on. One of the beauty's of Slimming World is that it teaches you those healthy life time changes and how to make better food choices and because you don't need to weigh, measure etc every single food item, it is much more maintainable in the long term.
I first lost 46lbs on Slimming World when I then fell pregnant with my daughter who was born April 2011. I was very pleased to keep weight gain to a minimum while pregnant and when she was born, my weight was pretty much back to my pre pregnancy weight, something I never managed to do when pregnant with my son.
Since starting on my journey back in 2009 with Slimming World, I have also been doing a couple of stretches of eating paleo – specifically Whole30 (through 2014), after I had some ongoing stomach issues that I couldn't resolve and have from that changed a lot of the foods I eat – I try to avoid eating too many artificial or processed foods. As I have seen the effect they can have of me. I have now adapted more of a "clean eating" approach within Slimming World. It's all about a healthy balance. I love that I can pick and choose from the free food list to create all the meals I love.
Below is a before and after pic of my journey so far: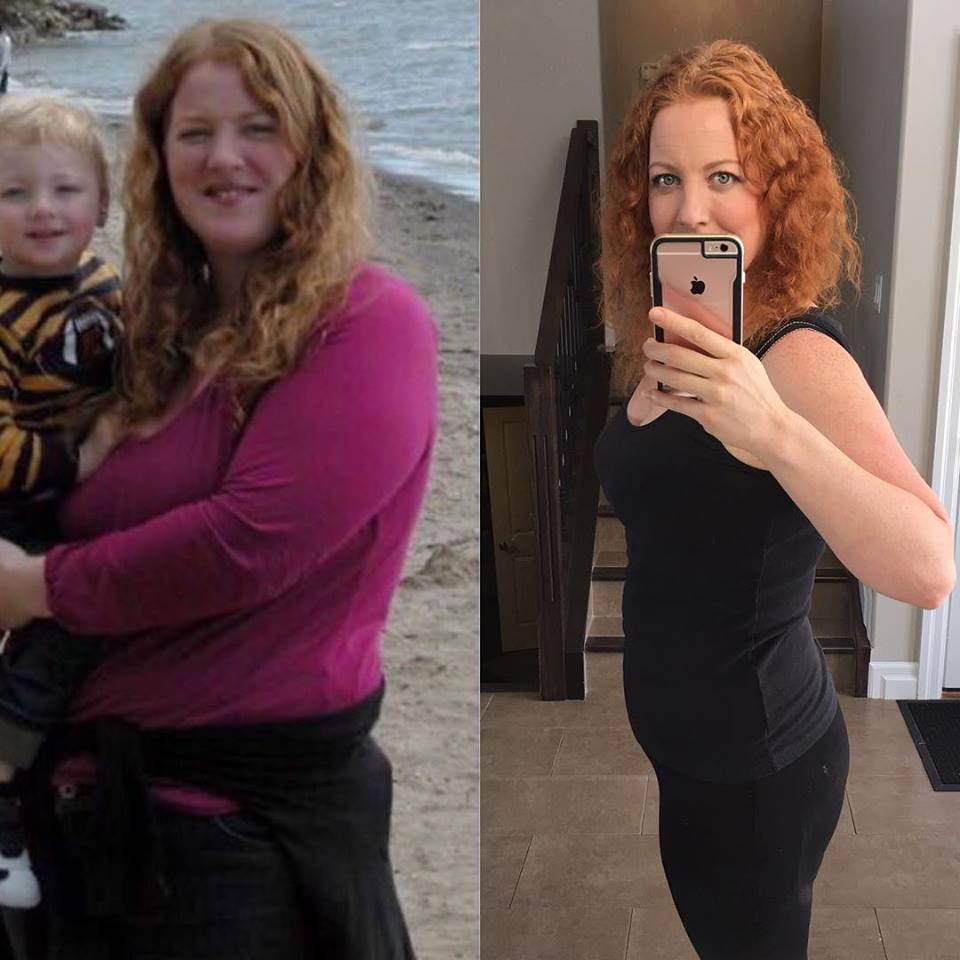 Total weight loss to date is 58lbs, but I am not yet in my goal range, I still have a little bit to go till I get there. I've been struggling to lose those last few lbs, so for me it is always an ongoing journey. I know that just even a small amount of time not sticking to plan and the weight creeps back on so I have to be careful. I am happy with how I am at present and if I lose those last few lbs, great, but if I stay as I am too, I am also happy.
Click here if  you reside in the US and are interested in joining Slimming World
Click here if you live outside the US and are interested in joining Slimming World
Good Luck!!!