Make up a batch of these yummy Sweet Potato, Broccoli and Cheddar Patties, great served cold or straight out of the oven.
Have I mentioned how much I love finger type foods? foods that I can grab and go.
Being a parent (and a blogger) sometimes means I am rushed for time, and if I  want to make sure I stay on plan, I need stuff like these Sweet Potato, Broccoli and Cheddar Patties made up all the time. As then if I have to go out before I get a change to eat lunch for instance, I can put some of these in a tub with a salad and I have a high satiety meal to keep me going till I get home.
As much as I love a salad, sometimes I need something more substantial and if I am out in the car, I don't have facilities to heat up food and I don't want to risk not having something available to buy and then blow all my syns in one meal. So things like these really help. Obviously there will be times when you are not prepared at all, but if you use any spare time to make up batches of little things like this or pasta, soups etc, you should 9/10 have things on hand in an emergency.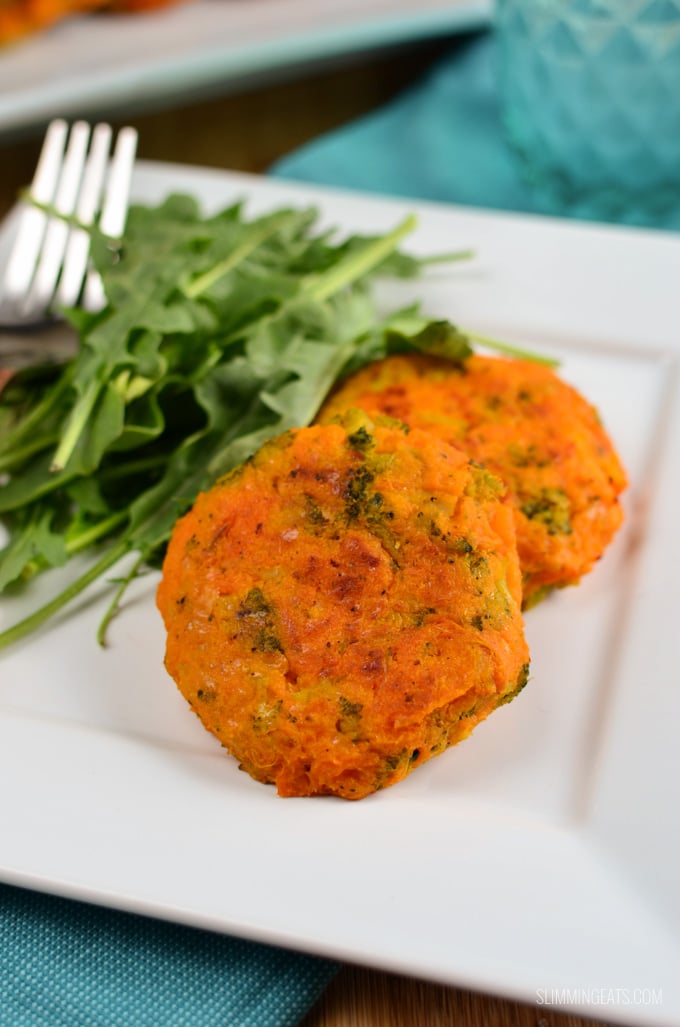 These Sweet Potato, Broccoli and Cheddar patties are also great for freezing. You can either freeze made up uncooked and then cook from frozen or fully cook and then freeze and just pop in the oven to heat up when you want. I must admit though, none of these have ever made it to the freeze as my kids love these too. Even my youngest (who is 5) now she no longer has an aversion to broccoli.
I love these with a side of arugula or on the side with one of my many Soup Recipes

Sweet Potato, Broccoli and Cheddar Patties
This recipe is gluten free, vegetarian, Slimming World and Weight Watchers friendly

Extra Easy - 1 HEa per serving
Green - 1 HEa per serving
WW Smart Points - 12
Ingredients
1 large sweet potato (approx 600g/21oz)
2 cups (480ml) of chopped frozen broccoli (defrosted and drained)
60g/2oz of cheddar cheese (2xHEa's)
salt and black pepper
Spray oil
Method
Pierce sweet potato with a knife and microwave in the oven for approx 8 mins (needs to be nice and soft, so may need a little longer than this).
Cut in half and scoop out all the potato and place in a large bowl.
Chop up the defrosted broccoli into smaller pieces and mix into the potato along with the cheddar cheese.
Season well with salt and black pepper.
Form into 6 equal sized patties
Preheat oven to 200c or 400f
Line a baking tray with some parchment paper. Place the patties on the tray and spray over the top with some spray oil.
Bake in the oven for approx 30-40mins, turning over half way through cooking time, to make sure they are golden on both sides.
These are great served on there own or as a side along soup etc. Even kids will love them!!
Notes
All images and content on Slimming Eats are copyright protected.

If you wish to share this recipe, then please do so by using the share buttons provided. Do not screenshot or post recipe or content in full.
Nutrition Information
Serving size:
1
Calories:
418
Fat:
10.2g
Saturated fat:
6.3g
Carbohydrates:
66.1g
Sugar:
2.8g
Sodium:
290.4mg
Fibre:
2.7mg
Protein:
13.7mg
Cholesterol:
31.7mg
Disclosure: This post may contain affiliate links. As an Amazon Associate and member of other affiliate programs, I earn from qualifying purchases. We are a participant in the Amazon Services LLC Associates Program, an affiliate advertising program designed to provide a means for us to earn fees by linking to Amazon.com and affiliated sites." Check Legal section, for Full Disclaimer, Disclosure and Privacy Policy.