Mmmmmmm Chicken and Baked Bean Casserole!!!
The summer holidays are over, kids are back to school and it's time to dig out the slow cookers and casserole pot as we slowly move into Fall.
I love the Fall season – soups, stews, casseroles, all those yummy comforting plates of food. There is nothing nicer than digging into a hearty bowl of stew.
During the summer, there was an awesome deal for an Instant Pot. I have had my eye on these for a while, but hadn't jumped in and ordered one. However I just couldn't resist the Amazon prime day deal and so I hit add to basket and well you know the rest.
If you haven't heard of an Instant Pot you are seriously missing out. It is the best kitchen gadget I have purchased. I would even put it above my actifry and that's saying something.
It is basically a 7in1 cooker, and it slow cooks, pressure cooks, saute's, has settings for soup, chilli, rice, porridge and even makes yoghurt (I haven't tried that yet).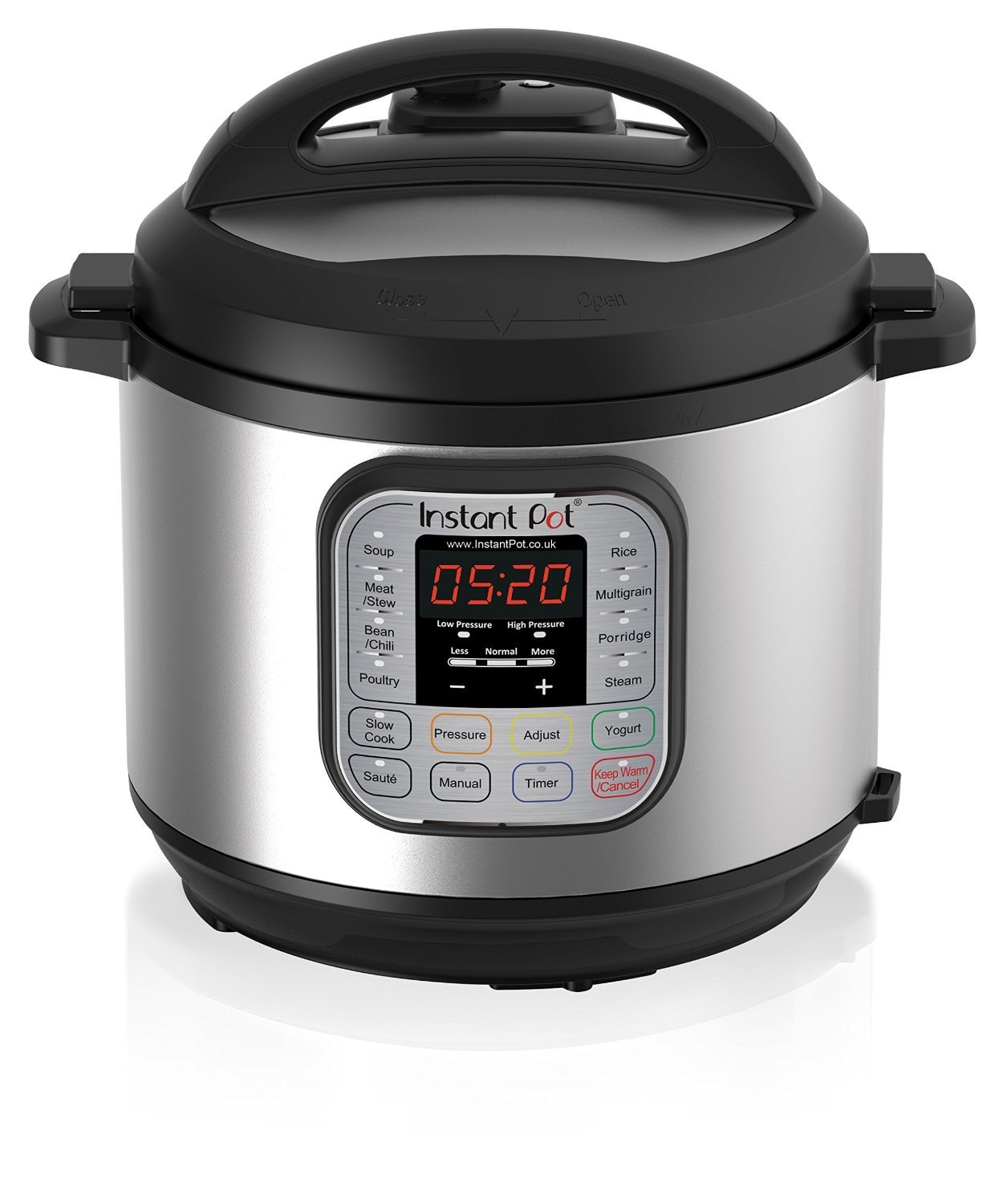 Check out my other: Instant Pot Recipes
Click here to read more about the instant pot on Amazon
It had been a busy day and I didn't have super prepared, so needed to make something quick.
A search of the fridge and pantry, throwing a few simple ingredients together, adding them to the instant pot and viola! 30 minutes later a delicious meal all ready for the family.
I served this delicious Chicken and Baked Bean Casserole with some zucchini (courgette), that I added to an oven dish with some spray oil, salt and black pepper and roasted at 200c/400f (gas mark 6), it took about the same time as the casserole. The zucchini was a great addition of some extra speed foods.
If you don't have an instant pot, you can cook this in a normal pressure cooker (for the same time) or cook in a big lidded casserole pot on the stove for about 50-60mins on a low heat.
This would also work perfectly in a slow cooker for 4 hours on high, or for 8 hours on low.
I like to use skinless chicken drumsticks for this, as the meat is so tender and literally falls off the bone, but you could use thighs or even breasts, although I tend to avoid the later, as they can go quite dry in a dish like this.
Chicken and Baked Bean Casserole
Ingredients
8 skinless chicken drumsticks
1 onion, finely sliced
2 cloves of garlic, crushed
2 cups (480ml) of baby carrots
2 cups (480ml) of baby potatoes, halved
1 tin of baked beans
2 cups (480ml) of chickens stock
2 tbs of tomato paste
1 tbs of paprika
1 tsp of dried basil
1 tsp of oregano
pinch of salt
pinch of black pepper
fresh chopped Italian parsley to decorate
Method
Select Saute mode on Instant Pot
Spray with spray oil
Saute the onion and garlic to soften.
Add all other ingredients
Pressure cook for 20 mins and then let it do a natural pressure release.
Serve topped with fresh chopped Italian Parsley and your choice of sides.
Notes
For Slow Cooker - add all ingredients to slow cooker and cook on low (8 hours) or high (4 hours)
For Stove Top - saute onion and garlic in spray oil, add all other ingredients, bring to a boil and simmer covered for approx 60 mins.

This recipe is gluten free, dairy free, Slimming World and Weight Watchers friendly

Extra Easy – syn free per serving
WW Smart Points - 8

All images and content on Slimming Eats are copyright protected.

If you wish to share this recipe, then please do so by using the share buttons provided. Do not screenshot or post recipe or content in full.
Nutrition Information
Serving size:
1
Calories:
358
Fat:
4.6g
Saturated fat:
1.1g
Carbohydrates:
47g
Sugar:
13.3g
Sodium:
1,119.0 mg
Fibre:
8.4g
Protein:
33.7g
Cholesterol:
98mg
It is the responsibility of the Reader to assure the products or ingredients they use in any recipes from Slimming Eats are allergen-free (gluten-free, egg-free and/or dairy-free, for example) or Vegetarian friendly. Slimming Eats assumes no liability for inaccuracies or misstatement about products, opinions or comments on this site.
Nutritional information is an estimate and is to be used for informational purposes only
where you can ask any questions on recipes, get the links to new recipes as they get posted to the blog, daily meal ideas, support and advice.
Looking for some other recipes? Head on over to my RECIPE INDEX for 500+ more recipes for you to browse through.
DID YOU

 

make

THIS

 

RECIPE

? I'D

 

LOVE

 TO SEE IT!
Snap a photo and hashtag #slimmingeats or tag me @slimmingeats on INSTAGRAM
Are you on facebook? Then be sure to come and like me on FACEBOOK
All images and content on Slimming Eats are copyright protected.
If you wish to share this recipe, then please do so by using the share buttons provided. Do not screenshot or post recipe or content in full.
* Disclosure: This post may contain affiliate links. We are a participant in the Amazon Services LLC Associates Program, an affiliate advertising program designed to provide a means for us to earn fees by linking to Amazon.com and affiliated sites." Check Legal section, for Full Disclaimer, Disclosure and Privacy Policy.