Lentil Cheddar Bake - a cheesy lentil bake with peppers that is great as it is with a salad or as a side to soup or chilli.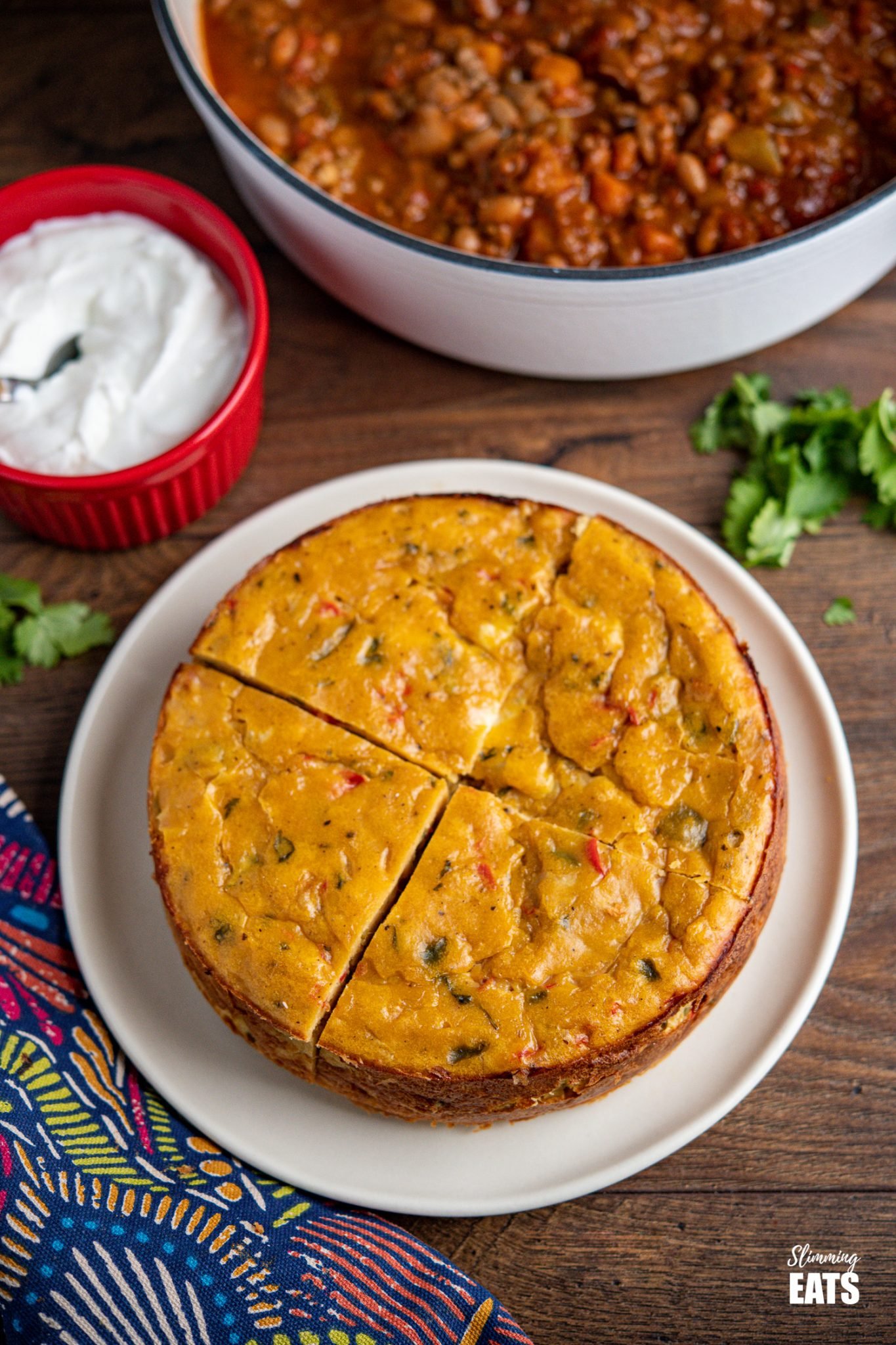 Lentil Bake
This lentil cheddar bake is a recipe I've been making for many years now and it's made on a regular basis in the summer months, purely because it's a great portable high protein recipe.
It is actually really versatile recipe too, that can be easily adapted with different vegetables of your choosing. Although I tend to stick to it just as it is nowadays, as the flavours are perfect.
Cooking Red Lentils
Cooking red lentils is really easy, usually the are add into curries or soups as a great thickening ingredient so we don't need to pay too much attention to the right ratio of liquid.
In this recipe however, we are using the lentils as the main ingredient for this bake, so we don't want too much liquid that the lentils are too wet once cooked. I find the perfect ratio for is a 2:1. So for 1 cup of lentils (192g) we want 2 cups of stock (480ml).
Vegetable or Chicken stock are my prefered stocks to use for this and the great thing about cooking in stock is it will also flavour the lentils. Make sure however if you use stock cubes that the check the packaging so you know how much to sue for the right amount of mls.
Different Varieties of Lentils
This recipe uses red lentils, and they are the ones you want for this recipe, as when cooked they break down and are almost paste like.
Other varieties of lentils like green and brown hold their shape when cooked and won't work as well in this recipe, the texture would be different and it won't hold together as well.
Cooking the Lentil Bake
I like to cook it in a 7 inch springform pan. It gives the Lentil Cheddar Bake a decent height and is easier to remove and slice once cooked. I use my springform pans regularly for things like Quiches or Cheesecake. I have various different sizes and they are a great cookware item to have. How many times have you cooked something and then struggled to remove it from the pan without make a mess? The springform pans solve all of that.
However you can use any dish you want, just ensure if you don't use a spring form pan that you grease it well with some spray oil, so it's easy to remove once cooked.
You could even bake it as individual sized muffins (but be aware these do not have a cake/bread like texture). That way it is all portioned out perfectly for you. Just be aware if you do bake it like this you will need to reduce the cooking time as it won't take as long to cook this way.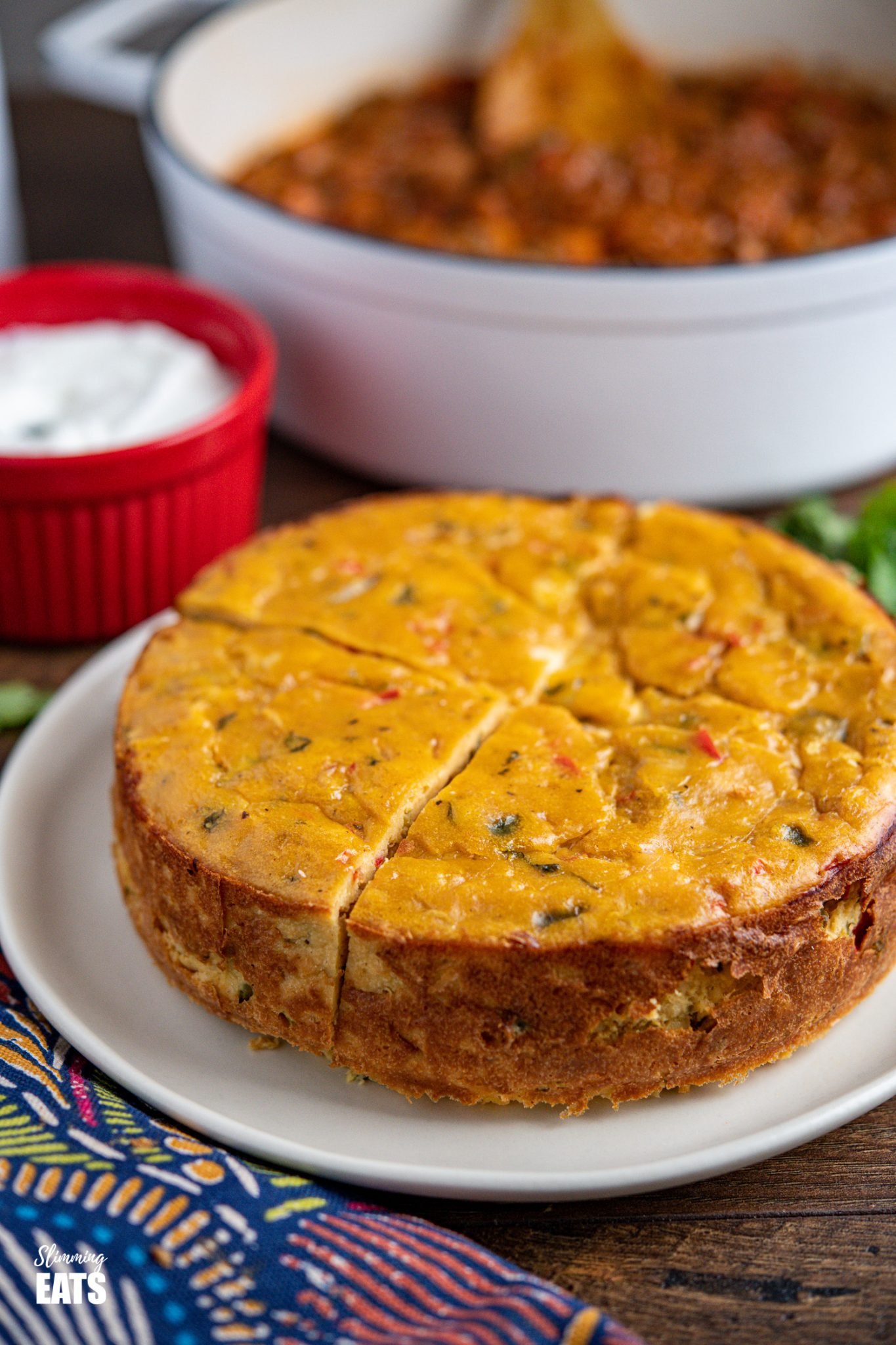 Type of Cheese for Lentil Bake
Here in Canada, most of our cheddar is a deep orange/yellow colour due to added annatto. My favourite is Balderson's Canadian Extra Old Cheddar which I get at Costco Canada.
If you want to get the deeper yellow/orange colour to the bake, Red Leicester is a good substitute to use to achieve the same colour, slightly different taste, but still works really well.
How to Serve Lentil Cheddar Bake
A slice of this Lentil Cheddar Bake makes a great lunch time meal, perfect on it's own with a salad, or on the side of your favourite soup. My favourite way to enjoy this is with one of my many chilli recipes instead of rice. The cheese flavour with peppers, cilantro and jalapenos is a great pairing.
Here are some of the amazing chilli recipes on Slimming Eats:
You can enjoy this hot or cold, so it is perfect for packed lunches or meals on the go and for taking in picnics during the summer months.
I also really like a slice of it with this Tomato and Onion Relish on the side.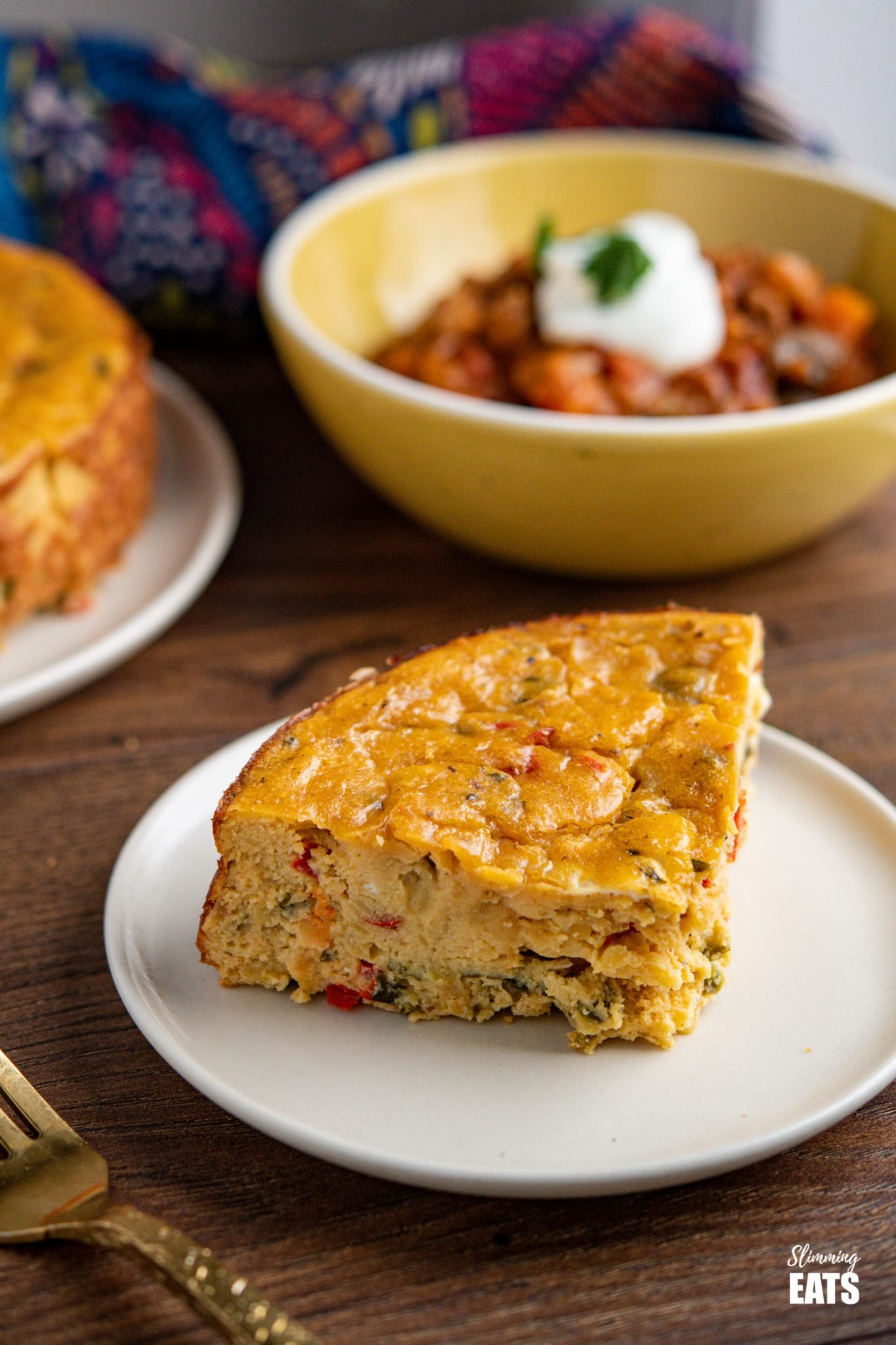 Perfect Lentil Recipe for Vegetarians
This Lentil Cheddar Bake is perfect for vegetarians too if you use vegetable stock to cook the lentils instead of chicken and then pair it with one of my vegetarian Chilli recipes above.
It is a also a great budget friendly dish because lentils are usually pretty cheap. You can normally grab a big bag of red lentils for a couple of $ here in Canada, and no doubt less than a couple of pounds in the UK.
I tend to buy dried pulses and beans where possible instead of canned as not only are they cheaper, but I find they taste better too when you cook them yourself. If money is tight. Lentils are a great substitute for ground meat too in dishes like bolognese and shepherd's pie.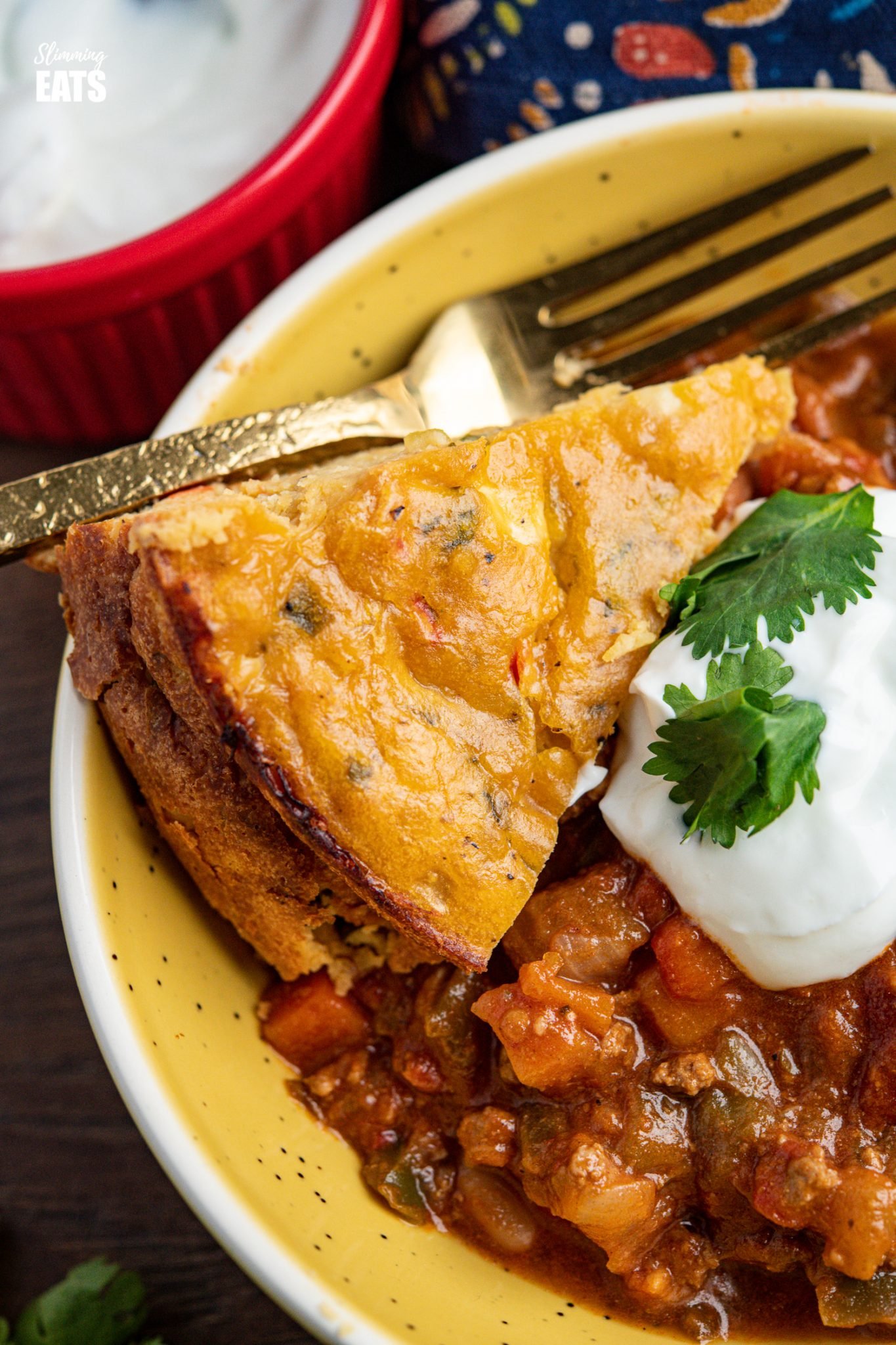 More Lentil Recipes
Looking for some other lentil recipes? Check out these:
or head on over to my Full Recipe Index with over 900 delicious Slimming World and Weight Watchers friendly recipes all fully searchable by meal type, ingredients, syn value and smart points etc
---
Lentil Cheddar Bake
Total Time:
1 hour
5 minutes
Lentil Cheddar Bake  - a cheesy lentil bake with peppers that is great as it is with a salad or as a side to soup or chilli.
Ingredients
1 cup (192g) of dry red lentils
2 cups (480ml) or chicken or vegetable stock
120g of cheddar, grated - 4 HEa's
½ red pepper, finely diced
½ green pepper, finely diced
1 small onion, finely chopped
2 cloves of garlic, crushed
1 jalapeno, deseeded and finely diced (optional)
handful of coriander, finely chopped
black pepper and to season
3 eggs
cooking oil spray (I used avocado)
Instructions
Preheat oven to 180c or 350f
Rinse in red lentils in a sieve until running water
Place red lentils in saucepan over a medium high heat cover with the stock and cook until stock is almost absorbed, turn off heat, add lid and leave for 10-15 mins to soak up any remaining liquid. (the lentils shouldn't be wet)
In the meantime, spray a frying pan with spray oil and cook the onion, peppers and garlic for approx 4 mins until softened, add the jalapeno in for the last couple of minutes.
Once lentils are ready add them to a bowl.
Add the onion, red pepper, green pepper and garlic, plus some freshly chopped coriander, stir in the grated cheddar until all combined.
Taste the mix and season with salt and black pepper to your desired taste.
Add the eggs and mix thoroughly.
Spray a round 7 inch springform tin with some spray oil, add the mixture and bake in the oven till it is golden and set. Approx 30-40.mins.
Serve with your choice of sides. I love a slice of this with a bowl of chilli.
Notes
This recipe is gluten free, vegetarian, Slimming World and Weight Watchers friendly
Slimming World - 1 HEa per serving
WW Green Smart Points - 10 per serving
WW Blue Smart Points - 5 per serving
WW Purple Smart Points - 5 per serving
or slice bake into 8 slices and enjoy as follows:
Slimming World - 3 syns per serving
WW Green Smart Points - 5 per serving
WW Blue Smart Points - 2 per serving
WW Purple Smart Points - 2 per serving

NOTE about Cheese: Cheddar in Canada is coloured with annatto for a more orange/yellow colour, so use Red Leicester instead if you want the more orange/yellow colour to the bake. Slightly different flavouring, but equally delicious
If you wish to share this recipe, then please do so by using the share buttons provided only.
DO NOT COPY AND/OR PASTE FULL RECIPES OR SCREENSHOTS OF ANY CONTENT FROM SLIMMING EATS TO ANY SOCIAL MEDIA, IT IS STRICTLY PROHIBITED.
ALL IMAGES AND CONTENT ON SLIMMING EATS ARE COPYRIGHT PROTECTED.
Nutritional information, syn values, points etc are an estimate and is to be used for informational purposes only. Ingredients can vary greatly from brand to brand and therefore it would be impossible to give accurate information. It is always advised that you calculate by the ingredients you use.
It is the responsibility of the Reader to assure the products or ingredients they use in any recipes from Slimming Eats are allergen-free (gluten-free, egg-free, soy-free and/or dairy-free, for example). Slimming Eats assumes no liability for inaccuracies or misstatement about products, opinions or comments on this site.
Check Legal section, for Full Disclaimer, Disclosure and Privacy Policy.
Recommended Products
As an Amazon Associate and member of other affiliate programs, I earn from qualifying purchases.
Nutrition Information
Yield

4
Serving Size

1 SERVING
Amount Per Serving
Calories

370
Total Fat

14.2g
Saturated Fat

7.6g
Cholesterol

171mg
Sodium

569mg
Carbohydrates

33.8g
Fiber

6.5g
Sugar

3.4g
Protein

27.3g
Disclosure: This post may contain affiliate links. As an Amazon Associate and member of other affiliate programs, I earn from qualifying purchases. We are a participant in the Amazon Services LLC Associates Program, an affiliate advertising program designed to provide a means for us to earn fees by linking to Amazon.com and affiliated sites." Check Legal section, for Full Disclaimer, Disclosure and Privacy Policy.