6 Must Try Low Syn Pancake Recipes - these are all amazing. Which one will be your favourite?
We all know when it comes to pancake, everyone has their own preferred choice, some like a crepe style pancake, some prefer a thicker American style. Luckily for you, I have 6, yes SIX amazing pancakes recipes for you to choose up. So I just had to do a roundup for Pancake day.
Which will you choose?
The very first pancake recipe posted to the blog all the way back in 2010 and so many variations of these have popped up ever since. These are one of my favs served with fresh fruit and a drizzle of maple syrup. The pancakes themselves are just 1 HEb and 0.5 syns, an additional 2 syns if you drizzle with a tablespoon of maple syrup.
Red velvet cake is one of my weaknesses since moving to this side of the Atlantic, so I just had to create a Slimming World friendly pancake version and these totally hit the spot, they have all the yummy flavour of Red Velvet Cake and are just 1 HEb and 3 syns.
These were created when I fancied some pancakes but didn't have a healthy extra spare. Don't be put off by the cottage cheese, these are actually pretty yummy. These are 2.5 per serving, and then any additional syns for toppings you choose.
Fall here in Canada, sees plenty of pumpkin, but even when there is no fresh pumpkin on hand, these can also be created with some canned pumpkin puree and are really yummy. Did you know pumpkin is a speed food? Even more reason to make these. These are just 1 HEb and 0.5 syns per serving (any toppings are additional)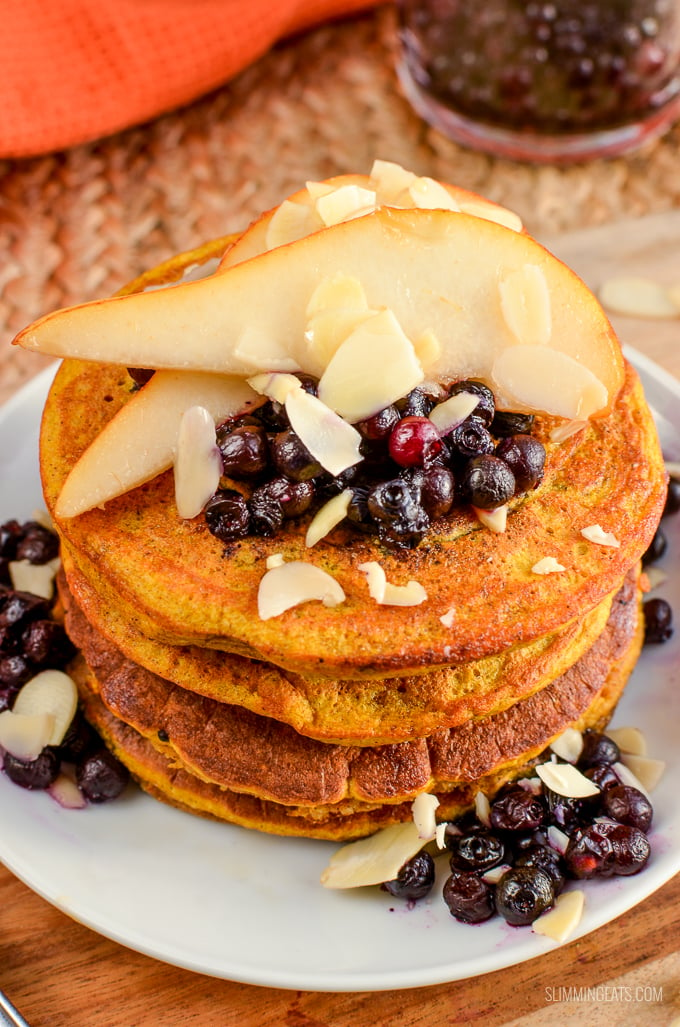 Created just for pancake day, not everyone loves American style pancakes and even if you do, occasionally we just fancy a crepe style pancake right? Well these use no healthy extra's and are just 2.5 syns for the entire batch. Delicious served with fresh raspberries, lemon juice and sweetener (or sugar)
Of course I had to leave these ones till last, these were created for all the chocolate lovers out there and they are pretty darn amazing. Really chocolatey and great for satisfying those cravings. Enjoy these for just 1 HEb and 1.5 syns, additional syns if you add some Sweet Freedom Choc Shot for the ultimate chocolate pancake stack.
and just in case you are stumbling across the post and looking for some other delicious Low Syn dessert or sweet - check out my dessert recipes. So many to choose from.
Disclosure: This post may contain affiliate links. As an Amazon Associate and member of other affiliate programs, I earn from qualifying purchases. We are a participant in the Amazon Services LLC Associates Program, an affiliate advertising program designed to provide a means for us to earn fees by linking to Amazon.com and affiliated sites." Check Legal section, for Full Disclaimer, Disclosure and Privacy Policy.