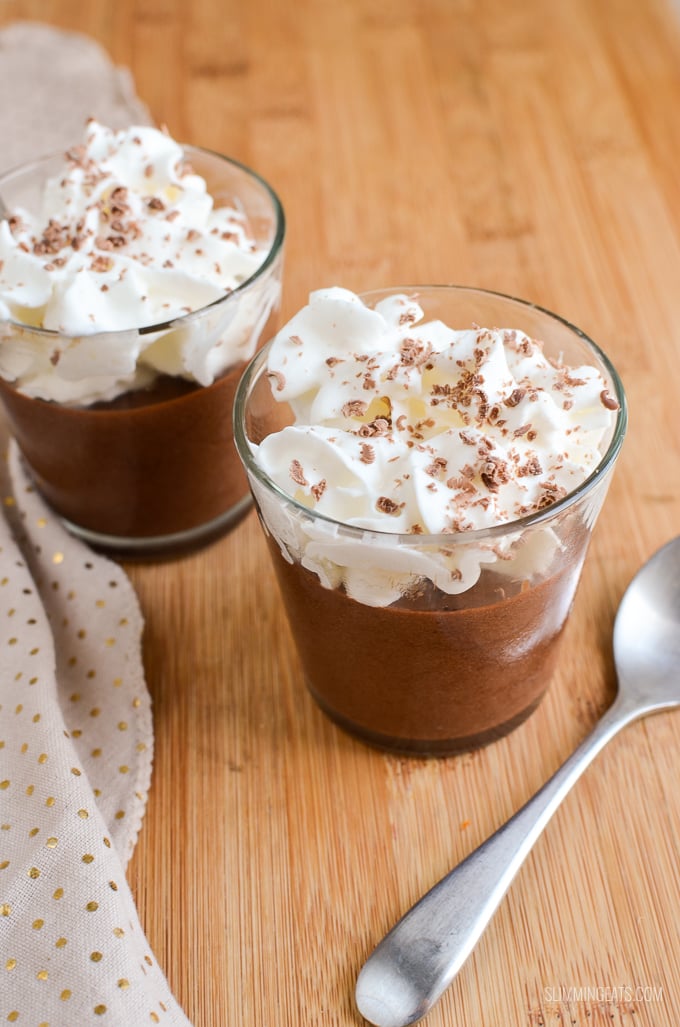 Low Syn Chocolate Mousse
Yield 2 servings
This recipe is gluten free, dairy free, vegetarian, Slimming World and Weight Watchers friendly
Extra Easy - 2.5 syns (or 1.5 syns without cream and grated chocolate)
Green/Vegetarian - 2.5 syns (or 1.5 syns without cream and grated chocolate)
Original/SP - 2.5 syns (or 1.5 syns without cream and grated chocolate)
WW Smart Points - 4 syns (or 2 without cream and grated chocolate)
Dairy Free - omit cream and chocolate chips
Ingredients
1.5 tbs (7.5g) of 100% pure cocoa powder - 1.5 syns)
1 tsp of vanilla extract
2 tbs of sukrin gold - 1 syn
4 tbs of almond or cashew milk - 0.5 syns (this is with the chocolate chips, as syns are negligible in both alone)
2 large eggs
20g of light aerosol cream (optional) - 2 syns
1g (approx 2) milk chocolate chips (optional) 
Instructions
Add the cocoa powder, vanilla, sukrin gold and milk to a saucepan.
Heat over a medium heat, whisking constantly, until it thickens and is of a silky chocolate appearance.
Set aside to fully cool (this is important).
Once the chocolate has cooled.
Separate the whites from the yolks of the eggs.
Add the yolks into the chocolate and whisk till you have a smooth thick chocolate sauce.
Whisk the egg whites until they form stiff white peaks.
Fold the egg whites into the chocolate, until all combined (don't overwork though).
Add to two small glass, cover with cling film and refrigerate for approx 6 hours (overnight is best).
When ready to serve top with the light cream is using and grate over the top with the little bit of chocolate.
Enjoy!!
Notes
Variations: try different extracts for varied flavours - like orange, mint etc
Don't want to buy the dairy free milk? you can use regular skimmed milk instead. 
Syn value of cocoa powder can vary from brand to brand. The three brands I use are 100% cocoa powder (not Dutch Processed) and are 1 tbs for 20 calories (1 syn).
You should always double check the syn values of items which are synned, as brands can differ. 
Ingredients can vary greatly from brand to brand and therefore it would be impossible to give accurate information. Also double check syn values of sinned ingredients as different brands can vary. 
All images and content on Slimming Eats are copyright protected.
If you wish to share this recipe, then please do so by using the share buttons provided. Do not screenshot or post recipe or content in full
Amount Per Serving

Calories 114

% Daily Value

Total Fat 8 g

12%

Saturated Fat 3.6 g

18%

Cholesterol 186 mg

62%

Sodium 94.6 mg

4%

Total Carbohydrates 4.1 g

1%

Dietary Fiber 1.5 g

6%

Sugars 1.2 g

Protein 7.4 g

15%
Recipe by Slimming Eats - Weight Watchers and Slimming World Recipes at http://www.slimmingeats.com/blog/low-syn-chocolate-mousse