Syn Free Cheeseburger Quiche – yes this really is all the great things about a Cheeseburger made into a delicious Slimming World friendly crustless quiche. If you make anything, make this!!
I had planned to make some cheeseburgers for dinner, but then I remembered I had some cottage cheese in my fridge that needed to be used up, which popped the idea into my head to make a cheeseburger quiche. I mean it just seemed like a genius idea, and it definitely was.
The preparation for this does take a bit of time, but it is so worth it. This quiche is absolutely delicious and perfect hot or cold, for lunch or dinner and even to take on picnics.
Layers of homemade burger, homemade sauce, sauteed onions, then topped with a delicious cheesy topping. What more could one want?
Got a busy week ahead? Make one of these and portion up for your lunch with a nice mixed salad. Perfect!!
The first part to this amazing cheeseburger quiche is the base, just some simple extra lean ground beef and sea salt are all you need. Once combined, I flatten down into a  24cm ceramic quiche dish like this on Amazon:
and then bake in the oven for 10 mins, this part is important, as the meat will naturally release its juices and this needs to be drained or dabbed off with some clean kitchen paper, before adding the other toppings.
Once the burger base is in the oven, you can quickly get preparing the other toppings. Next is the tomato sauce (or what would be the popular ketchup on a Cheeseburger), but ketchup is synned and so here we make a quick cheats version with some crushed tomatoes, tomato paste, onion powder, garlic powder, paprika, Worcestershire sauce salt, pepper and a little sukrin: 1 (or another sweetener of choice, I prefer sukrin, because it's natural and has no aftertaste) just to tone down the acidity.
Then comes the lovely browned onions, I don't know about you, but I love onions on my burger.
Lastly is the cheesy egg topping. For this, you will need a blender. I use my Nutri Ninja Blender with Auto IQ  to blend the eggs, cottage cheese and a little of the cheddar. This blender is amazing. The auto IQ technology feature, mean it blends to a set pattern depending on what it is you are making. There is also an optional add-on for a food processor bowl, which is perfect for chopping and grating vegetables. Sauces and soups are literally so smooth, once complete in this amazing kitchen gadget.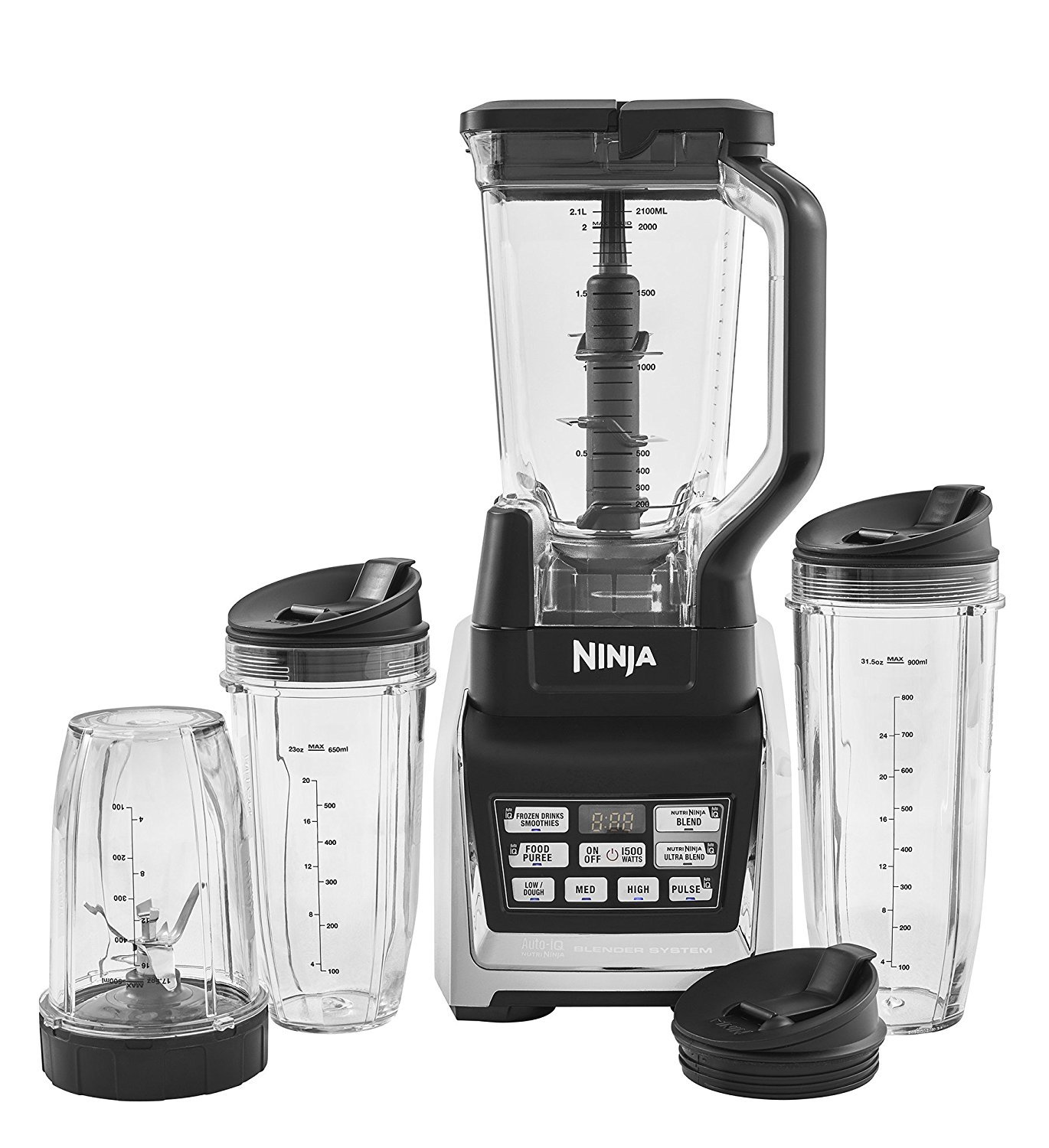 Click here to view the Nutri Ninja Blender with Auto IQ Technology on Amazon
Don't worry though, you don't need a fancy high tech blender like mine above, a good old immersion stick blender like the Koölle Electric Powerful 3-in-1 800 Watt Hand Stick Blender or a similar make will do the job too.
Many haters of cottage cheese are put off using it in a Slimming World quiche recipe. I dislike it as it comes out of the tub, I think it is those curds that put most off, but trust me when I say you won't know the quiche has it in the ingredients. Once blended, it is actually really creamy and perfect.
Once the egg mixture is done. We are all ready to layer up. Burger base, topped with the quick tomato sauce, then the onions, egg mixture and lastly cheddar. Because all cheeseburgers have to have cheddar.
Then just pop in the oven and bake for 30 minutes until it's all set and the cheese on top is melted and golden.
---
Looking for some other delicious Slimming World quiche recipes to try? check out these:
and don't forget my FULL RECIPE INDEX with over 500+ delicious Slimming World Recipes
---
I just serve this Cheeseburger Quiche with a mixed salad, as it's pretty filling and if you want to go that one step further. Make up some big mac sauce, as in my Big Mac and Fries Fakeaway, to dollop on the side. It is seriously amazing!!!
---
WHAT KITCHEN ITEMS DO I NEED TO MAKE THIS CHEESEBURGER QUICHE?
How to Make Syn Free Cheeseburger Quiche
Syn Free Cheeseburger Quiche | Slimming World
This recipe is gluten free, Slimming World and Weight Watchers friendlyExtra Easy - 1 HEa per servingOriginal/SP - 1 HEa per servingWW Smart Points - 7
Ingredients
350g (12.5oz) of extra lean beef mince
1/2 tsp of sea salt
1 cup (240ml) of crushed tomatoes (or 1 cup of passata with 1 tbs of tomato paste to thicken)
1/4 tsp of onion powder
1/4 tsp of garlic powder
1 tsp of paprika
1 tbs of tomato paste
salt and black pepper
1 tsp of Worcestershire sauce
1 large onion, sliced
1 cup (240ml) of fat-free cottage cheese
4 eggs
120g (4oz) of reduced fat cheddar cheese (3xHEa's)
spray oil
Instructions
Preheat oven to 200c or 400f (gas mark 6)
In a large bowl, add the beef mince and sea salt salt and mix together to combine. 
Grease a quiche dish with some spray oil and add the meat mixture to the dish, flatten down well so it covers the bottom of the dish in a thin layer.
Place in the oven and bake for about 10 mins until lightly browned. The meat mixture will shrink on the base when cooked, but don't worry, as you will be covering it with more layers. Dab up any excess juices that are released with some kitchen towel. Set aside.
Spray a frying pan with some spray oil, add the onions and fry until softened.
Mix the crushed tomatoes, garlic powder, onion powder, salt, pepper, paprika, tomato paste and Worcestershire sauce together in a bowl.
Add the cottage cheese, eggs and a 1/3 of the cheddar to a blender and blend until smooth.
Now you can start layering the next layers.
Using a spatula, spread the tomato mixture over the meat layer.
Add the softened onions
Then pour in the cottage cheese mixture
Sprinkle over the top with the remaining cheddar
Then place back in the oven and bake until mixture is set and cheese is melted and lightly golden on top (approx 30 mins)
Serve with a side salad and Enjoy!!
Notes
Nutritional information is an estimate and is to be used for informational purposes only.
Ingredients can vary greatly from brand to brand and therefore it would be impossible to give accurate information. Also, double-check syn values of synned ingredients as different brands can vary.
All images and content on Slimming Eats are copyright protected.
If you wish to share this recipe, then please do so by using the share buttons provided. Do not screenshot or post recipe or content in full
Check Legal section, for Full Disclaimer, Disclosure and Privacy Policy.
Nutrition Information:
Yield:

3
Serving Size:

1
Amount Per Serving:
Calories:

436
Total Fat:

17.6g
Saturated Fat:

7.7g
Cholesterol:

319mg
Sodium:

1328mg
Carbohydrates:

14.4g
Fiber:

2.5g
Sugar:

8.5g
Protein:

56.5g
It is the responsibility of the Reader to assure the products or ingredients they use in any recipes from Slimming Eats are allergen-free (gluten-free, egg-free and/or dairy-free, for example) or Vegetarian friendly. Slimming Eats assumes no liability for inaccuracies or misstatement about products, opinions or comments on this site.
Nutritional information is an estimate and is to be used for informational purposes only
Looking for some additional support on your weight loss journey? Did you know Slimming Eats has a friendly Slimming World Facebook Support Group where you can get daily meal ideas and recipe ideas? Come and check us out, we'd love to have you join.
Looking for some other recipes? Head on over to my RECIPE INDEX for over 850 Slimming World & Weight Watchers recipes for you to browse through, all fully searchable by meal type, Ingredients, syn value and WW Smart Points etc
DID YOU

 

make

THIS

 

RECIPE

? I'D

 

LOVE

 TO SEE IT!
Snap a photo and hashtag #slimmingeats or tag me @slimmingeats on INSTAGRAM
Are you on facebook? Then be sure to come and like me on FACEBOOK
All images and content on Slimming Eats are copyright protected.
If you wish to share this recipe, then please do so by using the share buttons provided. Do not screenshot or post recipe or content in full.
* Disclosure: This post may contain affiliate links. We are a participant in the Amazon Services LLC Associates Program, an affiliate advertising program designed to provide a means for us to earn fees by linking to Amazon.com and affiliated sites." Check Legal section, for Full Disclaimer, Disclosure and Privacy Policy.