Fed up with not knowing what to make with the over ripe bananas sitting in your fruit bowl? Check out these 7 Delicious Slimming World Recipes To Make With Overripe Bananas.
One question I keep seeing a lot of on my facebook group, is "Has anyone got any slimming world friendly recipes to use up over ripe bananas?. It appears again and again and I always direct them to the amazing banana recipes on the blog.
But I figured it was about time I did a round up of those amazing recipes, so they are all in one post, for you to find easily.
---
Firstly let me mention my facebook group, if you haven't yet joined then come along and check us out. It's a lovely supportive place for members to ask questions about my recipes, get support and share meal ideas.
---
Now onto the recipes.
and we have to start with the very first recipe I posted for overripe bananas.
This recipe is delicious and is one I often make for the whole family to enjoy when I have overripe bananas sat in the fruit bowl. At just 6 syns a slice, it contains no artificial sweeteners, nothing artificial, and is all ingredients you can identify and expect to see in a real cake. Plus most important of all, it tastes like real cake. Sometimes you just have to spend a little more syns and this is indeed one of those times.
Who doesn't love a doughnut? These baked banana doughnuts use just 1 HEb and 2.5 syns for 3 doughnuts. Yes, I said that right – 3 DOUGHNUTS!! What's not to love? The are lovely a soft a fluffy and perfect with a cuppa.
Not one to be happy with a banana loaf recipe already on the blog, I, of course, had to create another. This time we have Mini Banana Raisin Loaf and boy are these delicious. You can enjoy one of these as a Healthy Extra B choice and 3 syns.
Next up is a healthy banana granola. I love granola, but most are high in sugar, not very healthy and too many syns. This recipe uses just a handful of ingredients, is super easy to make and gives a decent serving for 1 Healthy Extra B and 3 syns per serving. It's delicious sprinkled over yoghurt and fruit or in this delicious Banana Granola Yoghurt Parfait.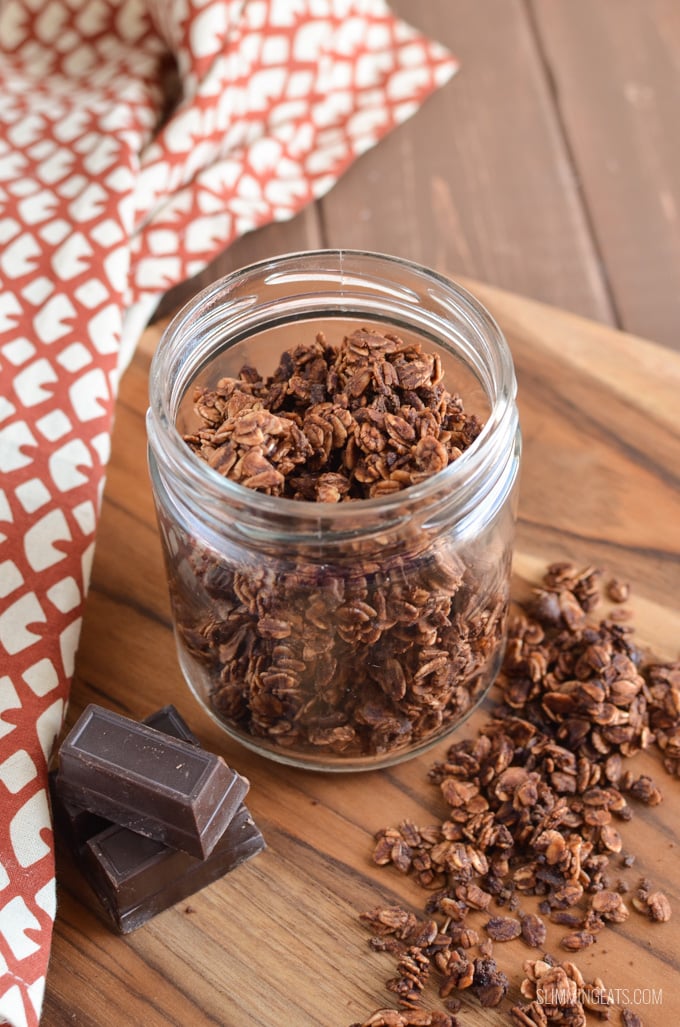 and incase Chocolate is your thing, isn't chocolate, everybody's thing? Here is another delicious granola recipe, this time a Low Syn Chocolate Granola for 1 Healthy Extra B and 3 syns per serving. Delicious with yoghurt or even snack on it, just as it is.
One of my most popular banana recipes. Whether you have this for breakfast or dessert, you won't be disappointed. This is not at all stodgy or eggy like some baked oatmeal recipes out there, it's very cake like and absolutely delicious.
Each baked banana oatmeal uses 1 healthy extra B and 4.5 syns (which is with the maple syrup drizzled over the top), so you can deduct 2 syns if you don't use it. Some readers, make this into 3 muffins and enjoy as a snack throughout the day. What an awesome idea!!!
Well it would be rude not to have a banana muffin recipe. These are delicious banana chocolate chip muffins and are only 3 syns each, I make these quite regularly with over ripe bananas in my fruit bowl as they are great for freezing and I just love a low syn cake with a nice cup of tea or coffee.
Thats 7 Delicious Slimming World Recipes To Make With Overripe Bananas. Which ones will you make?
Don't forget to check out my Dessert and Cake recipes section for lots of other delicious recipes to try.
and if that's not enough my FULL RECIPE INDEX has over 500+ delicious Slimming World recipes. WOW!!
It is the responsibility of the Reader to assure the products or ingredients they use in any recipes from Slimming Eats are allergen-free (gluten-free, egg-free and/or dairy-free, for example) or Vegetarian friendly. Slimming Eats assumes no liability for inaccuracies or misstatement about products, opinions or comments on this site.
Nutritional information is an estimate and is to be used for informational purposes only
Looking for some additional support on your weight loss journey? Did you know Slimming Eats has a friendly Slimming World Facebook Support Group where you can get daily meal ideas and recipe ideas? Come and check us out, we'd love to have you join.
Looking for some other recipes? Head on over to my RECIPE INDEX for over 850 Slimming World & Weight Watchers recipes for you to browse through, all fully searchable by meal type, Ingredients, syn value and WW Smart Points etc
DID YOU

 

make

THIS

 

RECIPE

? I'D

 

LOVE

 TO SEE IT!
Snap a photo and hashtag #slimmingeats or tag me @slimmingeats on INSTAGRAM
Are you on facebook? Then be sure to come and like me on FACEBOOK
All images and content on Slimming Eats are copyright protected.
If you wish to share this recipe, then please do so by using the share buttons provided. Do not screenshot or post recipe or content in full.
* Disclosure: This post may contain affiliate links. We are a participant in the Amazon Services LLC Associates Program, an affiliate advertising program designed to provide a means for us to earn fees by linking to Amazon.com and affiliated sites." Check Legal section, for Full Disclaimer, Disclosure and Privacy Policy.